CRITICS POLL: ND Writers' Favorite Roots Music Albums of 2022
Posted On December 26, 2022
---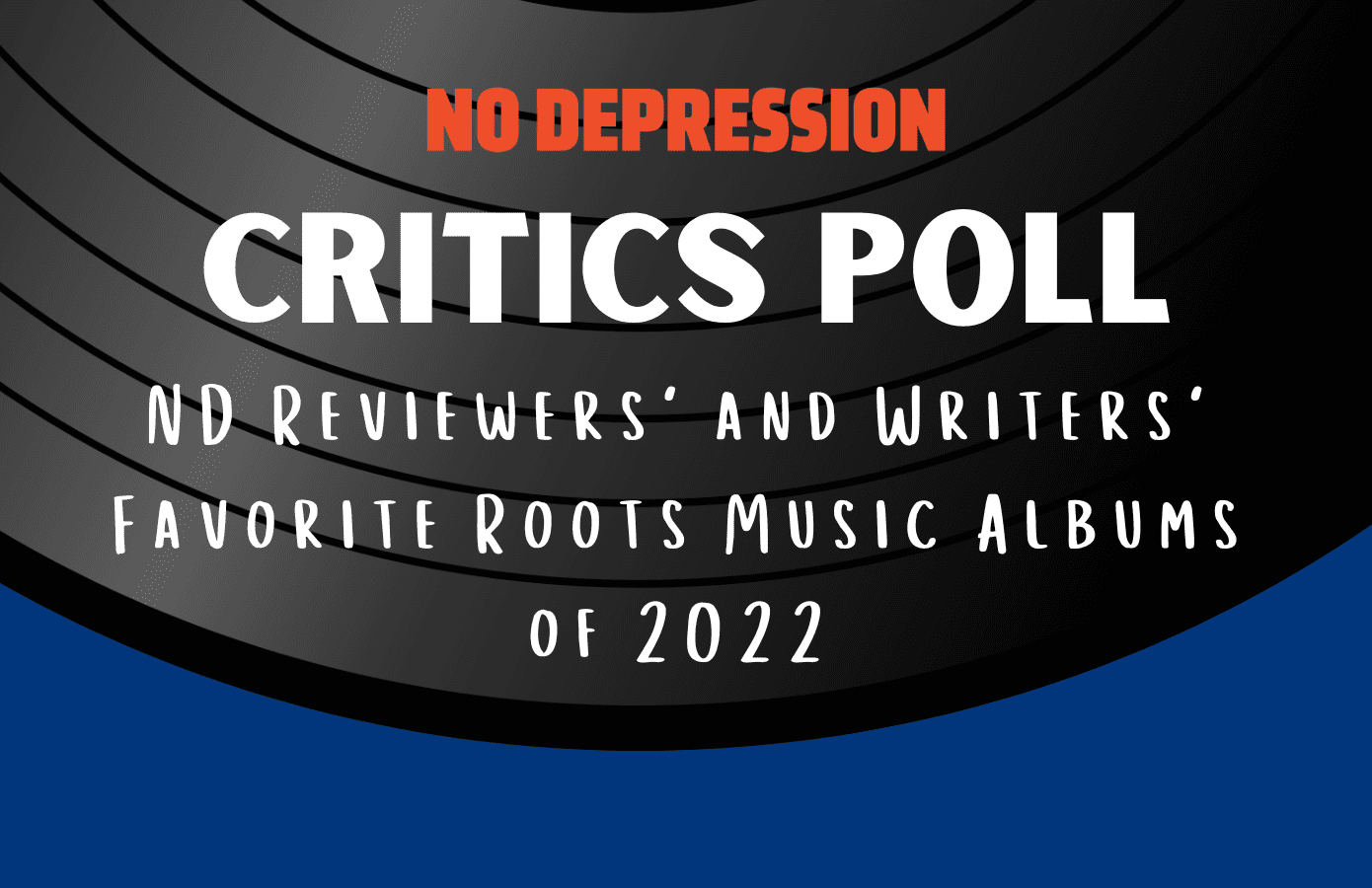 Hot on the heels of our annual Readers Poll, we checked in with No Depression's staff and contributors to get their takes on the best roots music albums released in 2022.
As usually happens, there's only a little overlap between the two polls, but the good news is everybody's right, and everybody wins. On each list, it feels good to see that some of your own favorites are also loved by other folks, but it's also fun to find your blind spots and check out some great music that hadn't crossed your radar yet.
We want to thank our contributors (listed at the end of the post) for their good ears and great writing all year long — and for rising to the never-easy task of making a list of their top albums. Just like in the Readers Poll, their top 10 lists were aggregated into the list you see below. Click the name of the album to read the entire review or story, and don't miss our playlist of songs from albums that made this year's ND Readers Poll or Critics Poll.
Written together and apart, across multiple cities and landscapes from Texas to California and Kansas, I Walked With You a Ways embraces twangy pop country and romantic Western waltzes. It is a love letter to the places that have shaped this duo of Jess Williamson and Waxahatchee's Katie Crutchfield. Neither bend their signature sounds to unrecognizable shapes, instead finding ways to lift each other up and support their individual strengths song by song. — Maeri Ferguson
The New Faith directly challenges the conventional expectations of folk. Produced in partnership with Smithsonian Folkways Recordings as part of its African American Legacy series, Blount has reimagined 10 traditional Black spirituals to fit a dystopian Afrofuturist tale of a world ravaged by climate change. — Jim Shahen
"[These] songs are kind of about grief, loss in a way," Mitchell says. "But also when I wrote them, I was in a pretty joyful space of reconnecting with songwriting, writing my own songs, which I hadn't been able to do in a long time cause of this musical I was working on. So the rediscovery of that was very joyful." — Maeri Ferguson
O'Donovan's golden-voiced lyrics jump around in time and place, from a future urban dystopia to a free-wheeling 1990s New England winter. Sometimes the setting is more literal, here on Earth, and other times it is an unknown galaxy, a fantasy, or a dream. No matter where or when, though, O'Donovan creates immersive, sonically rich worlds in the songs on Age of Apathy, meant to enchant us and draw us in. — Maeri Ferguson
Marks and her backing band, The Resurrectors, craft a remarkably enjoyable sound that blends country, blues, rock, gospel, and soul and is infused with an inspiring vitality. Feel Like Going Home is rooted in Marks maintaining hope and her dedication to peace. Again and again she returns to goodness and the possibility that things will work out, but it never feels repetitive because being hopeful takes a lot of work. — Laura Stanley
Leyla McCalla provides a tantalizing glimpse into her Haitian roots through her infectious rhythms and velvety crooning on her latest project, Breaking the Thermometer. But the smooth texture reveals a rough surface underneath. The lilting melodies support a lyrical structure full of pain and corruption, but imbued with a fiery spirit of revolution against colonial rule. — Grant Britt
Joined by her band Golden Highway and accompanied by guests like Margo Price, Gillian Welch, Old Crow Medicine Show, and more, Tuttle pays homage to her familial bluegrass history on Crooked Tree. The songs are vibrant and move as quickly as your heart does when you're doing something you love, but the most compelling quality of the record is how fun it sounds. — Laura Stanley
Neilson uses the sheer explosiveness of her voice to speak to themes of oppression and abuse of power in the music industry and beyond. For Kingmaker, she mined her personal experiences and those of loved ones to express the rage and frustration built up over a decades-spanning career that began when Neilson was just a kid. — Maeri Ferguson
As she's added styles, Shemekia Copeland has also expanded thematically, becoming more outspoken on social issues with releases like 2020's Uncivil War and 2018's America's Child. Her latest, Done Come Too Far, continues in that vein, though not exclusively so. — Grant Britt
Big Time is a deeply focused record from beginning to end, not just because of the lyrical journey it takes us on, but sonically. Olsen nods to country-western influences in her arrangements, flush with pedal steel guitars. Lush string sections add a cinematic touch, as if to create the dreamy filter of a hazy lens. — Maeri Ferguson
Life on Earth is Segarra's first release since 2016's The Navigator, which reclaims her Puerto Rican heritage. It's also about a journey, one of surviving amid the tumult and disasters of this current moment. And much like she did with The Navigator, Segarra offers up a dazzling set of songs full of compelling stories and eclectic arrangements. — Jim Shahen
On The Spur, Shelley's voice is unsurprisingly yet thrillingly crystalline, her melody supple and free-flowing. Instrumentation, as with 2019's Like the River, is understated but well-arranged, including a twangy guitar and rustic cello. — John Amen
The emotions Goodman is working through in these songs are timeless and universal, a salve for anyone, at any age, who needs a reminder that their self-worth shouldn't be measured by the love or approval they receive from others. — Maeri Ferguson
Spoon's 10th album, Lucifer on the Sofa  marks a shift back to a simpler approach, with fewer bells and whistles and more solid, straightforward rock and roll. Despite being written over the past two years amid so much change, it is one of their most grounded records to date, and Britt Daniel's perfect rasp and the band's undeniable hooks are sharper than ever. — Maeri Ferguson
Like its self-titled predecessor, Rolling Golden Holy lives in the hazy space between traditional and contemporary folk music, continuing to blur the lines in favor of a resplendent smudge. Each of these original songs mines the universal experiences of heartbreak, desire, fear, and hope to transcend a sense of time or place. — Maeri Ferguson
Steady guitar grooves and fiddle melodies ground each song, lending them a timelessness. These songs feel old and undiscovered, little gems mined by Kane and Gellert. They explore themes familiar to fans of the greater folk music world — surviving hard times, unsettled hearts, love, and redemption — but it is the instrumentation twined with the harmonies that defines The Flowers That Bloom in Spring. — Matt Ruppert
"The decision was based on the assumption that Taj and I have been listening to this stuff forever, and we can do something with it, something good instead of bad," says Cooder. "I wondered what Taj and I would like to do together that would deliver that spirit. It was something we can do without mapping it out or planning." — Jim Shahen
"Life is a beautiful question," John Moreland sings on the title track of his latest, Birds in the Ceiling. It's the closing song on the album, and leaving the listener with such an open-ended statement is the point. Moreland isn't necessarily seeking answers as much as he is thoughtfully contemplating his own humanity. Birds in the Ceiling, through Moreland's soulful, weathered voice and signature vivid storytelling, finds resolve — even peace — in the unknown. — Maeri Ferguson
The album's dozen tracks do a tremendous job of paying homage to the roots of traditional music while at the same time casting a wide tent and welcoming in people who haven't felt embraced by the music in the past, helping to put action behind the album's themes of inclusivity and love conquering all. — Matt Wickstrom
20. Tomberlin – i don't know who needs to hear this…
Contributors to No Depression's 2022 Critics Poll were Managing Editor Hilary Saunders and Assistant Editor Stacy Chandler; columnists Henry Carrigan, Chris Griffy, and Amos Perrine; and contributing writers John Amen, Noah Berlatsky, Lyndon Bolton, Grant Britt, Rachel Cholst, Nick Cristiano, Michael Elliott, Maeri Ferguson, Spencer Grady, Will Groff, Kyle Petersen, Nancy Posey, Jim Shahen, Laura Stanley, and Jon Young.  Also chiming in were some friends from Folk Alley, which, like No Depression, is part of the FreshGrass Foundation: Cindy Howes, Brad Kolodner, and Kim Ruehl.
---