No Depression's Best Roots Music Albums of 2022 (So Far)
---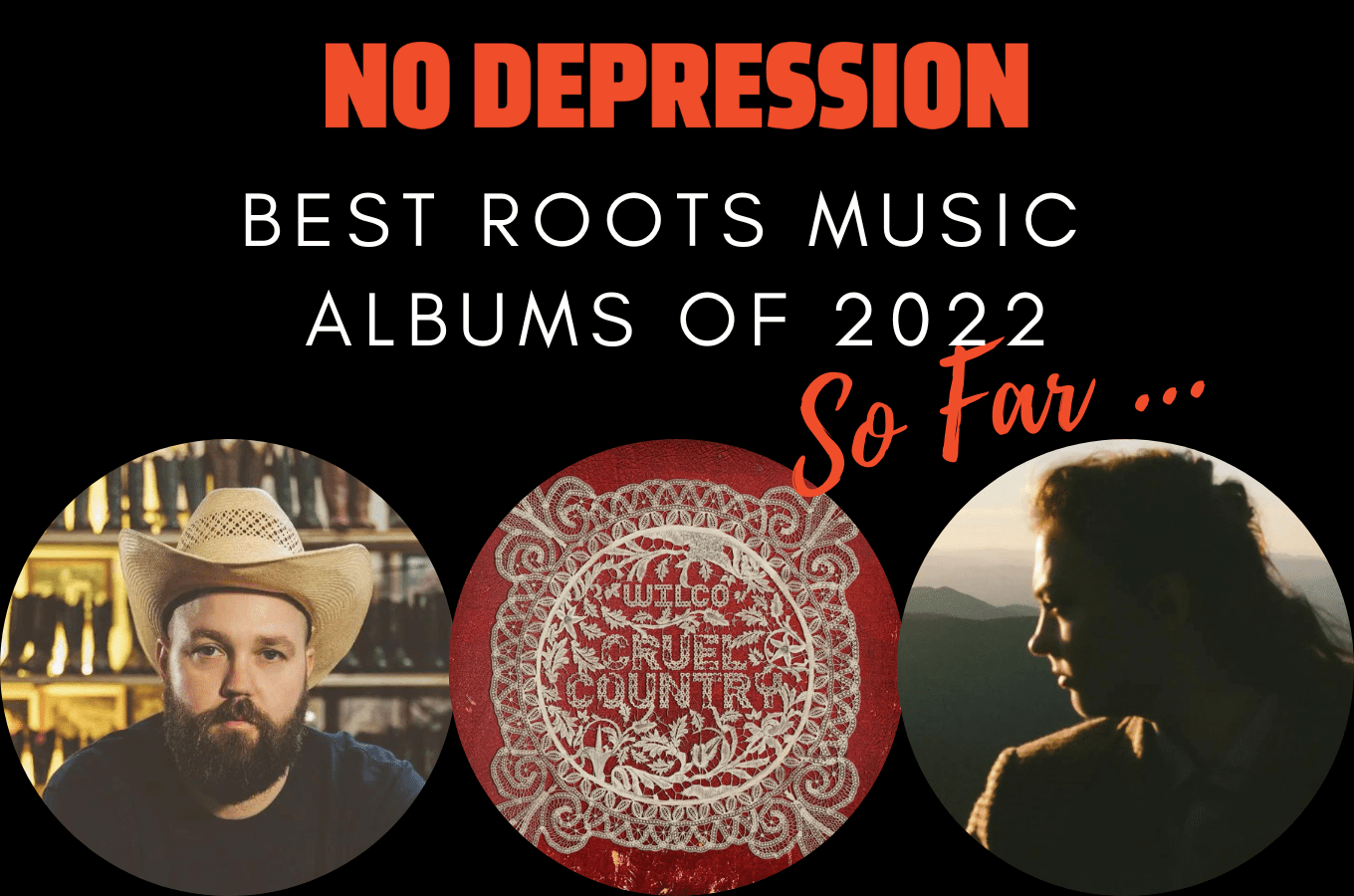 From left, new albums from Joshua Hedley, Wilco, and Angel Olsen made our list of the best roots music albums of 2022 so far.
We're at the halfway point of 2022, and what a ride it's been. Luckily, there's good music to get us through.
In what's become a tradition at No Depression, we once again wanted to take a minute to appreciate the steady stream of great roots music albums that have come out so far this year, even as we look forward to many more lined up in the coming months.
Below is a list of albums that our staff and contributors have listed as their favorites. We reviewed all of them; those reviews are excerpted below each listing, and you can click through to the full review in the album title headings. We hope some of your favorites made our list, and that you'll find a new favorite you might have missed. Keep listening, and get your own list ready for our annual Year-End Readers Poll, which will open for voting in late November or early December.
Best Roots Music Albums of 2022 (So Far)
Big Time is a deeply focused record from beginning to end, not just because of the lyrical journey it takes us on, but sonically. Olsen nods to country-western influences in her arrangements, flush with pedal steel guitars. Lush string sections add a cinematic touch, as if to create the dreamy filter of a hazy lens. — Maeri Ferguson
2. Anaïs Mitchell – Anaïs Mitchell
"[These] songs are kind of about grief, loss in a way. But also when I wrote them, I was in a pretty joyful space of reconnecting with songwriting, writing my own songs, which I hadn't been able to do in a long time cause of this musical I was working on," Mitchell says. "So the rediscovery of that was very joyful." — Maeri Ferguson
"When I was 3, I asked for a fiddle. Not a violin, a fiddle," Hedley says. "My parents said, yeah, you're 3 years old. Ask when you're older." He did — when he was 8. He's mystified at what drew him to country music at such a young age — his parents didn't listen to it. All he knew is he was hooked, and "pretty soon it was bluegrass music, Bob Wills, Merle Haggard, and off to the races." — Nick Cristiano
4. Molly Tuttle and Golden Highway – Crooked Tree
Joined by her band comprised of Bronwyn Keith-Hynes (fiddle), Dominick Leslie (mandolin), Shelby Means (bass), and Kyle Tuttle (banjo) and accompanied by all-star guests like Margo Price, Gillian Welch, and Old Crow Medicine Show, Tuttle pays homage to her familial bluegrass history on Crooked Tree. The songs are vibrant and move as quickly as your heart does when you're doing something you love, but the most compelling quality of the record is how fun it sounds. — Laura Stanley
"I love my country stupid and cruel," Jeff Tweedy sings on "Cruel Country," the title track to Wilco's 12th studio album. That line, and the song itself really, serves as a summation of the LP's sound and purpose as the iconic band works more overtly classic country music themes into a sprawling album that attempts to make sense of life in this fractured country. — Jim Shahen
6. Ian Noe – River Fools & Mountain Saints
Ian Noe's River Fools & Mountain Saints will transport you to a mythic view of Eastern Kentucky. The album came to Noe before the songs were even written. With each side devoted to river fools and mountain saints, respectively, Noe constructs a world of loss, desperation, and creative perseverance against the odds. — Rachel Cholst
7. Jake Xerxes Fussell – Good and Green Again
The song-maker known for transporting us back to a simpler, sepia-toned time is in the midst of a cosmic shift forward on his latest, Good and Green Again. The melodies and arrangements feel contemporary and fresh, keeping his well-worn tales — usually meticulously pieced together from archives and ancient texts — very much in the present. — Maeri Ferguson
Lighten Up practically glows with its psychedelic, sun-drenched arrangements and Rae's radiant, airy vocals. Though Rae doesn't hail from California and most of the songs were written before she arrived to record them, they came to fruition there, and they have that quintessential laid-back feeling that seems to take hold upon touching down on the West Coast. — Maeri Ferguson
The emotions Goodman is working through in these songs are timeless and universal, a salve for anyone, at any age, who needs a reminder that their self-worth shouldn't be measured by the love or approval they receive from others. — Maeri Ferguson
10. Big Thief – Dragon New Warm Mountain I Believe in You
Dragon New Warm Mountain I Believe in You, which showcases 20 cuts and clocks in at a lengthy 81 minutes, spotlights singer and primary tunesmith Adrianne Lenker's exemplary songcraft and the band's impressive knack for innovation. — John Amen
Votes for this list came from ND Managing Editor Hilary Saunders; Assistant Editor Stacy Chandler; Ad Manager Sonja Nelson; columnists Henry Carrigan, Chris Griffy, and Amos Perrine; and contributing writers and reviewers John Amen, Rachel Cholst, Matt Conner, Nick Cristiano, Michael Elliott, Maeri Ferguson, Spencer Grady, Matt Ruppert, Laura Stanley, Matt Wickstrom, and Jon Young.
---