ALBUM REVIEW: Shemekia Copeland Goes Full Blast on 'Done Come Too Far'
Posted On August 17, 2022
---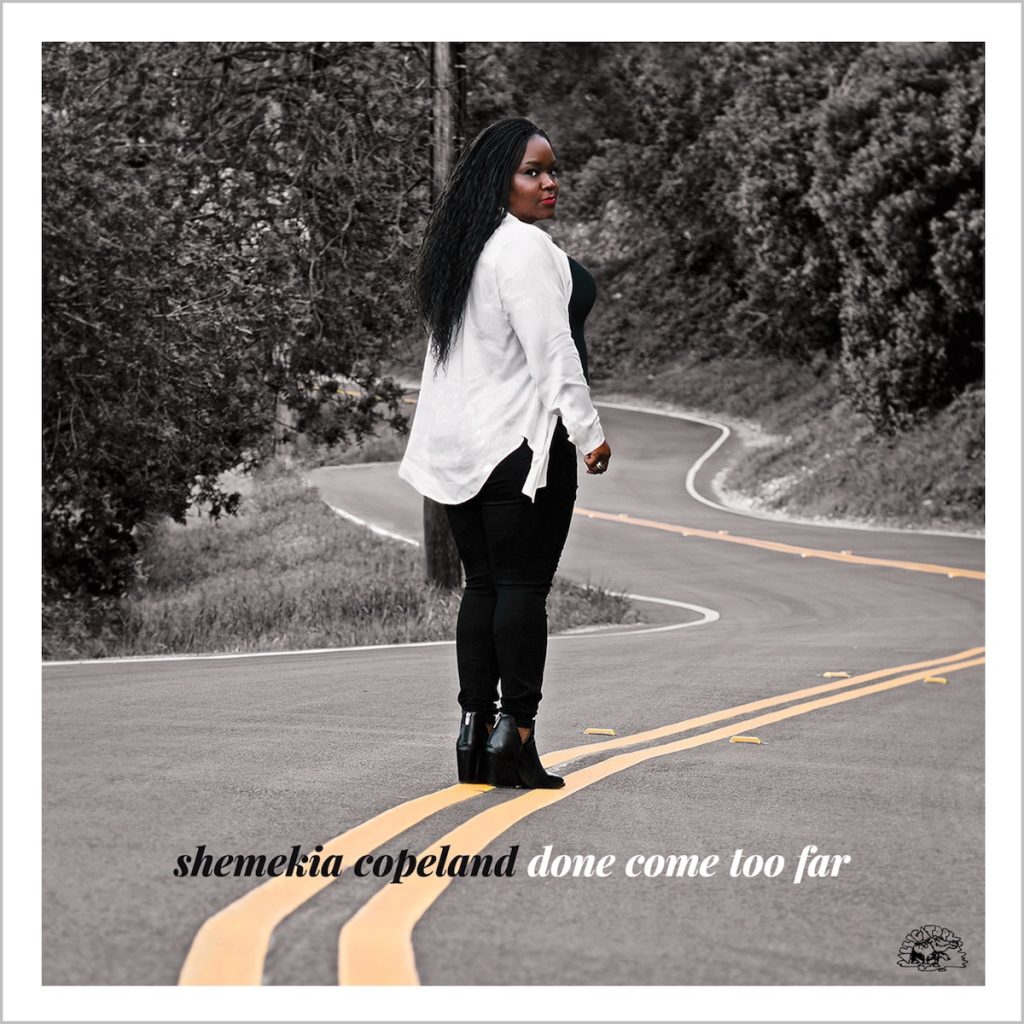 Shemekia Copeland has never had any trouble being heard. With her blast furnace, in-your-face delivery, she gets her message across loud and clear. Although she's usually tagged as a blues singer, Copeland transcends that label with a mix of styles including gospel, rock, blues, soul, and, on her more recent work, Americana as well.
2020's Uncivil War (ND review) showcased an eclectic mix of styles and a dazzling guest list including Christone "Kingfish" Ingram, rocker Webb Wilder, twangy guitar guru Duane Eddy, newgrass pioneer Sam Bush, and dobroist extraordinaire Jerry Douglas. As she's added styles, she's also expanded thematically, becoming more outspoken on social issues with releases like Uncivil War and 2018's America's Child. Her latest, Done Come Too Far, continues in that vein, though not exclusively so.
There's plenty of powerful ammunition on social ills. The title cut, with Cedric Burnside's Mississippi Hill Country drone on vocals and guitar setting the tone, is a proclamation of Black resilience and determination to prevail against all odds. "If you think were stopping, you got it wrong," Copeland announces, with Burnside tagging in to add that "We've been beaten, bloodied, thrown in jail / But with God as my witness we ain't gonna fail."
Copeland adds more firepower, with Sonny Landreth's guitar slashing at her heels, on "Too Far To Be Gone." Copeland cites the work of civil rights legend Rosa Parks without mentioning her by name: "A small thing like a seat on the bus / Gave life to the rest of us," backing up her promise to stay in your face and on your case.
On "The Talk," Copeland tackles the subject that Black parents have to address with their children: "As sure as you're black / There's a target on your back," she says in her role as an African-American mother advising her child how to survive on the street: "It's as cruel as life can get / When a child looks like a threat," adding that "When you get stopped / Remember who you are / And if your nerves start to crack / Whatever you do don't talk back."
Copeland lightens things up a bit, two-stepping out with "Fell in Love With a Honky," a country-flavored expedition with a cowboy who tries to win her heart by cooking her chitlins and chicken-fried steak. "Who knew a country boy / Could have so much soul / I fell in love with a honky in a honky-tonk bar."
"Fried Catfish and Bibles" adds some zydeco to the mix with a rollicking account of Louisiana one-stop shopping at a joint that sells firecrackers and ice cold beer as well as Bibles and catfish.
Copeland is in fine voice here, her proclamations and observations as on point as ever, proudly representing her generation with style and grace in a voice too strong to be ignored.
Shemekia Copeland's Done Come Too Far is out Aug. 19 on Alligator Records.
---