Shemekia Copeland Makes Musical and Social Statement on 'Uncivil War'
Posted On October 22, 2020
---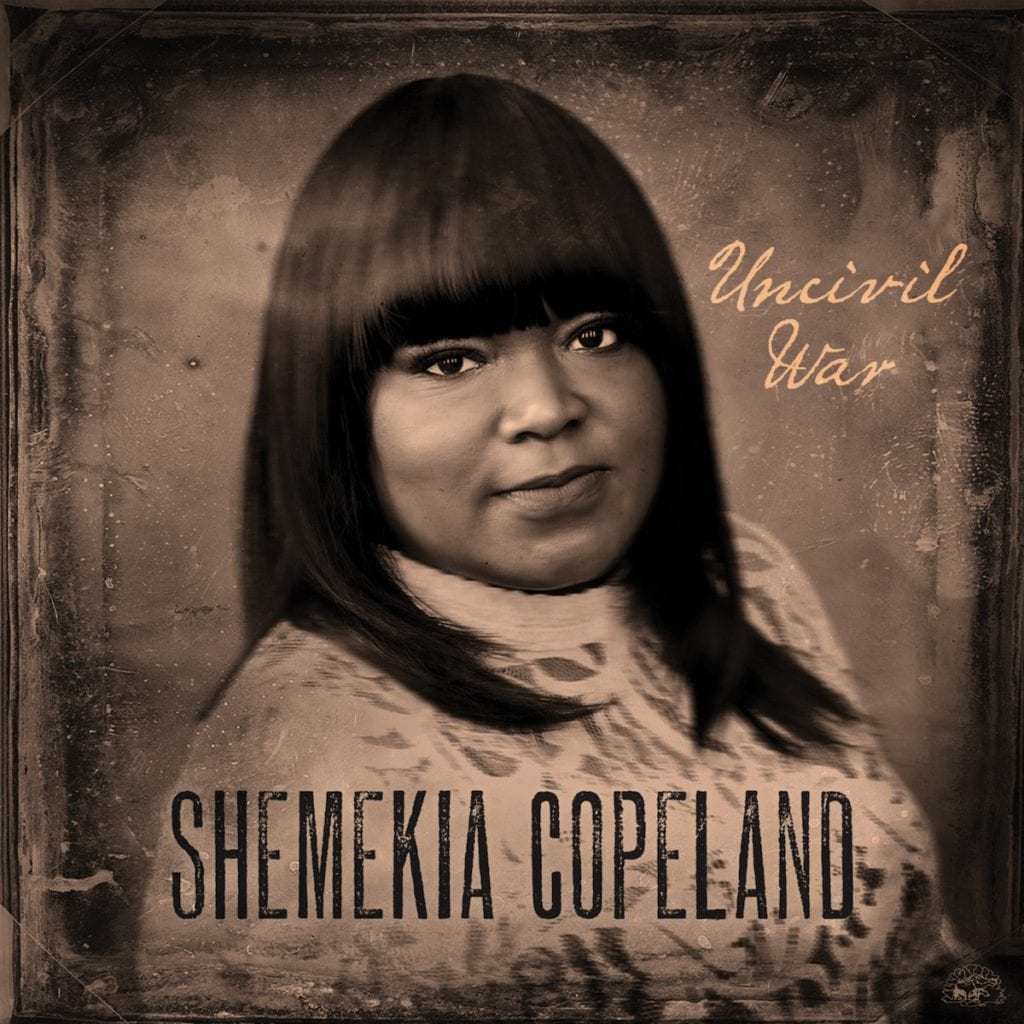 Shemekia Copeland doesn't need any amplification. As anyone who's seen her live can attest, her message comes across loud and clear, lyrically and sonically. She can fill a room with her voice without raising it, and raise the roof when she turns it on full blast. Her genre-hopping gospel/soul/blues delivery puts an added dimension to anything she tackles as an interpreter or an originator.
Her latest Alligator release, Uncivil War, is somewhat of a departure for her, not in lyrical content but in tone. Copeland has never been shy about tackling social issues or matters of the heart. But this time, with Will Kimbrough as producer and guitarist (and with a festival poster's worth of guest musicians, including Jason Isbell), Copeland hikes through high and lonesome territory without even breathing hard.
Listening to her full-blown blues debut on Alligator's Turn the Heat Up in 1998, you would have thought it was a pretty safe bet that you'd never hear a mandolin on a Copeland record. But here we get not just any mandolin, but one with Sam Bush's hands on it, with Jerry Douglas playing dobro alongside. Co-written by Kimbrough and John Hahn, the title cut is Americana through and through. But with Copeland in the foreground, you can bring in the Americana but you can't take out the soul. In anybody's else's hands it'd be a folk song, but Copeland has so much power and glory it comes across like Mavis Staples singing a Woody Guthrie anthem: "He says left / she says right … One says peace / the other says fight … One hand's a palm / the other's a fist / Another chance for love just got missed."
Copeland gets even more Mavis-like on "Walk Till I Ride," Douglas bolstering her march for equality with a very un-Pops-like greasy slide that gets pretty churchy before climbing back in the skillet for a meaty finish.
Copeland pays homage to Dr. John with a slinky second-line strut on "Dirty Saint," featuring Hahn and Kimbrough lyrics like something the good Doctor would have wrapped his twisted Big Easy patois around. After bestowing the title of "the blackest white man you ever seen" on the Doctor, Copeland offers up a funky, street-wise eulogy: "He could stagger, he could stroll / Stole tricknology from jelly roll … Always knew how to kill the pain / had more than holy water flowin' in his veins."
Cult hero Webb Wilder, bearer of the common-sense credo "Work hard, rock hard, eat hard, sleep hard, grow big, wear glasses if you need 'em," teams up with guitar god Duane Eddy for "She Don't Wear Pink," the duo cranking out enough twang and thump to hold up a honky-tonk in a hurricane. It's country-western as all get out, but with Copeland at the mic, you just can't filter out the bluesy soul.
But for sheer bulldozery, Copeland's take on the Stones' classic "Under My Thumb," makes Jagger look like a poser. Copeland's in charge, buddy, and you'd better sit up and pay attention just like the rest of us, as long as she wants us to.
---