'Get On Board': Taj Mahal and Ry Cooder Together Again for Tribute to Their Blues Heroes
---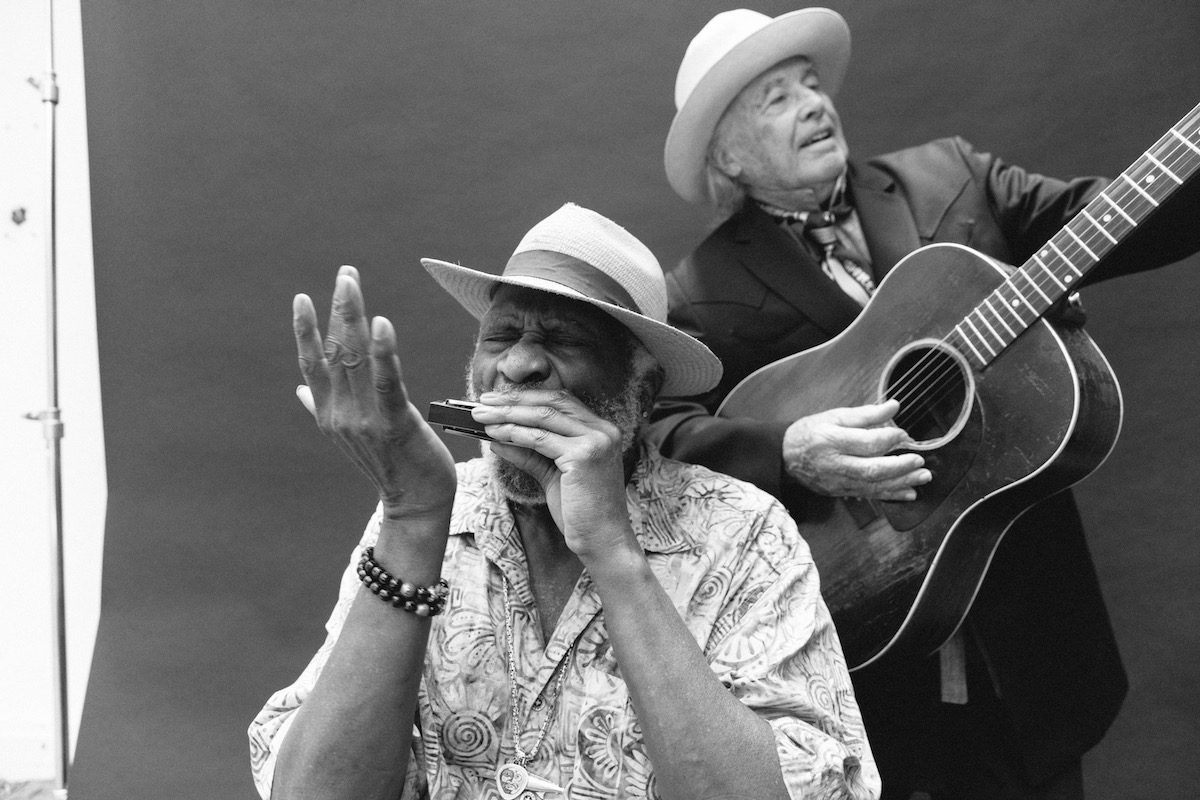 Taj Mahal (left) and Ry Cooder (photo by Abby Ross)
It's been a long time since 1965. Back then, Taj Mahal and Ry Cooder were kids, plucky upstarts playing together in the band Rising Sons with a mutual love of the deeply rhythmic Piedmont style of the blues.
The Rising Sons split up in 1966 after recording an album that went unreleased until 1992, and Mahal and Cooder went on to successful solo careers. Now, nearly 60 years since the last time they recorded material together, the pair has reunited for a new LP.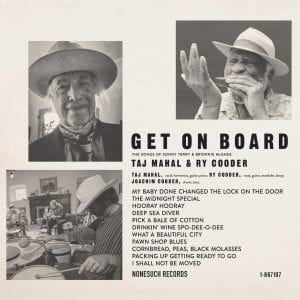 Get On Board: The Songs of Sonny Terry and Brownie McGhee, out April 22 on Nonesuch Records, is a collection of tracks recorded by the longtime duo of harmonica player Sonny Terry and guitarist Brownie McGhee. While they've each drawn inspiration from the music of Terry and McGhee since a young age, it was a style and vibe Mahal and Cooder say they couldn't have performed together until now.
"Oh no, we couldn't have done it, wouldn't have been able to play it back then," Cooder says. "Their music is a feeling, something you can evoke; 50 years ago we were nowhere near it, not thinking like that."
Mahal concurs: "Back then we would have been too close to the originals; we were 22, 24 and didn't know how to play from the point of being 80 years old. This is the sound of two grown men, impacted by two grown men who inspired us when we were young men."
Begging to Differ
Sonny Terry and Brownie McGhee became key figures in folk-and-blues circles in the late 1950s and early 1960s, with Terry's joyous harmonica blasts and McGhee's thumping finger-picking acoustic style making them a loose, irresistible pair.
Cooder was a teenager when he first heard the duo's 1952 Folkways recording Get On Board: Negro Folksongs by the Folkmasters. For a burgeoning young guitarist trying to find musical direction, it was a revelation.
"When I was little, like 4, I was given a guitar, and I asked, 'What do you do with it'," he recalls. "I had Get On Board, the 10-inch by Sonny and Brownie, and I'd play along with that, play along with Woody in the key of G.
"My old friend Jim Dickinson once said, 'Once you hit puberty, the blues is what you want,'" Cooder continues. "There's just this feeling the blues has and that they had, it lures you in, it's very enticing, and why that is, I couldn't tell you."
Terry and McGhee's Folkways recordings were part of a larger introduction to Black roots music and its history for Mahal while he attended college at the University of Massachusetts in Amherst.
"I wasn't really hearing anything that turned me on, but the big turning point was at UMass, the Northeast Ivy League college scene, I heard this music being played and presented to kids," Mahal says. "I was raised to be positive about the culture, but it was like, 'How come you've got those records and I don't? Folkways, what's that?'
"I recognized the value in Sonny and Brownie right away and how they didn't adorn their music with anything but what they played," he adds. "It was straight down the road, right down the middle, boom-boom-boom, there you are with them. They put the stuff on ya. I was so happy to find this music, it was something real, man."
Mahal's passion for the blues put him in search of likeminded artists. After finishing college in 1963, he headed out west to meet up and start a band with a young guitarist he'd heard about.
"My whole reason for coming to California in the first place was Ry Cooder. He was really something else. It was meant to be; you take 1,000 Black guys on the East Coast and I was the only one who knew he exists," Mahal says. "We had so many ideas back in the day with Rising Sons and made that first record, and it was like, wow! But back then the record company didn't get it."
"We both liked old music, traditional music, and that was our goal, but Columbia, the record company's goal was to be the next Byrds," Cooder says. "Then The Rolling Stones came out and they were like, 'That's blues. Be like them.' I said, 'I beg to differ.'"
Finding Their Place
In the wake for Rising Sons' dissolution, Cooder and Mahal each became iconoclasts whose artistic instincts and pursuits often put them at odds with labels and commercial prospects.
"[Mahal] stayed with Columbia, and I went to Warner Bros., who said, 'You're going to help us make money," Cooder says. "But it was like I wandered into the wrong neighborhood and I have to find my place. They said to me, 'Listen you, get yourself a pair of leather pants and get out there.' They just didn't get what I was doing. If you like it, the music you play has a claim on you."
"My thing was either I'd play music or if I couldn't play music, I'm certainly going to support it," says Mahal. "I didn't care who liked or didn't like my music, I wanted to learn and play whether someone knew what I was doing or not. It's all cultural to me, man, and the music industry wants to destroy that connection to culture and the intergenerational exchange of music."
Despite no longer playing together, Mahal and Cooder maintained a mutual respect for one another. Cooder deems Mahal "AAA-rated, a real crusader for the blues." Mahal calls Cooder an "amazing musician" and kept tabs on his career, often wondering "Why aren't you (the music industry) supporting this guy?"
In 2014, Mahal received a lifetime achievement award from the Americana Music Association. After receiving the honor at the AmericanaFest awards show, he played a few songs with an assembled band that featured Cooder. At the latter's encouragement they played a hot take of "Statesboro Blues," a song they played together in Rising Sons.
This renewed their friendship, and by 2019, the two were discussing a collaboration. But it wasn't until the pandemic hit that those discussions morphed into action.
Raw, Ragged, and Right
In the summer of 2021, Mahal joined Cooder at the home of Cooder's son, Joachim, in Southern California. While they were there, inspiration struck the elder Cooder.
"The decision was based on the assumption that Taj and I have been listening to this stuff forever, and we can do something with it, something good instead of bad," says Cooder. "I wondered what Taj and I would like to do together that would deliver that spirit. It was something we can do without mapping it out or planning."
"He says, 'I got an idea. What about Sonny and Brownie,'" recalls Mahal. "I went, 'Yeah, sure man. All you gotta do is say the word and I'm in."
Armed with some lyrics sheets, a couple of guitars, Mahal's mouth harp, and Joachim on drums, the pair set up shop in Joachim's living room and got to work. Despite having not recorded together in decades, Cooder and Mahal naturally resumed their creative chemistry. Within three days, they played fast and loose and recorded the 11 songs of Get On Board: The Songs of Sonny Terry and Brownie McGhee.
"It came back to me like when we were first acquainted all those years ago. We like the same songs and more importantly, we like the same feelings of those songs," says Cooder. "Between the two of us, we've paid attention and played so long, it's cellular at this point. I'm not a scientist, I don't play golf, I'm not good at anything else. Do you think the old blues guys recorded more than one take? Hell no, they'd lose that spontaneity."
"I hadn't hung out with Ry in 57 years, but we knew what to do right away. Ry is Ry, Taj is Taj, here we go down the well," Mahal says. "It's raw, it's ragged, it's right, it's front-porchy, it's back-porchy. It's us, playing music and having a great time. Sometimes I was out front, sometimes he was, sometimes we did harmony together. We just enjoyed each other."
Carrying the Torch
In support of Get On Board, Mahal and Cooder have a few live shows planned. A larger tour is still uncertain. In the meantime, the two are encouraged by the buzz surrounding the record and just enjoying the experiences for what they're worth.
"There's a good deal of interest in this and that's always a good thing for a musician," says Cooder. I can't do any other work. Without music, I would have been sacking groceries in El Segundo."
"This is big news to a lot of people and I've heard a lot of excitement from my peers; you can't buy that," says Mahal. "Connecting with someone like Ry — who I have a really great feeling about as a human being, musician, an artist — and playing with him and seeing people relate to it, we've become the guys we used to admire. It's phenomenal, holy cow."
---