SPOTLIGHT: Quiet or Loud, S.G. Goodman Strikes an Emotional Chord
---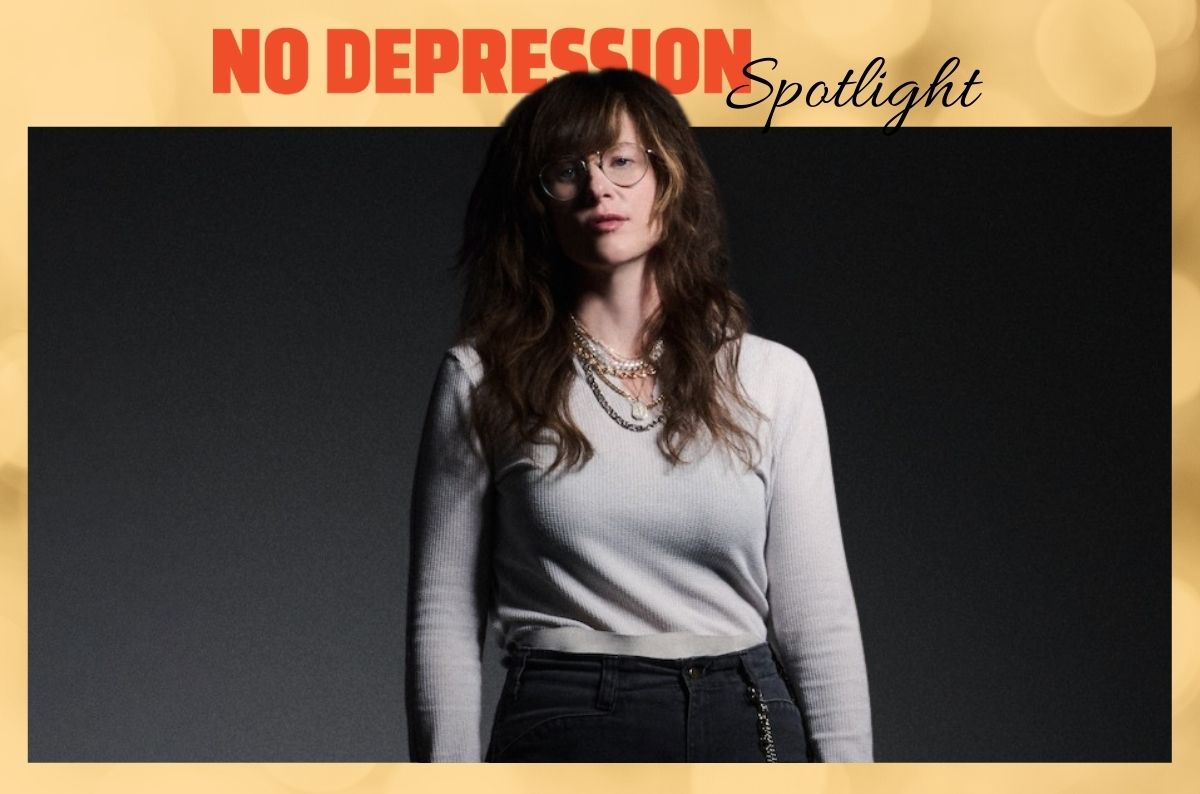 Photo by Meredith Truax
EDITOR'S NOTE: S.G. Goodman is No Depression's Spotlight artist for June 2022. Look for more about Goodman and her new album, Teeth Marks (out June 3 on Verve Forecast/UMG), all month long.
There is a moment on "Teeth Marks," the opening track on S.G. Goodman's sophomore record of the same name, when she conveys a longing so deep, it feels like our own. It's as though she's transferring it to us through that signature delicate warble in her voice, the one we've come to know from her devastating 2020 debut Old Time Feeling (ND review). In the song, Goodman sings about settling for breadcrumbs from someone who won't give her anything more, no matter how much she pines for it.
Ooo, oh maybe in time
You'll see things my way
See things my way
Well it's just like you to say something smart
Telling me how this shouldn't break my heart, but it did
Oh you know it did
The song poured out of her into an iPhone demo that hardly changed when it came time to record. "Not all songs come to you like that," she says. "Sometimes you gotta wait around until they tell you what they're supposed to be. But that one, I felt like I had a pretty clear vision for what I wanted from its initial inception."
Putting a song of such unabashed vulnerability like "Teeth Marks" out into the world is a kind of lesson in letting go. For Goodman, relinquishing control over a song and people's reactions to it is just part of the process. "Once you write it, it's not your baby anymore, you know?"
When it comes to letting go of expectations in a relationship, though, things get murkier. Unrequited love is, in many ways, the thesis of Teeth Marks, out this Friday on Verve Forecast/UMG.
"Nobody wants to admit that they allow that from themselves," Goodman says. "It's really one of those embarrassing lessons, but it happens. People's imaginations are really strong. Especially when you are really wanting someone to love you or care for you. And it really hurts when you're starting to kind of slowly admit to yourself, 'Okay, this could be happening. I could be living in a fantasy world.' It's hard."
Goodman mines the humiliation and heartbreak of rejection across various moods, like the slow burn "Heart Swell," the swoony "When You Say It," and maybe most pointedly in the driving, poppy "The Heart of It":
You give a little of this
And so I settle for that
I'd give my whole damn kingdom just to know where you're at
"That song in particular was just about that moment when you admit to yourself, 'This might hurt, but we need to level and see where we're at,'" says Goodman.
While some of the songs on Teeth Marks were written amid one particular period of inner turmoil, others had been floating around for years. "When You Say It" is more than a decade old, and the thought of reimagining it for the record was an unappealing prospect until Goodman suddenly heard the drum shuffle for it in her head one night during the band's dinner break from recording.
"I asked Stephen [Montgomery], my drummer, to come in from eating a sandwich, [and] told everybody, 'Gather around, here's what I want you to play.' And we worked that song out pretty well in about 20 minutes," she recalls. "It was fun, because it felt like studio magic and that happens sometimes with songs, where it's just a surprise for you and everybody in there."
What results is, like "Teeth Marks," a pained plea for something more from someone unwilling to offer it, and a song we can be thankful Goodman breathed new life into for us to hear. The emotions Goodman is working through in these songs are timeless and universal, a salve for anyone, at any age, who needs a reminder that their self-worth shouldn't be measured by the love or approval they receive from others.
"That's always kind of the goal. Being an artist, there are selfish aspects about it, but ultimately, I take performing and caring for others really seriously. So, I want my music to reflect that and for it to be something for more people than just me," she says. "The funny thing about it is we're all trying to heal that younger version of ourselves, huh?"
Still, sharing so much of yourself in your songs is a sensitive business. "The boundary thing, or lack or boundaries now, is very, very real. We're all living in this false sense of intimacy," Goodman says. "Clearly these songs come from a personal place, but the reason why they're gonna connect with people is because they've probably been there, too."
Appreciating Influences
That innate desire to connect with others and find common understanding was crucial for Goodman, who was raised in rural Kentucky and still calls the state home. Music was always an outlet, and it spanned a wide range that included the golden era of '90s country music videos on CMT and classic rock radio on which she was raised as well as the post-punk bands she played in when first starting out.
"My mother's crush was Bruce Springsteen, my dad's was Stevie Nicks. Neil Young, Bob Dylan — you know, the dad rock channels, we listened to 'em. … Neither of my parents played an instrument or anything like that, but because I come from such a rural area, listening to music while you're driving around looking at your farmland, it's a pastime. It's entertainment," Goodman says. "My dad, he's probably in his tractor somewhere right now, trying to plant beans or corn and probably listening to, like, Supertramp (not my song, but the band)."
An appreciation of those influences, as far apart as they may seem, can be heard across Teeth Marks, in the quiet, folksy twang of songs like "Patron Saint of the Dollar Store" and "Dead Soldiers," and in the shredding guitars of "Work Until I Die" and "All My Love is Coming Back to Me" (the album's brightest glimmer of hope). The latter tunes feel tailormade for what many have witnessed, maybe unexpectedly, at Goodman's live shows opening for Shakey Graves or at Newport Folk Festival: her love for playing loud and rocking out.
On a tour with John Moreland originally scheduled for earlier this year, Goodman had quieter sets planned, both to get back in touch with her singer-songwriter side and to connect with fans who, she says, have approached her merch table to tell her how much her songs affect them. "A lot of my songs … are highly emotional and they bring out a lot of emotion in people," she says.
The rescheduled dates with Moreland this summer will likely bring a mix. "I love to try to strike a balance if that's the kind of entertainment the crowd will allow," she says. "I'm there for people to connect with themselves and to have a good time. But yeah, I like to rock out."
Though the pandemic denied her the chaotic experience of promoting a record the last go-round, she is already making up for it this time. "Honestly I'm so stoked to get to see fans that I've been able to connect with this last fall and winter," she says. "It's just so fun to get to meet people on the road and hopefully … I'll actually be able to talk to more people, face to face, this time."
Her Old Kentucky Home
When the whirlwind of touring dies down, Goodman relishes her quiet life back home in Murray, Kentucky, where she lives alone and helps care for the land of an older gentleman. In some ways, she has the best of both worlds — playing shows in cities around the world, then retreating to the peaceful place that allows her to write such powerful songs. Her backyard is beautiful, her pets keep her company, her street is quiet. It is the kind of respite she would have to sacrifice if she moved to a city like New York or Nashville, something she doesn't think is in the cards at this point in her life.
Plus, Kentucky still feels like where she belongs, she says, even when she feels hopeless about the state of the world, and particularly, the backwards politicians that hold all the power and threaten the rights and safety of so many people.
"I do feel like when I come back here, I'm coming home. And it is. I've lived in this area all my life," she says. "I would never encourage anybody to stay in a place that could be harmful for them mentally or physically. So that's not the type of advocate I am for people staying in the South and trying to create some sort of change. I don't have any qualms about people noticing that this is something that I'm passionate about, because it is. I think it's just common sense that if people are always leaving a place that want to see change in the place they're leaving, well, you're gonna have an easier time bringing out change if you stay and do the work. And that's an easier thing to say than to do. I think the South, with a lot of the laws that are being passed, you cannot help but be kind of fearful right now … At this point, I'm not saying throw up your hands. Actually right now, more than ever, state elections matter, local elections matter."
As she did with Old Time Feeling, Goodman explores on Teeth Marks the complexities of the place in which she lives, and the sometimes complicated reckoning between it and the kind of person she wants to be. Songs like the gut-wrenching two-parter "If You Were Someone I Loved" and "You Were Someone I Loved" take on the opioid crisis from multiple perspectives in a startling meditation on empathy. Album closer "Keeper of the Time" examines the impact on relationships — with others and with oneself — of storing trauma in the body.
Goodman seems to have done the work to get a solid grasp on the things she can control, which includes being at the helm of whatever music she makes, as much as possible. "I have co-produced all my albums, or I would argue, produced all my albums, and so this album was no different," she says. "I know that's something I can trust myself with. Nobody knows what I want for my songs better than myself."
---