ND Reviewers and Writers Pick Their Favorite Roots Music Albums of 2020
Posted On December 28, 2020
---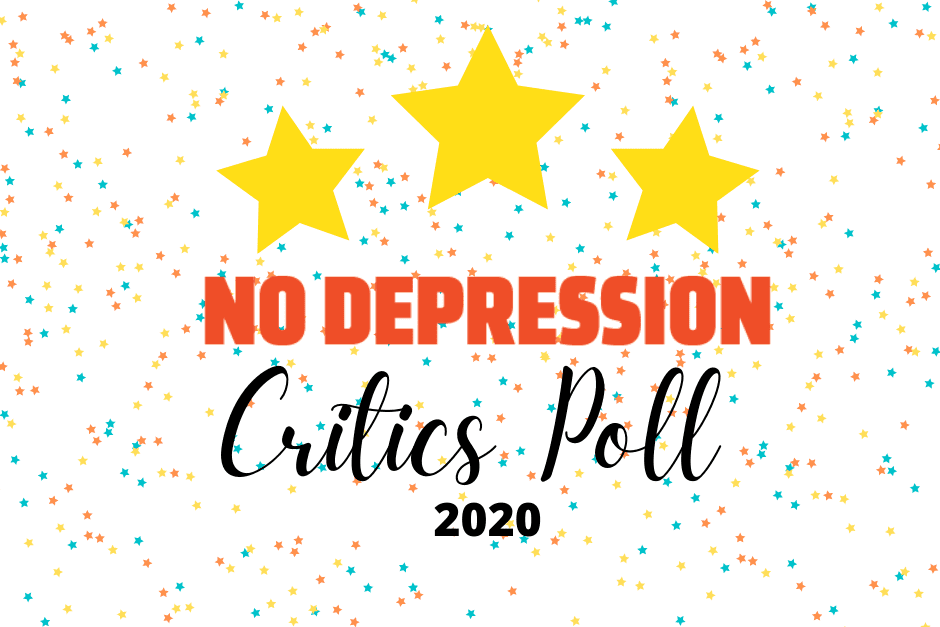 This year, as we have every year since 2004, we gave our readers the impossible task of choosing their 10 favorite roots music albums from among the year's new releases. In 2020, as always, readers took up the challenge enthusiastically, with more than 6,800 chiming in to create our list of No Depression readers' 50 favorite roots music albums.
Fair's fair, so we put the same challenge to our staff, reviewers, columnists, and writers in a separate poll. The results between the two polls were very different, with Jason Isbell, Lucinda Williams, and Bob Dylan the only overlap in the top 10. Our critics' tastes ran toward some more one-of-a-kind offerings, including list-topper Bonny Light Horseman, a collaboration between Anaïs Mitchell, Eric D. Johnson, and Josh Kaufman to reimagine some very old folk songs in a modern context. Close runner-up Jake Blount's Spider Tales turns the spotlight on a different set of traditional tunes, folk music created by Black musicians, which also brought old songs into the modern day to great effect.
Contributing to this list were No Depression Managing Editor Hilary Saunders, Assistant Editor Stacy Chandler, Ad Manager Sonja Nelson, and Digital and Retail Marketing Manager Adam Kirr; columnists Amos Perrine, Henry Carrigan, Chris Griffy, and Kara Kundert; and reviewers and writers John Amen, Chuck Armstrong, Rachel Cholst, Matt Conner, Michael Davis, Maeri Ferguson, Jeremy Gaunt, Will Hodge, Mike Elliott, Corbie Hill, Kelly McCartney, Steven Ovadia, Jim Shahen, and Jon Young.
We thank them and all our ND writers for their hard work all year and look forward to the reviews, columns, and articles they'll bring to No Depression readers in 2021! In the meantime, we hope you'll find some favorites and make some new discoveries in the list below. Click the name of the album to read the full ND review or story about the project, where applicable. And check the end of the post for our playlist of songs from these and other great roots music albums of 2020!
1. Bonny Light Horseman – Bonny Light Horseman
Though their takes on these songs are certainly not traditional, the act of re-interpreting old songs, or telling old stories with a new twist, is very much ingrained in the culture of folk music. It's a "very misty sort of terrain," according to group member Anaïs Mitchell. But the group is careful to avoid the concept of preservation when discussing their approach to making the album. They are simply adding their voices to the mix, and much like The Byrds, seeing folk songs through a pop lens. — Maeri Ferguson
Sometimes an album is more than the sum of its parts, providing a little something extra on top of a good listen. So it is with Jake Blount's new release, Spider Tales, a collection of black American roots music whose title refers to Anansi the Spider, a trickster who battles the powerful in the Akan people's folklore and remained a presence in storytelling by enslaved peoples in the American colonies. — Jeremy Gaunt
Phoebe Bridgers never takes herself too seriously, finding humility in every detail and living in that discomfort. In quiet, tense moments and when she's letting loose, Bridgers is wholly herself, awkward and antisocial, or self-assured and accepting. The wrestling with that duality in oneself is deeply felt and explored on Punisher. — MF
4. Jason Isbell and the 400 Unit – Reunions
Reunions is the most musically rich of all of Jason Isbell and The 400 Unit's albums to date, in no small part due once again to Dave Cobb's golden ear in Nashville's RCA Studio A. However, what has mainly driven Isbell's current status as the King of Americana is his peerless observations of our everyday lives, the small moments that hide away in our subconscious while the big moments take up all the room. — Mike Elliott
CHICKABOOM! illustrates Tami Neilson's expert way with a song: Her phrasing is impeccable, and she gets inside the song, turns it inside and out, and makes it her own. She can soar on the rockers on the album, she can deliver the heart-rending ache of a ballad of lost love, and she can capture the playfulness of a schoolyard rhyme with a joyous seriousness. — Henry Carrigan
6. Bob Dylan – Rough and Rowdy Ways
Bob Dylan is sharing what he loves with us: the skipping reels of rhyme, the literary texts, his friends like Allen Ginsberg, musicians from Jimmy Reed to Elvis and Buddy Holly, religions, languages, places both real and imaginary. On Rough and Rowdy Ways, Dylan lets us in to his imaginative landscape, and the real and fictional folks who people it, in a way that he hasn't since Highway 61 Revisited. — Anne Margaret Daniel
In many ways, Swift's folklore was the first "pandemic album," thanks to the resources and power she has at her fingertips to record and release the music she's writing right now. But it isn't a pandemic album in the way you might assume. Rather than the songs on folklore and evermore speaking to the moment, they offer a magnificent escape from it, like a juicy choose-your-own-adventure novel populated with the vast worlds of richly thought-out characters. — MF
8. Sarah Jarosz – World on the Ground
Sarah Jarosz grew up in Wimberley, Texas, a town about 45 minutes southwest of Austin with a population around 3,000 people, and she brings a few of its characters and many of its landscapes to life on World on the Ground. As people in the songs gaze out of their front porches or roam in the wilderness, they — and listeners — are met with expanses of sky and open fields, dirt you can sink your fingers into, and the names of tree species sprinkled in like a list of old friends. — Stacy Chandler
9. Lucinda Williams – Good Souls Better Angels
Williams has set aside her usual personal and, at times, autobiographical insights in favor of outward observations on our collective state of mind. In doing so, she has crafted one of the most searing, powerful albums in her over-four-decade career. Throughout the album's 60 minutes, it can feel like the walls are closing in; the darkness is all-encompassing. But as bleak as it may sound, there is an underlying feeling of hope, that all this darkness is temporary. — ME
10. Lilly Hiatt – Walking Proof
Walking Proof affirms Lilly Hiatt's gift for writing the just-right lyrics and for delivering them in emotion-drenched vocals that float on her sonically spacious instrumentation. Every song on Walking Proof reveals Hiatt's peripatetic lyricism and her ceaseless musical creativity. — HC
11. Kathleen Edwards – Total Freedom
Kathleen Edwards made space in her life once more for music and started to write the songs that would eventually become her new record, Total Freedom. The first to take shape was opener "Glenfern," a retrospective song about Edwards' marriage and career. "It almost killed me," she sings. "And I will always be thankful for it." "Glenfern" is like the deep, calming breaths you take after a long cry and sets the record's tenacious tone. — Laura Stanley
12. S.G. Goodman – Old Time Feeling
All it takes is a few notes from the opening track of S.G. Goodman's debut album, Old Time Feeling, to know you're about to hear something singular and special. Blessed with a one-of-a-kind voice that cuts through the atmosphere like a sharp blade, Goodman sings the kind of soul-baring torch songs that stick with you, compelling you to turn them up louder and louder and belt them out alongside her. — MF
13. American Aquarium – Lamentations
There is a prophetic voice that guides the new album. Though it was recorded in December, Lamentations features 10 tracks that highlight the things that can break humanity, including financial loss, political strife, and death. "If COVID-19 never happened, this record would still be just as effective," BJ Barham says, though there is no sense of joy in this statement. "Loss is not something that only happens during a disease or once every 100 years. On a daily basis, people are having to deal with the themes of this record." — Chuck Armstrong
14. Waxahatchee – Saint Cloud
15. Katie Pruitt – Expectations
A coming-of-age story, as well as a coming-out one, Expectations traces the arc of Katie Pruitt's particular hero's story, from internal grappling to external acceptance. As an artist's opening statement, the album is bold and beautiful, impactful and entertaining. — Kelly McCartney
16. David Ramirez – My Love is a Hurricane
My Love Is a Hurricane was initially conceived as a collection of love songs for David Ramirez's other half. One abrupt breakup later, and it became a nuanced exploration of love and what comes after. It ranges from passion and dedication to desperation to doubt to resilience, all without simplifying an unnavigable emotional storm. — Corbie Hill
17. Sturgill Simpson – Cuttin' Grass Vol. 1: The Butcher Shoppe Sessions
Surprise-released in October, Cuttin' Grass finds Simpson reimagining his songs in the bluegrass tradition, "a mixtape for the fans" he decided to create while recovering from COVID-19 earlier in the year. Backed by current bluegrass royalty — including Sierra Hull, Mike Bub, Stuart Duncan, and Tim O'Brien — Simpson's voice feels right at home in the style, a nod to his native Kentucky and a testament to his deep understanding of the genre and how its traditions can be taken to new heights. — SC
18. Elizabeth Cook – Aftermath
Riding in on a fierce and defiant psychedelic stomp, "Bones" blows open Elizabeth Cook's fifth album with a testimony to self and a declaration that the singer is moving on with her life. The rest of Aftermath builds on the promise and never-look-back vibe of the opener. The jangly "Perfect Girls of Pop" echoes the musical restlessness and incantatory beauty of Stevie Nicks' "Edge of Seventeen," with much the same knowing nod at the ironies of singing sweetly while getting your "heart slammed in the door." — HC
19. Fiona Apple – Fetch the Bolt Cutters
20. Clem Snide – Forever Just Beyond
There's levelheaded maturity and even acceptance of our collective fate that songwriter Eef Barzelay, who could be a bit of a goof on earlier albums, seems to have gained over the five years since his last Clem Snide LP. Indeed, these were hard years, defined by crises: Barzelay's marriage floundered; the songwriter faced bankruptcy, On the Scott Avett-produced Forever Just Beyond, Barzelay is a gentle indie-folk philosopher that will share a couch with us and talk hard existential talks with patience, gravity, humor, and grace. — CH
---