No Depression Readers' 50 Favorite Roots Music Albums of 2020
Posted On December 21, 2020
---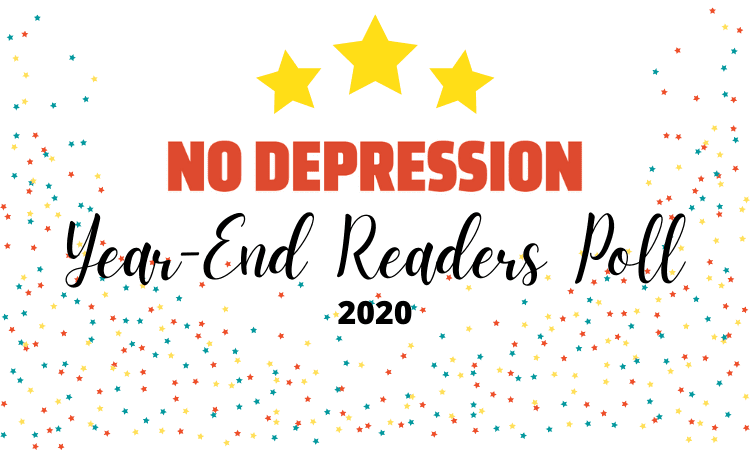 In a year when everything was upended and scary, No Depression readers reached eagerly, and perhaps understandably, for what's familiar. Topping our 2020 Year-End Readers Poll, which received more than 6,800 ballots, were new albums from roots music's current leading voices like Jason Isbell, Sturgill Simpson, and Chris Stapleton, as well as eagerly awaited offerings from legends Bob Dylan and Bruce Springsteen.
Politics made their presence known in the poll as well — how could they not, in 2020? – with fiery observations on current events from Drive-By Truckers, Lucinda Williams, and American Aquarium landing in the Top 10.
Chances are some of your favorites made our Top 50, listed below. And chances are even greater that a lot of your favorites didn't — but they were meaningful to you and to others who voted for them, and that's important. The point of this list isn't to try to make some claim about which roots music albums are truly better than others — this is art, not science! The point is to commemorate what moved roots music listeners this year, and perhaps to introduce you to something great you missed. And, most importantly in 2020, it's a chance to look back at something good — 50 somethings, in fact, and then some — that came out of this giant bummer of a year.
The readers have spoken, and we'll turn the mic over to our staff, reviewers, columnists, and writers next week for our annual Critics Poll next week. (UPDATE: Here is that list.) In the meantime, happy listening!
NOTE: For the Top 10, click on the album name to read ND's full review/story from earlier this year. We reviewed most of the rest of the list too — you can find those on our Reviews page! And don't miss our playlist of songs from these and other great roots music albums of 2020 at the end of the post.
Reunions is the most musically rich of all of Isbell and The 400 Unit's albums to date, in no small part due once again to Dave Cobb's golden ear in Nashville's RCA Studio A. However, what has mainly driven Isbell's current status as the King of Americana is his peerless observations of our everyday lives, the small moments that hide away in our subconscious while the big moments take up all the room. — Mike Elliott
2. Bob Dylan – Rough and Rowdy Ways
Dylan is sharing what he loves with us: the skipping reels of rhyme, the literary texts, his friends like Allen Ginsberg, musicians from Jimmy Reed to Elvis and Buddy Holly, religions, languages, places both real and imaginary. On Rough and Rowdy Ways, Dylan lets us in to his imaginative landscape, and the real and fictional folks who people it, in a way that he hasn't since Highway 61 Revisited. — Anne Margaret Daniel
3. Sturgill Simpson – Cuttin' Grass, Vol. 1: The Butcher Shoppe Sessions
Surprise-released in October, Cuttin' Grass finds Simpson reimagining his songs in the bluegrass tradition, "a mixtape for the fans" he decided to create while recovering from COVID-19 earlier in the year. Backed by current bluegrass royalty — including Sierra Hull, Mike Bub, Stuart Duncan, and Tim O'Brien — Simpson's voice feels right at home in the style, a nod to his native Kentucky and a testament to his deep understanding of the genre and how its traditions can be taken to new heights. — Stacy Chandler
4. Bruce Springsteen – Letter to You
Letter to You sounds and feels rejuvenating, a fist-pumping testimony to the power of dreams, tenacity, love, and, of course, rock and roll. It also plays as a song cycle of music as a spiritual healer, something Springsteen has preached from the pulpit of the stage, with the E Street Band acting as his apostles, for over 45 years. — ME
5. Chris Stapleton – Starting Over
Starting Over may be Stapleton's best album yet, for it displays his knack for writing songs that dig deep into our emotions, whether we're joyfully dancing to beat the devil, sadly packing our bags to hit the road that takes us out of town, or angrily searching for reasons for loss. Every song on the album comes as a perfectly wrapped gift to the listener. — Henry Carrigan
6. Emma Swift – Blonde on the Tracks
Emma Swift has given us all a gift with Blonde on the Tracks. From a swinging, jingle-jangle "Queen Jane Approximately," powered by the sound of a front-porch jug band, to all 11 minutes and 57 seconds of "Sad-Eyed Lady of the Lowlands" to "I Contain Multitudes," a track from Dylan's just-released Rough and Rowdy Ways, there's only true gold here. — AMD
7. Corb Lund – Agricultural Tragic
Difficult realities and long-cherished values collide with a bang on Canadian Corb Lund's first album of original material in five years. Eloquent and plainspoken, the excellent Agricultural Tragic finds the affable country rocker exploring his roots as a rancher and rodeo rider while striving to adapt this traditional identity to the challenging modern world. — Jon Young
8. Lucinda Williams – Good Souls Better Angels
Williams has set aside her usual personal and, at times, autobiographical insights in favor of outward observations on our collective state of mind. In doing so, she has crafted one of the most searing, powerful albums in her over-four-decade career. Throughout the album's 60 minutes, it can feel like the walls are closing in; the darkness is all-encompassing. But as bleak as it may sound, there is an underlying feeling of hope, that all this darkness is temporary. — ME
9. Drive-By Truckers – The Unraveling
"It may be political, but it's very personal," says Patterson Hood, "because all of this shit is very personal to me. I have close friends and family who are directly affected by aspects that get touched on by every single song on this record." A gloomy tone settled into the record naturally, says Mike Cooley, the result of a band continuing its long tradition of making music about what's on their minds in the moment. — Chuck Armstrong
10. American Aquarium – Lamentations
There is a prophetic voice that guides the new album. Though it was recorded in December, Lamentations features 10 tracks that highlight the things that can break humanity, including financial loss, political strife, and death. "If COVID-19 never happened, this record would still be just as effective," BJ Barham says, though there is no sense of joy in this statement. "Loss is not something that only happens during a disease or once every 100 years. On a daily basis, people are having to deal with the themes of this record." — CA
Steve Earle – Ghosts of West Virginia
Chuck Prophet – The Land That Time Forgot
Colter Wall – Western Swing & Waltzes and Other Punchy Songs
Margo Price – That's How Rumors Get Started
Tyler Childers ­– Long Violent History
Fiona Apple – Fetch the Bolt Cutters
Dave Alvin – From an Old Guitar: Rare and Unreleased Recordings
Charley Crockett – Welcome to Hard Times
Phoebe Bridgers – Punisher
Gillian Welch – All the Good Times
Neil Young – Homegrown
Scythian – Roots and Stones
Elizabeth Cook – Aftermath
Gillian Welch – Boots No. 2: The Lost Songs
Nathaniel Rateliff – And It's Still Alright
Taylor Swift – folklore
Drive-by Truckers – The New OK
Jeff Tweedy – Love Is the King
Sarah Jarosz – World on the Ground
Waxahatchee – Saint Cloud
Kathleen Edwards – Total Freedom
Bonny Light Horseman – Bonny Light Horseman
Arlo McKinley – Die Midwestern
Lilly Hiatt – Walking Proof
Gretchen Peters – The Night You Wrote That Song: The Songs of Mickey Newbury
Hayes Carll – Alone Together Sessions
Willie Nelson – First Rose of Spring
Ray Wylie Hubbard – Co-Starring
Sawyer Fredericks – Flowers for You
Brent Cobb – Keep 'Em on They Toes
Molly Tuttle – … but i'd rather be with you
Marcus King – El Dorado
Old 97s – Twelfth
Kim Richey – A Long Way Back: The Songs of Glimmer
Courtney Marie Andrews – Old Flowers
John Moreland – LP5
Jayhawks – XOXO
The Chicks – Gaslighter
Futurebirds – Teamwork
Strung Like a Horse – Whoa
---