Tami Neilson Makes a Statement with 'CHICKABOOM!'
Posted On February 12, 2020
---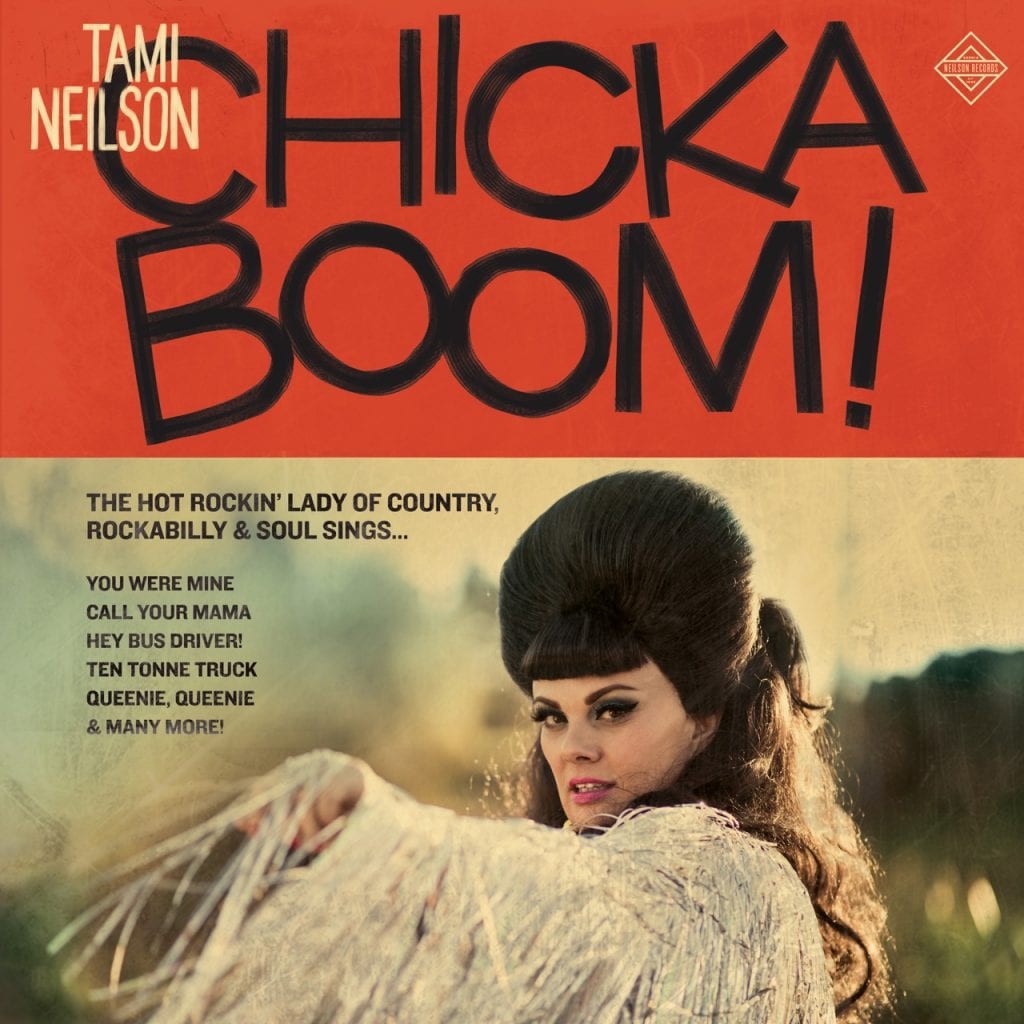 A little more than halfway through Tami Neilson's new album, the rambunctious rockabilly tune "Tell Me That You Love Me" gambols animatedly, mimicking a lover's breathless desire for the promise of love. The driving bass and drum propel the guitars and Neilson's vocals in the vivacious nervous energy that drives the need to be assured that you're the one and to seal that want with passionate kisses.
The rockabilly rambler, as with every other song on CHICKABOOM!, allows Canada native Neilson, who now lives in New Zealand, to showcase her range. Lesley Gore meets Janis Joplin on the slow-burning blues "You Were Mine." The song opens with a pop-inflected riff — recalling Gore's "You Don't Own Me" — that quickly blossoms into a growling blues shout. By the last lines of the refrain, Neilson's vocals rise to a full-throated scream, and she closes the song with a Joplin-like blues shouting moan.
"Queenie, Queenie" is a rhythmic schoolyard chant — "Queenie, Queenie / Don't drop the ball / Queenie, Queenie / Don't drop the ball / Queenie, Queenie / Don't drop the ball / Down come baby / Cradle and all" — that contains its own lessons about life and love, and the last line of the song provides the album's title.
The atmospheric blues "Call Your Mama" opens the album with a reverberating wall of guitars riding under Neilson's swaggering vocals. The rockabilly romp "Hey, Bus Driver!" burns rubber down the road, fueled by Delaney Davidson's lead guitar and Jay and Tami Neilson's driving rhythm guitars. Close your eyes for a moment, and you think you're listening to a Wanda Jackson song. "Sister Mavis" delivers a gospel-inflected rocking tribute to Mavis Staples, Mahalia Jackson, and Rosetta Tharpe. Neilson mimics perfectly Staples' "um-huh" on the opening line of the chorus. "Any Fool with a Heart" blends the Beatles "This Boy" with the shuffling rhythm of a slow flamenco song; it's a haunting beautiful tune.
CHICKABOOM! illustrates Neilson's expert way with a song: her phrasing is impeccable, and she gets inside the song, turns it inside and out, and makes it her own. She can soar on the rockers on the album, she can deliver the heart-rending ache of a ballad of lost love, and she can capture the playfulness of a schoolyard rhyme with a joyous seriousness. Neilson's powerful vocals and her canny songwriting, and the sheer pleasure of this music, certainly make CHICKABOOM! a contender for one of the year's best albums.
---