Unexpected Heartbreak Fuels David Ramirez's Powerful 'My Love Is a Hurricane'
---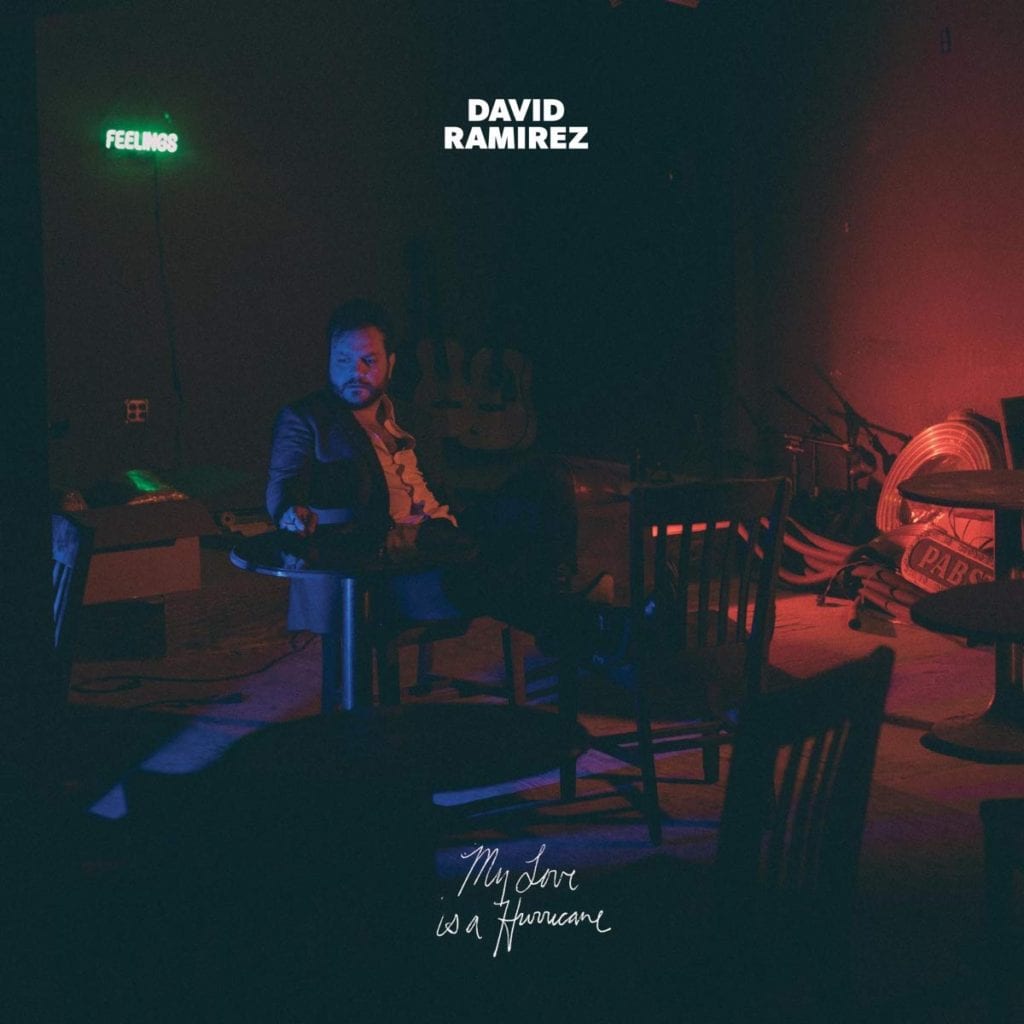 "August of '83 / Alicia came to wreck my city," David Ramirez sings on My Love Is a Hurricane's title track. "Six days before I was born / I'd like to think that was some kind of warning."
As the fourth of 10 songs, "My Love is a Hurricane" hits the ears and mind once the listener is already acclimated to the world of the Austin, Texas, songwriter's latest album, with its twilit grooves, enveloping textures, and post-relationship ruminations.
My Love Is a Hurricane was initially conceived as a collection of love songs for Ramirez's other half. One abrupt breakup later, and it became a nuanced exploration of love and what comes after. It ranges from passion and dedication to desperation to doubt to resilience, all without simplifying an unnavigable emotional storm. And Ramirez, a measured and patient songwriter, takes his time establishing and exploring My Love Is a Hurricane's key themes.
"You lost your home in the storm," he admits over the sharp crack of a programmed snare and tortured synthetic textures. "Baby, when I rain I pour." 
My Love is a Hurricane follows 2017's We're Not Going Anywhere, which was more in the vein of band-backed Americana singer-songwriter. Interestingly, My Love is a Hurricane is far less bleak than its predecessor: it's a warm, groove-driven record in the tradition of Nick Cave or Leonard Cohen — or at least the Cohen who sang "there is a crack in everything / that's how the light gets in."
Indeed, the breakup is one of the building blocks of popular music songcraft, yet it can also be one of the most challenging and complex. It can inspire documents as sprawling and elemental as Spiritualized's masterwork Ladies and Gentlemen We are Floating in Space or as frightening and personal as Neil Young's Homegrown, which Young kept unreleased for four-plus decades. On My Love Is a Hurricane, Ramirez, too, has created a next-level album, largely by understanding that a great breakup record covers the entirety of a relationship: the good, the bad, and the over.
"One after another / ended in pain and shame," Ramirez sings on "Hallelujah, Love Is Real!" "I started to wonder / if I had what it took to be a lover." It's an insistent R&B number with a triumphant gospel chorus, perfected like many songs on this album by harmonies that soar above Ramirez's resonant baritone (indeed, background vocalists Keite Young, Kelsey Wilson, Spice Reynolds, Uncle Roy, and Sarah Jaffe contribute to some of My Love Is a Hurricane's most memorable moments.) Lyrically, "Hallelujah, Love Is Real!" is a celebration of love, of finding that special someone; Ramirez's inflection, however, makes it clear that this person is in the rearview.
With its well-crafted earworm of "it's not a waste / not a waste of time / wasting my time with you," "Heaven" infuses a driving Tom Petty-style number with tragic '80s pop-rock flavors. "Shine on Me" is especially intriguing, in that it has the rhythmic and chordal structure of a mid-20th century vocal jazz standard.
My Love Is a Hurricane is a richly textured record — a leap in Ramirez's sonic evolution, no doubt — with electronics, synths, and keys building nuanced sonic landscapes, such as on the arena-huge, War on Drugs-evocative "Coast to Coast." "I know this land / like the back of my hand / like the back of my hand," Ramirez belts on its chorus. It's a bombastic and bold anthem; it's the sound of two people in love with each other, with the world around them, with their own potential. And it's cantilevered against songs the size of a single room. "Take me home tonight / I'm all yours / I don't want to party / anymore," a vulnerable Ramirez begs in the intimate, disconsolate "I Wanna Live in Your Bedroom."
Thanks to a painful breakup, we didn't get the collection of love songs Ramirez intended to release. What we got instead is a now painful and damaged, now warm and sweet exploration of the heartbroken spirit — even if (and possibly because) Ramirez had to go through hell to find these songs.
---