THROUGH THE LENS: The Insider's Guide to AmericanaFest 2022
Posted On September 12, 2022
---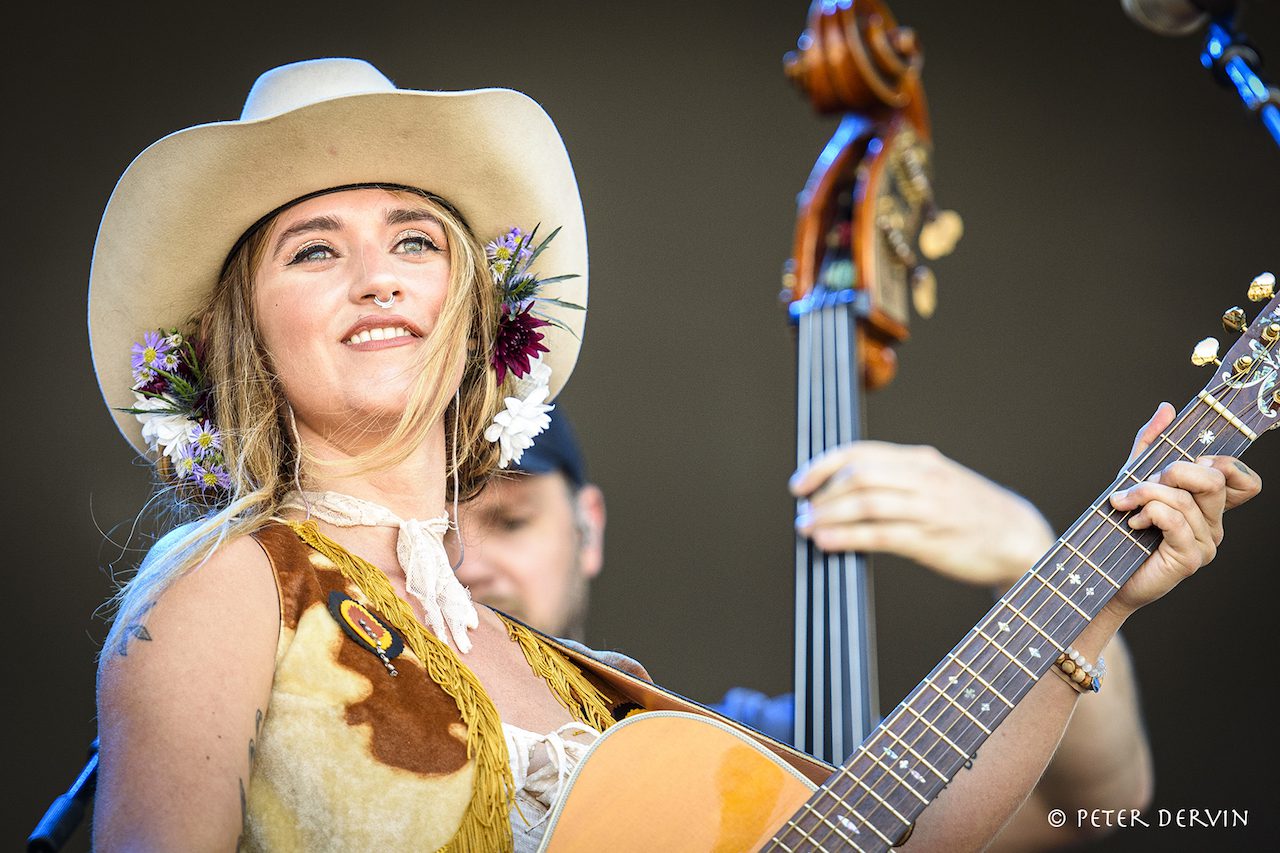 Sierra Ferrell - Photo by Peter Dervin
It's going to be an explosive five days in Nashville as the Americana Music Association presents its annual AmericanaFest, starting today. This year's edition reflects the vibrancy of roots music while presenting new challenges to festgoers. 
First, the lineup, in terms of the number of showcases and day events, borders on sensory overload. Second, the branches of roots and Americana music are not just astounding, they are wider, deeper, and qualitatively more inclusive than ever before.
Third, as the Cannery complex has closed many new venues have been recruited for festival attendees to digest and explore. Lastly, the city itself has grown and changed to such a degree that if you have not been to Nashville for a couple of years you may not recognize the place. It's going to be a challenge just getting around.
THE SHOWCASES
For this year's AmericanaFest preview, I've divided the showcases into three loose, and somewhat overlapping, sections that reflect recent trends I've seen developing. In addition to Americana acts, the Association has increased the number of artists who are more traditional and bluegrass oriented. The third category is one I've been calling "Taking Back Country Music," i.e., performers who are taking country music back from "the bro-country bullshit that's blasted from corporate programmed radio stations across the nation."
As in previous years, 1) conference panels are not listed, as the guide is about the music; and 2) the acts highlighted are not necessarily household names. Rather, they are artists on the verge and those who may not be that well known to many AmericanaFest attendees. Unless otherwise noted, all showcases are 45 minutes in length. While every effort has been made to ensure the acts, venues, and times are accurate, remember this is a guide, not a bible. So download the app and check it regularly as schedules can change at a moment's notice. The online schedule can be found here.
AMERICANA
Wednesday
Dead Horses, 9:20 p.m., Brooklyn Bowl: This Milwaukee duo weaves together a patchwork of classic and contemporary influences that span traditional, indie-folk, and other experimental musical idioms. They were ND's Spotlight band for August 2022.
Sunny War, 11 p.m., City Winery Lounge: ND's Henry Carrigan said in a 2019 review that War "exposes vulnerabilities, masks toughness, peels off layers of wanting and hope, and reveals glimpses of a ragged humanity that's by turns broken and whole." Three years later she's about to bust out.
Thursday
Willi Carlisle, 7 p.m., 3rd & Lindsley: Like his hero Utah Phillips, Carlisle is a poet and a folk singer for the people. He was ND's Spotlight Artist for July 2022.
Tommy Prine, 8 p.m., The 5 Spot: The son of a legend is charting his own course, his own way.
Friday
Michaela Anne, 8 p.m., Riverside Revival: Anne most certainly will be playing songs from her new album, Oh to Be That Free (ND review), that confront the brutal realities of the human condition with curiosity and compassion.
Henry Wagons, 10 p.m., City Winery: No Aussie has played AmericanaFest more often than Wagons. He's a one-man wrecking crew.
Saturday
Will Hoge, 8 p.m., Exit/In: As Matt Conner said in his ND review of Hoge's new album, Wings on My Shoes, Hoge has an "eye for lyrical detail, and strong melodic chops are all part of the signature songcraft."
TRADITIONAL AND BLUEGRASS 
Wednesday 
Mike Compton, 10 p.m., Station Inn: In playing with everyone from John Hartford to Elvis Costello, Compton and his mandolin have displayed a vintage authenticity with a modern grit.
Thursday
Bruce Molsky, 7 p.m., Station Inn: With an unmistakable feel for Southern Appalachian music, fiddler Molsky transports you to another time and place.
Jake Blount, 8 p.m., The Basement: If the future of traditional music could be summed up in one person, it'd be Blount. He's also ND's Spotlight artist for September 2022.
Black Opry Revue, 9 p.m., Station Inn: As its name implies, the Revue is a rotating collective of Black artists in country and other branches of roots music. Here's ND's article on the Revue's 2022 performance at the Newport Folk Festival.
Tammy Rogers & Thomm Jutz, 9 p.m., City Winery Lounge: Combine Rogers' fiddle with Jutz's guitar playing and you get an unparalleled trip though the Appalachian mountains. Together they could make a corpse get up and dance.
Po' Ramblin' Boys, 11 p.m., Station Inn: This Smoky Mountains band is at once exactly what you would expect and not at all what could be expected from a tattooed East Tennessee bluegrass outfit.
Friday 
Rob Ickes and Trey Hensley, 8 p.m., 3rd & Lindsley: What do you get when you combine a 15-time IBMA Dobro Player of the Year and a Tennessee-born guitar prodigy who made his Grand Ole Opry debut at the age of 11?  Ickes and Hensley, that's who.
Oshima Brothers, 10 p.m., The Basement: These two brothers from Maine have honed a harmony-rich contemporary folk sound via The Everly Brothers.
Saturday
Allison de Groot & Tatiana Hargreaves, 7 p.m., Station Inn: In demonstrating that traditional stringband music is not static, this duo uncovers new meanings in the communal pathways that led us to where we are today.
Nora Brown, 7 p.m., Koinonia/The Well: Deep from the heart of Brooklyn, banjoist Brown makes her AmericanaFest debut. As Jake Blount recently tweeted, "If you're not listening to Nora Brown yet you're wasting your life."
The Sweet Lillies, 7 p.m., The Basement: This acoustic trio, with a viola instead of a fiddle, features ethereal vocal harmonies that float like a dream.
Sister Sadie, 9 p.m., Station Inn: This band became the first all-female group to be awarded the IBMA's Vocal Group of the Year (which they've now won three times), as well as Entertainer of the Year.
Town Mountain, 9 p.m., Brooklyn Bowl: They may well be the best touring bluegrass band going.
TAKING BACK COUNTRY MUSIC
Wednesday
Joshua Ray Walker, 11 p.m., Analog at Hutton Hotel: Walker sings about wannabe cowboys, bleary-eyed dreamers, hopelessly lost souls, and barflies right out of Charles Bukowski.
Thursday
Rissi Palmer, 7 p.m., The Basement East: Palmer has not only been instrumental in changing the color of country music, but she also uses her own roots to expand its boundaries.
Melissa Carper, 8 p.m., 6th & Peabody: With a mix of classic country, western swing and jazz, Carper's queer country is a hard act to beat.
Whitehorse, 11 p.m., The Basement: This Canadian duo leaves no emotional, personal, fantastical, or political stone unturned in their approach to country music.
Friday
Bella White, 8 p.m., Station Inn: Canadian White learned country music from her father, from Virginia, who played in a bluegrass band. There's a lot of traditional music in her brand of country.
Rachel Brooke, 11 p.m., The 5 Spot: Expressively witty, Brooke is second to none when exploring heartache and pain.
Saturday
S.G. Goodman, 8 p.m., Riverside Revival: Goodman takes no prisoners, so don't expect to be coddled. She was ND's Spotlight artist for June 2022.
Sierra Ferrell, 9 p.m., The Basement East: Ferrell has appeared at AmericanaFest before, but I expect this year's nominee for the Americana Music Association's Emerging Act of the Year to be drowning in accolades by the big-time press who will have finally caught up. After a year on the road, Ferrell is returning to her adopted home in all her regal splendor. You might call it a coronation.
Tami Neilson, 11 p.m., Exit/In: The way Neilson incorporates classic country and hard-edged R&B into her songwriting and performances is unlike anyone I have ever heard. Undoubtedly, she'll be doing songs from her recent album, Kingmaker (ND story), which I am already calling the album of the year. As she lives in New Zealand we do not get the opportunity to see her much here, you have been forewarned.
Joshua Hedley, 11 p.m., 3rd & Lindsley: See what makes Hedley such a local favorite; his sense of honky-tonk is without peer.
DAY EVENTS 
They're back, and with a vengeance. If you think there are conflicts in the evening showcase schedule, it's even worse during the day. But bad in a good way. Be sure to check the app, as some daytime events are for conference attendees only; wristbands will not gain you entry.
Special note: While Dee's Country Cocktail Lounge in nearby Madison has hosted AmericanaFest's Wild Ponies Happy Hour (see below) on Fridays for several years now, this year it goes full bore with seven full days, beginning yesterday, of Americana-themed events, most of which are not on the app. A full listing can be found here. No trip to Nashville is complete without a stop at Dee's.
Tuesday
Tuesday evening kicks off with two stringband get-togethers that, sure enough, conflict with each other. You could call it dueling banjos.
The Old Fashioned String Band Throwdown, Presented by WMOT, 6-9 p.m., Dee's Country Cocktail Lounge: Jake Blount, Willi Carlisle, Mike Compton & Joe Newberry, The Po' Ramblin' Boys, Tune Hash.
Bluegrass Situation Presents Jason Carter & Friends, 8-11 p.m., Station Inn: The Travelin' McCourys, Vince Herman, David Grier, Michael Cleveland, Jason Carter. A certain octogenarian legend is rumored to be planning a visit.
Wednesday
Compass Records Group and No Depression Present Hillbillies & Hot Dogs, 11:30 a.m.-2 p.m., Compass Records: Steve Poltz, Nicki Bluhm, Chastity Brown, Rob Ickes & Trey Hensley. Limited seating but plenty of lawn space.
Jrodconcerts Presents: The AmericanaFest Fiesta, 11 a.m.-5 p.m., The Space at 100 Taylor: Andrew Leahey, Katie Pruitt, Aaron Lee Tasjan, Maggie Rose, Brit Taylor, Adam Chaffins, Lauren Morrow, Leah Blevins, Dylan Hartigan, Paul McDonald, Jack Harris. A good bet for those looking for an all-day, pre-awards show event.
Anthony da Costa's FOMO Party, Presented by BED|STÜ, 5-9 p.m., Brooklyn Bowl: Anthony da Costa, Nicki Bluhm, Sunny War, Rainbow Girls, Katie Pruitt, Bre Kennedy, Cory Branan, Caroline Spence, Josie Dunne, Robby Hecht, Jess Nolan, The Kyle Tuttle Band. Da Costa's annual alternative to the awards show outdoes itself this year. What a line-up!
Thursday 
Mule Kick & Devious Planet's Rock-n-Roll Brunch, Noon-6 p.m., The Groove: Andrew Leahey & the Homestead, Freedy Johnston, Michelle Malone, The HawtThorns, Side Pony, Bette Smith, The 40 Acre Mule, Sara Petite.
Madison House Hullabaloo, Noon-5 p.m., The Basement (outside): Steve Poltz, Rainbow Girls, Nicki Bluhm, Oshima Brothers, The Bones of J.R. Jones, Leah Marlene, Trent Harmon.
8th Fire Sessions by Ishkōdé Records, 1-4 p.m., Dee's Country Cocktail Lounge: The first-ever AmericanaFest celebration of Indigenous voices, featuring Amanda Rheaume, Aysanabee, Digging Roots, and Evan Redsky.
Friday 
1st Annual Mountain Stage & Missing Piece Shindig, 11 a.m.-3 p.m., Analog at Hutton Hotel: Mountain Stage host Kathy Mattea presents Caitlin Rose, Janiva Magness, Mya Byrne, Jessie Baylin, and Chastity Brown.
East Coast Social Club, Noon-4:30 p.m., The Bowery Vault: Amy Speace, Tim Easton, Amelia White, The Sea The Sea, Jonathan Byrd, Renee Wahl, and Tony Denikos.
Andy's AmericanaMitzvah, Noon-6 p.m., The Groove: Will Kimbrough, Crys Mathews, Amelia White, Jon Byrd & Paul Niehaus, Hello June, liv., Van Plating, Lilli Lewis, Garrett Owen, Suzie Brown, Tylor Bryant, and Tae Lewis. As with Anthony da Costa, host Andy Rubin is the insider's insider; if you want to know what's happening in the East Nashville underground, this is the place to be.
Wild Ponies Happy Hour, 4:30-7 p.m., Dee's Country Cocktail Lounge: Wild Ponies, The Sea The Sea, Lilli Lewis, Nora Jane Struthers. The party does not stop at 7 p.m., and as Anana Kaye and a host of others will be there, why not spend the rest of the evening there? I have; the music usually goes on till 2 a.m.
Saturday 
Under The Sun, 10:30 a.m.-5:30 p.m., L27 Rooftop Bar at The Westin Hotel: Tami Neilson, Nikki Lane, 49 Winchester, Will Hoge, Lilly Hiatt, Rissi Palmer, Joshua Ray Walker, Kaitlin Butts, Strung Like a Horse, Michael McArthur, Emily Nenni (w/ Teddy & The Rough Riders), Taylor Rae, and Jeff "Skunk" Baxter (w/ CJ Vanston).
Queer Roots, 2-7 p.m., The Groove: Adeem The Artist, Austin Lucas, Chris Housman, Cindy Emch (Secret Emchy Society), Ever More Nest, Jessye DeSilva, Julie Nolen, Lilli Lewis, Mali Obomsawin, Mercy Bell, Mya Byrne, Nicholas Rich, Paisley Fields, and Wiley Gaby.
Wirebird Records Launch Party, 4-7 p.m., Bowery Vault: Anana Kaye, Jacob Vanko, Kristen, John Dennis. Kaye is the treat here.
Click on any photo below to view the gallery as a full-size slideshow. 
---