THROUGH THE LENS: The Women Who Are Taking Back Country Music
Posted On November 12, 2019
---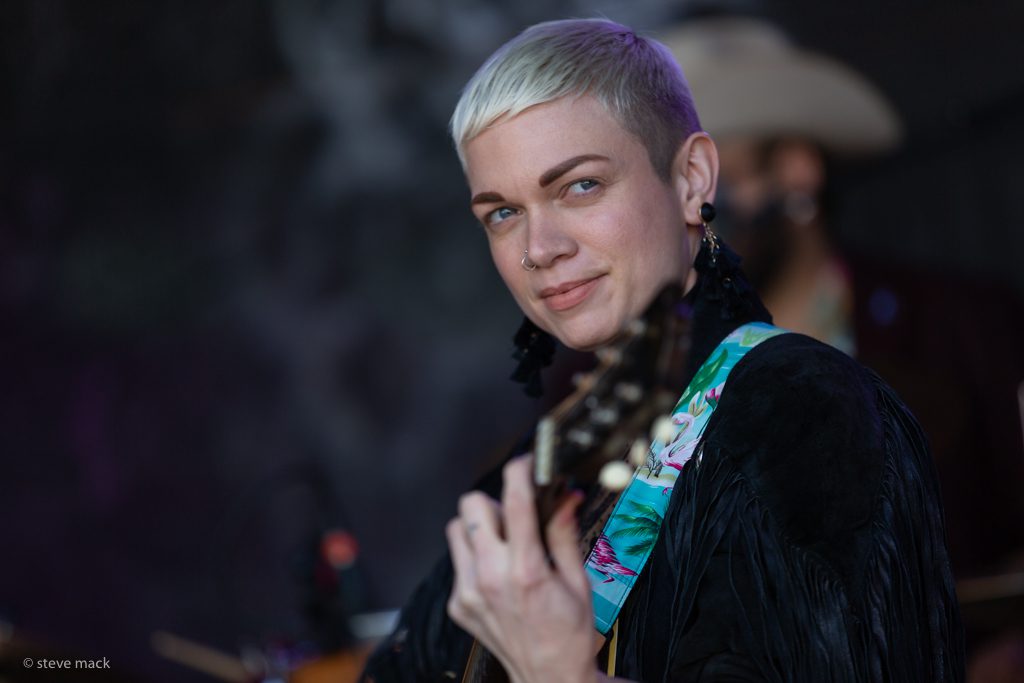 Lillie Mae - Photo by Steve Mack
"What I love the most are sad songs. My heart was broken and, I dunno, I guess when my heart breaks, pedal steel comes out."
So said Karen Pittelman (Karen & the Sorrows) in a 2017 Bluegrass Situation article exploring the assumptions behind who owns country music and who's "allowed" into that genre. It should be clear to everyone that the landscape has changed significantly during the two past years. 
Those changes, and the people and events behind them, are intriguing in a variety of ways, making for a trend I call "Taking Back Country Music." While it cuts a wide swath across sexual and sexual identity lines, I find that it is being primarily spearheaded by women — who have been too long left on the sidelines; who bring to the genre visions, roads traveled, and insightful stories of joy and tribulation of the present.
My thesis is not that women are redefining country music — it, and they, have been there all along — but that they are taking it back from the bro-country bullshit that's blasted from corporate programmed radio stations across the nation. While it remains unknown how much of a dent the current movement will make in that monolith, their work serves as a viable alternative for roots musicians and fans everywhere who don't want their music dumbed down.
Appalachian Women: Embracing Their Accents
The door has been kicked wide open during the past few years by a significant number of artists who not only hail from Appalachia but who also have embraced an accent once derided as "hick" or simply uncouth by outsiders. While Kelsey Waldon (Kentucky) made the biggest splash this year, with an album that will certainly be on many top 10 lists and a turn as No Depression's Spotlight Artist in October, five others also come immediately to mind.
The 2017 album Wrangled from Angaleena Presley, also from Kentucky, not only serves a blueprint for women on how to expect to be treated in Nashville, but also, as noted in my review, embodies the best country has had to offer since Hank Williams. She may be best known as one-third of Pistol Annies, but she's the one I went to hear when I recently saw them.
Dori Freeman (Virginia) may be the most plaintive of this group, but she sings and writes in a way that brings into sharp focus lyrics such as "Margaritas deep enough to fill a sink / Now I'm spinning circles at the roller rink / Drunk enough that I don't even have to think" from this year's Every Single Star.
Lillie Mae (Tennessee) is perhaps the most adventurous of the group and has been grounded in the music of this region since the age of three, when she began touring with her family band. As Charles Mingus (and others) said, "You have to know the rules before you can break them."
I have followed Sierra Ferrell (West Virginia) ever since her days in a local band, 600 lbs of Sin, over a decade ago. After two darn good digital-only albums and appearances at an untold number of festivals, her upcoming album on Rounder will, I predict, make the world pay attention. I've heard the new songs and they're stellar.
I've perhaps saved the best for last: Martha Spencer (Virginia) has the hardest hitting accent of the bunch, as well as being the most traditional. Like Mae, she began at an early age as part of her family's band, and does more live shows than you can shake a stick at. Moreover, she spreads her talent deep and wide with a lot of side projects: most notably, her Hillbilly Wonderland show on Radio Bristol. Her lone, self-titled solo album was my favorite country album last year. To tell you how highly I think of her, this year I skipped the first portion of the AmericanaFest Awards show to catch her showcase.
Throwbacks: Michaela Anne and Karen Pittelman
On the countrypolitan side of town, I spoke with Michaela Anne a couple weeks ago about women in country music generally, and the above-noted thesis in particular. She sees herself more in the Tammy Wynette-Billy Sherrill vein, especially in his use of strings, which she incorporates in her own voice. Her 2019 album, Desert Dove, showcases that and more. She's also met resistance by promoters who "already have a girl singer" on a bill, but she's also experienced a camaraderie with, and support from, other similarly situated young women in Nashville. 
At the other end of the spectrum, it would, at first blush, seem ironic that Karen Pittelman, a self-proclaimed "queer Jew from Brooklyn" just released Guaranteed Broken Heart, the best straight ahead country album I've heard in quite some time (ND review). Once you've heard her voice, you'll be hooked — her sound is as authentic as it comes, with nary a hint of mimicry. Even the album's cover that has Pittelman looking, through her signature tear-drop glasses, directly at the viewer with a penetrating gaze seems to serve as a defiant declaration: "It's my country music, too. Deal with it."
I know full well that there are men, as well as other women, who are also reclaiming country music. Perhaps there'll be a part two to this column. In the meantime, sit back, relax and enjoy the photos below.
---