SPOTLIGHT: Empathy Electrifies Dead Horses' 'Brady Street'
---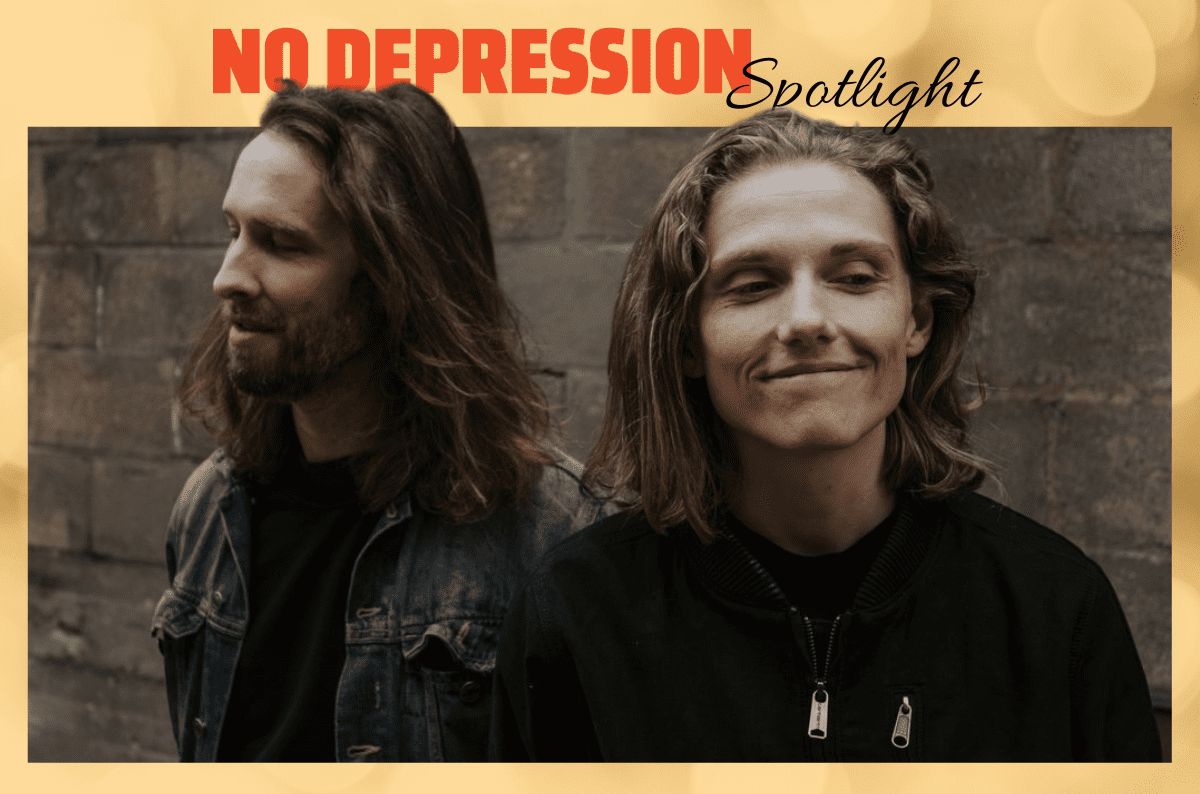 Dead Horses' Dan Wolff and Sarah Vos (photo by Michelle Bennett)
EDITOR'S NOTE: Dead Horses are No Depression's Spotlight band for August 2022. Look for more from them and their new album, Brady Street (out Aug. 12), all month long.
The beauty of Brady Street, the eclectic thoroughfare just north of downtown Milwaukee, is its guarantee of the unexpected: "You just never know what or who you're going to see," says Sarah Vos, songwriter, singer, and guitarist for Dead Horses.
Amid the shops, restaurants, and bars are weirdos and wanderers who give the place its heartbeat and make it, as Vos describes it, "a place for misfits."
Misfits are central to the songs on Brady Street, Dead Horses' fourth full-length album, along with a pervasive message of support.
"I'll lend you my hand / When the world don't understand," Vos sings on "You Are Who You Need to Be," and on the title track she ends a verse describing a friend's painful distance from a toxic parent with "Well I can understand that."
It's a deep vein of empathy that has always run through Dead Horses' music, and it comes from a very real place. In fact, being misfits is what brought Vos and musical partner Dan Wolff together in the first place.
Light in the Darkness
When Vos and Wolff met through mutual friends in 2010, both had recently dropped out of college and were trying to figure out their next move. They knew they wanted music to be involved, but they were unsure they could make a career of it.
"We started off playing essentially anywhere that would let us play," Vos recalls. "Farmers markets, we did a lot of bars, we won a very small battle of the bands, and with that money we bought a PA, and that allowed us to keep the momentum going."
After a while, they started recording their original songs, and that's when Vos knew music would remain central in her life, both as a passion and a job. "That had always been a dream," she says. "But all of a sudden it kind of seemed within reach."
Some of their earliest sets were played without a band name, but when a name was needed, some friends suggested Dead Horses, intended as a tribute to horses killed in wars. But there was another layer as well, a nod to a friend who had died of a drug overdose that involved heroin — sometimes called "horse."
In the age of social media, Vos and Wolff sometimes get pushback about the name, and they can see why it might make an animal lover cringe. But where some see a bummer in the name, they find something more optimistic.
"It shows this whole dichotomy that we have, which is that there is suffering in life and there are things that happen that you don't want to happen," Vos explains, "but in those moments often you find the brightest light or the brightest hope. And I like the realness of that."
With Vos singing and playing guitar, Wolff on bass (he started on electric, but switched to upright to better fit Vos' folk-inspired sound), and in the band's current incarnation with Jamie Gallagher on drums, Dead Horses pack plenty of realness into their songs. And like the sidewalks of Brady Street, there are surprises along the way. What's constant is a keen eye for people and plights that are often unspoken, and lyrics and melodies that beckon listeners to look more closely.
Dead Horses' previous album, 2018's My Mother the Moon, found Vos grappling with a childhood marred by her family's sudden expulsion from the fundamentalist church where her father was pastor. The complications that religious upbringing infused into her identity as a queer person hugely impacted the record. The songs resonated widely, earning Dead Horses slots at major roots music festivals and gigs opening for Watchhouse (formerly Mandolin Orange), Trampled by Turtles, and even The Who. (For more on their approach to those opening gigs, see the story "The Opening Act" in No Depression's Spring 2020 "Live and In Person" journal.)
They kept the momentum going with the Birds EP in February 2020 and embarked on a tour to add those songs to their mix — but only a few shows in, the pandemic slammed the brakes on those plans, and Vos and Wolff returned to their homes in Milwaukee.
"It's a shame that that's how it went down," Vos reflects. "But at the same time, I feel like we really needed a break in a lot of ways. … Part of what that momentum came from was just never stopping. Like, we just never stopped and it was getting to the point where it was really difficult. So stepping away was a really healthy thing."
That space from the road, and even away from music — Vos says she didn't play much during the pandemic — made room for some new songs, and some new truths to think about, too.
"I really appreciate how much perspective was gained from just a huge shift like that," Vos says, "and we all kind of went through it together."
An Open Mind
When the pandemic eased enough to allow gathering in a studio again, Vos and Wolff had an album's worth of songs and a renewed admiration for the musical resources close at hand in Wisconsin.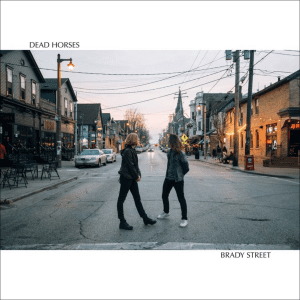 They'd recorded their previous albums far from home, in Nashville and San Francisco, but for Brady Street they headed to Honeytone Studios in Neenah, Wisconsin, less than a two-hour drive away from Milwaukee. After learning the ropes from the producers they had worked with previously, they began self-producing with the Birds EP, and continued with Brady Street. A guiding principle as they recorded was to stay close to the sound they'd honed onstage in all their years of touring.
"When you're in the studio, you have the freedom to add other parts, and I love that part about working in the studio," Wolff explains. "But even though we were adding extra parts, we really wanted to keep it true to what we feel like we can do onstage."
That approach adds a crackle of energy throughout Brady Street, leaving room for Vos' vocals to make their impact but also letting each band member's musicality shine through. Far more than just holding down the rhythm and adding depth, Wolff's bass entwines with Vos' guitar and vocals, taking the songs to unexpected places.
Vos' plainspoken lyrics deliver truths that can hurt, but also heal. On "It's All Good," a walk through the city leads to the kind of introspection that's more often associated with time spent in nature. Streetlights stand in for stars, and church bells ring out instead of birdsong.
But even in the city, nature has its place. A bird soars over a set of rails in "Bird Over the Train," but is free to find its own path if it chooses. And "Birds Can Write the Chorus" finds Vos looking to nature for answers as she contemplates her childhood and how much of it to bring into adulthood.
But people are firmly at the center the record, especially on "You Are Who You Need to Be," a song inspired by a friend whose close relationship with his mother is strained by her inability to accept that he is gay. "You deserve love," Vos sings, "You are quite enough / Fuck all that other bullshit stuff."
It's a pep talk delivered with heart and sincerity, a testament to Vos' songwriting skills, but also to her ability to empathize — "almost to a fault sometimes," she admits.
She describes "almost like an obsession" with looking for other viewpoints and trying to understand them. It's an awareness, she says, "that my way of looking at it isn't the only one, and that it might be wrong."
Breaking away from the rigid beliefs of the fundamentalist church fuels that empathy, she says.
"Having that reality shattered I think has kept my mind always open to anything," she muses. "But I would also say, growing up in the church, we were really taught to love everybody. Like, you love everyone, and kind of like the old saying, "walk a mile in someone else's shoes.' That was a part of the religious background that I really liked."
The Open Road
Brady Street closes with "Days Grow Longer," a song that's wistful for the road, even as it rocks, ending the record on an upbeat note that nonetheless has some heft. Like hints of spring signaling the end of a dark winter, the hardship of the shutdown brought a new appreciation of the musician life Vos once dreamed of, but also a clear-eyed view of the baggage that travels along with it.
Dead Horses will return to the road they've ached for this month, crisscrossing the country just as described in "Days Grow Longer": "The open roads laid bare in front of me / East and west across the continent / baptized by dissidence." But, of course, it'll all start in Milwaukee, with a hometown album release show at Turner Hall Ballroom, just a few blocks from Brady Street.
---