THROUGH THE LENS: Joni Mitchell, Paul Simon, and More 2022 Newport Folk Festival Highlights
---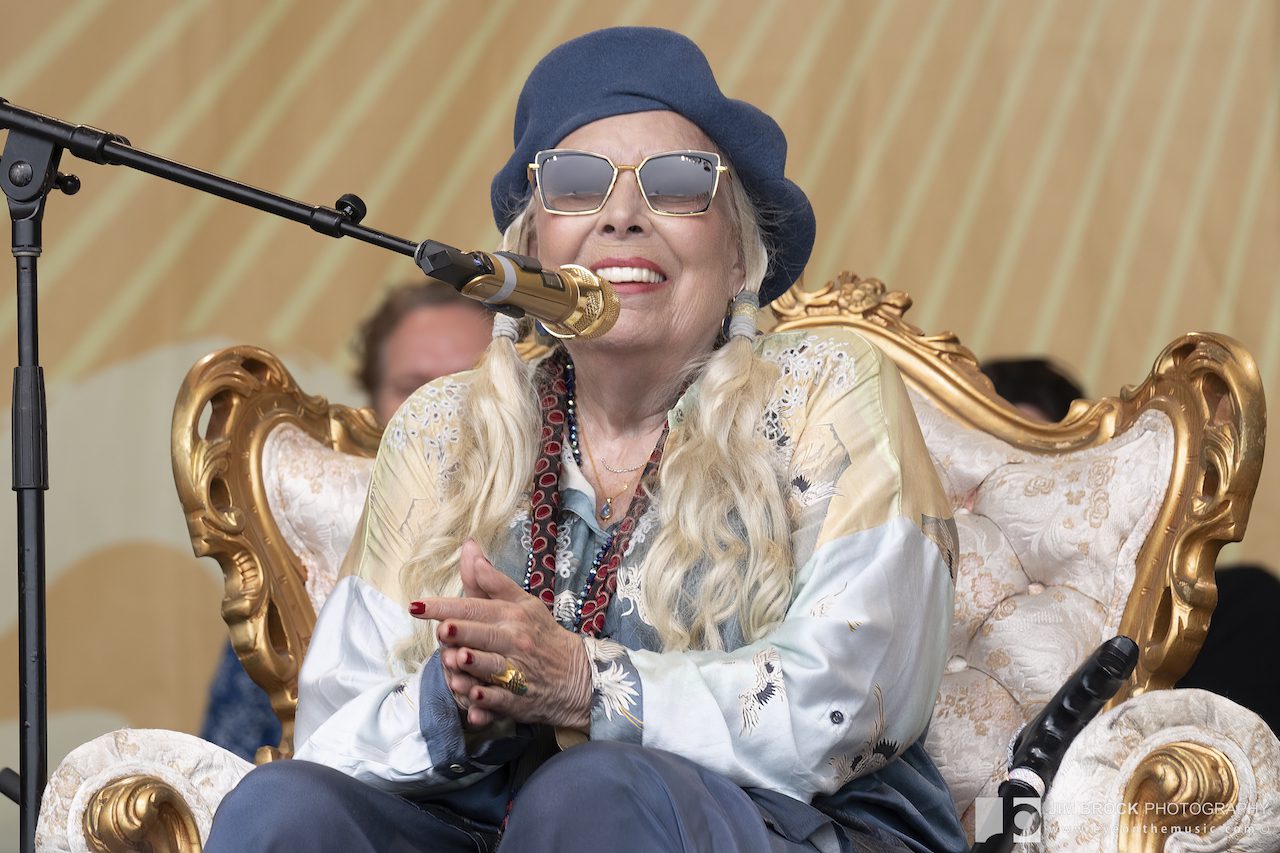 Joni Mitchell - Newport Folk Festival 2022 - Photo by Jim Brock
We were most fortunate to have two veteran photojournalists, Anthony Mulcahy and Jim Brock, in the photo pit for the phenomenal, unforgettable, high-water mark that was the 2022 Newport Folk Festival, the epitome of roots music festivals. As both Mulcahy and Brock have attended the festival on numerous occasions, they know their way around, and they were able to capture photos you will not see anywhere else. Those photos include portrait sessions of select artists by Mulcahy.
While there is some overlap, both reports are included in this week's column to give you two independent looks at the weekend. The highlights, of course, were two legends, Joni Mitchell and Paul Simon, performing with two legends in the making, Brandi Carlile and Rhiannon Giddens, respectively. By all accounts, in the years to come the 2022 festival may well be spoken of in the same reverential tones as the 1965 one is now.   
Anthony Mulcahy's Newport Folk Festival
The Newport Folk Festival raised the bar to a whole new level in 2019 with the surprise performance by Dolly Parton with Brandi Carlile. They have never looked back. Allison Russell curated the 2021 finale and we were treated to Chaka Kahn. With a front row spot with a camera in hand, I asked my friends, "How will they ever top those years?" Well, 2022 was jam-packed with surprises that blew everyone away.
Words are inadequate to describe how fans lost their minds when Brandi Carlile welcomed Joni Mitchell to the stage on Sunday night. It had been over 20 years since Mitchell's last performance before an audience and 53 years since she was last at Newport. At 78 years of age and being in poor health for some years it was expected that she would take a seat and sing a few songs. That was not the case. During her 13-song set (a set list from her website is included in the photo gallery below), Mitchell gave us songs, stories, and, rising from her chair, treated us to one of her patented guitar solos during "Just Like This Train." Longtime fan Wynonna Judd (who also performed at the 2000 tribute to Mitchell) later joined her for "The Circle Game." No one could truly fathom what we had just experienced; there was not a dry eye anywhere on the grounds.
Other Sunday highlights included "Love Will Go All The Way: A Spiritual Helpline Gospel Revue" curated by Phil Cook. Punk rockers The Linda Lindas had a powerhouse set with the youngest festivalgoers urged to participate in front of the stage, and Sylvan Esso surprised us all with the performance of a brand new album for their midafternoon set.
Nathaniel Rateliff & The Night Sweats presented the "American Tune Revue" on Saturday night, paying tribute to the great Paul Simon, who, much to the delight of the ecstatic crowd, joined the show for the last four songs: "Graceland" with Jerry Douglas; "American Tune" with Rhiannon Giddens; "The Boxer;" and "Sound of Silence." It was a truly mesmerizing experience that left many a jaw dropped.
Before that amazing finale we saw a blistering afternoon performance by Adia Victoria, whose mother joined her for a song; The Backseat Lovers, who turned up the heat; fan favorites Lucius, who never let us down; and The Ballroom Thieves, who shared songs from their new record, Clouds (ND review).
The National made their first fest appearance on Friday night and didn't waste any time setting up what was to be a magical weekend. They also invited Anaïs Mitchell, Adia Victoria, Cassandra Jenkins, and Hannah Georgas to join in on a few songs. Additional Friday performances by Courtney Barnett, Goose, and Silkroad Ensemble with Rhiannon Giddens swept the crowds off their feet.
It's hard to imagine where the festival goes from here, but it has been almost 60 years since Bob Dylan performed in Newport, so there's always something big around the corner. We can speculate on that for the next 12 months.
Jim Brock's Newport Folk Festival
"If you find a common language, you'll never know a stranger" – Rhiannon Giddens, Silkroad Ensemble's artistic director at the 2022 Newport Folk Festival
Some memories are indelible, and when Brandi Carlile brought Joni Mitchell on stage to close the Newport Folk Festival, time literally seemed to stop. Mitchell's singing was magical, and her lengthy guitar excursion will forever be imprinted on all who were there. This year's festival will go down as one for the ages.
The night before, Paul Simon joined Nathaniel Rateliff & The Nightsweats unannounced during the "American Tune Revue," their tribute to his songs. When Simon held the stage alone with his guitar for the "Sounds of Silence" encore, the heart-tugging weariness of his voice felt like a poignant gut punch for our times.
Those are the obvious takeaways, the highlights that have been reported everywhere, it seems. But Newport is more than that (which is a lot), it's also like coming back home. It's where musicians, friends, family, photographers, and writers mix and hang with front-porch familiarity. More than once over the weekend, executive producer and director Jay Sweet mentioned that this was one of the hardest years to pull the festival together, ever. COVID cancellations were abundant and the festival scrambled to find replacements, sometimes on just hours notice. Unplanned collaborations ensued, such as "Clusterfolk" on Saturday with an unannounced appearance from Natalie Merchant, and John Craigie and friends on Sunday for a breakfast set of Beatles songs. 
On Friday, I stood to the side of the smaller Harbor Stage taking in the sounds of trumpet, electronics, and French horn that make up CARM, the uncategorizable project of Bon Iver alum C.J. Camerieri. It made perfect sense, as Sweet's bookings usually do. So did the Pakistani vocalist Arooj Aftab, the smokin' soul of Lee Fields, and the all-in enthusiasm of The Backseat Lovers. Along with Béla Fleck's My Bluegrass Heart, Taj Mahal, The Black Opry Revue (ND story), and the Silkroad Ensemble, this year's Newport Folk was perfectly itself, embracing old-school forms while also pushing boundaries over the three days and 50+ performances. 
I certainly felt homeward bound.
Don't miss No Depression's behind-the-scenes look at the Black Opry set at this year's Newport Folk Festival here, and Lizzie No's view of the festival in her own words via Folk Alley. Click on any photo below to view the gallery as a full-size slide show.
---