BONUS TRACKS: Newport Folk Festival Sets Sail, An Interview With Tyler Childers, and More
---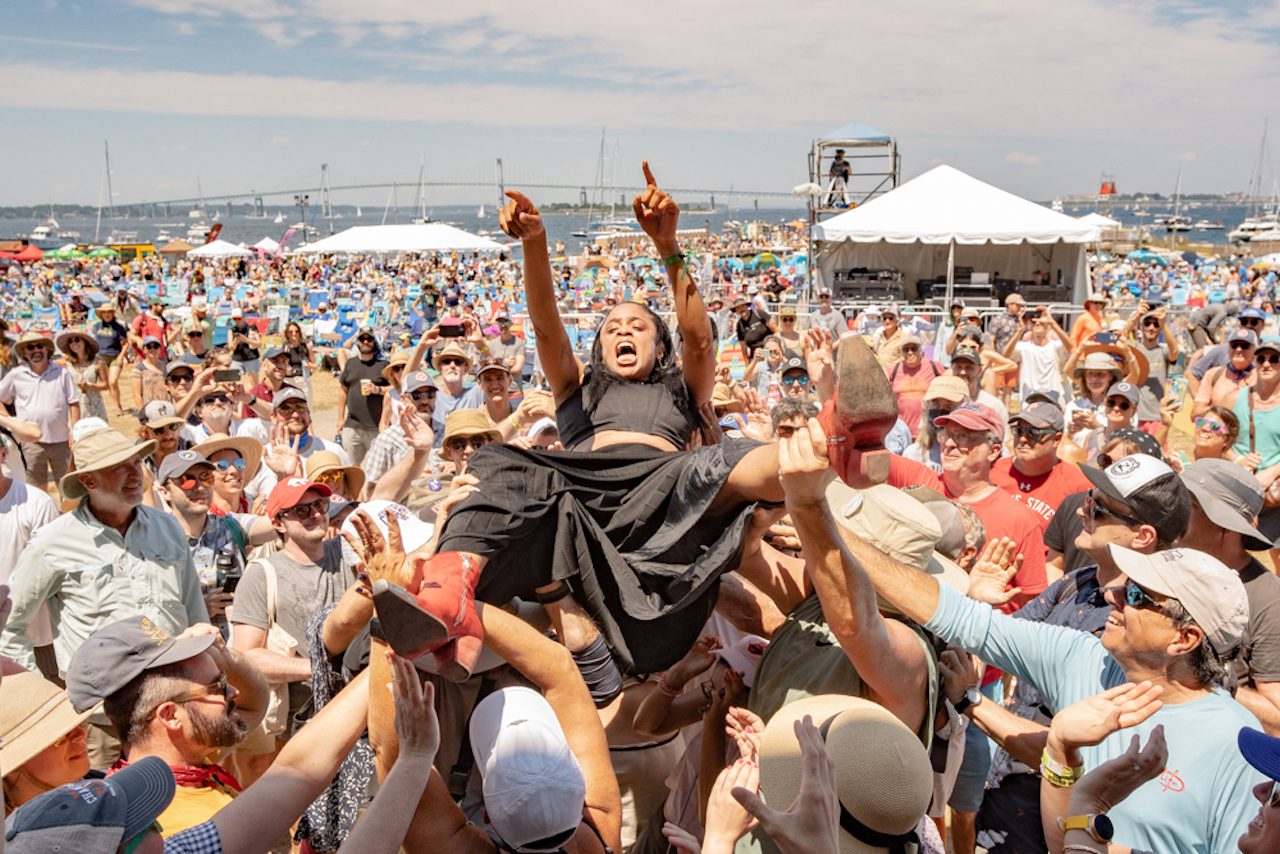 Adia Victoria at the 2022 Newport Folk Festival (photo by Anthony Mulcahy)
The Newport Folk Festival gets rolling today in Rhode Island, and across three full days of sets from Billy Strings, Jason Isbell, Aimee Mann, Jon Batiste, Turnpike Troubadours, and tons more, it's sure to be a blast. But it's more than the lineup that makes a festival great. The good times are, in large part, all in how you approach it. On the festival's Instagram page last weekend, Newport Folk Executive Director Jay Sweet welcomed fans about to make their "annual pilgrimage" and offered some good advice. In a nutshell? Be present, be open, be kind, and be together. You can read the whole letter here or below:
View this post on Instagram

This week, we watched Twitter take another leap toward self-inflicted obsolescence by rebranding itself into something called "X" and ditching its globally recognized bird logo. It's hard to shed too many tears for a social media platform that wasn't great at curbing hate speech and misinformation to begin with, but then actively leaned into all that when a certain cowboy billionaire took the reins. But come on, it wasn't all bad. Twitter has been a real conduit for community among music fans and a meaningful bridge, in some cases, between artists and listeners. (It also has brought out trolls, harmful stans, and some other folks we'd rather not have as part of the music community, to be fair.) When Twitter finally takes its last gasp, alone in the darkness, where will fan communities go? That's the central question of this piece from Consequence.
Yesterday we brought you news that Tyler Childers had announced his new album, Rustin' in the Rain, with a moving new song, "In Your Love." The song landed with a breathtaking video depicting the love story of two miners in 1950s Appalachia, a concept written by novelist, Kentucky poet laureate, and former No Depression writer Silas House. NPR's Ann Powers speaks with Childers and House about the video's story, how homosexuality is portrayed in art set in Appalachia, and the social commentary embedded in so many of Childers' songs. Read that interview here.
If you've seen the Barbie movie, you know that music plays a pretty large role, including the 1989 Indigo Girls classic "Closer to Fine." It's the perfect song for belting along to with your friends in the car, whether you happen to be driving in the real world or in Barbieland. In this interview with Variety, Emily Saliers talks about how the song found its way into the movie (which yes, she has seen), what she thinks about the Brandi Carlile cover on the soundtrack album, and the Barbie movie's approach to feminism. No spoilers in the article or the trailer below, which features The Indigo Girls' "Closer to Fine" and several other key songs from the movie:
WHAT WE'RE LISTENING TO
Here's a sampling of the songs, albums, bands, and sounds No Depression staffers have been into this week:
Sinéad O'Connor – Lion and the Cobra
Tony Bennett – "The Way You Look Tonight"
Darrell Scott String Band – "Kentucky Morning," from his new album, Old Cane Back Rocker, coming in August
Chris Stapleton – "White Horse," from his new album, Higher, coming in November
Darin and Brooke Aldridge – "Wildflower Too"
Molly Tuttle & Golden Highway – City of Gold
Mipso – "The Numbers," from their new album, Book of Fools, coming in August
Rhiannon Giddens feat. Jason Isbell – "Yet to Be," from her new album, You're the One, coming in August
---