THROUGH THE LENS: Sounds, Scenes, and Sentiments from Newport Folk Festival 2021
---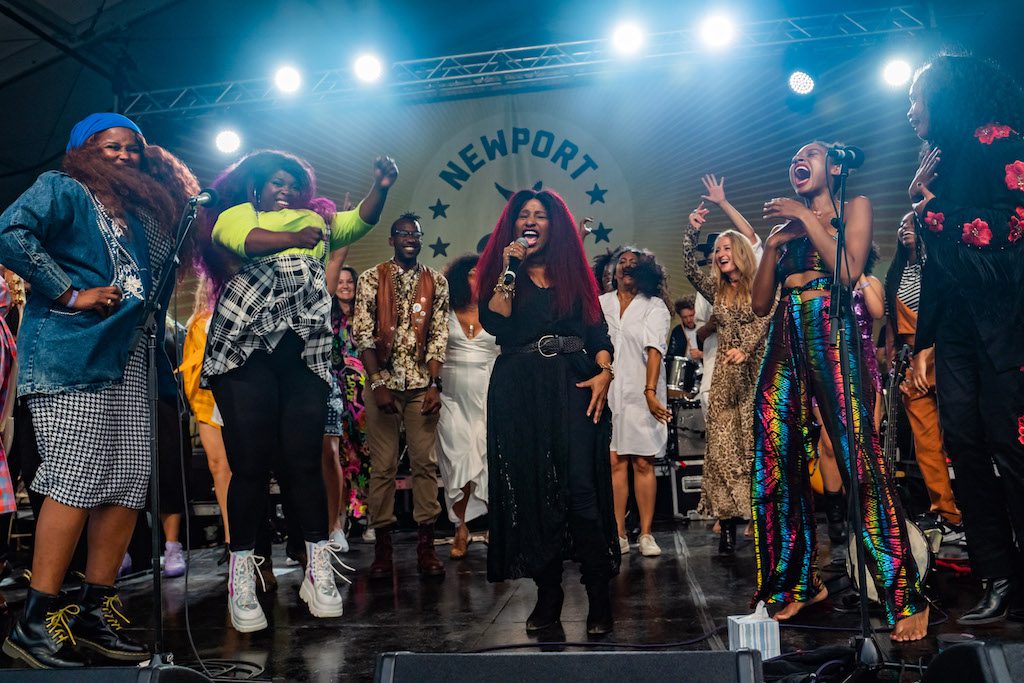 Chaka Khan Finale - Newport Folk Festival 2021 - Photo by Anthony Mulcahy
The legendary Newport Folk Festival approached this summer's event with a safer, more intimate experience. It expanded from three days to six in order to accommodate smaller crowds at each stage. Dubbed "Folk On," the festival brought founder Pete Seeger's legacy of hope and overcoming to a world in need of healing.
We are fortunate to have not one but two ND regular contributors, Anthony Mulcahy and Jim Brock, to report on this year's events from Fort Adams. As they have previously covered the festival before for this column (see Anthony's coverage here, and Jim's here), they are seasoned veterans. Here are their respective reports, with their photos in the gallery below.
Anthony Mulcahy
The most moving moment of this year's Newport Folk Festival was when Canadian singer-songwriter Allison Russell closed out the first three-day portion of the festival with a phenomenal set highlighting female voices within the folk and roots community. Specific attention was given to Black voices, including Yasmin Williams, Kam Franklin, Amythyst Kiah, Celisse, and Adia Victoria. In a surprise appearance, soul icon Chaka Khan took the stage. The image of a legendary Black female artist on the Newport stage surrounded by young Black women of the roots community was a beacon of empowerment, a raised fist, and a celebration all at once. Russell's set amplified the message from Brandi Carlile's 2019 finale: Inclusivity and respect should be a given, not something that has to be earned.
Jason Isbell captivated the crowd on Saturday night with a memorable stripped-down performance with Amanda Shires and Sadler Vaden. He expressed his love for the festival and how the fans are strictly there for the music, and as such, he said, it gives his songs more freedom.
Elsewhere, the set titled "Gentle Times with Erin Rae" had an all-star cast that included Langhorne Slim, Aoife O'Donovan, Hiss Golden Messenger, and many more. The Resistance Revival Chorus brought a powerful Friday morning set. Natalie Hemby played several songs from her upcoming new album, and Adia Victoria hosted her Call & Response podcast live at the fort with interviews with Jay Sweet, Margo Price, and Allison Russell.
Jim Brock
On Tuesday, from the Lawn Stage, we heard someone say, "Was that the weirdest pandemic you've ever been through?"
My highlights for Folk On's Monday-Wednesday segment were pure Newport, a reunion with many musicians and songwriters I've gotten to know, or know much better, through Newport Folk.
The sights and sounds were plentiful, and compelling. Courtney Marie Andrews with a full band on the Lawn Stage Tuesday. Christopher Paul Stelling's truth-telling on the Busking Stage. Middle Brother (John J. McCauley III, Taylor Goldsmith. and Matt Vasquez) with their Dawes-Deer Tick-Delta Spirit mash-up was appropriately raucous; their cover of "Handle With Care" to open their set was especially jubilant.
Just to be back, listening, supporting one another. Fruit Bats, Aoife O'Donovan, and Hiss Golden Messenger's MC Taylor going solo were as comforting as your favorite blanket. Nathaniel Rateliff and the Nightsweats were all kinds of right, and Billy Strings took me places I rarely get to at the fort. All kinds of wow.
My highlight of highlights was Allison Russell on Tuesday playing her life story, and new album Outside Child, live for the first time, with a band that included strings. Bonny Light Horseman following Fred Armisen could only happen at the fort. The stripped-down sound of The Bleachers on Tuesday was church for millennials. Beck riffed his way through a closing set that was pure Beck, with Sharon Van Etten joining him for his classic, "Asshole."
Wednesday had Chris Thile alone with his mandolin on the Lawn Stage; he also popped up elsewhere throughout the day. Katie Pruitt was an absolute powerhouse at the Quad Stage, resulting in the most passionate ovation I heard over my three days, and there were more than a few. The Black Pumas fully delivered with their Cali-meets-Texas psychedelic soul uplift. Lake Street Dive closed the Quad in grand fashion that included a tribute to WFUV's Rita Houston with Bowie's "Starman," with Chris Thile. Hometown favs Deer Tick had the last word at the Lawn Stage as Folk On wrapped on a Wednesday, and we all look forward to coming together again at the fort in 2022.
If you have not done so already, check out ND's July Spotlight Artist Yola's backstage look at Newport here.
You may see more of Jim's work here.
You may see more of Anthony's work here.
Now, the photos. Click on any photo below to view the gallery as a full-size slide show.
---