THROUGH THE LENS: Newport Folk Festival 2023 Carries Roots Music Tradition Forward
---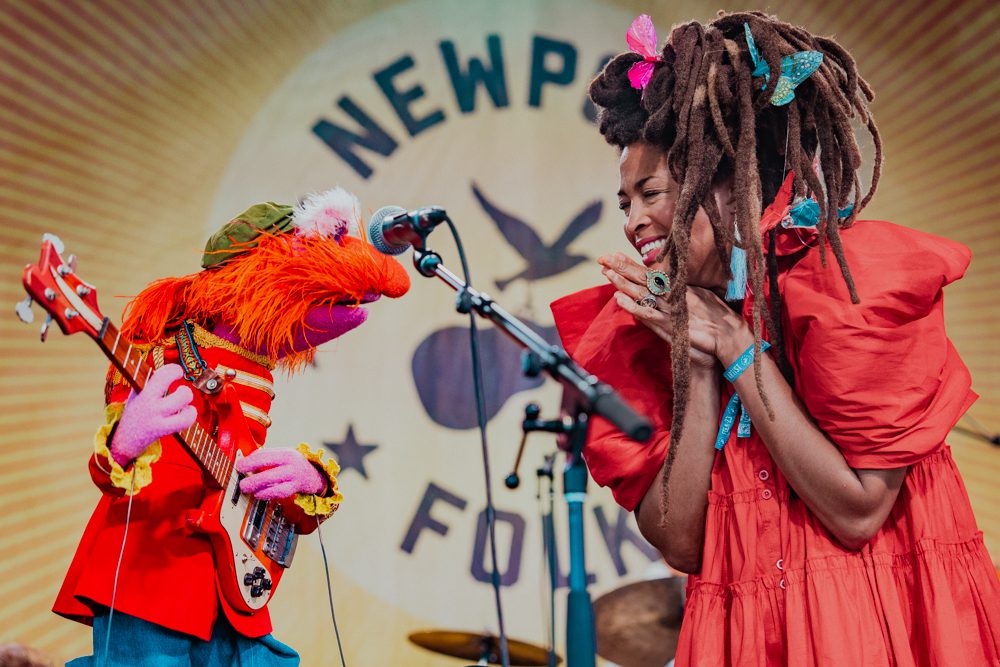 Valerie June and Floyd Pepper of The Muppets - Newport Folk Festival 2023 - Photo by Anthony Mulcahy
When I think of the Newport Folk Festival, I am reminded of the song "Carry It On." First recorded by The Broadside Singers in 1964, and then by many others, it was originally an anthem for the civil rights movement. Later it was the name of two documentaries, one on Joan Baez in 1970 and another about Buffy Sainte-Marie in 2022, but its title can also serve as a metaphor for the roots music tradition.
Newport began in 1959, during a time often referred to as the first roots music revival. The festival was immortalized in Murray Lerner's 1967 documentary Festival, which featured performances from the 1963-65 editions.  The film permitted audiences across the nation to see and hear the tradition being carried on.
Recent years have seen the festival continuing that heritage. Its coverage by this column has been an annual event I look forward to with great anticipation. Once again, Newport vet Anthony Mulcahy was there. Not only did he get some fabulous live music photos, he also shares with us some one-of-a-kind portraits. By documenting Newport in photos, this column's aim is to help carry its tradition forward.
The Newport Folk Festival 2023 by Anthony Mulcahy
Tickets for Newport Folk Festival once again sold out in minutes this year, before any performers were announced; such is the trust that fans have in the festival organizers. Previous years have brought Dolly Parton (2019), Chaka Khan (2021), and last year, following a 53-year hiatus, the glorious return of Joni Mitchell. This year, the combination of captivating performances, legends saving the day, and endless collaborations lent themselves to another memorable folk weekend.
But before getting into the performances, I'd like to touch on three things that made this year's fest special. First was the Bike Stage, the brainchild of the environmentally conscious duo Illiterate Light. They partnered with Rock the Bike to use folks pedaling bicycles to generate electricity, along with attached solar panels, to power the stage's sound system. It was a hit when the system debuted at last year's Newport, and the reward is that peddlers then get front-row seats. In addition to Illiterate Light, The Ballroom Thieves and others drew massive crowds to sets on that stage this year.
Second, while the Newport Folk Festival has always advocated for unity, equality, and being environmentally friendly, added to the mix this year was The Phoenix's Sober Tent. The Phoenix is a nonprofit sobriety program that sets up tents at festivals across the country to provide safe spaces for those wanting an alcohol-free environment to hang out and enjoy the festivities.
Finally, Raye Zaragoza, ND's Spotlight Artist for August, gave a kids' songwriting workshop in The Museum learning and performance space onsite at Fort Adams. As more parents bring their children to roots music festivals, it is imperative to actively involve children in the tradition.
On Friday, Del Water Gap, a late addition to the lineup, gave a blistering performance in the near 100-degree heat. One-time member Maggie Rogers joined them and took it up another notch with her signature energy. When Noah Kahan had to pull out of the festival for health reasons, none other than James Taylor saved the day. Festivalgoers reveled in his iconic songs as he was joined on harmonies by his wife, Caroline Smedvig, and son Henry. The evening closed out with a rip-roaring set by My Morning Jacket, who have always been a fan favorite.
Saturday was packed with incredible sets from Willi Carlisle, Alice Phoebe Lou, and The Backseat Lovers. A late afternoon performance by Jason Isbell was one of the highlights of the weekend. For a couple of songs Tyler Childers joined Turnpike Troubadours, including on John Prine's "Paradise." Speaking of Prine, his son Tommy wowed the crowd with his songs on a side stage.
Saturday night closed out with Jon Batiste & Friends. Joined by Lauren Daigle, Batiste, deservedly celebrated at Newport in 2018's "A Change Is Gonna Come" all-star set, began the set with a rain dance and ended with a march off the stage. The dance proved all too fruitful as attendees did their own quickened march off the wet festival grounds.
For years, Dan Blakeslee has entertained festivalgoers as they entered the grounds. This year he kicked things off Sunday morning on the main stage, to everyone's delight. The Black Opry Revue was an early afternoon bash. Elsewhere, Remi Wolf and Gregory Alan Isakov went back-to-back on the Quad stage to an enthusiastic crowd. 
Afterwards, Lana Del Rey brought her big show to the main stage with numerous mirrors, tables, seven or eight dancers, and at least six backup singers. Given the festival's history and emphasis on roots musicians, it felt out of place. This definitely was not the equivalent of Dylan '65.
The Folk Family Revue, with special guests Phil Cook, Valerie June, and bass player Floyd Pepper of The Muppets' Electric Mayhem band, brought everyone to their feet. Billy Strings closed out the weekend doing what Billy Strings does best, dropping jaws with his incredible band. A stunning performance from the flatpicking king. 
Over the course of the weekend quite a few artists, including John Prine songwriting fellowship recipient Jobi Riccio, stopped by for quick portrait sessions inside the incredible backdrop that is Fort Adams.  
Click on any photo below to view the gallery as a full-size slideshow.
---