THROUGH THE LENS: The Insider's Guide to AmericanaFest 2023
Posted On September 18, 2023
---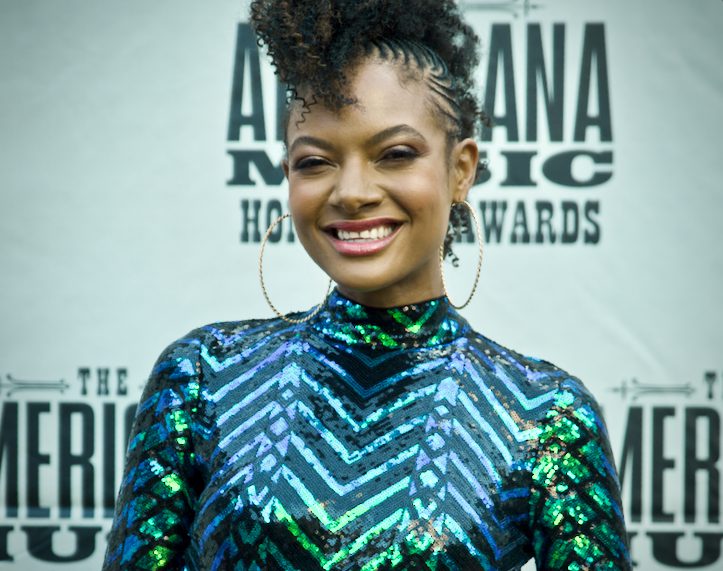 Allison Russell - 2023 Americana Music Association Artist of the Year Nominee - Photo by Amos Perrine
Some of my AmericanaFest pals have expressed some disappointment in the lack of well-known names in this year's lineup of showcases. But that is the very reason I am so excited — without the big-name distractions we'll be able to catch many musicians who are on their way up, ones you'll want to be able to say you saw before the star-making machinery kicks in. From my viewpoint the good folks at the Americana Music Association have curated a stellar lineup of roots artists for their annual big to-do in Nashville. As always in this preview, most of the more recognizable performers are not highlighted; my focus is discovery.
The big names are still in attendance, certainly, just not in the showcases. Instead, for example, Rosanne Cash and John Leventhal kick off this year's fest Tuesday afternoon with an interview at the Country Music Hall of Fame about their 30-year collaborative relationship and their new record label, RumbleStrip. Conversations like these you can't hear anywhere else, and they create a memory that lasts far longer than even the best showcase performance might.
As always there are new venues presenting AmericanaFest showcases, and two firsts for this year's festival: 1) There will be showcases (The HawtThorns and Boo Ray would be my picks) at the same time as the Americana Honors & Awards show Wednesday night; and 2) the day events are starting even earlier this year, with one (listed below) beginning at 9 a.m.
Inevitably, there are conflicts. No more so than on Thursday night, so some hard choices will have to be made. That said, my general advice is to stay in one general vicinity as much as possible. That way you'll maximize what you are going to AmericanaFest for, the music. There are quite a few events that are RSVP only; if they were full at the time of this writing, I've excluded them. 
Several ND Spotlight artists are included, and many picks have new albums out. A substantial number of admirable artists do not have evening showcases, but, as noted below, are included in day events. At the top of my list are Hello June, Amy Speace, Kaia Kater, Rachel Brooke, Chris Pierce, Lilli Lewis, India Ramey, John R. Miller, Kyshona, Secret Emchy Society, and Henry Wagons. Please note that some will appear in more than one day event.
My advice: Keep a close eye on the AmericanaFest app, as there are always scheduling changes, and make a list of the venues that you'll most likely visit. Stay hydrated, mask up, wear comfy shoes, and enjoy the week.
SHOWCASES
Tuesday
Songwriters Round: Three Instruments, Three Voices, 7 p.m., City Winery: Alisa Amador, Kaia Kater, Phoebe Hunt: Three of the brightest young talents, each on a different instrument, get together to swap songs and stories.
Wednesday
Bella White, 10 p.m. Exit/In: Only 22, and with an unassuming, beguiling presence, see and hear why she was ND's Spotlight Artist for April 2023. Her album, Among Other Things, is my favorite of the year.
Mighty Poplar, 11 p.m., Station Inn: Bluegrass' newest and hottest instrumental supergroup was ND's Spotlight Artist for March 2023. Fasten your seatbelts.
Thursday
The Shootouts, 7:30 p.m., Eastside Bowl: This Ohio band has been making some of the best alt-country music for the past few years.
India Ramey, 8 p.m., Low Volume Lounge, Eastside Bowl: See for yourself what makes this standout at last spring's Ameripolitan Weekender in Memphis so special. If you see one under-the-radar artist this week, make it Ramey. (Not on the app.)
Philip Bowen, 8 p.m., Analog at Hutton Hotel: Much more than just a roots TikTok and America's Got Talent phenom, this West Virginia fiddler and storyteller is a rare, uplifting talent.
William Matheny, 8 p.m., The 5 Spot: There must be something in the water in West Virginia — here's another outstanding musician who's been described as a more earthy Tom Petty and Lowell George. Ready for prime time. 
Amy Rigby, 9:30 p.m., Eastside Bowl: Rigby has always played by her own rules; for the uninitiated, this rootsy CBGB artist will take you to places you never knew existed. 
Bahamas, 10 p.m., Brooklyn Bowl: Afie Jurvanen will be doing the songs from his just-released album. Bootcut. Recorded in Nashville, and different from his previous work, it's one of the two or three best albums I've heard this year. This set will be special.
Lindsay Lou, 10 p.m., Riverside Revival: This East Nashville stalwart's new album, Queen of Time (out Sept. 29), reflects a spiritual journey of self-knowledge and healing within a mystic swirl. Expect a special, magical evening featuring those new tunes.
Friday
Cruz Contreras, 7 p.m., The Basement: If you think you know The Black Lillies' frontman, think again. As his new album Cosmico shows, he's on a different trajectory now. 
The Grahams, 8 p.m., Riverside Revival: Well known to Nashville insiders as the impetus behind the artist-forward collective known as 3Sirens Music Group, they're also one helluva duo. Following along with their new, self-titled album, they'll be doing re-imagined, harder-edged versions of many of their best-known songs.
Logan Ledger, 8 p.m., 3rd & Lindsley: ND's Spotlight Artist for September 2023 may now call Nashville home but he brings his California sense of the multiverse to his songs.
A Tribute to the Songs of 1973, 8 p.m.-11:50 p.m., The Basement East: As I have called 1973 the greatest year for roots music, how can I not highlight this set that features 24 artists from the Nashville community, including some ringers: Jim Lauderdale, Brennen Leigh, Caleb Caudle, Henry Wagons, and Parker Millsap. 
Laura Cantrell, 9 p.m., Station Inn: The New York City artist was playing and championing country music long before it was considered cool, and she's been away from Nashville far too long. Fitting that she's appearing in a venue that has become an endangered species.
Saturday
Amelia White + The Blue Souvenirs, 7 p.m., The 5 Spot: The Queen of the East Nashville Underground has seen and heard it all. To experience all that in her unadorned, regal splendor is a real treat. 
Beth Bombara, 8 p.m., The 5 Spot: As ND said in reviewing her new album, "Like curtains being swept open to let in shafts of light, these sonic equivalents sparkle."
JP Harris' Dreadful Wind & Rain, 9 p.m., 3rd & Lindsley: Named after a 2021 ultra-traditional album Harris recorded in a cabin in the West Virginia woods with ex-Old Crow Medicine Show member Chance McCoy (ND review). Expect an evening of haunting tunes in Harris' unforgettable voice.
DAY EVENTS
Tuesday
Concord Americana From All Sides, 6-11 p.m., The Optimist: Bella White, Bahamas, Logan Ledger, Sarah Jarosz, John R. Miller, Katie Pruitt, and Nat Myers. What a way to start the week! (Conference passes only.)
Wednesday
Jrodconcerts Presents: The AMERICANAFEST Fiesta II, 9 a.m.-5 p.m., The Space at 100 Taylor: Aaron Lee Tasjan, Andrew Leahey, Maggie Rose, Nicole Atkins, Grace Bowers (who tore up the Exit/In stage last year as Tami Neilson's lead guitarist), and 11 others.
Hillbillies and Hot Dogs, presented by Compass Records and No Depression, 11:30 a.m.-2 p.m., Compass Records: Alison Brown, Robbie Fulks, Kelly Hunt, and Mattie Schell perform in the same studio where Jimmy Buffett, Waylon Jennings, John Hartford, and other legends recorded. (RSVP required; see app for info.)
AmericanaFest Day Stage presented by NPR Music, World Cafe, and WMOT, Noon-5 p.m., Eastside Bowl: Full sets from Bobby Rush, Dom Flemons, Lilli Lewis, Eilen Jewell, Maggie Rose, and Tommy Emmanuel. (Open only to conference and festival passholders and WMOT members.)
Thursday
Mule Kick and Devious Planet's Rock-n-Roll Brunch, 11 a.m.-6 p.m., Love and Exile: India Ramey, Alice Wallace, The HawtThorns, Jeff Plankenhorn, and 10 others.
Americana Portrait Sessions: Revealing the Soul's Essence, Noon-2 p.m., The Tennessee State Museum: Photographer Jeff Fasano will be discussing his most recent book of photographs, Americana Portrait Sessions (ND story). Musical guest Aubrie Sellers will also be there. (RSVP required.)
The Pure Memphis Happy Hour, 4 -7 p.m., InDo Nashville: The Sensational Barnes Brothers, Gia Welch, and three others performing sets that are representative of what's going down in that other Tennessee music town, Memphis. Based on my previous visits, they have the best food and drink spread of the week, including the best BBQ in town.
Friday
The California Country Show, Noon-6 p.m., ACME Feed & Seed: Ameripolitan Music Award-winner Rachel Brooke, Chris Pierce, Manda Mosher, and 10 others. Top to bottom, always a great show, though these three make it an essential afternoon. 
9th Annual Wild Ponies Happy Hour, 4:30-7 p.m., Dee's Country Cocktail Lounge: Caleb Caudle, Kyshona, Palmyra, and Wild Ponies. No trip to Nashville is complete without a visit to Dee's. If you can only it make one night, this is the one. You may want to stick around, as I have, as there is always something special afterwards.
Saturday
Andy's Third Annual AmericanaMitzvah, Noon-6 p.m., Love and Exile: Amy Speace, Amelia White, Hello June, Rachel Brooke, Loose Cattle (with two-time Tony winner Michael Cerveris), Heather Mae, and more. (Not on the app.)
Queer Cowpoke Roundup, 2 p.m.-5 p.m., The Groove: As its name implies, this event features under-the-radar queer roots artists, including Mercy Bell, Secret Emchy Society, Austin Lucas, and five more.
Photos include many of those listed above, as well as the 2023 Americana Music Association Lifetime Achievement honoree performers and two nominees for this year's Artist of the Year award. Click on any photo below to view the gallery as a full-size slideshow. 
---