SPOTLIGHT: Bella White Blooms Into a Fresh Approach
---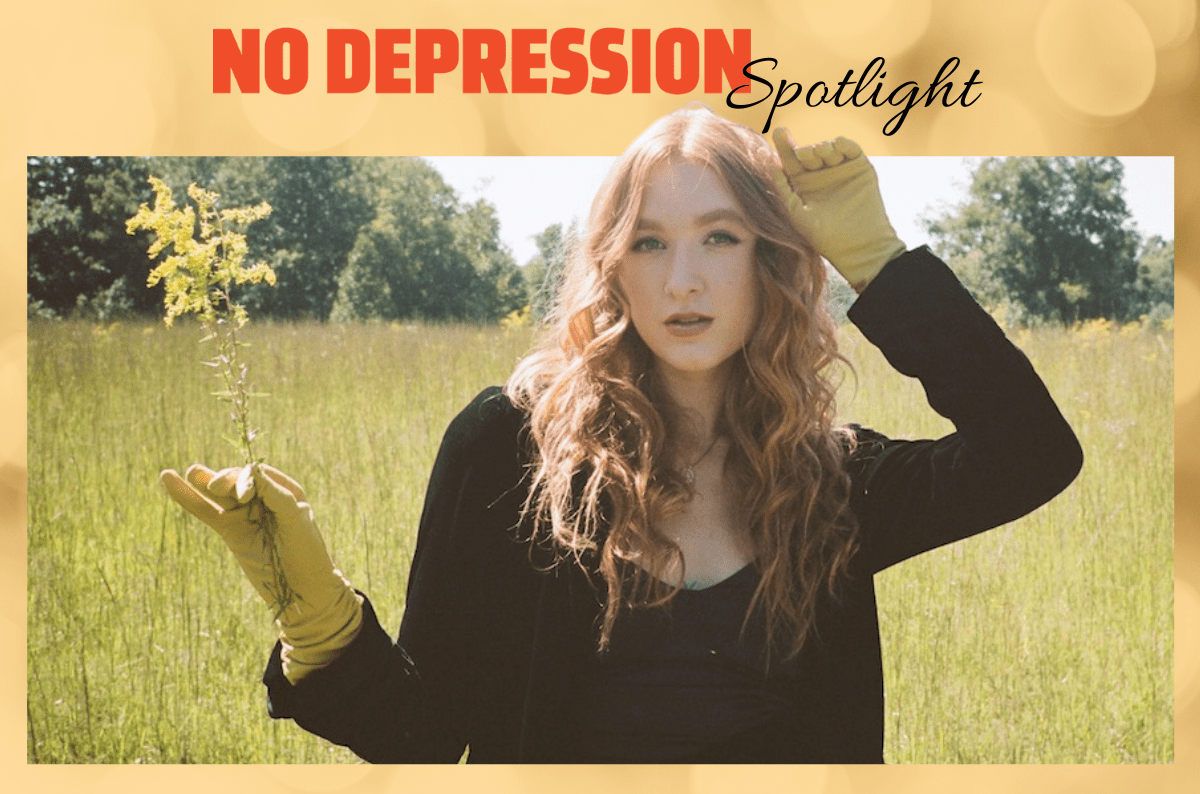 Photo by Bree Fish
EDITOR'S NOTE: Bella White is No Depression's Spotlight artist for April 2023. Look for more about her and her new album, Among Other Things, coming April 21 on Rounder Records, all month long.
"Oh God, they're everywhere."
Bella White is looking around her home in Vancouver Island, British Columbia, and noticing nearly half a dozen bouquets of flowers. In front of her on the table is a bunch of dried roses, and she laughs as she tips them toward her, realizing she may have a bit of an obsession.
The obsession carries over into the young singer-songwriter's new album, Among Other Things, out April 21 on Rounder Records, which is full of various blooms. In one song, they wither on her bedside. In another, they're a token of affection from her mother, comforting her through heartbreak. And in still another, they seem to taunt her from outside the window of a room where she's holed up, contemplating what comes next in this life. She didn't mean for it to happen, but when she thinks on it, flowers are full of metaphors. "They're feminine and they're symbolic of so many things, the way they're beautiful when they're dry, beautiful when they're alive," she says. "They smell good, and they smell bad."
Flowers have also become a grounding presence for a restless existence, one that has taken White from her native Calgary, Alberta, to stints living in Boston and Nashville, then back to Canada, where she has, at least for the moment, put down some roots. Wherever she ends up, White finds solace in little creature comforts like incense, exercise, journaling, and of course, fresh flowers on the dashboard, in hotel rooms, or backstage at a gig.
But it's that feeling of transience that drives Among Other Things, recorded and produced by Jonathan Wilson in yet another locale, Topanga Canyon, California. "I'm a bit of a floater," White says. "It's a tricky juxtaposition because I love that freedom of wandering and exploring. A huge part of that for me is openness and being accepting of walking through new doors, but it's also hard when you're a homebody and an introvert, and you need your little nest that is your safe space. [Something] I was reckoning with throughout writing all these songs is the realization that that has to be something you have with you, no matter where you are. You have to cultivate that within yourself and for yourself, then carry that sense of belonging with you anywhere you go because it's the only consistent thing you have."
Besides the natural rhythm of traveling to tour, White's sense of wanderlust may be inherited. Before she was born, her folks lived all over. Her mother grew up in Montreal and Calgary before moving to Richmond, Virginia, and later back to Canada. Her father was born in Lynchburg, Virginia, and then moved around the Southeast and Appalachia. You can hear White grappling with this in songs like the quiet, introspective "Rhododendron" and "Flowers on My Bedside," and the full-throated "The Way I Oughta Go." On the latter, she imagines the possibilities each place might have in store.
From her father, White also inherited a love for bluegrass music. He played the banjo in family bands with his sister and was, like many dads of the era, a Deadhead. By the time White was in daycare, a chance encounter with a fellow toddler whose father also played bluegrass music resulted in the forming of a new band. "Our dads got together and formed a band called Widow Maker, which was named after a Jimmy Martin song. It started out as a Jimmy Martin cover band, and then it grew into their own band," she says. "He was always playing the Stanley Brothers, Bill Monroe, the Monroe Brothers, the classic stuff — as well as a lot of Alison Krauss and Union Station, Crooked Still. Just all the classics."
From her mother — a woman of many talents including painting, songwriting, and jewelry-making — White learned to access her femininity in unexpected ways. "My mom has never worn makeup; she's always been like an outdoorsy nature woman. She's just very in touch with who she is, and I think that's a beautiful, feminine thing. All the gender aside, it's that femininity that we all kind of carry," she says.
She tapped into this with the song "Marilyn," written on the road after White overheard a truly despicable conversation between men at a diner:
I overheard a man talking to his friends
About some gal named Marilyn
He said she was cooking him a good dinner
But he wished that she was thinner
Well, I hated that man,
And my heart went out to poor Marilyn …
 All the time she spent
Learning to love again
What he thought was awful
Like her belly growing softer
After she birthed their baby daughter,
I still cannot comprehend
White seethed, but was about to play a gig, so she suppressed her rage, blessedly saving it for this incredible song. "When I was writing 'Marilyn,' my heart was kind of pouring out for all these women I know, and how amazing and resilient [they are], but that have gone through so much bullshit because of the way women have been conditioned to behave and act and have been talked about," White says. "Marilyn became this archetype for all of these powerful women, and it's a really special song for me."
Beyond Bluegrass
There is photographic evidence of White's early interest in music, a young child sitting with her father and his bandmates as they jam. But it wasn't until her pre-teen years that she delved deeper, participating in workshops, camps, and festivals. In 2020, she released her debut record, Just Like Leaving (ND review), while still just a teenager, writing songs based on journal entries and sticking to the traditional music style so deeply ingrained. (The album was picked up by Rounder Records and distributed more widely in 2021.)
"We were going for that The Grass Is Blue kind of Dolly Parton vibe of having an awesome bluegrass band backing up these songs," she remembers. "Recording my first album, we were in the studio when the pandemic became crazy so that was a really high stress time. I feel like there's this kind of urgency in that record that you can feel."
After that frenzied experience and in those uncertain months of 2020, White found herself alone, writing songs on her guitar that would make up Among Other Things. But this time, they sounded different.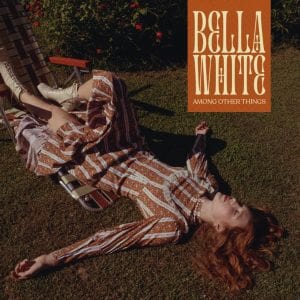 "These songs were a bit more important, if that makes sense. I felt like I was writing less about my own stuff and more about the stuff that I'm witnessing," she says. "I wrote most of [them] during the pandemic and I was playing music by myself. I think of bluegrass as being such a collaborative [thing]. You're getting together, you're sitting on a porch playing tunes. It's this kind of community-focused style of music, historically. So, when I was writing all these songs, they weren't coming out as bluegrass songs. They were coming out more as what I'd call folk songs, and I was finger-picking a lot, stepping away a little bit from the bluegrass sound. Not because I don't like it or because I'm over it or because I'm never gonna do that again, but because that's what happened in the moment."
A different mode of songwriting meant the same for recording, and that's where Wilson came in. After working with Wilson on a couple of singles, White returned to Topanga some months later for a two-week session with him and a whole bunch of collaborators, including Buck Meek, Erin Rae, Drew Erickson, and White's longtime bandmate, Patrick M'Gonigle. "It felt like a bunch of friends coming together, which was really nice," she says. "Jonathan has the best friends who are really talented as well as great people."
In true California fashion, and a far cry from her last go-round in the studio, the days were unhurried and laid back. White would spend her mornings going to the beach or running, getting plenty of downtime until the late afternoons, when they'd all gather and get to work. In other words, she had that crucial allowance she needed to cultivate a sense of home and routine.
"We were moving slowly and trying a lot of things, just really playing and experimenting," she says. "I felt like there was so much space for me, I didn't feel like I ever had to push back. That was such a beautiful feeling, because being a young woman working with a lot of men who have been doing this for a long time, there's a lot of conditioning to doubt yourself. So it felt really nice that I didn't ever have to. I felt like my opinion mattered more than anyone's, which is how it should be when you're making a record."
Much of that experimentation resulted in staying true to the simpler nature of the songs she'd written — not turning her back on the genre that raised her but expanding on what it could be. White and Wilson, a native North Carolinian with his own appreciation for bluegrass, trusted the sound would come through organically in her vocal stylings anyway and opted to add some electric instrumentation, keys, and orchestral arrangements. The banjo, an ever-present emblem of bluegrass, appears softly and subtly in only one track, the sweet, coy "Dishes."
The songs on Among Other Things come to life in a space that feels bluegrass adjacent. They're more Wynonna Judd than Alison Krauss, more Joni Mitchell than Dolly Parton. White proves her deftness, carving out shimmering country ballads as thoughtfully as any traditional bluegrass tune. Take a song like "Numbers," which busts out of the gate with pedal steel, her crystalline belt, and a steady percussive heartbeat making it prime for some big-haired, honkytonk glitz. "I was not expecting 'Numbers' to be this rager," White says, initially thinking it'd go more in a "liquid sunshine" acoustic direction. "Then it ended up being this kind of '80s country thing which I'm obsessed with, and I love the way it turned out."
Navigating Forward
The confidence White showed in the studio with Wilson is evidence that, in her early 20s, she is wise beyond her years, growing savvier about the industry with each record, each show. She credits the community of women that surrounds her for helping her navigate the unpredictable terrain of figuring out who she wants to be as an artist. After all, Among Other Things finds her, only two albums in, already stretching beyond what's expected of her.
In a recent piece for Consequence, she opened up about the harsh financial realities of touring, sharing a diary of expenses from the road. White has been fortunate to take advantage of the Canada Council for the Arts grant system, which helps fund many facets of life as an artist, including studio and dedicated songwriting time. But she also wants to be an advocate for improving the system that allows some venues to take as much as a 30% cut of merch sales. Her live shows for Among Other Things will fluctuate between a trio and six-piece band, something she must be mindful of when planning a budget and, as she puts it, making "merch that someone who doesn't care about my music would like to wear." She is empowered by her strong mother, the team of women that manage her, Tamara Kater (musician Kaia Kater's mother, who helps White with grant proposals), and artists like Amythyst Kiah and Sierra Farrell.
White knows she can handle it, from the imbalance of power to the microaggressions too often aimed at young women artists. "I've gotten really good at just sticking to my guns and being pretty sure of myself," she says. Still, she's learning along the way, including from fellow singer-songwriter Sierra Farrell, with whom White toured recently. "If I'm in a moment where I'm like, 'How do I navigate this?' sometimes I'll just do a 'WWSD.' What would Sierra do in this moment? That's very inspiring."
---