THE READING ROOM: Jeff Fasano Shoots for the Soul in 'Americana Portrait Sessions'
---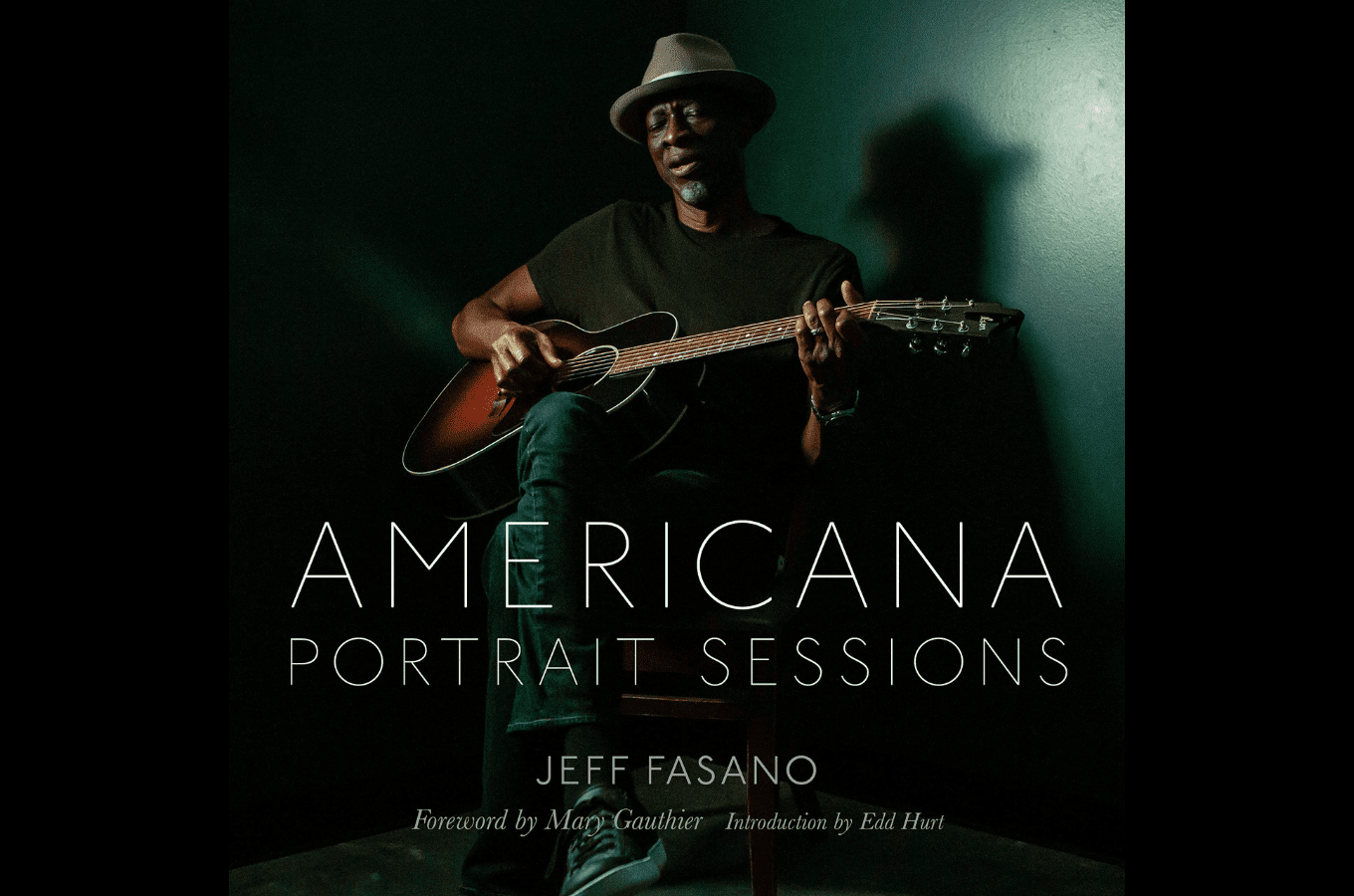 When he is shooting photos of musicians and other artists, Jeff Fasano is looking through his lens for that decisive moment — "a moment I feel in my heart and soul," he says.
Fasano's exquisite first book of photography, Americana Portrait Sessions, is filled with such moments, via photos that capture the essence of roots musicians and bands ranging including Wilco, Elizabeth Cook, Buddy Miller, Aubrie Sellers, Tony Joe White, The McCrary Sisters, and many others. As he writes in the preface to the book, "I live in my heart and it is all about connection. And when that connection happens, we can create everything together. The essence of the person is what intend to capture, and through my images reveal that essence to the world. What lies beneath the surface is the beauty and elegance of the soul and the heart, it is real and authentic — and that is what I convey in my work."
Every page reveals the deep humanity of an artist — in black and white and color photographs — whether it's Molly Tuttle searching for the just-right chord on her guitar, Larry Campbell and Teresa Williams looking into the distance as Campbell scrutinizes what's to come and Williams smiles with anticipation of what's next, Jason Ringenberg standing in the Exit/In in Nashville contemplating what's next for the venue and looking back to all the shows he's played there, Wanda Jackson thinking deeply about life, The McCrary Sisters sharing their joy with their irrepressible smiles, or Steven Van Zandt making quintessential New York City facial and hand gestures.
Fasano and I chatted by phone earlier this week about his book and photography. Our conversation is edited for length and clarity.
What is the story of the book?
In 2019, I did a little exhibit during AmericanaFest at Michael Weintrob's studio. Michael said, "I did a book; you need to do a book." I started thinking about it and putting it together in 2020. My friend Merlin David said, "Let's get some images together," and we ended up with about 700 of them. In 2021, I started a Kickstarter campaign with the intention of self-publishing the book. In May 2022, I went to the Frist [art museum in Nashville] and saw a copy of Marty Stuart's gorgeous photography book American Ballads in the gift shop and bought a copy. Vanderbilt University Press published Marty's book, so I called them the next day to talk with them about the book I had in mind. They loved the idea and wanted to talk right away, and we started moving forward.
You started with over 700 photographs, but there are under 200 in the book.
At first I thought this could be a retrospective of my entire career. As I started working on it, though, I thought about narrowing it to the photos I shot during the Americana portrait sessions I've been doing at Americana Fest for the past 12 years. Then it went from including Americana portrait sessions to a retrospective of everyone I have been shooting in roots music. The scope of the photos expanded to "My Americana," so it included Chely Wright, Vince Gill, and David Crosby. Still, Merlin and I knew we'd have to narrow it down even more. He said, "When you look at the photos, think about which ones you would like to see hanging in a gallery." We got it down to 191 or 192 photos. I knew I wanted the Wilco photo, from 2003, to open the book, and for the photo of Steven Van Zandt to be the final image in the book.
What are you trying to capture in your photos? Are you guided by an aesthetic?
Many years ago, my mentor Mario Cabrera told me, "You have to say something with your work. What are you trying to say?" I wasn't sure exactly what he was asking, but I replied that the photojournalists who inspired me were Walker Evans (Let Us Now Praise Famous Men; Many Are Called), Dorothea Lange [her most famous photograph is titled "Migrant Mother"], and Eugene Smith (Minamata). When you look into the eyes of the people they photographed, it takes you deeper and deeper into them. I want to capture in people what Evans, Lange, and Smith are capturing. Carera still asked me, "But what are you saying?" It wasn't until 2003 when I was photographing actor Terrence Howard (Crash) for Gotham magazine. He called one day and asked me to bring my portfolio; I grabbed one of my portfolios that had a photo in it that wasn't in the magazine. Terrence looked at the photo and exclaimed: "Bro, you captured my soul; that's what you do!" I could then tell Mario that what I'm saying in my photos is that I capture the soul of the person I am photographing.
Do you have any favorite photos in the book?
(Laughs.) Well, the Birds of Chicago photo was my choice for the front cover. I shot it at Folk Alliance in Montreal in 2019. I had an earlier image of Larry Campbell and Teresa Williams in my head, and I moved the light just around to the left and I said, "Hey, folks, close your eyes." The photo captures JT Nero and Allison Russell just perfectly. I love the photo of Judy [Collins] and Stephen [Stills]; it was also in the mix for the cover. I love the John Mayall, which I shot with a 500-watt tungsten light in his LA studio.
What do you hope readers will take from this book?
This book is not just about my photos. Whatever you do in life has to say something, and while I was putting the book together I kept reminding myself that the book has to say something. These photos illustrate the inclusiveness and diversity of the Americana genre. I hope readers will also be inspired by my own story of quitting my job when I was 40 to pursue something I loved, photography, a story I tell in my preface to the book. As I write in that preface: "Every person can find their deepest passion and express that in their lives."
Jeff Fasano's Americana Portrait Sessions was published by Vanderbilt University Press in April.
---