THROUGH THE LENS: Steve Earle Leads 'A Celebration of Justin Townes Earle' at the Ryman
Posted On January 10, 2023
---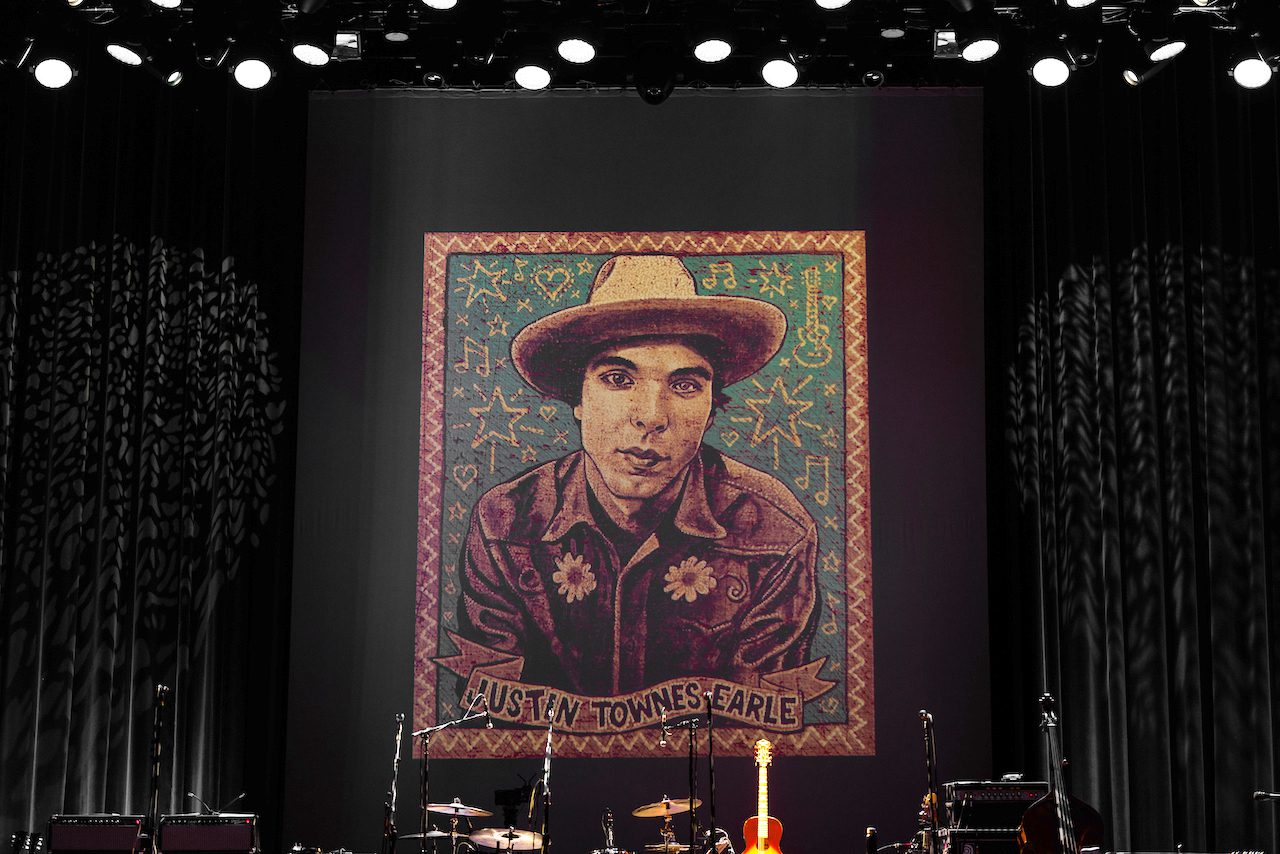 A portrait by Jon Langford is the backdrop for A Celebration of Justin Townes Earle at the Ryman - Photo by Eric Ahlgrim
On what would have been Justin Townes Earle's 41st birthday last Wednesday, his father, Steve Earle, hosted a tribute to him at the Ryman Auditorium. Billed as "A Celebration of Justin Townes Earle," Steve Earle began the night by saying, "Just like the album I never wanted to make [ 2021's J.T.], this show is one I never wanted to do."
Justin Townes Earle died at age 38 on Aug. 20, 2020, a year after releasing what many people feel was his best album, The Saint of Lost Causes. As Henry Carrigan said in his ND review, "Earle knows how to tell a compelling story, creating characters that reflect the full range of human nature in settings that reveal the ugliness and beauty of the world that closes in on us sometimes."
That sentiment was evident in the 20 songs (set list below) performed at last week's show by 19 artists, including Emmylou Harris, Jason Isbell, Elizabeth Cook, and Buddy Miller, all backed by Earle's band, The Dukes. While it could have easily been an all-star evening, many featured performers were those who'd had a personal connection to Justin: friends, those he hung out with, close contemporaries, and co-writers. To my way of thinking (and feeling), that was what made the evening so special, one that will resonate long after the house lights went up. Those who were on that stage knew Justin and his songs so well, and shared their respective journeys with him.
What made the evening even richer were the stories. Steve Earle, who had a somewhat rocky relationship with his son early on, told several, beginning with the night Justin was born. He went to a local hangout near the hospital telling "everyone I could that I had a son." Later, Earle said that the last time Justin played the Ryman (June 2, 2019), he stood in wings for the entire show, beaming but also internally critiquing the performance, like "a father watching his son playing soccer." 
Perhaps what influenced Justin's musical career the most was when Earle took a 17-year old Justin with him when he did two months of songwriting workshops at Chicago's Old Town School of Folk Music. After the workshops were over, Justin stayed on and began writing his first songs. 
Among those he hung out with during his stay in Chicago was The Mekons' Jon Langford, who had relocated there and signed with Bloodshot Records, where he melded country and punk to go beyond alt-country, to what he called insurgent country. No doubt Langford was instrumental in Justin's signing with that label, which was home to his first five releases, all written during a flurry of creativity during a five-year span. At the Ryman show last week, Langford performed "Poor Fool" from Justin's third album, 2009's Midnight at the Movies.
Jason Isbell shared two stories. First, Justin bought him the guitar Isbell played on Justin's Jan. 5, 2012, appearance on the Late Show with David Letterman. Second, as Isbell did not own one, Justin bought him the suit he was married in. Perhaps even more insightful, after a technical problem with his electric guitar, (before doing "Slippin' and Slidin'") Isbell indicated that Justin would have admonished him, "You should have played an acoustic guitar like a man." You could tell from his voice there was a lot of love between them.
Before performing "Lone Pine Hill," Buddy Miller told the story of the first time he heard Justin play. It was a bad attempt at "Stairway to Heaven," and in the wrong key. The second time was a couple of years later, when Justin played "Lone Pine Hill." Buddy added, "Everybody knew something big was about to happen."
It was perhaps Shooter Jennings who was most beneficial in Justin's life. From his recollections it was apparent that he was able to empathize with the pressures, both emotional and intellectual, that Justin had as the son of a famous and wildly talented father. Earle added, "Shooter helped me understand my son better."
Everyone came back onstage for the finale, a rousing "Harlem River Blues" that had the audience on their feet and singing along. But as they exited stage right, Earle, who had exhibited a somewhat nervous stoicism throughout the evening, was suddenly left alone, bewildered. It appeared that he did not know where he was or what he was supposed to do. It was as though the enormity of the evening had suddenly left him adrift. 
Earle eventually located an acoustic guitar, and performed the song he wrote after Justin's death, "Last Words." The final line being, "Last thing I said was, 'I love you,' and your last words to me were, 'I love you too.'"
Then Earle turned his back, took a few steps toward the Jon Langford-painted image of Justin that served as the stage backdrop, bowed his head, and raised his guitar. Not as a farewell — no parent ever gets over a lost child; rather, as a humbled father paying his respects.
At the end of the show, as I entered a winter evening on Nashville's Lower Broadway, I thought of what Jerry Garcia said when asked about Janis Joplin's death: "Those who knew her as a voice will have to get along without the voice. Those who knew her as a person will have to get along without the person."
SET LIST
Stacey Earle and Mark Stuart – "Yuma"
Bonnie Whitmore – "Maria"
Dustin Welch – "Down on Lower Eastside"
Willy and Cody Braun (of Reckless Kelly)– "Maybe a Moment"
Lilly Hiatt – "White Gardenias"
Scotty Melton – "Rogers Park"
Ben Nichols (of Lucero) – "Memphis in the Rain"
Jessica Lea Mayfield – "Learning to Cry"
Joe Pug – "Mama's Eyes"
Elizabeth Cook – "Someday I'll Be Forgiven for This"
Jon Langford – "Poor Fool"
Buddy Miller – "Lone Pine Hill"
Emmylou Harris – "One More Night in Brooklyn"
Jason Isbell – "Slippin' and Slidin'"
Amanda Shires – "Ain't Glad I'm Leaving"
Shooter Jennings – "Workin' for the MTA"
Steve Earle – "Far Away in Another Town," "The Saint of Lost Causes"
Everyone – "Harlem River Blues"
Steve Earle – "Last Words"
Click on any photo below to view the gallery as a full-size slideshow.
---