THROUGH THE LENS: A Soggy MerleFest 2023 Delivered Roots Music and a Rainbow
---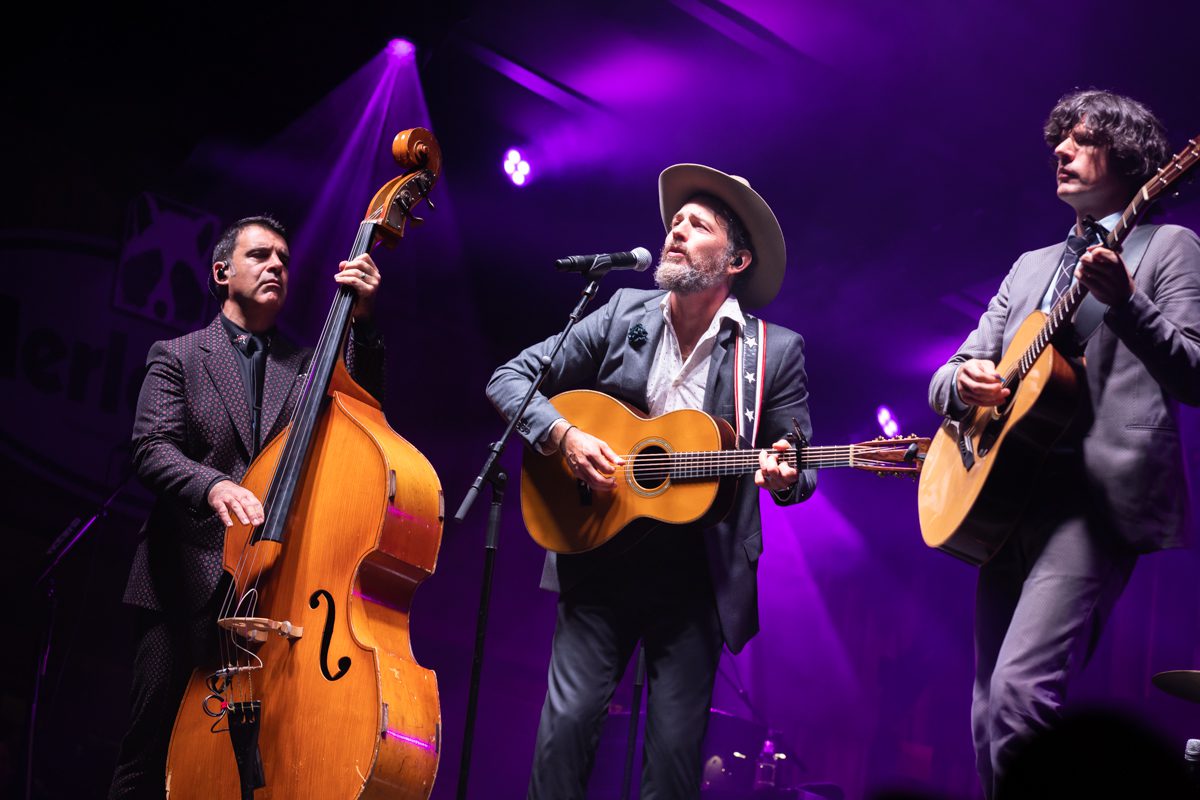 The Avett Brothers - MerleFest 2023 - Photo by Willa Stein
Just as Doc Watson drew upon a variety of sources for his music, MerleFest bills itself as a "traditional plus" festival.  This certainly was evident at this year's edition that celebrated Doc's 100th birthday as well as the festival's own 35th. Tradition was well served, as was rock, electric and acoustic blues, bluegrass, new and old country, jam bands, and new takes on what traditional means.
But first, let's talk about the elephant in the room: the rain. As the fest is held in the heart of both spring and the western North Carolina mountains, it always rains during MerleFest. While it wasn't quite a Woodstock mudfest, there was plenty of muck as it rained three out of the four days. It rained steadily all day Thursday, and a huge storm Friday afternoon caused the amplification to be turned off at all the stages, even the indoor ones, and audiences asked to shelter inside for a couple hours. But all seemed forgiven when a double rainbow appeared over the festival grounds early Friday evening.
Weather and soggy ground aside, here are the musical highlights:
Tradition Expanded
I first saw The Avett Brothers during initial visit at MerleFest in 2004. From nearby Concord, North Carolina, they were a trio of rompin', stompin' rootsy Ramones. But it did not take them long to morph that spirited energy into a series of highly regarded albums, the last five of which never failed to reach lower than No. 2 on the Billboard Folk/Americana chart. Now a polished, touring septet with cello and piano, they delivered all that the crowd had hoped for, and more, Friday night.
While Alison Brown was named IBMA's Banjo Player of the Year in 1991 and had been in Alison Krauss' band, I never caught her solo until MerleFest 2002. What struck me even more than including an electric piano in her bluegrass quartet was that she played the banjo (several of them) was as if it were a piano. I have followed her musical progression with an anticipatory fascination. In addition to many tunes from her new album, On Banjo, out this week, what I heard from Brown at this year's MerleFest was, with her daughter Hannah West on a few vocals and a flautist, an unmistakable link to Chick Corea and his band Return to Forever, but still rooted in bluegrass. It was like floating.
Rock and Electric Blues
Both the ground and the packed audience were somewhat soggy on Friday night for Marcus King's set. King came out on fire from the get-go. No warming up, no asking the crowd how they were doing, he blasted his way through the damp darkness as if parting the Red Sea. Even though he's only 27, he's been playing nearly all his life and it shows as the guitar seems to be an extension of not just his body but his identity. During his last song, the aptly titled "Goodbye Carolina," King invited his father, Marvin, to join in on the jam. The crowd ate it up.
An enthusiastic, well-thought-out rendition of Who's Next, with sprinkles of Loretta Lynn and Burt Bacharach, was The Waybacks Hillside Album Hour this year. As always, there was some misdirection at the beginning to keep the audience guessing. This year the mashup included some prime psychedelia, including a snippet of "Itchycoo Park." As well received as it was, I think they missed a golden opportunity as this year's Album Hour fell on Willie Nelson's 90th birthday, and 2023 is the 50th anniversary of Shotgun Willie, an album that signaled the birth of outlaw country. Additionally, as was pointed out to me, while there have been many women who have sung lead vocals on the chosen album, most memorably Joan Osborne on Born in the USA in 2015 and Celia Woodsmith this year, none of the 15 albums covered have been by a female artist. Something to think about.
Country
Country music has always been well-represented at MerleFest with the Saturday night headliner, including the biggest crowd in fest history when Dolly Parton played in 2001. This year Maren Morris brought home the goods with her inviting delivery of new country at its inclusive best. Her 18-song set melded quite a few influences, as is the norm these days, but to do it as honestly and forthrightly as she does is refreshing. She saved the best, for me and quite a few others, till last: "My Church." 
More than 50 years after taking country music by storm as a 13-year-old with "Delta Dawn," Tanya Tucker has seen, and done, more than most people could do in several lifetimes. In this, the third act of her life, she's not holding back, embracing all the roads, twists, turns, and crashes along the way. Recently named an inductee to the Country Music Hall of Fame, she brought that whole journey to her set that closed down the fest with not just with songs but stories as well, including tales of Merle Haggard, George Jones, and her manager-father, Beau.
Miko Marks is at the forefront of Black artists reclaiming country music as part of their heritage. Like many other roots musicians, including her friend Rissi Palmer, who played the fest last year, Marks' brand of country draws on her experiences as a Black woman instead of pickup trucks and beer. It was obvious that she reveled in her appearance at MerleFest, so much so she took a selfie with the audience. She had folks up and dancing throughout her set and got a rare standing ovation from what is usually a laid-back afternoon audience at the Watson Stage.
Sunday
In a voice less twangy than on her two albums, Canadian Bella White demonstrated why she was ND's Spotlight artist for April. Her self-described "sad songs" could have appeared out of place in the clear sunshine of an early afternoon save for a delivery that was as self-assured as it was distinct. She worked in a couple of covers as well, including Guy Clark's "Dublin Blues." The last time I heard that song played there was by Clark himself in 2006. I remember it well.
Just a day into the fest, word came that the re-formed Nickel Creek had to cancel their planned Sunday headlining set due to illness. Some old friends of MerleFest, The Travelin' McCourys, filled in and brought Del with them. Before it was over, Sam Bush, Jim Lauderdale, and Peter Rowan had joined in on the fun. To hear Rowan, Bush, and McCoury do Bill Monroe's "Sitting Alone in the Moonlight" was mesmerizing.
Many thanks to crack ND photographers Willa Stein, Rob Laughter, and Jim Gavenus. Click on any photo below to view the gallery as a full-size slideshow.
---