Jens Kruger on Doc Watson's Appalachian American Dream
---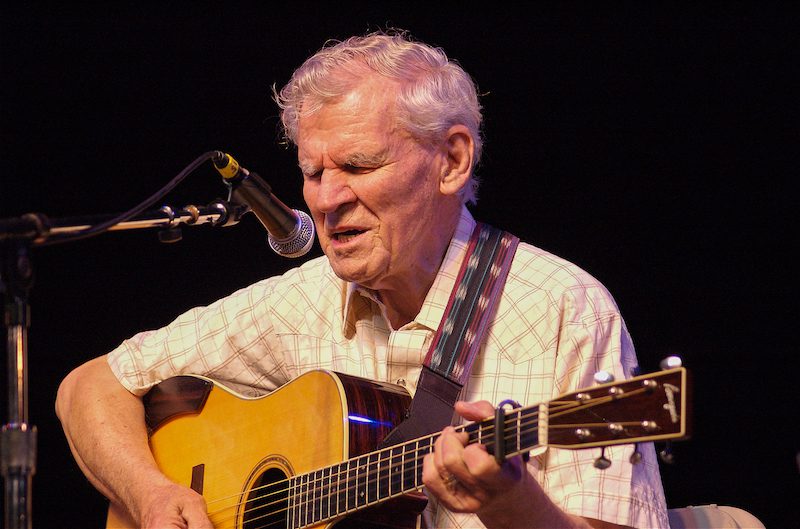 Doc Watson - Philadelphia Folk Festival 2007 - Photo by Mark J. Smith
EDITOR'S NOTE: To mark what would have been the year of Doc Watson's 100th birthday, we asked Jens Kruger, who knew Watson personally and professionally, to tell us about his friend and what he has meant to music. The Kruger Brothers will host a set at MerleFest this Saturday titled Doc Watson's 100th Birthday Jam. Find details at MerleFest.org.
Like everyone in this world who was greatly touched by Doc Watson, it feels like we all share a special relation to the man and the music he lived. My brother Uwe and I are no exception to this sensation of familiarity and discovery Doc Watson shared through his music. So much could and should be said about this remarkable man; about his style, his journey, his spirit, and his soul. However, for these 100th birthday memories I will reflect more on a personal and less universal side.
In 1976 my family had moved out of the city of Zurich to the lush countryside of eastern Switzerland. In the restaurant we ran as a family there were a few abandoned albums the previous owner had left, and as we were looking through them, we discovered an album titled Strictly Instrumental by Flatt & Scruggs and Doc Watson. By this time, Uwe and I had already been playing banjo and guitar for a number of years, but when we listened to the first track we were instantly enchanted by the amazing virtuosity and spirit of Doc's guitar playing. Uwe went to a music store and ordered more of Doc Watson's recordings, which became our absolute favorite music. We had always played music at home growing up, usually after dinner. Our father played guitar, our mother, the accordion. There were harmonicas and a mandolin and we even had a little tenor banjo before I had my own.
The music Doc played and sang sounded similar to the manly old German folksongs we grew up on, but there was a drive and sophistication in Doc's music that fascinated us. From that moment on we just tried to play more like him. We had horses at home and lived in the countryside so it was easy to connect to most of the songs he sang. We experienced Doc's music as pure, honest, unpretentious, highly suggestive, funny, earnest, and soulful. What more could music be?
We became professional musicians in 1979 and lived a rather interesting life, always keeping Doc's spirit in our hearts wherever we would travel. In the early '80s we finally got to see him play live with his son Merle and T Michael Coleman on bass. It was better than any recording we had ever heard.
When we were invited to play MerleFest in 1997 we got to meet Doc backstage, and he was as kind to us as one could be. He would always encourage us. "You boys just have to keep doing what you do and don't ever stop … all will be good." Once at a festival we came off stage and he said to me, "If I could play banjo like you I would never touch a guitar again." We shared a laugh.
As we grew to know one another, Doc invited us to his home. His wife, Rosa Lee, would make tomato sandwiches and we would play music all day. Doc would go down to the basement of his house and bring up all kinds of instruments to try.
Rosa Lee especially enjoyed us playing tunes like "The Cuckoo," "Shady Grove," "Frosty Morn," or other clawhammer tunes. She always said it brought back so many good memories of Merle. After our first musical encounter with Doc, Uwe stated that before he could become a better guitarist it would be necessary to become a better man. This is how we always felt after a visit with Doc.
Doc was a strong-willed man that did everything possible to provide for his family. He shared with us how difficult it was in the school for the blind he attended and how he always felt like he wanted to show the world that he was as worthy as any man could be. The day he went to pay his own taxes was one of the proudest days of his life, because from that moment on he felt like a fully worthy citizen.
Our shared experience of busking on the streets to survive in our younger days made us allies in a strange but familiar way. He would share many stories of his life and his sometimes hard travels, especially before Merle was old enough to help him along. We imagined the countless hours he had sat alone in his room learning songs from an old Victrola he serviced and kept in good shape himself.
One of his statements really stuck with us: "It takes me a long time to come up with something that is worth playing for people." Doc Watson wasn't just jamming. He was taking the time and care to create good music because he meant it when he said that people deserve good music because people are good.
Doc Watson was one of the greatest ambassadors the USA ever had. He shared a portrait of America that was true and real. He sang about love and heartache; about devastation and joy; religion and gamblers; preachers, gangsters, and moonshiners. The good and the bad were all in the picture of his America, but his music was always found the better of us. There was a morality in his music that reflected on the common idea of an America we all so deeply long for. Uwe and I felt inspired by him so long before we immigrated to this country to be part of this Appalachian American dream.
Sometimes Doc would come up to us before shows and ask us with a chuckle, "Will you sing the song where I'm in it?"
Now for 30 years I've played the songs Doc has taught to me
and the things that he would sing about I never thought I'd see
In the hills of Carolina folks have opened up the door
And for the first time in my life I'm not a stranger anymore
We were playing a festival up in Massachusetts when we heard that he requested before his passing for us to play at his funeral. We drove through the night to join his friends and family to play and sing to honor Doc one more time. Not long after, we did the same to honor his wonderful wife, Rosa Lee, his grandson, Richard, as well as his beloved brother, David.
Doc Watson was an important part of our journey, not only in our music but also in our lives. We will forever hold Doc dear to our hearts.
---