BONUS TRACKS: Remembering Country Music Writer Peter Cooper
Posted On December 9, 2022
---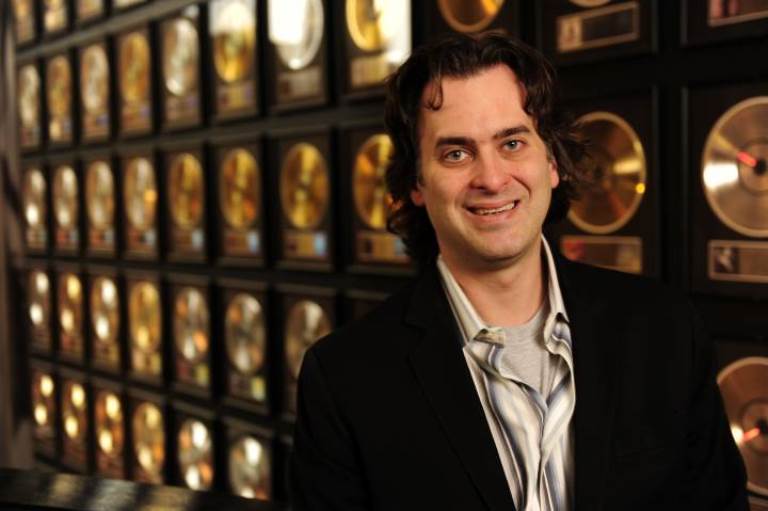 Peter Cooper at the Country Music Hall of Fame (photo by John Russell/Vanderbilt University)
It was incredibly hard to take the news this week of the untimely death of Peter Cooper, a Nashville-based country music journalist and a musician himself. He passed away Tuesday at the age of 52 after sustaining a head injury in a fall last week. He was a music writer with Nashville newspaper The Tennessean for 14 years, leaving in 2014 to work for the Country Music Hall of Fame and Museum, where he was serving as senior director, producer, and writer. He recorded three solo albums and three collaborations with singer-songwriter Eric Brace and played bass in Todd Snider's band for a while. He wrote books, including Johnny's Cash and Charley's Pride: Lasting Legends and Untold Adventures in Country Music, and scads of liner notes, and his words are inscribed on George Jones' tombstone.
Several years ago, I printed out a quote I came across from Cooper and pasted it to the wall in my office. I look at it just about every time I sit down to write a story for No Depression, and I hope you'll indulge me in sharing it here:
As a music writer — and I would suggest that this is true of all feature writers — I am here to say that objectivity is a mortal enemy. Now, for sure, you need a good bullshit detector, and you shouldn't rant and you shouldn't cheerlead. But objectivity is dispassionate. And we're in the passion business. We're trying to make people feel something different than what they felt before they read our words. The only way I've found to do this is to feel something before I write my words, and to feel something while I'm writing.
Cooper was a beloved part of the music community in Nashville, and several artists who knew him shared their sorrow and their memories on social media this week, including Oh Boy Records and the family of John Prine, Rodney Crowell, Gretchen Peters, and Rosanne Cash, just for starters. You can read more about Cooper in this remembrance from Variety. Even more telling than his biographical details, perhaps, is the transcript at the end from a speech Cooper gave at a writers conference last summer, a funny and poignant look into his process and perspective on telling the stories of country music, which he did better than anyone.
MerleFest added to its 2023 lineup this week, and also announced that the next iteration of the storied roots music festival, next April, will celebrate its own 35 years as well as what would have been founder Doc Watson's 100th birthday. "Organizers intend to feature MerleFest's unique history and present unique collaborations to honor the festival's founding folk icon," according to a press release. As always, No Depression will be in attendance to bring you all the "MerleFest Moments," especially as they pertain to Doc Watson! Want to know more about MerleFest? Check out my story for ND's Spring 2022 "General Admission" quarterly journal viewing the festival through the eyes of the five artists who have played there from the beginning, including Sam Bush, Jerry Douglas, and Peter Rowan. Read an excerpt here.
'Tis the season for a whole slew of songs that you can't seem to get away from — Mariah Carey's "All I Want for Christmas Is You," Brenda Lee's "Rockin' Around the Christmas Tree," and a few others I won't name here lest your brain get any more crowded with them. When these songs hit the radio each winter, they also hit the airplay charts, and The Tennessean has put together a visual graph that lets you watch as the weeks unfold and Mariah and Brenda soar to the top of the Billboard Hot 100, nipping at the heels of Taylor Swift's "Anti-Hero." The "Brenda Lee Rockin'-o-meter" dives even more deeply into data for "Rockin' Around the Christmas Tree" on charts that follow the upward spike of on-demand streams and radio spins for the Christmas classic. It's a fun way to visualize this annual phenomenon in, well, a "new old-fashioned way." (Sorry.)
If you're eager to add some fresh songs to your holiday playlist, check out our annual Holiday Music That Doesn't Suck roundup. But in our hearts, there's always room for Brenda Lee. And Mariah. And George Michael and all the rest.
WHAT WE'RE LISTENING TO
Here's a sampling of the songs, albums, bands, and sounds No Depression staffers have been into this week:
Blue Highway – "Lonesome State of Mind"
Larry Campbell and Teresa Williams – "Darling Be Home Soon" (Lovin' Spoonful cover), from their new album, Live at Levon's!, coming in February
Mindy Smith – One Moment More
Rodrigo y Gabriela – "Stages" videos, a nine-part visual compilation previewing new music in 2023
Lee Fields – Sentimental Fool
The Pogues – "The Band Played Waltzing Matilda"
The Lil' Smokies featuring Lindsay Lou – "Shadow"
Neal Francis – "I'm Watching"
Low – Christmas
Rob Ickes and Trey Hensley – "Living in a Song," the title track from their new album, coming in February
---