THE READING ROOM: Books About and By Musicians We Lost in 2022
Posted On January 19, 2023
---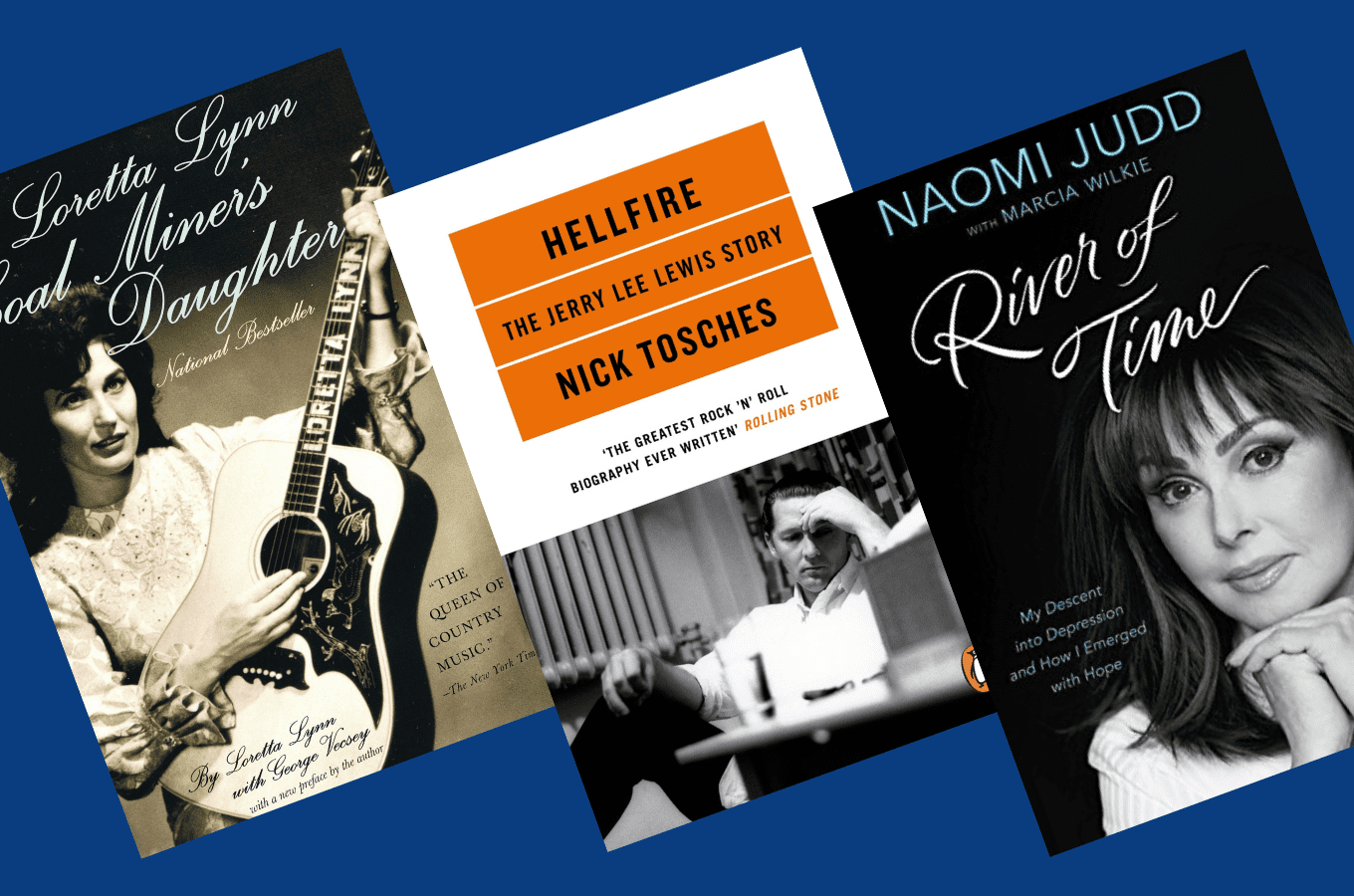 Death diminishes us all, but the deaths of musicians are often especially difficult since these artists seem to have tapped into some eternal spirit that flows through them into our hearts and souls. Musicians' deaths sadden us — sometimes because they die far too young and their musical destinies remain unplayed, and sometimes because we associate them and their music with certain times in our lives. We often turn to these artists' music as solace for our bereavement, but in many cases we can also pick up a biography of the artist or that artist's own autobiography as a way of living once again in their presence.
In 2022, we lost a number of artists whose musical genius and creative lyricism, not to mention their flamboyant performances, enlivened roots music. As in years past, the list of such musicians is long, though in many cases no biography of the artist exists and they left no memoir for us. Thus, while there are several books about Fleetwood Mac, for example — including Mick Fleetwood's 2014 autobiography Play On: Now, Then, and Fleetwood Mac (Little, Brown) and editor Sean Egan's Fleetwood Mac on Fleetwood Mac: Interviews and Encounters (Chicago Review Press) — there is not a single book devoted to Christine McVie, the soulful bluesy singer who died in November.
Here are a few books that bring those singers, songwriters, music producers, music critics back into our presence. At least one of these books, Ramsey Lewis' autobiography, will be published later this year, but most of them are at least a few years old, and some of them are now classics of music writing.
Blue Kentucky girl Loretta Lynn died on Oct. 4 (ND story). Her determination and resilience, and her crafty and entertaining style of singing and songwriting elevated women in country music. Ceaselessly creative, Lynn embraced new ways of thinking about country music on 2004's Van Lear Rose, produced by Jack White, and she was a mentor for several generations of younger women country artists. The best place to start with Loretta Lynn, of course, is her bestselling autobiography Coal Miner's Daughter (Grand Central), a no-holds-barred, humorous chronicle of her childhood in Butcher Hollow, Kentucky; her life on the road as a young mother and wife carrying her records from one radio station to another; and her stories behind songs like "The Pill," "Don't Come A-Drinkin' (With Lovin' on Your Mind)," and, of course, "Coal Miner's Daughter." One autobiography wasn't big enough to hold Lynn's story, though, and she released two later memoirs: 2002's Still Woman Enough: A Memoir (Hyperion) and 2012's Honky Tonk Girl: My Life in Lyrics (Knopf), as well as a 2020 memoir of her friendship with Patsy Cline, Me & Patty Kickin' Up Dust: My Friendship with Patsy Cline (Grand Central) (ND review). Every one of Lynn's memoirs sparkles with her crack storytelling and crackles with her laughter.
The Killer — Jerry Lee Lewis — exited the stage on Oct. 28. His rip-snortin', balls-of-fire piano style and his flamboyant lifestyle tore up stages around the world. Lewis didn't leave a memoir, but he told his story to journalist Rick Bragg in Jerry Lee Lewis: His Own Story (Harper) (ND review). Bragg lets Lewis tell his story in his own words, but wraps a larger narrative structure — as well as Bragg's own stories of his encounters with Lewis' music — around them in a combination autobiography and biography. Reading Bragg and Lewis is a bit like sitting under a tree listening to two fisherman swap tales about who caught the biggest fish; there's braggadocio aplenty hiding little hooks of raw truth. Still, the go-to book on Lewis is Nick Tosches' Hellfire: The Jerry Lee Lewis Story (Penguin; reprint edition), though it's now over 40 years old. It captures Lewis' manic, larger-than-life personality and how Lewis' Pentecostal religious roots both magnified the singer's grand ambitions — the world was his pulpit, so to speak — and fueled the ambivalence between sin and salvation that jumps off the grooves of his records. Joe Bonomo's Jerry Lee Lewis (Continuum) goes deep and prunes away some of the fiery tales surrounding Lewis and focuses on the purity of Lewis' blend of gospel, country, and rock and roll.
On April 30, one day before she and her daughter Wynonna were to be inducted into the Country Music Hall of Fame, Naomi Judd died by suicide. Country fans around the world mourned her death, and a video of Naomi and Wynonna singing "Love Can Build a Bridge" just a couple weeks earlier at the CMT Music Awards sent shivers up the spines of all who watched it. Naomi Judd wrote two candid memoirs about various chapters of her life. In the first, 1993's Love Can Build a Bridge (Villard), she candidly and humorously chronicles the meteoric rise of The Judds from signing their first album deal in 1983 to Naomi's diagnosis of liver disease in 1991 and the group's farewell tour. Judd is even more honest in her second memoir, River of Time: My Descent into Depression and How I Emerged with Hope (Center Street).
Best known for his songs "Someday Soon" and "Four Strong Winds," and his duos with his partner Sylvia Tyson, Canadian singer-songwriter Ian Tyson died on Dec. 29. His love for wide-open spaces, for horses, and for the Canadian West emerged not only in his songs but also in his 2010 autobiography The Long Trail: My Life in the West (Vintage), which is part memoir and part reflection on the West as an idealized space whose harshness and physical ruggedness challenge the romantic view of the region. In Four Strong Winds: Ian & Sylvia (McClelland & Stewart), journalist John Einarson, with Ian Tyson and Sylvia Tyson, offers the most complete portrait of the music of this well-loved folk music duo.
The music producers who died in 2022 gave us some of rock's greatest hits. Peter Ames Carlin tells rip-roaring good stories about Mo Ostin, the man who built Warner Bros. Records into a rock empire and who died on July 31, in Sonic Boom: The Impossible Rise of Warner Bros. Records, From Hendrix and Fleetwood Mac to Madonna and Prince (Holt) (ND review). Relying on his mantra "Let's just make good records and turn those into hits," Ostin brought to us, among others, The Grateful Dead, Joni Mitchell, The Eagles, Tom Petty, and R.E.M.
Art Rupe, who died on April 15 at 104, started Specialty Records in Los Angeles as a home for rhythm and blues ("race records") with artists that included Percy Mayfield and Roy Milton. He developed a thriving gospel catalog that included, among others, The Soul Stirrers, The Swan Silvertones, and Dorothy Love Coates. Rupe eventually signed Lloyd Price and Little Richard to Specialty. With the help of Billy Vera, Rupe tells the story of Specialty Records in Rip It Up: The Specialty Records Story (BMG) (ND review).
Jazz great Ramsey Lewis died on Sept. 12. His autobiography, Gentleman of Jazz: A Life in Music (Blackstone), written with Aaron Cohen, will be published in May.
Peter Cooper, a writer who had an innate knack for telling unforgettable stories that honored his subjects, died on Dec. 7. At the time of his death he was the senior director, producer, and writer at the Country Music Hall of Fame and Museum. His inimitable collection of writings, Johnny's Cash & Charley's Pride: Lasting Legends and Untold Adventures in Country Music (Spring House Press) (ND review), leaves all of us music critics with sage advice: "If you do it correctly, writing about music doesn't distract, it informs. Writing about music invariably becomes writing about musicians, and musicians are among the world's most intriguing people. Musicians can conjure laughter or regret from tone and melody, which is a hell of a trick."
Pull up a chair and pull out one of these books by or about some of the artists we lost in 2022.
---