THE READING ROOM: New Book Charts 'Impossible Rise' of Warner Bros. Records
Posted On January 7, 2021
---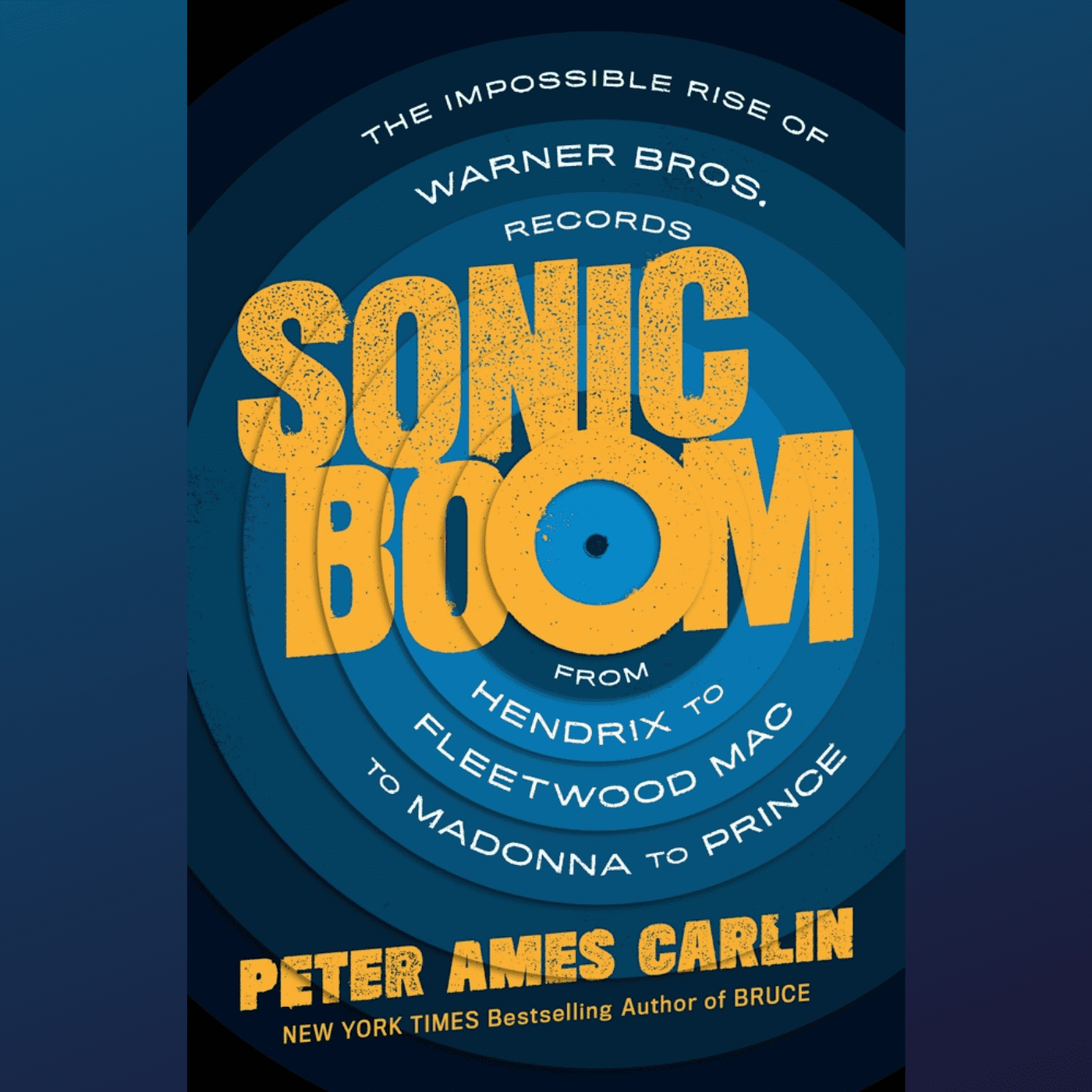 When Warner Bros. opened its own recording division, Warner Bros. Records, in 1958, it released a number of humor albums with titles such as Terribly Sophisticated Songs: A Collection of Unpopular Songs for Popular People, Songs the Kids Brought Home from Camp, and But You've Never Heard Gershwin with Bongos. While Jack Warner had explicit goals for the division — the company had "to make money and it should never release a record that sounded anything like rock 'n' roll" — the company performed abysmally that first year.
As Peter Ames Carlin reports in Sonic Boom: The Impossible Rise of Warner Bros. Records from Hendrix to Fleetwood Mac to Madonna to Prince (Holt), out Jan. 19: "When they got to the end of the company's first year in business, Warner Bros. Records had lost $1.53 million. And that official number didn't include the boxes of unsold records its distributors were sending back for refunds. With those losses, the number was closer to $3.5 million, which, given the company's original $2 million operating budget, was pretty impressive, albeit in a bad way. The losses continued through 1959."
By 1960, the company's fortunes slowly turned around thanks to the music from the hit television series 77 Sunset Strip, a big hit in 1959; comedian Bob Newhart's first album, The Button-Down Mind of Bob Newhart, which went to No.1 in 1960; and Allan Sherman's My Son the Folk Singer, which sold 250,000 copies in New York City alone in 1962. Also, the label had signed Peter, Paul and Mary and the Everly Brothers, and the sales of their records brought the label back to good financial footing, looking to continue its success.
How did Warner Bros. Records ascend into the financial and popular culture in less than a decade? According to Carlin in his lively music history, one man, Mo Ostin, deserves the credit for developing Warner Bros. Records into the powerhouse it became in the late 1960s and early 1970s, especially, but also as it grew into the 1990s. In the late '50s, Ostin was making a name for himself on the jazz side of the street at Verve Records. Ostin attracted the notice of one singer in particular, Frank Sinatra, who tried, but failed, to purchase Verve. Sinatra formed Reprise Records in 1960 and hired Ostin to be the head of the label. By 1963, Sinatra had made a deal with Warner and sold the label to them — but he retained a "33.3 percent share of Warner [that] would give him a voice in all Warner Bros. dealings, plus a share of the company's annual proceeds, and ongoing authority over his beloved Reprise."
Ostin then became head of Warner/Reprise and, in the first year, at least, as Carlin observes, walked a bit of a tightrope between Sinatra's often iron-fisted authority and his own desire to grow the company by bringing in popular music acts, mostly rock and roll. As Carlin points out, "When Ostin first heard the buzz saw chords and lusty-snarly vocals in the Kinks' 'You Really Got Me,' he knew he was hearing a hit song. And it wasn't just his intuition telling him that. When he heard about the song a week after its British release on August 4, 1964, it was already bouncing into the middle reaches of the British singles charts." At the same time, he faced a dilemma: He knew of Jack Warner's rule about not releasing anything that sounded like rock and roll, but he also knew Warner wanted to stop losing money, so Ostin made a strategic decision that would launch the label into financial well-being for decades to come.
"Ostin had also worked an international distribution deal with Pye, a small British pop label whose owners were a lot more interested in making money than in shaping the tastes of its listeners," Carlin writes. "The Brits there were thrilled to be the UK home for Sinatra, and Ostin was just as happy to have access to Pye's growing collection of British rock groups, to whose records Reprise owned the American rights."
So, Ostin signed the Electric Prunes in 1965 and watched their single "I Had Too Much to Dream Last Night" rise up the charts; he signed Arlo Guthrie to the label. Soon, Carlin writes, "Warner/Reprise came to resemble an old-fashioned cargo truck hurtling down a mountain road with its load shifting and straining in every direction. Jazz singers that way, folksingers down here, acid rockers cartwheeling across the roof, traditional pop singers over one wheel well, their pop-rock inheritors crowded above another."
Between 1967 and 1970, "Ostin … added no fewer than ninety new acts to Warner/Reprise, an A&R spree that was breathtaking not just for its immensity but also for the riches of talent, cultural impact, and commercial power they would unleash upon the company," Carlin writes. "To examine the list now is to see much of the foundation of the popular music of the last fifty years. Joni Mitchell, Neil Young, Van Morrison, James Taylor, Randy Newman, Van Dyke Parks, Ry Cooder, Tiny Tim, Fleetwood Mac (from which would also come solo hits by Stevie Nicks, Lindsey Buckingham, Christine McVie, and earlier member Bob Welch), Jethro Tull, Frank Zappa, Charles Wright and the Watts 103rd Street Rhythm Band, America, Alice Cooper, Deep Purple, the Fugs, Black Sabbath, Gordon Lightfoot — the list goes on and on."
Yet, as Carlin observes, Ostin's approach to success was far different from Warner's, and Ostin's loyalty to artists and his trust in their talent stood him well over the years. For example, when Fleetwood Mac's sales faltered following the band's 1972 release Bare Trees, Ostin stood by them: "Any other major label chief would have cut Fleetwood Mac loose when the band's sales slipped so drastically after Bare Trees in 1972. … The band worked hard and usually came close to breaking even, so keeping them on the roster was, according to Ostin's measures, a no-brainer. He liked to reward people for doing good work, and by 1977 his faith in Fleetwood Mac had been amply rewarded."
As Carlin writes, Ostin's formula was simple: "Stop with the surefire singles and look for the artists who are going to make the best, most distinctive records. … So, let's just make good records, and we'll turn those into hits." Ostin said, "I was into making quality records because if you do something good, good things follow. … If we made good records by great artists, they didn't have to be commercial. Something good was always going to happen because you'd just made a great record."
In his vibrant portrait of Ostin and his work at Warner Bros. Records, Carlin portrays a man who was passionate about the music, and a man who knew that "maybe it didn't matter if the records were hits. Really good music never fades away." One look at Warner's catalog illustrates just how much Ostin knew the music itself, the good music, would endure.
---