The 2022 No Depression Guide to Holiday Music That Doesn't Suck
Posted On December 7, 2022
---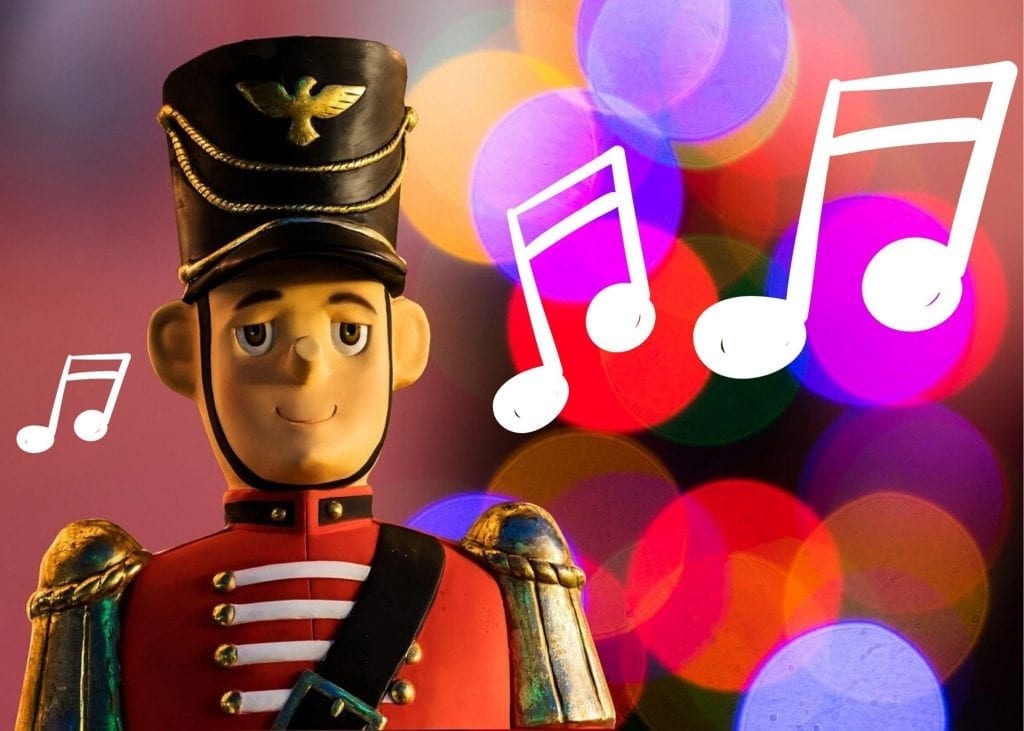 The holiday spirit is in the air, and so is holiday music — everywhere you go.
Sure, it's comforting to hear familiar favorites (and admit it, even Mariah Carey puts a smile on your face the first dozen or so times you hear her this time of year), but it's fun to find new tunes to trim the tree with too.
In what is now a holiday tradition, No Depression brings you the best of the year's new batch of roots music songs celebrating the season. Our reviews of six newborn Christmas albums are below, and you can hear highlights from those as well as a whole sleighload of new holiday singles in our playlist at the end of the post!
Buller's title is just right, as she offers her own flawless musical gift and also celebrates the season of God's gift of Jesus to the world.
With an all-star cast of musical guests, Buller lights the season with the warmth of her vocals and sprightly fiddling. The album kicks off with a scampering version of George Michael's "Last Christmas" featuring Sierra Hull's lightning mandolin runs playing call-and-response with Buller's fiddling, as well as Todd Livingston's shimmering resophonic guitar strains and Dan Tyminski's dancing guitar notes. We can feel the joy in the hearts of the singers through the speakers on "Mary Rocked Her Baby," an original that Buller co-wrote with Lisa Aschmann. The toe-tapping, hand-clapping, soul-moving a capella song features the gospel quartet The Fairfield Four, and we're redeemed by the end of the song.
The bright, glimmering "Anna," which Buller wrote with Delia Topping Boost, recounts the biblical story of the prophetess Anna, with Sharon White's harmony vocals adding a gleaming dimension to the song. The shuffling, Caribbean rhythms of "Merry Macaroni Art" celebrates the activity of the title and features the winning vocals of Buller's 9-year-old daughter. Vince Gill's exalted harmonies animate the traditional hymn "Tell Me the Story of Jesus," and Gill and Buller trade lead vocals on two verses. Instrumental bridges give Gill and Skaggs room to stretch out a little on guitar and mandolin.
The album closes on an upbeat note with the swirling and darting bluegrass gospel "A Savior is Born." Buller's effervescent bluegrass celebration of the Christmas season is the perfect gift indeed. — Henry Carrigan
Tinsel Tracks:
Tell Me the Story of Jesus
Mary Rocked Her Baby
Our Gingerbread House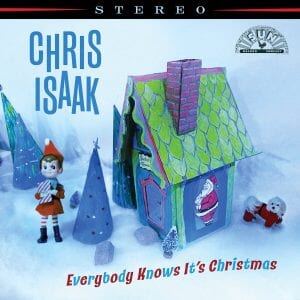 Chris Isaak
Everybody Knows It's Christmas
Everybody Knows It's Christmas is Chris Isaak's first studio release since 2015, and it's a real charmer. With his throwback 1950s Sun Records-indebted style and the assistance of producer Dave Cobb, Isaak presents a batch of 13 clever originals and covers full of holiday cheer.
Isaak sounds like he's having a blast on "Winter Wonderland," "Jingle Bell Rock," and "Run Rudolph Run," offering up faithful takes performed with a palpable warmth and enthusiasm. They make for a fun listening experience, but it's the eight Isaak-penned tunes wrapped around these standards that make Everybody Knows It's Christmas more than a standard-issue holiday album.
"Help Me Baby Jesus" isn't a religious paean, but rather a humorous tale about the theft and recovery of the baby Jesus from an outdoor Nativity scene set to the sounds of Elvis and The Jordanaires. Penultimate track "Almost Christmas" is a rockabilly ode to the most dreaded of holiday shoppers, someone many of us can relate to: the procrastinator.
With its light touch and playful spirit, Everybody Knows It's Christmas is a holiday gift from Isaak that we can all be thankful for. — Jim Shahen
Tinsel Tracks:
Run Rudolph Run
Help Me Baby Jesus
Almost Christmas
Michaela Anne's crystalline vocals reverberate like Christmas bells on this four-song set of brightly wrapped musical gifts. The singer tenderly dwells in these familiar songs, delivering them in her own distinctive timbre and phrasing, with the vocal power and range and tasteful interpretive skills of a torch singer.
The EP opens with Anne's somber take on John Lennon and Yoko Ono's Happy Xmas (War Is Over), capturing the soaring emotional register of the song in vocals that spiral ever higher in the sonic stratosphere to celebrate momentous occasions. "Have Yourself a Merry Little Christmas" features Anne's vocals riding over her piano chords; it's a spare treatment that evokes the loneliness that lies at the heart of the holiday. This version may replace Judy Garland's original from the film Meet Me in St. Louis as a Christmas classic.
The shuffling, reggae-inflected "Last Christmas" lends a brightness to the late George Michael's now-classic contemporary Christmas song. The EP closes with Anne's poignant take on Joni Mitchell's "River"; her sparkling vocals mimic the water's flow. Her evocative version rings so beautifully that if you close your eyes as you're listening, you'll swear you're hearing Mitchell's original. Rejoice for the gift of Michaela Anne's Happy Xmas. — Henry Carrigan
Tinsel Tracks:
Have Yourself a Merry Little Christmas
River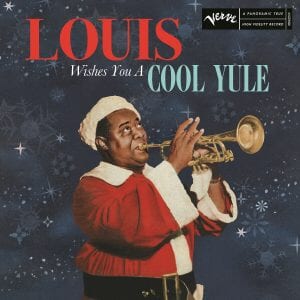 Louis Armstrong
Louis Wishes You a Cool Yule
Some might consider Louis Armstrong Mr. Christmas — his version of "Baby, It's Cold Outside," with duet partner Velma Middleton and "Winter Wonderland" fill the airwaves every Yuletide season — but he never released a Christmas album during his lifetime.
Louis Wishes You a Cool Yule collects most of Armstrong's holiday recordings for the first time, and these gems make for the perfect accompaniment to a night curled up with loved ones near a crackling fire or a festive holiday party with friends. The album opens with the blaring "Cool Yule," a swinging big-band song that will keep Santa jitterbugging across every roof in town. Armstrong's "Winter Wonderland" evokes the strolling tempo of the classic tune, while "'Zat You, Santa Claus" prowls and growls with a menacing air worthy of the Grinch but also prancing with a joyful nod and a wink to the jolly old elf.
The lilting, swaying "Christmas Night in Harlem" rambunctiously celebrates the season and features Satchmo's scat singing. No Armstrong album is complete without his signature "What a Wonderful World" — which turns 65 this year — and it's the penultimate track on this collection. It closes with Armstrong's never-before-released reading of "A Visit from St. Nicholas," with Armstrong's voice accompanied by New Orleans pianist Sullivan Fortner's lively stride piano. Spinning this album will guarantee a cool yule. — Henry Carrigan
Tinsel Tracks:
Cool Yule
Christmas Night in Harlem
A Visit from St. Nicholas
Davis Causey and Jay Smith
Pickin' On Christmas
Newly released on Strolling Bones Records, Pickin' on Christmas was originally recorded in 1998 by Davis Causey and Jay Smith, featuring Randall Bramlett and Jeff Reilly. Causey and Smith produced only 100 copies as a Christmas gift for friends, shortly before Smith's death.
Fully instrumental, the album is anything but holiday elevator music. Instead, each track on the project invites a closer listen. "The Christmas Song" gives a nod to some of Causey's early guitar influences, including Chet Atkins. "What Child Is This" and the mashup of "We Three Kings" and "God Rest Ye Merry Gentlemen" have a soulful sound suitable for a blues club. The opening notes of the "Silver Bells/Silent Night" combination evoke "Brown-Eyed Girl" before the guitar shifts into a fresh take on these two Christmas staples. "Following a Star," the album's lone original song, penned by Causey, is particularly appealing in its simplicity, with strings backing the guitar's melody.
The album achieves what few instrumental holiday collections do: It invites closer attention to what must have been a treasured gift to the owners of that first limited run. — Nancy Posey
Tinsel Tracks:
Following a Star
Silver Bells/Silent Night
If you're tired of the same old stale, over-roasted chestnuts for Christmas, Kelley Hunt brings some fresh fare to the holiday table, offering up a big band, gospel/soul platter with Winter Solstice.
The Kansas City native's rendering of "Silent Night" sounds like Etta James sneaking into a church looking for some last-minute redemption after pulling an all-nighter singing and sinning in some smoky dive, enhanced by one of the funkiest, soulful cello solos on record.
But Hunt just doesn't just redo the old ornaments; she hangs up some new ones like "You, You, You," a jazzy blues cabaret style number with an all-I-want-for-Christmas-is-you message. "Ancient Bell" is a quiet piano-driven take on the "Silver Bells" concept with more emphasis on the religious tone of the pealing holiday bells.
Saving the best for last, Hunt closes it out with two versions of "Auld Lang Syne," the first a churchy tome with Kelley wailing like a lost soul crawling toward the light of a new dawn to start over, followed up with a reprise with a jump-about tempo that celebrates the new year by shaking a leg as well as a glass. It's a nice present for the whole family to unwrap together and enjoy. — Grant Britt
Tinsel Tracks:
Silent Night
Auld Lang Syne (both versions)
Go Tell It On The Mountain
Check out songs from these albums and others, plus a long list of new holiday singles, in our 2022 Holiday Music That Doesn't Suck playlist:
---