CROWDFUNDING RADAR: 'Tis the (Pre)Season for Holiday Projects
Posted On October 24, 2022
---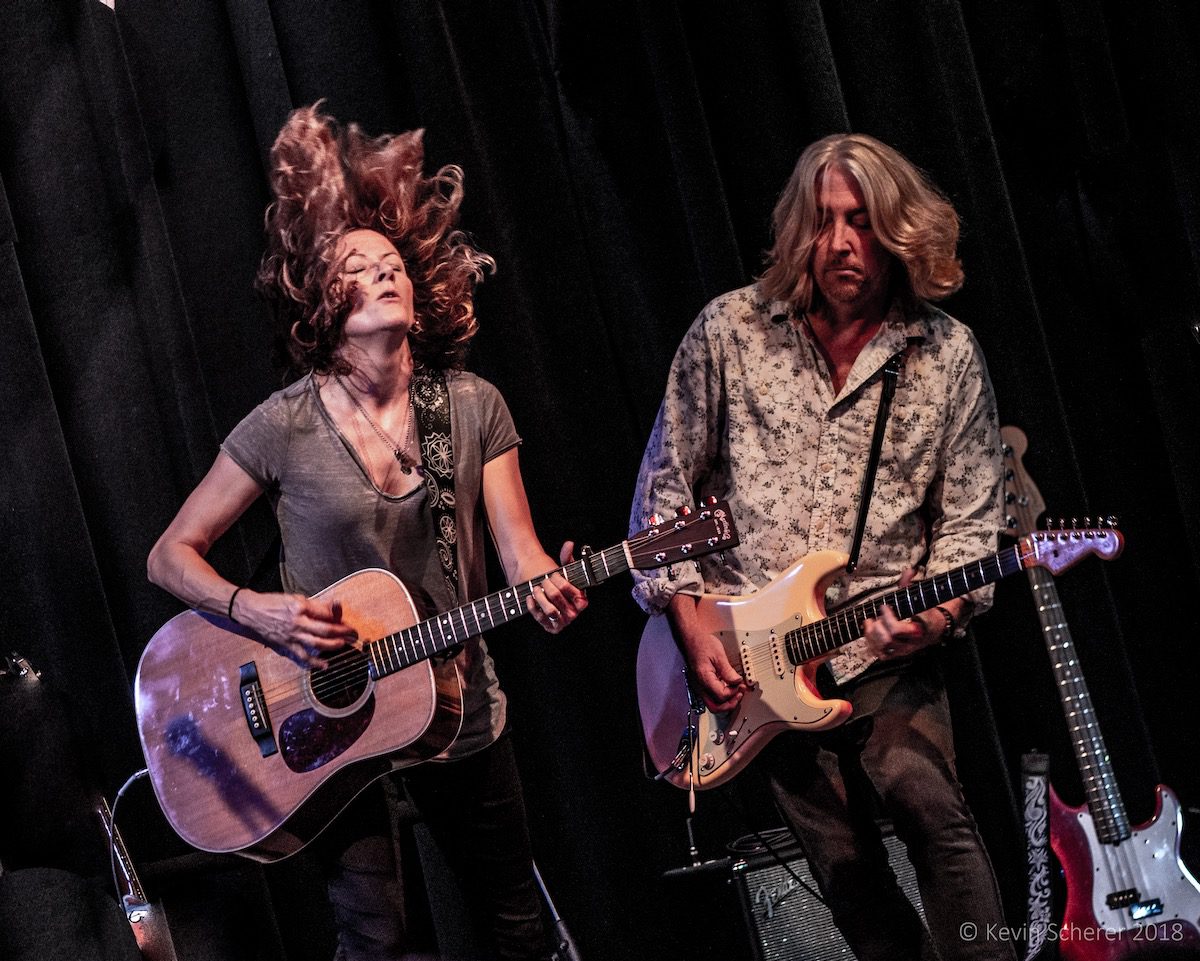 Michelle Malone and the Hot Toddies at the Towne Crier in Beacon, New York, in 2018. (Photo by Kevin A Scherer / flickr.com/kscherer11)
On Tom Lehrer's live album, when introducing "A Christmas Carol," he noted it wasn't really the season for it but said "I'm informed by my disc jockey friends, of whom I have none, you have to start plugging it well in advance … ." That's even more true with crowdfunded Christmas albums, which beat out even the big box stores by rolling out in July. However, artists who have recorded their albums already can use crowdfunding more as a pre-order and wait until later in the year. This week I've got two crowdfunded roots Christmas projects, and I round out the trio with a pair of women who take researching the history of fiddle music to the extreme.
Michelle Malone and the Hot Toddies – Christmas With the Hot Toddies (click here to view campaign)
For most of the year, Georgia-based Michelle Malone makes her living as a solo blues/Americana artist. But come late November, she and her band transform into The Hot Toddies, a rocking Christmas band touring the regional circuit. After making a couple of well-received EPs, Malone is ready to take the next step and release the first Hot Toddies LP, and she's making it exclusive to her Kickstarter backers. Her campaign page promises rockabilly Christmas favorites like "Boogie Woogie Santa" and "Rockin' Around the Christmas Tree" as well as re-imagined standards like a New Orleans-style "Deck the Halls." The album is available to backers in digital, CD, and red vinyl formats. Other backer perks include a Hot Toddies shirt, a "Christmas stocking" filled with mystery gifts from the band, and a Michelle Malone bobblehead.
Jarred Albright – Christmas From the Gingerbread Porch (click here to view campaign)
By his own admission, when November rolls around, multi-instrumentalist Jarred Albright finds "something fun and interesting happens when an excited body of people share fellowship in celebrating a cosmically trivial occasion." But he notes the one thing that stinks about Christmas is its music. He's not wrong. The saccharine overload that most Christmas music delivers can wear on anyone. (Well, except those strange people who listen to the 24-hour Christmas radio stations.) So Albright decided to do something about it by making his debut album a Christmas album. Since the lyrics are typically where the syrup resides, Albright's doing away with them and instead focusing on fiddle and clawhammer banjo. For his $2,500 Kickstarter campaign, he's offering early access to the digital files, as well as the album on CD. Other backer perks include a digital or physical book of the tablature and "dots and lines" notations for both instruments, and a fiddle or banjo lesson.
Anna Rynefors & Miriam Andersén – Skånska Spelkvinnor / Forgotten Female Fiddlers (click here to view campaign)
Lots of roots musicians are also historians, digging the deepest of roots for their chosen instruments. Artists like Rhiannon Giddens, Willie Watson, and Dom Flemons have brought to light songs that would have gone unremembered otherwise. Swedes Anna Rynefors and Miriam Andersén are taking that to the next level. They began digging far back into Scandinavian history and archives, specifically in the southern region of Scanla, to find the oldest record of female folk musicians, from the skalds of the Viking Age to long forgotten female fiddlers. They recorded the songs they found, plus a couple of originals in traditional styles, on the harp, nyckelharpa, Swedish bagpipe, flute, and clog fiddle. To achieve their $4,500 Kickstarter funding goal, they're offering a limited menu of perks: the album in digital or CD format and a private 45-minute Zoom workshop with tips on playing the historic instruments featured on the album — or even a modern one in the medieval style.
---