THROUGH THE LENS: Why Vinyl? The Roots Music Lover's Guide to Analog, Part 3
Posted On January 25, 2022
---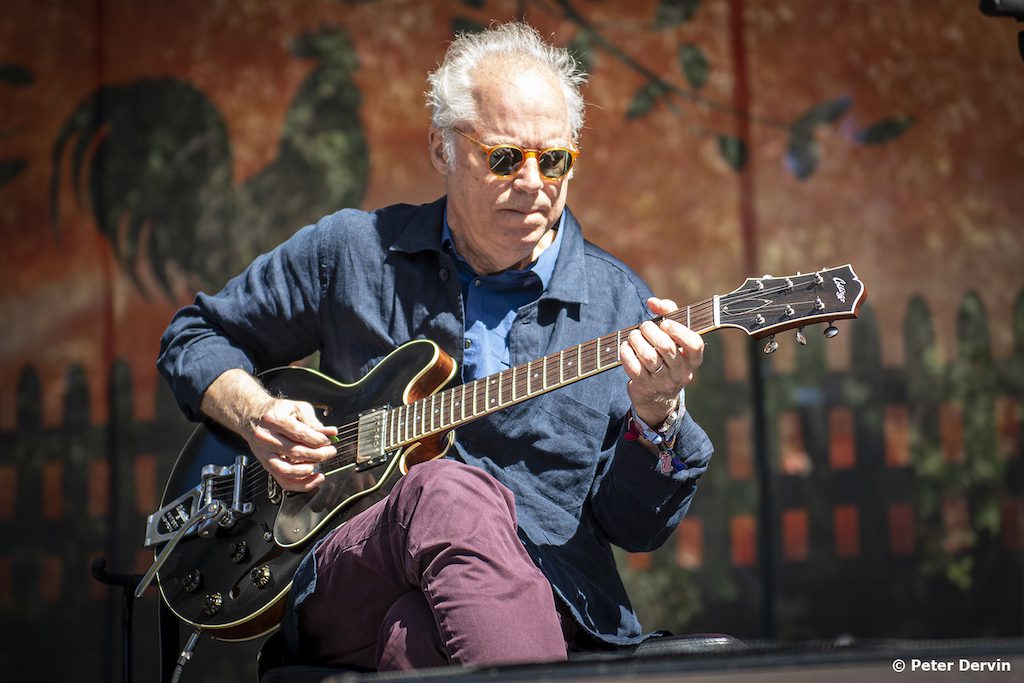 Bill Frisell - Hardly Strictly Bluegrass 2019 - Photo by Peter Dervin
EDITOR'S NOTE: Find earlier installments of Through the Lens' "Why Vinyl?" series here: Part 1, Part 2
A lot has happened since this column last reported on the vinyl renaissance, about a year ago: Vinyl sales doubled in the first half of 2021 and sales of CDs also rose (ever so slightly) in 2021 for the first time since 2004, but streaming remains dominant (83% of the music industry's revenue). I submit that streaming is so popular because it is so darn easy, especially with unlimited data plans for cell phones.
But besides offering inferior sound quality, streaming also rips off artists, particularly roots and other independent musicians. Spotify, for example, on average pays $0.004 per stream, with 70% of that going to the rights holder, who is not necessarily the artist. Spotify does not report on how much of that goes to the actual makers of the music.
Sales of CDs and LPs, on the other hand, put money directly in the hands of artists, smaller independent labels, and independent record stores. Artists get the most revenue when CDs and LPs are purchased at their shows. Roots music is a village, and purchasing artists' work in a physical format keeps the money within the village. But the sound, of course, is the main draw.
Mastering Engineers as Rock Stars
All vinyl is not created equal. What makes or breaks the sound of a record is its mastering and pressing. Mastering engineers have become just about as well-known to audiophiles as the artists whose recordings they work on. So much so that labels and musicians seek them out. The once invisible geniuses behind great-sounding records now get credit in the liner notes, and often on a record's hype sticker. The ones to look for include Kevin Gray (Cohearant Audio); Ryan Smith (Sterling Sound); and Chris Bellman and Bernie Grundman (both at Bernie Grundman Mastering).
The other critical part is the pressing plant. The best in the world are in the US: Quality Records Pressing (QRP) in Kansas and RTI in California. Both have long been at full capacity, with RTI having a backlog of over 1 million records. QRP clients include The Beatles (save for Let It Be) and Gillian Welch and David Rawlings. Pallas and Optimal in Germany are also excellent.
Don Was and Jazz's Current Comeback 
Once thought dead, jazz has had a resurgence, primarily through reissues but there have been many exciting new recordings as well. Since becoming the head of Blue Note Records in 2012, Don Was has been instrumental in the genre's revival. Perhaps best known to Americana fans as the bass player in the Americana Music Association's awards show house band and a member of Bob Weir and the Wolf Brothers, Was' resume is astounding — just look at his Wikipedia page. During the past 10 years, Blue Note has reissued much of its phenomenal back catalog, including albums from Art Blakey, Grant Green, Andrew Hill, Dexter Gordon, Lee Morgan, and Hank Mobley and new recordings by Pharaoh Sanders, Charles Lloyd, and Bill Frisell.
The key to Blue Note's success is that their records sound great. That's because Was goes back to the original analog tapes, Kevin Gray remasters them, and the albums are pressed at either RTI or Optimal. Nothing digital ever touches the sound. These records sparkle. My theory is that folks who have gotten into vinyl want something really good to show off their systems. Nothing sounds better than an all-acoustic band recorded on analog tape by someone, such as Rudy Van Gelder, who knew what they were doing. Listeners are thus exposed to music many had never given a second thought to, and once brought in by the sound they find they like the music. What sets jazz apart from other genres is, among other things, the unparalleled melding of the emotional with the intellectual. 
Current Outstanding Records by Roots Musicians
Vinyl Me Please (VMP), a subscription service that also sells individual records, has issued quite a few exclusive record pressings by roots artists during the past few years.  These include Emmylou Harris, John Prine, Dolly Parton, Gram Parsons, Willie Nelson, Loretta Lynn, and two albums never before on LP: Iris DeMent's Infamous Angel and Mountain Man's Made the Harbor. VMP also offers special pressings of regular releases, such as Robert Plant and Alison Krauss' Raise the Roof, and has several upcoming albums on its calendar: Aldous Harding's Warm Chris, Son House's Forever on My Mind, Maren Morris' Humble Quest, and Erin Rae's Lighten Up. VMP also tells you who mastered the record, where it was pressed, and other pertinent information.
Also of note are two live recordings released last year: Joni Mitchell's Live at Carnegie Hall 1969 (mastered by Bernie Grundman, pressed at RTI), and Neil Young's Carnegie Hall 1970 (mastered by Chris Bellman). Both are stellar-sounding recordings.
Two box sets by legends also should be noted for their exceptional sound. Last year Mitchell dropped The Reprise Years 1968-1971, which contains her first four albums. You will never hear better versions of those records. In 2010 Bob Dylan released The Original Mono Recordings, his first eight albums in mono. Both sets were mastered by Bernie Grundman and pressed at RTI. Unfortunately, the Dylan set went out of print a couple of months ago, but there are copies out there. The records in that set sound every bit as sonically rewarding as the far more expensive Mobile Fidelity pressings, which have been long out of print.
Now, the photos of many of the artists noted above and others who are committed to vinyl. Click on any photo below to view the gallery as a full-size slideshow.
---