THROUGH THE LENS: Why Vinyl? A Roots Music Lover's Guide to Analog
Posted On February 26, 2019
---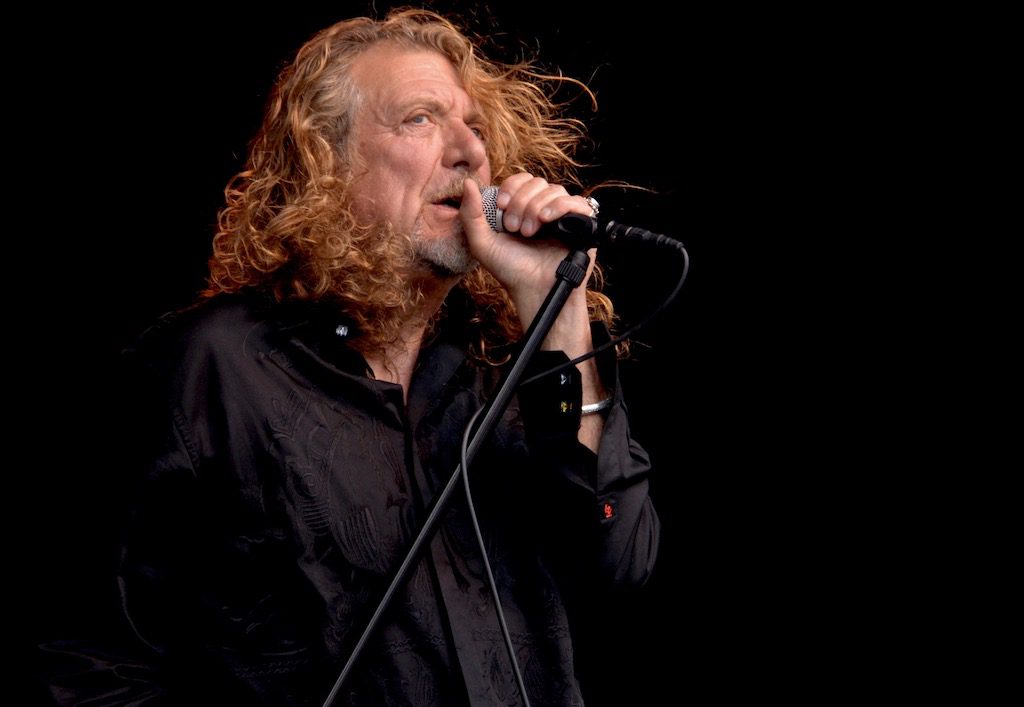 Robert Plant. Photo by Amos Perrine
Readers of this column have heard me say more than a few times that we are in the midst of a roots revival, and we are in the midst of an analog revival as well.
In my town alone, we've gone from one record store to three, with the most recent one devoted solely to used records. What's the fuss all about? Is it mere nostalgia, a hipster thing, a return to basics? Or have folks simply woken up to the fact that music is and should be more than zeroes and ones?
Why Vinyl?
The "reasons" for the revival are multi-fold, but one thing is certain: Vinyl sounds better than digital, any digital, even on a modest stereo. I have heard CDs and LPs on $250,000 systems, and $25,000 CD players on $1,000 systems; the result is always the same, the LP is better.
Some may say that "better" is subjective. I disagree. If you begin with a set of criteria of what it means to sound "better," e.g., a sound that is richer, with a full rounded bass, silky highs, a midrange that has a sense of depth; that third dimension, greater dynamic range; a soundstage that gives you the feeling the musicians are there in the room with you, that you are not merely "hearing" the music, but rather you are involved with the music … then it is better.
I've had quite a few folks over to compare LPs and their CD counterparts: casual listeners, audiophiles, and musicians. Every time I have asked which sounded "better" they have chosen the LP, some being startled by the difference. A lot of folks who bought into the "digital is perfect" mindset thought the LP was the CD. When asked why, the response was always a variation on "because it sounded better."
Do not confuse convenience with quality. Sure, I have an iPod in the car, and stream when I'm in the kitchen, doing the laundry, or working in the garage. But when I want to hear what the artist had in mind when the music was created, I want to hear it as close to the source as possible. That's putting an LP on a turntable.
The Records: It's About the Music
Two of my favorite albums from last year were Mandy Barnett's Strange Conversation and Martha Scanlan's The River and The Light. In both cases not only was the music more involving on LP, but instruments and musical passages that were buried in the background on CD became clear on the LP. It was as though I was hearing them for the first time. The difference was noticeable even on a causal listening.
The two most outstanding recent LP releases have to be Gillian Welch's The Harrow & The Harvest and Soul Journey. They are not just in your living room, you can touch them. If we're lucky, later this year we'll get Time (The Revelator).
Bill Frisell's Nashville and Morphine's Cure for Pain are on vinyl for the first time. The Louvin Brothers' Satan Is Real  (Light in the Attic) gives you the shivers. The European label Music On Vinyl released Lucinda's Car Wheels on a Gravel Road a couple years ago. The Applewood Road album, on the UK Gearbox label, recorded all analog around a single mic with no overdubbing, is marvelous.
Nonesuch released Emmylou Harris' Wrecking Ball as a three-LP set, along with demos, to great acclaim. Since then, the label has also released Red Dirt Girl and Live at the Ryman, as well as a box set of her first five Reprise albums. On the recent RTI pressing of Joni Mitchell's Blue, you'll have a listening experience that alone is worth owning a turntable.
Analog captures something in music, particularly the human voice and acoustic instruments, that digital cannot capture, and likely never will. Simply put, there are not enough ones and zeros in the universe to describe the human experience, the human soul. Remember that digital is nothing but ones and zeros "sampling" an analog world. Then, so that our analog ears can hear it, it must be converted back to analog via a digital to analog converter (DAC), then to analog amplification and ultimately analog speakers.
The Equipment
If you are are a first-timer you may be wondering what turntable to get. Just as all digital players are not created equal, all turntables are not created equal either. Moreover, it's not just a turntable, it's a combination: turntable, tone arm, and cartridge.
Do not get one of those all in one systems, or "cheap" turntables, otherwise you'll likely not be too impressed. I have recommended one of the Pro-Ject Debut models; they're modestly priced, and have a nice tone arm and cartridge included. A step-up would be one of the Rega Planar tables, with one of their fine tone arms included, but no cartridge. Here I'd suggest looking at Grado or Ortofon.
If you already have an AV receiver and speakers, the only other thing you'll need is a phono pre-amp since all but the most recent receivers do not have one. Again, Pro-Ject makes a very nice one, as does Schlit for around $100. Nice step-ups would be one by Cambridge, or to get a feel for the "warmth" that is the essence of analog, look at the Pro-Ject tube model.
The Knowing
There is a lot of information on the web, but after doing some homework, I strongly suggest you go to a real hi-fi shop, not a chain store. They'll set it up right and stand behind their work. Folks at a hi-fi shop, like a record store, are a source of valuable information.
On the web, I like What Hi-Fi for equipment recommendations, with Crutchfield, Audio Advisor, and Needle Doctor being informative dealers. To see the vastness of what's available on vinyl, visit Acoustic Sounds and Music Direct. For some enlightening and highly entertaining YouTube videos, check out High Water Sound's Jim Catalano, Analog Planet's Michael Fremer, and Stereophile's Art Dudley. They have a boundless enthusiasm for music, from the everyday to the esoteric.
Now, here's a gallery of the many and varied artists who are also quite fond of vinyl.
---