THROUGH THE LENS: Tributes to Bakersfield, Chicago, and Tom Waits and More
Posted On October 22, 2019
---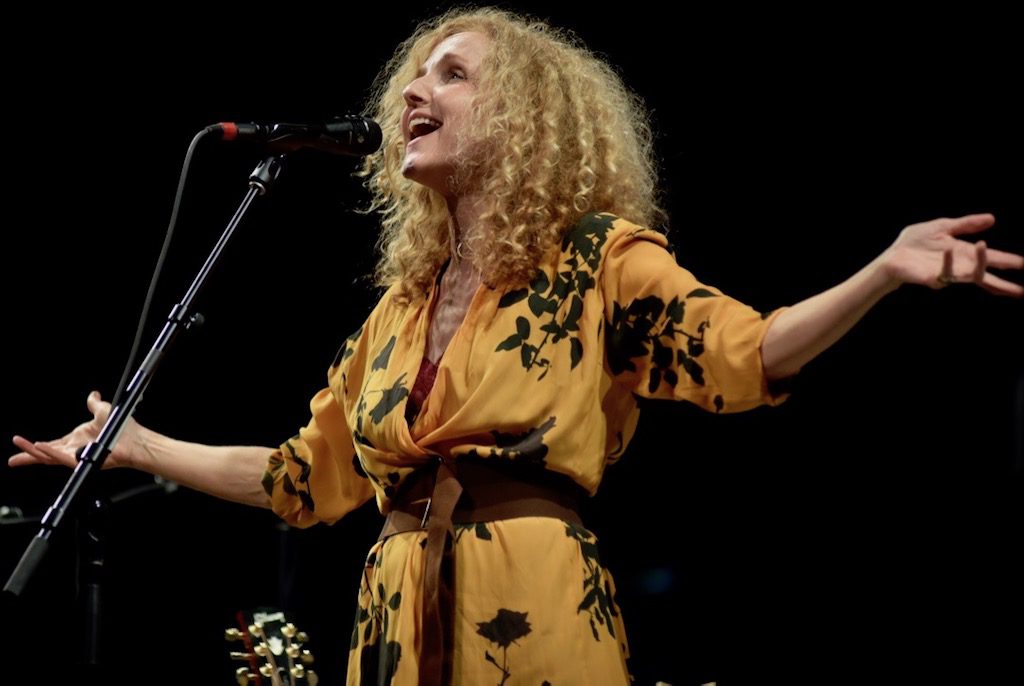 Patty Griffin - "Women Sing Tom Waits" - Photo by Amos Perrine
The year 2019 is going out with a bang. Here's my last listing of releases I am excited about, including three "tribute" albums, each of a different sort. I also wanted to spotlight recent or upcoming projects from the legendary Kinky Friedman; Karen Pittelman, whom you could call the Queen of Queer Country; the always beguiling Nellie McKay; The Hackles, a duo that deserves a wider audience; and a noteworthy single by Mandy Barnett just released this past Friday. 
Various Artists – The Bakersfield Sound: 1940-1974 (out now)
This 10-CD set from Germany's Bear Family is the first in-depth look at country music's other capital, Bakersfield, California. With more than 300 tracks recorded by local labels, many of which were issued only on 78s or 45s, this set demonstrates that there was way more than Buck Owens and Merle Haggard. In many ways the rough-and-tumble ways of this decidedly working-class city and its artists were the precursors to the outlaw music of the '70s and alt-country in the 90s.
If you were intrigued by the Bakersfield portion of Ken Burns' Country Music documentary, you'll find a deeper, richer, more unadorned treasure trove in this set. You'll hear the first recordings of artists who rose to later fame, such as Barbara Mandrell, Ferlin Husky, Jean Shepard, Harlan Howard. Dallas Frazier, Clarence White(!), The Gosdin Brothers, Freddie Hart, and Joe and Rose Lee Maphis, whose "Dim Lights, Thick Smoke" has been a honky-tonk staple for nearly 70 years. By the way, Buck Owens was once in the Maphis band. Bob Wills and Tommy Duncan are also featured.
The depth of the Bakersfield scene can also be heard in many of the songs included here by folks who are not household names, ones that once you hear you are not likely to forget. There is also a lavish 200-page book with tons of photos, with a foreword by Foo Fighter Chris Shiflett and an in-depth analysis by Grammy-nominated historian Scott B. Bomar, profiles on each artist, and a track-by-track commentary. Here's ND's full review.
Nellie McKay – Bagatelles (Oct. 25) 
As its title implies, McKay presents the eight songs on this EP of standards as short pieces of music. She's done standards before, e.g., last year's wonderful Sister Orchid, but not like this, with just a piano or ukulele, in a light, mellow manner — sometimes merry, sometimes melancholy. In this stripped-down recording, you can more thoroughly appreciate McKay's vocal phrasings and piano technique.
McKay does not reinterpret standards such as "One For My Baby" and "I Concentrate on You;" rather, she caresses them with such an intimacy that you wish your favorite piano bar were still just around the corner. McKay's touch here may seem light, but she's always in full command of the Great American Songbook no matter how she approaches it. Along the way there's a playful flourish here and there that serves as the olive in your martini.
Karen & The Sorrows – Guaranteed Broken Heart (out now)
My singular discovery at this year's AmericanaFest was queer country trailblazers Karen & the Sorrows. When I got back home their new album waiting atop a big stack of mail. I took this as a sign. I was entranced by their set at the Crying Wolf, and while this may be their third album, I am making up for lost time and reliving that experience with this album full of catchy, danceable tunes with fabulous hooks.
Many of these songs center around the dark country-rock twang that Karen Pittelman loves, but she also dives deeply into the hearts of country and stringband music, complete with fiddle, banjo and moaning Dobro — all with a voice that was made for country music. Like Gram Parsons, Pittelman peels away the superficiality that much of country music has embraced and looks deep into its soul, its history, and its stories and makes it all her own. As she sings in a song of the same title, third time's the charm. You do not want to miss this album.
Here's ND's full review. You may also want to check out a link in that review to Pittelman's essay "Another Country" on the relationship between country music and white supremacy. 
Kinky Friedman – Resurrection (Oct. 25) 
When a highly misinformed friend told me that there was too much of Kinky in the first season of Mike Judge's Tales from the Tour Bus, I bluntly told him there was not enough. The Kinkster was an integral part of the Texas music scene of the 1970s and continues to have stories to tell. But at 74 he's no longer the trickster; rather, he's become a chronicler of down and outers, of those forgotten and left behind, and of redemption. 
Nowhere is this more evident than on the title track, with longtime pal Willie Nelson, about the trials, tribulations, and ultimate victory of his friend Karen Jones. Jones, raped and impregnated at 15, ran away from home, had her baby in a Salvation Army, married, had two more children, and later took over the World War II SYV Opportunity Shop in Santa Ynez Valley, Texas, helping veterans and other worthy causes. The album's other ten songs are just as resonant, be they about Nelson Mandela, Billy Swan, or a certain little bitty boy from Cincinnati. Friedman starts a two-month tour on Nov. 1, catch him.
Various Artists – Too Late to Pray: Defiant Chicago Roots (Nov. 8)
Bloodshot Records burst on the alt-country scene in 1994 with its audacious For a Life of Sin: A Compilation of Insurgent Chicago Country. The label, begun by self-described music geeks, set out to chronicle a scene percolating unnoticed in the city, full of the hardships of classic country music with the energy and immediacy of punk.
To celebrate its 25th anniversary, the label shines a light, once again, on Chicago and its ever-changing, ever-vibrant sound. While some known names are here, i.e., Jon Langford, Robbie Fulks, The Handsome Family, and Kelly Hogan, this is more about discoveries, notably including rockabilly Tami Savoy and honky-tonkers Saluda Moonlighters. Like that 1994 release, this set is full of stories about solace and community among those who are enchanted by the resonant tales of disheartening fear and sodden joy. Bloodshot's Chicago is our generation's Bakersfield, and this 22-song collection is a living, breathing document of the present.
The Hackles – A Dobritch Did as a Dobritch Should (Nov. 8)
The second album from this duo from Oregon takes its title from the Bulgarian circus impresario Al Dobritch, whose life epitomizes the album's underlying theme: life's challenges that can be overcome juxtaposed with those that can't, the inevitability of imbalance and struggle. After listening to both Hackles albums I cannot find a singular sound that describes them. Rather, they seem to let the songs themselves dictate how they'll be presented, how they'll be fleshed out. 
Whether it's the '70s English folky "Lies" that opens the album, or the Americana ballad "Peaches," with lines like "Peaches in the summertime / Gasoline and apples in the fall / When you are away from me / I can't keep the plaster on my wall," the songs take you on a metaphorical trip down the Columbia River to where it meets the Pacific Ocean, which is where they — Kati Claborn and Luke Ydstie — happen to call home. Cowboys and Indians premiered "Peaches" here, along with a Q&A session.
Various Artists – Come On Up To The House: Women Sing Waits (Nov. 22) 
There have been other Waits tribute albums, e.g., the excellent New Coat of Paint, but like the all-female tribute to Greg Brown (2002's Going Driftless), the artists in this album dig deep into Waits' anima. Waits' songs encompasses everything from jazz and blues to vaudeville and theater, with sounds from a junkyard or factory, all delivered through a persona that is equal parts bard, balladeer, beat poet, barfly, carnival barker, and smoky lounge singer. But what Waits perhaps uses as shields of armor, this impressive group — which includes Aimee Mann, Allison Moorer, and Shelby Lynne — strip it away and more thoroughly explore the songs' underlying layers of  insecurity and vulnerability.
Be they ones you know well or under-the-radar favorites, these renditions all have one thing in common: they reveal the songs' inherent beauty. From Rosanne Cash's lullaby take on "Time" to Iris Dement's heartbreakingly fragile "House Where Nobody Lives" to Patty Griffin's gut-wrenching "Ruby's Arms," it's as though you are skipping on clouds as they softly slip away into a dreamscape horizon. I've been in Waits' house since 1973, and this album comes special delivery.
Mandy Barnett – "The End of the World" (out now)
I don't often include singles, but Barnett's cover of this Skeeter Davis classic, released last Friday, is just too good not to mention. It appears to be a one-off, recorded during the sessions for a 2020 album of torch songs originally recorded by Billie Holiday, with a 60-piece orchestra. Luxurious is an understatement.
---