Box Set Traces Evolution of the Bakersfield Sound
Posted On October 16, 2019
---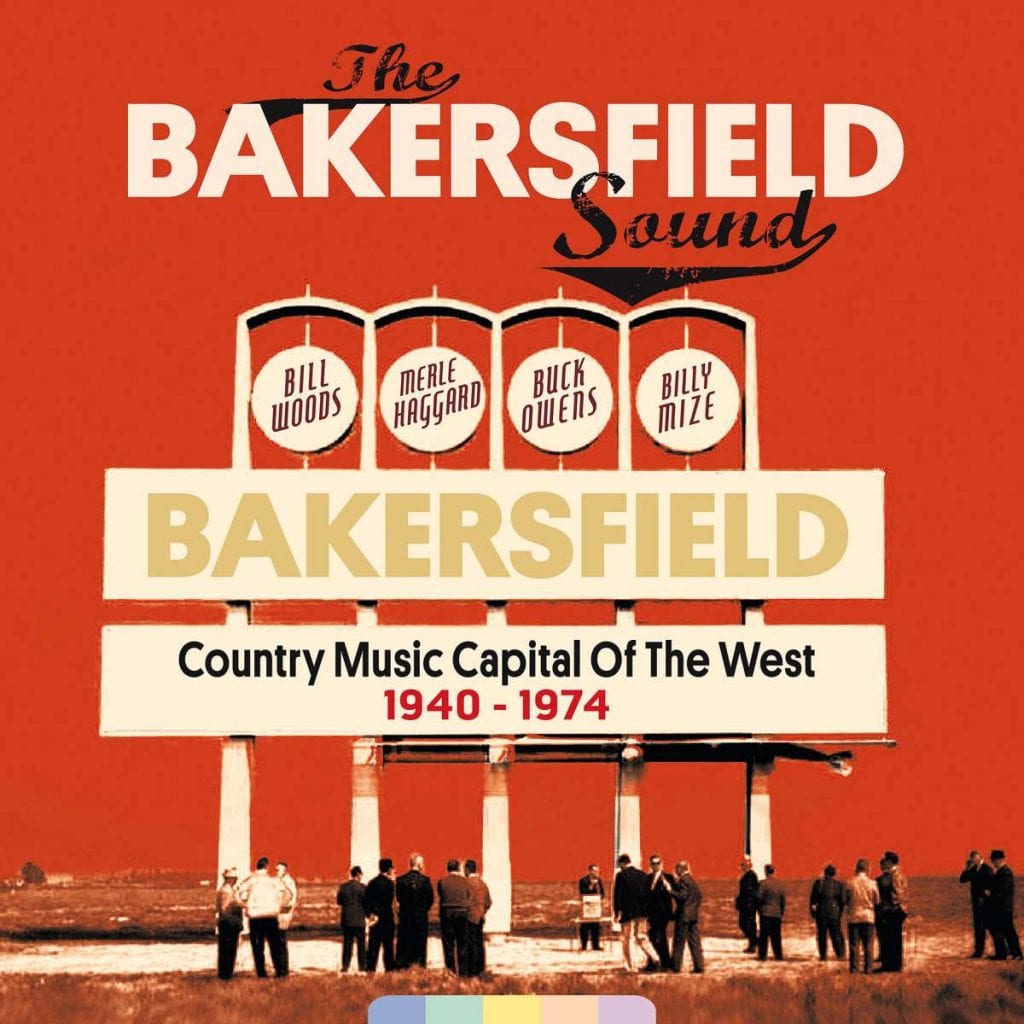 Buck Owens and Merle Haggard are the poster boys for the unique sound of their hometown, but wagonloads of musical pioneers were churning up the Bakersfield, California, dust before them two good ol' boys rode out of town toward brighter lights.
For The Bakersfield Sound, 1940-1974, Bear Family Records has assembled an exhaustive 10-CD set of the before-and-after Owens/Haggard legacy, ranging from stark bare-bones acoustic folk precursors like 14-year-old Lloyd Stalcup's  rendition of "Cotton Picker's Blues" through Haggard's last recording while living in Bakersfield, 1974's "Mirrors Don't Lie." Scattered in between are a collection of obscure titles from Owens and Haggard as well as some more familiar tunes from them and others from the classic country vaults.
Joe and Rose Maphis' "Dim Lights, Thick Smoke" pops up on the first disc, a fitting intro to hard-core Bakersfield twang and a harder-core message as Joe excoriates an alcohol-soaked woman whose skills as a beloved are sorely lacking.
The Maddox Brothers and Sister Rose's "Water Baby Boogie" is technically an instrumental and a hellacious one at that with Brother Roy's electric guitar chooglin' mightily on an early version of the Bakersfield sound from 1950 while the rest of the band shouts encouragement like patrons at a rowdy honky-tonk. It's quite a departure from "Okie Boogie," the disc they cut two years earlier, which sounds  more like Bob Wills than Owens/Haggard's Bakersfield.
Jean Shepard and Ferlin Husky's 1953 classic song/recitation weeper "A Dear John Letter" is probably wedged deep in a dark corner of most baby's boomers' minds as the prototypical overseas soldier's kiss-off, creepy and schmaltzy as the soldier's former beloved asks him to send back the picture of her she sent him because his brother, who she's marrying today, wants it for himself.
Owens' first single solo record, "Down on the Corner of Love," has as much Western swing as Bakersfield twang, but you can feel the B-field tonk getting ready to bust loose. It's a huge jump to "Second Fiddle," from 1958, with Owens' signature sound almost set with the help of Ralph Mooney's steel guitar.
Haggard finally shows up on Disc 4 with his first single, 1963's "Skid Row," sounding more like Buck than Merle. But he's unmistakably Hag on 1964's "Life in Prison." And on a live cut from a 1963 show at the Bakersfield auditorium, Owens is revealed fully formed doing his hit "Act Naturally." Owens' 1964 cut "Close Up the Honky-Tonks" features Don Rich harmonizing on a classic Bakersfield weeper.
Even though it's only a tad over two minutes, a live version of Owens' "Tiger by the Tail" from Carnegie Hall in 1966 lets Don Rich stretch out with some tasty licks not found on the record.
Discs 6-9 keep advancing the Bakersfield tradition, but Disc 10 throws a hard left with a collection of rough cuts and previously unreleased goodies including a live cut from the Bakersfield Civic Auditorium in 1973 of Owens doing a twang-infested, rocked out "Johnny B. Goode" with all the Buckaroos getting a chance to get in some tasty licks.
These 10 CDs will keep your ears busy picking out old and new favorites, and the accompanying book is a great read by itself. Ken Burns got it right on film, but the Bear Family's taped archives are just as important and entertaining for capturing this era of country music history, as a standalone piece or an accompaniment.
---