With New Lineup, Karen & The Sorrows Fulfill Promise of 'Guaranteed Broken Heart'
Posted On October 16, 2019
---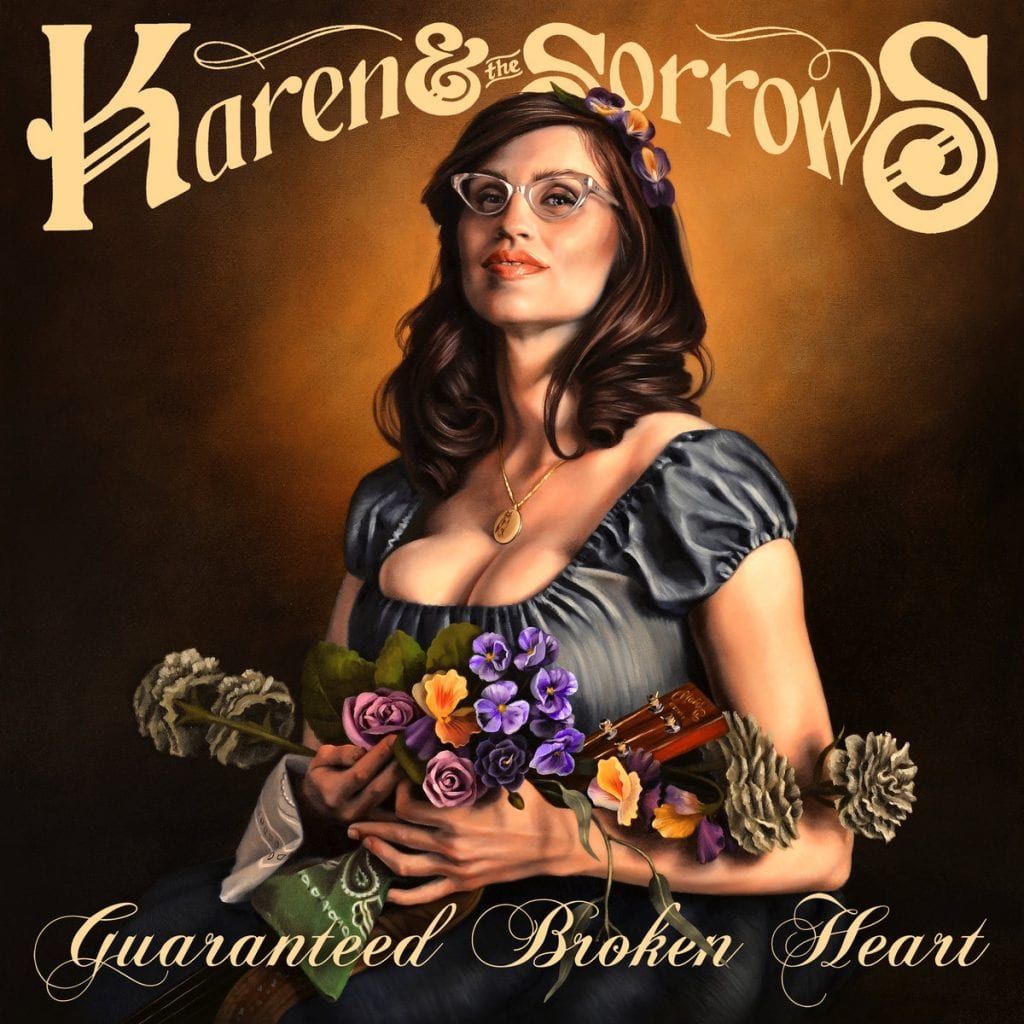 Karen Pittelman returns to her roots on Guaranteed Broken Heart: gothic summonings and Jewish country music. Pittelman, the frontwoman for Karen & the Sorrows, has been a leading light in the queer country movement. Her long-standing concert series, the Gay Ole Opry has created a network of queer country and roots artists across the world. Capitalizing on their presence at this year's AmericanaFest, Pittelman used the opportunity to launch the Country Music Against White Supremacy initiative.
While Karen & the Sorrows has always stood for a wider, more radical vision of country music, 2019 has seen some major changes for the band. Elana Redfield's swooning pedal steel and Tami Johnson's lockstep drumming were key features of the Sorrows' sorrow: with their departures, Pittelman has pulled a reverse Dylan and traded in pedal steel for a ghostly string section. While it's a bit of an adjustment for the longtime listener, Pittelman (who produced the album) and sound engineer/percussionist Charles Burst give the strings an expansiveness in their delicate layering, creating a canvas of Lovecraftian proportions to paint on. This is especially true on "Your New Life Now," which seems to sit at the album's crossroads, daring us to choose the paths least traveled — or to explore new ventures through the ones we know well.
The first half of the album gives air to Pittelman's gothic bent — first seen in the band's debut EP Ocean Born Mary. "There You Are" and "Why Won't You Come Back to Me" give the album witchy touches, just in time for Halloween. "Jonah and the Whale" — arriving just a smidge after Yom Kippur — contemplates annihilation both in suffering and in fervent desire, accompanied by the catchiest handclaps this side of your synagogue. Pittelman's grief, anger, and confusion make these songs pulsate with venom and despair, but it's a controlled chaos balanced by the certainty that even this heartbreak can be borne.
The song sequencing on Guaranteed Broken Heart feels like flipping through Pittelman's notebook: At first, the emotions are outsized and barely contained. By the B-side, she's gained enough objectivity to shape her grief into the formal structure of a country song. "Queen of Denial" and "You're My Country Music" remind us why we keep returning to this three-chord well over and over again. Try to listen to "Third Time's the Charm" without singing it to yourself for the next 72 hours. Pittelman revels in wordplay, using humor to offset the sting in her lyrics. Girls on Grass' Barbara Endes provides twisty electric guitar licks to help these songs slide on home. As much as the Sorrows have found their new stride on this record, the band's live performances — rollicking and looser than they've been in years — return the warmth and intimacy that were so integral to the Sorrows' previous albums. Guaranteed Broken Heart delivers on its promises, but it also reminds us that as painful as the crucible of change is, it often makes us stronger.
---