THROUGH THE LENS: My 2022 in Review – The Best of Everything
Posted On December 27, 2022
---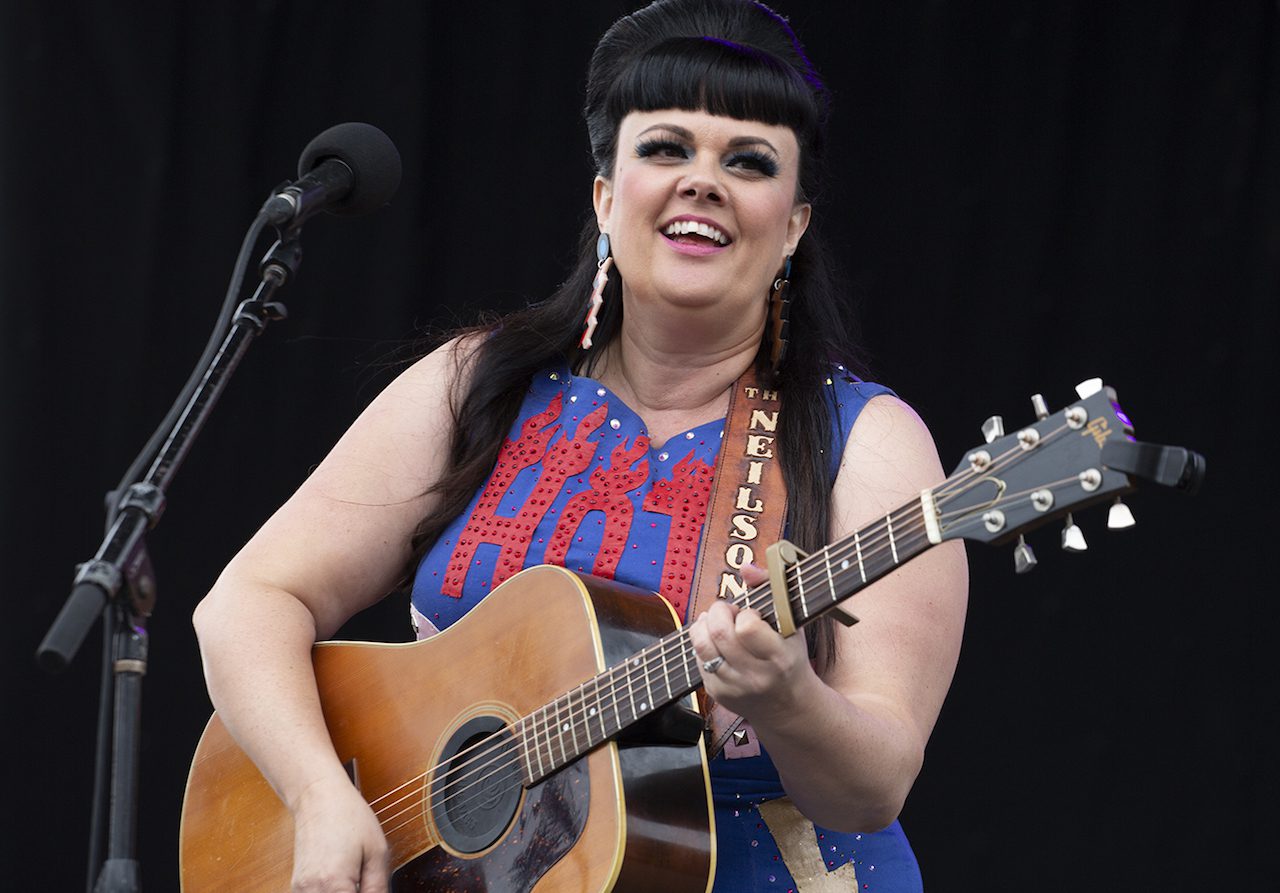 Tami Neilson - Photo by Justin St. Clair
With COVID easing somewhat, the year was as close to back to normal as we are likely to get for some time, and many artists returned to the studio to record some stellar music. My favorites are listed below.
On a sad personal note, Roland White passed away this year. He was a bluegrass legend, and I treasure our conversations during festivals over the years. Bob Black's biography, Mandolin Man: The Bluegrass Life of Roland White, is essential reading (ND review). And the many recordings he's made are likewise essential listening, including his wonderful 1976 solo album, I Wasn't Born to Rock'n Roll.  
THE TEN
1. Tami Neilson – Kingmaker
This album is a sweeping, dynamic testament, cinematic in scope, with occasional high-octane R&B, that Neilson is a force of nature who's at the forefront of the women remaking country music to reflect who they are, their values, and their times. 
2. Martha Scanlan & Jon Neufeld – Last Stars First Light 
Be it rivers, mountains, or the sky, Scanlan has always been an elemental artist, but with the gravitational pull of Neufeld's guitar it seems that this time she's bending both time and space. Her lyrics and effervescent vocals are awash with all the light we can and cannot see, continually revealing new worlds.    
3. Kieran Kane & Rayna Gellert – The Flowers That Bloom in Spring
Kane and Gellert bring a fervent interior dialogue to traditional music that is as intriguing as it is captivating. Even though the territory they cover is tangible, the language they use evokes mystery and magic.
4. John Moreland – Birds in the Ceiling  
Oklahoma-based Moreland continues to write exquisite mediative explorations on the emotional canyons of our existence, and with a sonic finesse that leaves other, more highly regarded male artists wanting. The entire album has a haunting, lived-in patina to it.
5. Joan Shelley – The Spur 
With the purest voice since Joan Baez, Shelley, along with guitarist Nathan Salsburg, has quietly created a genre unto herself. This album continues her exploration of uncertain currents, a world so slip-shaped that only heaven seems to know.
6. Catherine Russell – Send For Me
Russell is the most complete jazz vocalist of her generation. On this, her eighth solo album, she swings as easily as an eagle gliding effortlessly in a crystal blue sky. She has a luscious voice, clear and distinct in its delivery, upbeat in tone. Close your eyes and you're sitting at the bar at Birdland in New York, sipping a vodka martini.
7. Peter Mulvey & SistaStrings – Love Is the Only Thing
SistaStrings' Monique and Chauntee Ross are not mere additions to this album (and on Mulvey's tours), they are integral to Mulvey's songs about loss, tension, and the love that holds us together. The album serves as guideposts to living, experiencing, and participating in the world around us.
8. Martha Spencer – Wonderland
During the past few years there's been a lot of press about classic country singers from the mountains with their homespun tales of idealized simpler times, times that never existed. While most of them packed their bags a long time ago, Spencer, of Whitetop Mountain, Virginia, chose to stay. She's embraced those traditions without being a Pollyanna about it.
9. Secret Emchy Society – Gold Country/Country Gold
Cindy Emchy has taken many forms in her insurgent pursuit to overthrow the bastions of country music. Be it in the form of Rhubarb Whiskey, Vagabondage, or this current incarnation, she and her music have a swagger that could part the Red Sea. Think Nick Cave if he'd been raised in postwar Bakersfield.
10. Megan Bee – Cottonwood  
Whether in her native Athens County, Ohio, or on the road, Bee's observations of the commonplace, the ordinary, the taken for granted are without peer. In an unforgettable quiver of a voice she weaves those sights and sounds into vignettes so fragile, so quietly indelible, that it takes a moment or two to realize that you've been privy to the world in miniature.
BOX SET
Geoff Muldaur – His Last Letter 
Muldaur was an integral part of the roots music revival of the early 1960s and has made dozens of records over the years. On this album he turned his attention to working with some of the finest classical and jazz musicians in the Netherlands. With arrangements worthy of Van Dyke Parks, some of the most noteworthy roots music repertoire is presented in a chamber music context. There's also an original piece written for an octet based on recently unearthed letters from his great-grandfather to his wife, including his last one, written the day before he died. A lavish, well-annotated 36-page insert is also included. The story about Duke Ellington dropping by one of his early gigs is priceless. (NOTE: This set was released in Europe in 2021.)
BLUES
John Fusco – Borderlands 
Imagine a harder-edged, whiskey-soaked Tom Waits backed by the Tedeschi Trucks Band delivering songs with a heightened sense of place and an attention to detail worthy of Cormac McCarthy. That'd be Fusco and this album.
REISSUES
Ed & Ella Haley – Stole From the Throat of a Bird
There are fiddlers, there are great fiddlers, and then there is Ed Haley. Born in West Virginia in 1885, blind from the age of three and with no formal training, he successfully toured Appalachia for over 50 years. He never recorded commercially, but in 1946 he made a series of home recordings with his wife, Ella. The folks at East Tennessee State University spent years painstakingly putting this collection of seven CDs and a 105-page booklet together. It's a collection that demonstrates that pretty much of all of what we call old-time fiddling came through Ed Haley.   
Karen Dalton – In My Own Time (50th Anniversary Edition)
Armed with a long-necked banjo and 12-string guitar, Dalton was firmly entrenched in Greenwich Village's folk revival scene in the early 1960s, performing mainly traditional material, blues standards, and the songs of her contemporaries, most notably Fred Neil. Dylan said of her, "She had a voice like Billie Holiday and played the guitar like Jimmy Reed." This expanded reissue is one of the keys to modern takes on roots music.
BOOK
Bob Black – Mandolin Man: The Bluegrass Life of Roland White 
As ND's Henry Carrigan said in his review: Black concludes his genial tribute to White with a sketch of White as a musician willing to take chances, musically and professionally. "Roland sees his playing as like climbing a tree. 'The melody is like the tree trunk,' he told me. 'I'll start down here at the bottom, then go out on a limb a little bit, fall off, and then I'll climb back up and test another limb.'"
Now, the photos. Click on any photo below to view the gallery as a full-size slideshow.
---