THROUGH THE LENS: Four Notable Year-End Roots Music Releases
Posted On November 30, 2021
---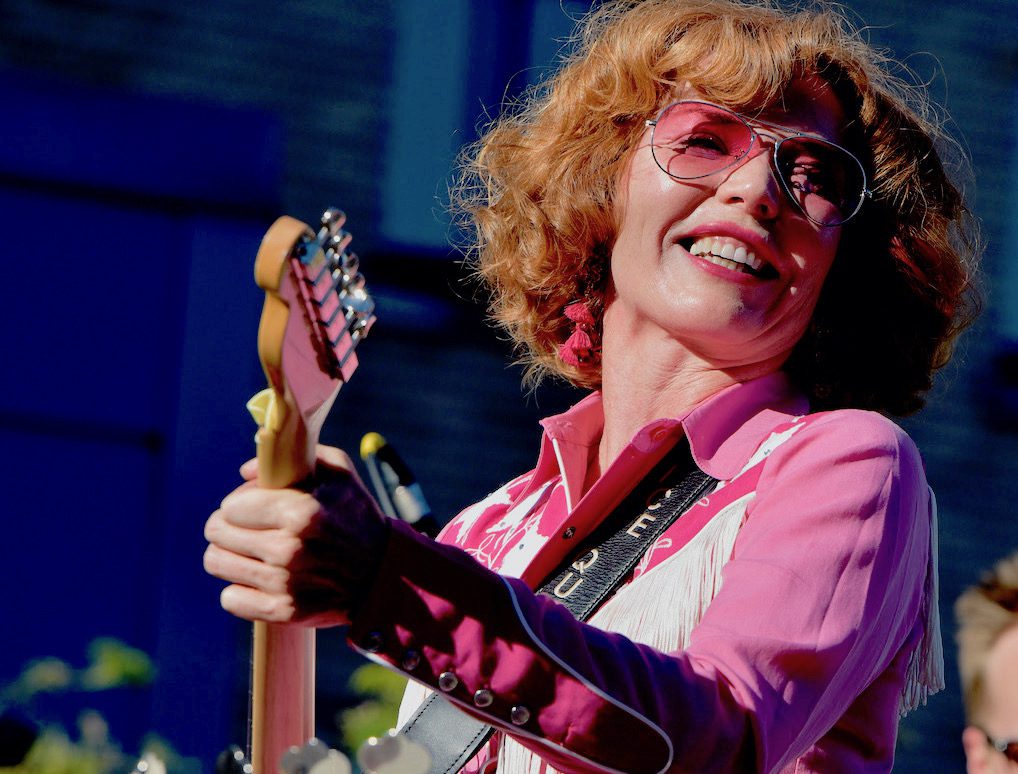 Sue Foley - AmericanaFest 2021 - Photo by Amos Perrine
As I was finishing last week's column on overlooked albums, I became aware of some releases, just out or about to be released, that I found intriguing. As the December Through the Lens columns will be devoted to various "bests" of the year, this is my last opportunity to highlight some noteworthy late-in-the-year roots music releases. They are more than cherries on top of an outstanding year.
Sue Foley – Pinky's Blues  (out now) 
There are several strains of the blues. Unfortunately, one that does not get enough recognition is the Austin variety, which Canadian-born Foley so well represents. She draws not just from that town, but from the Angela Strehli-Lu Ann Barton tradition as well. While Foley can play hot, what I find intriguing about her music is her ability to play the cool blues, in both her demeanor and in the way she approaches the genre. It's not for nothing that Foley, winner of Best Traditional Female at the 2020 Blues Music Awards in Memphis, is known as the Ice Queen.
While her covers of lesser known tunes, especially "Stop These Teardrops," would be enough to warrant your attention, it's her originals that stand out. In "Hurricane Girl," she fulfills that metaphor: "I'll find you where you hide / And tear your playhouse down." On "Dallas Man," Foley pays tribute to all the blues men, such as the Vaughan brothers and Freddie King, that came from that town. And let me not forget the title tune that opens the album with a full throttled roar that doesn't let up until the very end. Blues album of the year.
Nicole Atkins – Memphis Ice  (Dec. 10)
Atkins' 2020 album Italian Ice, which ND's Jon Young called "stellar, old-school pop music, funneling its disparate ingredients into catchy songs loaded with dramatic twists and turns," was a special treat right up there with the street dessert it was named after. On this album, Atkins takes most of those same songs and, recorded live on one day in Memphis' Magnetic studio, and explores their inherent duality, more so in roots terms. 
I viewed her previous take on these songs more in political terms. This time Atkins takes her soaring, Edith Piaf-like vocals (and on stage, her mannerisms) and digs into the songs' darker, emotional sides, sometimes bordering on the distraught. Given the past few years, how could one not want to "get off this road to nowhere," whether that road is a bad relationship or a corrupt empire. My favorite song on both albums is "Domino." On the 2020 release she used a "Saturday Night Fever" bass line to underscore lyrics that foretold a coming apocalypse: "Take me in your arms / The sound in the alarm / Tick, tick, tick, tock, time is up / This message will self-destruct." On this album she uses sparse arrangements heralding a leap into a romantic abyss. Think Thelma and Louise. 
The End of America – Night Is Alive  (out now) 
Yes, you heard that right, it's the name of a trio from New England. Not a prophecy, necessarily, but a line from Kerouac's On the Road. I caught them just shy of two years ago before the world came to a halt. What struck me most about them, besides their sense of humor ("we sell a lot of merch"), was their three-part harmony, which could well be the best since Crosby, Stills & Nash. No joke. While they describe Night Is Alive as "Appalachian seriousness with a classic rock background," it is also layered, much like a painter using multiple strokes on a canvas. The result is not just a sense of depth but a work whose colors are more vibrant, drawing you in and demanding more than mere admiration.
This approach is used to great, sweeping effect in "Million Miles," with lyrics "So it's true that words can hurt you / 'Specially the ones I mutter to myself." You can hear a lot of Paul Simon in that. On "Push Back" they pull Steely Dan out of their side pocket as an intro of a swirling guitar feeds into "I feel a voice that's crept under my skin / I'll let you in." It eventually results in a crescendo: "We ain't coming back, back, back, push back!" It's a difficult album to describe, but one that deepens with each repeated listening.
Bruce Cockburn –Greatest Hits (1970–2020)  (Dec. 3)
I don't normally talk about best-of albums, but Cockburn is an exception. Early on he reminded me of Nick Drake, a delicate, introspective singer-songwriter whose skills were so well exhibited in his 1971 song "One Day I Walk," which became a staple of the coffeehouse circuit during that decade. Then, just two years later (but not released until 1987), came Cockburn's rollicking version of the standard "Mama Just Wants to Barrelhouse All Night Long." Those two songs are back to back on this two-disc collection, showcasing a stunning musical broadness.
As evidenced by "If I had a Rocket Launcher" and "Call It Democracy," Cockburn became a ferocious provocateur in the mid-'80s. Then, in 1995, came the unflinching drama of "Pacing the Cage," laying bare the pent-up feelings of the oppressed. Since then, Cockburn has continued with more songs whose goal, it seems, was to save humanity from itself. Mastered by Greg Calbi at Sterling Sound, these 27 songs represent the artistic and humanistic integrity of Cockburn's 50-year career in exhilarating clarity.
Now, photos. Click on any photo below to view the gallery as a full-size slideshow.
---