THROUGH THE LENS: Six 2021 Roots Music Releases That Deserve Wider Attention
Posted On November 23, 2021
---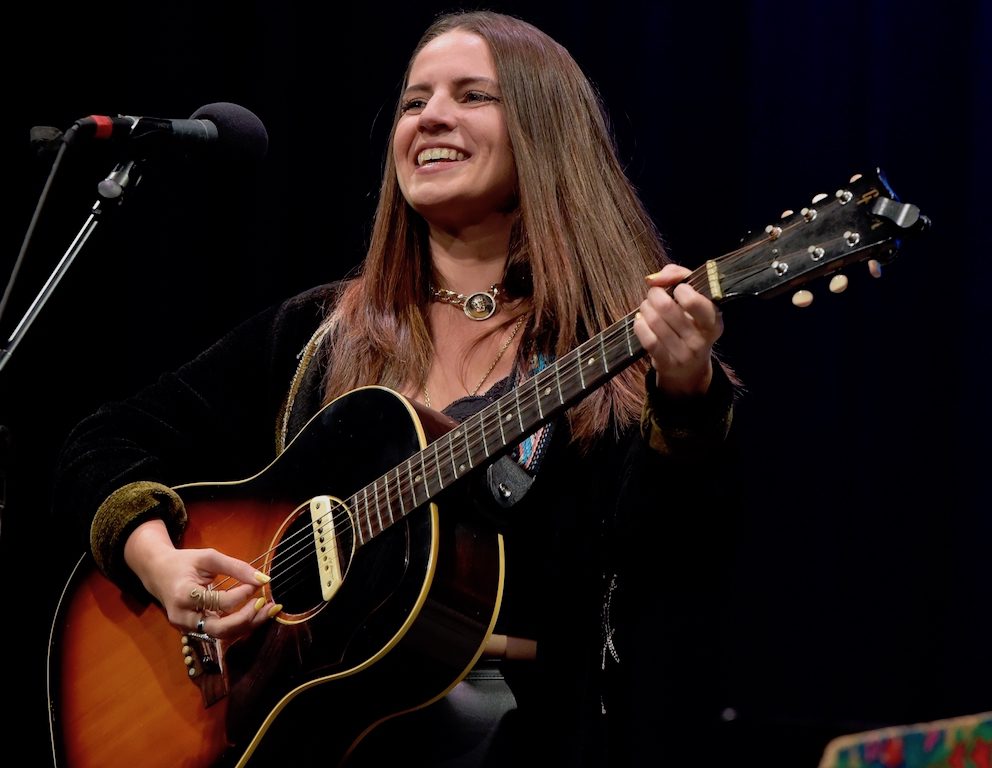 Kate Vargas on Mountain Stage 2021 (photo by Amos Perrine)
It's that time of the year when folks begin talking about the best albums of the year. It's also a time to look at albums I think did not get the attention they were due, albums that were not otherwise reviewed in ND. This week, with an able assist from frequent Through the Lens contributor Boom Baker, the column offers six selections for your listening consideration.
Kate Vargas – Rumpumpo
In her bio Vargas says that whenever she got bored during her New Mexico childhood, her mother would say, "Go outside and pretend something." On this album she does her mom one better; she conjures spirts. With Karen Dalton-like vocals and phrasing intonations à la Tom Waits, it's as though you're driving the High Road to Taos with the windows down. The desert comes alive with saturated, surrealist images that are neither benign nor evil, rather ones that arise from being on your "3rd fortune teller and 7th preacher," to quote from the song "Like Apollo."
While Vargas describes her music "junkyard folk songs," they also contain heavy strains of blues, jazz, and hip-hop. Without a doubt this is the most lyrically daring, sonically blazing album of the year. Vargas, and musicians fueled by the audacious Eric McFadden on guitars, does not let up for a second. If you want a collection of songs that stirs the emotional cauldron from start to finish, forget Adele's 30, get Vargas' Rumpumpo. — Amos Perrine 
Zoe & Cloyd – Rebuild 
I have been a fan of traditional musicians Natalya Zoe Weinstein (from Massachusetts, on fiddle) and John Cloyd Miller (from North Carolina, on guitar) for well over a decade. For this album they added 2021 International Bluegrass Music Association award winner Kevin Kehrberg on bass and 2019 IBMA Momentum Award winner Bennett Sullivan on banjo, effectively morphing into a bluegrass quartet. While they still retain their traditional roots, it's what Zoe & Cloyd bring to that tradition that makes their music resonate in such a meaningful way.
The album's title is an apt one. As Cloyd said in a note, "The pandemic has touched us all in some way. Relationships have been strained, and in some cases, pushed to the breaking point. We've lost loved ones. We've been tasked with repairing ourselves and our connections. We all have to rebuild." The songs on this album not only seek to rebuild and reconnect, but also to reconstruct. That reconstruction comes in a way that reflects their musical traditions of classical, klezmer, and rural North Carolina music, with values that promote humanity as a family. It comes with a dire warning, too, as Weinstein sings in Miller's "Carry This Together": "Doors are closed all over town / I'm trying to stand up, but it's pulling me down / I never thought I'd see the day / You can't even get together and pray." — Amos Perrine 
Dave Jacques – What Was I Thinking 
Jacques, John Prine's bass player for 25 years, shows his versatility by playing all the instruments on this eclectic instrumental album. While most of the instruments are hand-me-downs or yard sale treasures, the resultant songs are far ranging. There's the bossa nova influenced "Summer Stroll," the trumpet/piano/bass jazzy "Wasting Time," a freak flag flying on "Space Jam," and, one of my favorites, a hat-tip to a Memphis Stax Record sound on "West Memphis Blue." Everyone needs a few instrumental albums in their collection, and this should be one of them. It's an aural treat.  — Boom Baker
Billy Joe Shaver & Kinky Friedman – Live Down Under
The album's first track, an introduction from Jeff "Little Jewford" Shelby, says it all: "Ladies and gentlemen, two Texas legends, Billy Joe Shaver and Kinky Friedman!" Recorded in 2002 in Sydney, Australia, what at first blush may seem  an odd pairing of the cowboy poet Shaver with the comically serious Kinkster is a wonderful off-kilter (in a good way) cosmic surrealistic vaudeville show. 
Yes, Shaver does his songs that became staples of Outlaw Country, and Friedman more than holds own with, for example, "Sold American," and "Get Your Biscuits in the Oven and Your Buns in the Bed," songs that were famous among notable insiders and those paying close attention to the Austin scene of the 1970s. This one-of-a-kind pairing resulted in a one-of-a-kind album, one to savor; it's as though you're back in the Armadillo World Headquarters. Have a Lone Star on me. — Amos Perrine 
Jon Byrd – Me & Paul
Borrowing its title from a 1971 Willie Nelson song, the "Paul" on this album is steel guitar great Paul Niehaus. The first thing that hit me when I heard this album was the feeling it was recorded in a bar. More specifically, one of the many honky-tonks my parents paraded me through when I was a boy. Those long-ago evening visits are indelible as a tattoo. Be it the misunderstood love fleshed out in Byrd's original "I'll Be Her Only One" or a cover of James Kelly's tale of NASCAR's moonshine-running roots in "Ballad of Jr. and Lloyd," that live feel is what makes this five-song EP so special, and in my mind necessarily authentic. — Amos Perrine
Buck Owens and The Buckaroos – (It's a) Monster's Holiday; Ain't It Amazing, Gracie; In the Palm of Your Hand
For the uninitiated, no one in country music during the '60s was bigger than Buck Owens. Unfortunately, most folks only remember him from the cornpone Hee Haw TV show. But over the past few years, the premiere roots reissue label Omnivore's singular mission has been to set the record straight by releasing over two dozen Buck Owens and The Buckaroos albums. These three are just the latest. They also contain some of the last recorded tracks with Don Rich, who died in 1974. Rich played a huge role in Owens' Bakersfield sound, and it can be argued that when Rich, with his electric Telecaster, joined the band in 1960, alt-country was born. Buck is forever. — Amos Perrine
Now, photos by Boom Baker, Mark J. Smith, Mary Andrews, Larry John Fowler, Aaron Caleb Fishbein, and yours truly. Click on any photo below to view the gallery as a full-size slideshow.
---