THE READING ROOM: Billy Joe Shaver Lives Forever in Stories From Friends
Posted On August 11, 2022
---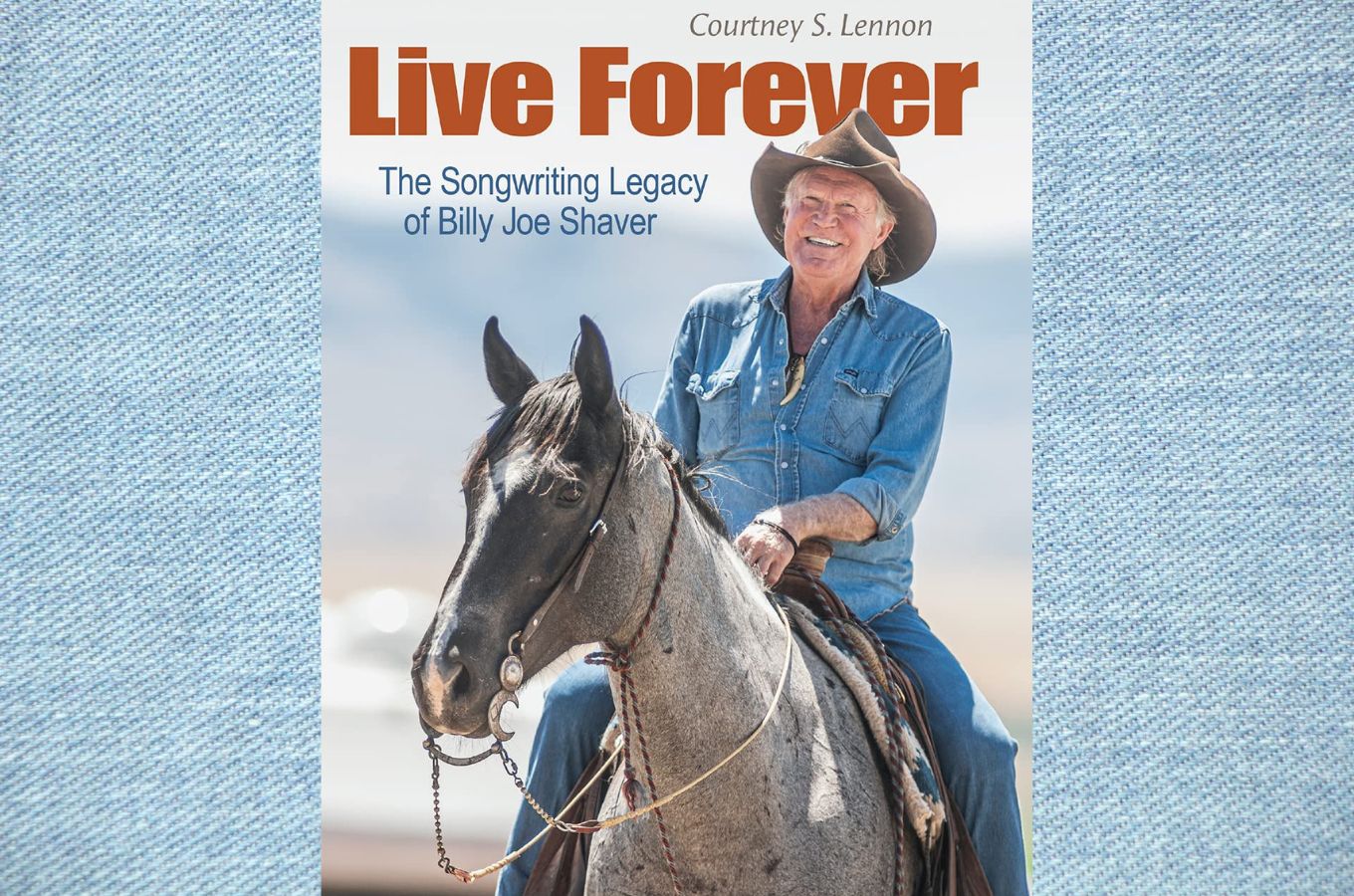 Ray Wylie Hubbard once said that "Guy Clark, Townes Van Zandt, and Billy Joe Shaver are the three guys who form the Holy Trinity of Texas songwriters." Shaver's one of those songwriters who's admired by many, but recognized by few. Although he's credited by some with inventing outlaw country, he's never gained the recognition that Waylon Jennings, Willie Nelson, and others have. Yet his songs have been performed by everyone from Bob Dylan ("Old Five and Dimers Like Me"), Joe Ely ("Live Forever"), "Cowboy" Jack Clement ("You Asked Me To"), Bobby Bare ("Ride Me Down Easy"), and John Anderson ("I'm Just an Old Chunk of Coal (but I'm Gonna Be a Diamond Someday)"). Shaver wrote nine of the 10 songs on Jennings' 1973 album Honky Tonk Heroes, and singer-songwriter Chuck Mead said "you can set your watch by Honky Tonk Heroes. It was the cornerstone of 1970s music and culture in America."
In her new book Live Forever: The Songwriting Legacy of Billy Joe Shaver (Texas A&M), Courtney S. Lennon collects interviews — conducted in 2018-19 — with 70 musicians and friends of Shaver's in a tribute to his songwriting and to his life. As she points out, "he was folklore in his own time … he was transcendent in his presence and his words." She groups the interviews together in chapters that draw their titles from nine of Shaver's songs, though the artists don't always comment directly on the song from which the chapter takes its title. That's not the point, anyway; these interviews are an opportunity for these artists to share what Shaver — who died of a stroke on Oct. 27, 2020 — and his songwriting meant in their own lives and writing.
Brian T. Atkinson, who's written books on the songwriting of Townes Van Zandt and Hubbard, among others, comments that  Shaver "… writes songs — peaceful and pure, complex and convoluted, mad and merciful — that everyone perfectly understands … Shaver's songs might not look like much on the surface. Their language remains common. The arrangements simple. Melodies easy. Then they sneak through the side door and stick you up. You'll take notice then, buddy."
Country and blues guitarist and singer Lee Roy Parnell once wrote with Shaver and recalls Shaver's physical and mental strength as well as his fearlessness. "He's heartfelt and wide-open all the time. His songwriting set the bar and made everybody else better … He's the toughest man I've known … What's wrong with music these days is that the danger is gone. Social media is a wonderful tool, but what made rock and roll and country cool was the mystique. We've sold it at the merch table and lost it. With Billy Joe Shaver, there's no chance of that. He's living out there by himself, fearless, with a sharp wit … He's like no other human being."
Rosie Flores traveled with Shaver on tours in Europe, and the two developed a close friendship over the breakfasts in European hotels. Flores, as do other artists interviewed here, praises Shaver's honesty, both in his life and in his songs, summing him up as a "tough-as-nails, no-bullshit cowboy who tells it like it is and won't put up with anybody trying to pull wool over his eyes." As a songwriter and performer, she says, "his delivery is truthful and reaches the audience. He's inside the song and will spread his arms out like an eagle, pull you into his heart, and make sure that you understand every word he's singing … He's gonna find something that expresses what's going on in his heart and soul. He puts time into the song … He's with Johnny Cash, Townes Van Zandt, and Willie Nelson as the four presidents of songwriting."
Shaver's Christian faith was a touchstone in many of his songs, such as "Jesus Christ What a Man" and "When Jesus Was Our Savior and Cotton Was Our King." Artists like Brennen Leigh and Bonnie Montgomery recall seeing Shaver play as a spiritual experience. Says Leigh, "He's an unbridled, magnetic performer who dances full of the Holy Spirit with a heavenly band behind him, straddling the barroom barrelhouse rock and roll with how country he is." Country singer Aaron Watson says, "I connect Billy Joe with my love for Jesus. It's not religion. People like to say 'spirituality,' but that sounds like a medicine man. Billy Joe believes people came to Earth not for the healthy but for the sick … going to his concerts [is] like going to church and a honky-tonk at the same time. There's a lot of heart and soul."
Singer-songwriter Carson McHone sums up Shaver's songwriting beautifully: "Billy Joe Shaver writes beautifully casual lines of profound emptiness that are the key to great songs because they aren't treated too preciously … 'Live Forever' is one of the most beautiful songs ever written. It's incredible anyone could write and sing something so powerfully hopeful about personal tragedy and heartbreak. It's a beautiful feat. That man's an outlaw, but it goes hand in hand. It's a gift to us all."
Shaver's fans will love Live Forever: The Songwriting Legacy of Billy Joe Shaver because they get to listen in on the stories that his friends and other musicians tell about him. Lennon's book also serves as an excellent introduction to Shaver's music. Her book goes a long way toward winning recognition that Shaver deserved but never received in his life.
---