Steve Martin Banjo Prize Names Two Winners in Two Genres for 2021
Posted On October 6, 2021
---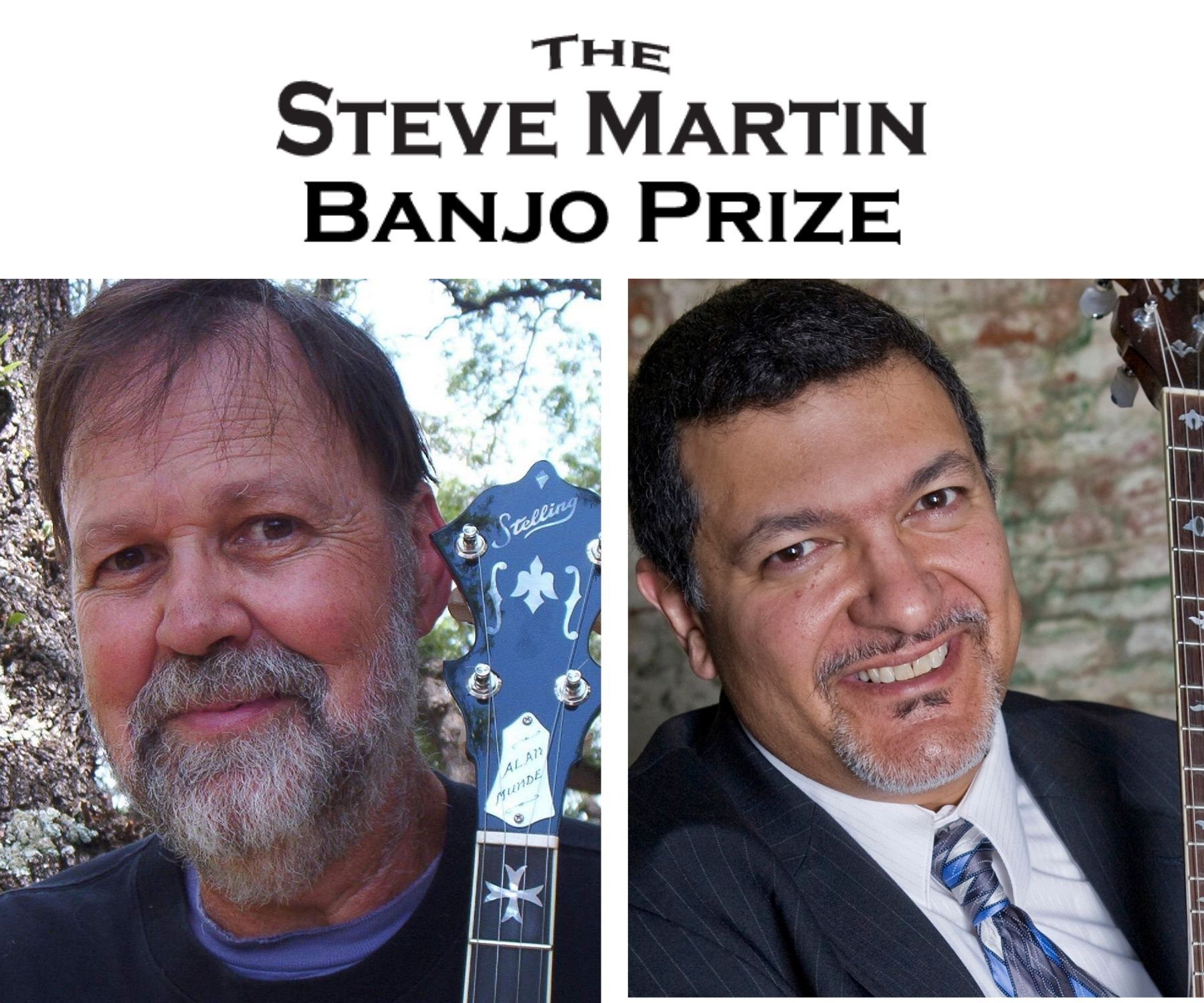 Alan Munde, left, and Don Vappie are the 2021 winners of the Steve Martin Banjo Prize.
The Steve Martin Banjo Prize has named two winners of its prestigious award for 2021. The honorees — Alan Munde and Don Vappie — put the wide range of the instrument's styles and genres on full display. The prize, now entering its second decade, is in its second year being awarded via a partnership with Compass Records Group and the FreshGrass Foundation — the nonprofit organization that hosts the FreshGrass festivals and publishes No Depression and Folk Alley.
Munde and Vappie, selected by a board for the Steve Martin Banjo Prize that includes Alison Brown, Béla Fleck, Noam Pikelny, Dom Flemons, and others, will each receive a $25,000 unrestricted award.
Fresh out of college in 1969, Munde joined with Sam Bush and Wayne Steward to record the album Poor Richard's Almanac, which has served as a touchstone for innovative bluegrass players for decades. Munde then toured with Jimmy Martin and the Sunny Mountain Boys for a couple years before forming his own band, Country Gazette, with fiddle player Byron Berline and bassist Roger Bush. Along with performing, Munde also built a career as an educator, writing out his solos at a time when that wasn't common and presenting workshops for developing players, as well as serving on the faculty at South Plains College in Texas. He has published several books about learning bluegrass-style banjo and runs an online business called Al Munde's Banjo College offering books, recordings, and downloadable lessons.
Vappie is likewise a composer, educator, and performer, but in a jazz style closely aligned with his work in preservation of New Orleans Creole culture. A 4-string banjo player, Vappie has recorded eight albums and helmed a PBS documentary, American Creole: New Orleans Reunion, with his wife, Milly, a historian. He has performed regularly at Preservation Hall and with Wynton Marsalis and the Jazz at Lincoln Center Orchestra, and he has presented educational programs for Carnegie Hall, NPR, and the Smithsonian. His latest album, The Blue Book of Storyville, was recorded with his trans-Atlantic band, Jazz Créole, and taps into the African griot tradition. It was chosen as the top jazz album of 2020 by The Sunday Times of London. During the COVID-19 lockdown, he recorded twice-daily Facebook Live shows titled "Coffee on the Porch with Don Vappie" and "Afternoon Songs with Don Vappie" to further connect with his local, national, and global community.
Comedian and banjo player Martin will introduce the winners on a livestream today at 6:30 p.m. ET on the Deering Banjo Company's livestream channel, Deering Live, as well as on the Facebook pages of No Depression, the FreshGrass Festival, Folk Alley, Compass Records, and the International Bluegrass Music Association (find links to each viewing location here). The stream will also feature interviews and a live performance from Munde and Vappie and remarks from Sam Bush and Wynton Marsalis.
"I am so proud to have my name on the new, expanded Banjo prize, with its wider scope and broader considerations," Martin said in a press release announcing the winners. "The world of the banjo is expanding and our goal is to bring it under one roof."
The 2020 award, reimagined "in light of the tremendous need in the musical community" that year, offered $50,000 to be split among five winners: Jake Blount, Catherine "BB" Bowness, Matthew Davis, Gerry O'Connor, and Buddy Wachter.
Earlier winners of the award, originally called the Steve Martin Prize for Excellence in Banjo and Bluegrass, were Victor Furtado (2019), Kristin Scott Benson (2018), Scott Vestal (2017), Rhiannon Giddens (2016), Danny Barnes (2015), Eddie Adcock (2014), Jens Kruger (2013), Mark Johnson (2012), Sammy Shelor (2011), and Noam Pikelny (2010).
---