Bill Evans and Enda Scahill Named 2022 Steve Martin Banjo Prize Winners
Posted On November 10, 2022
---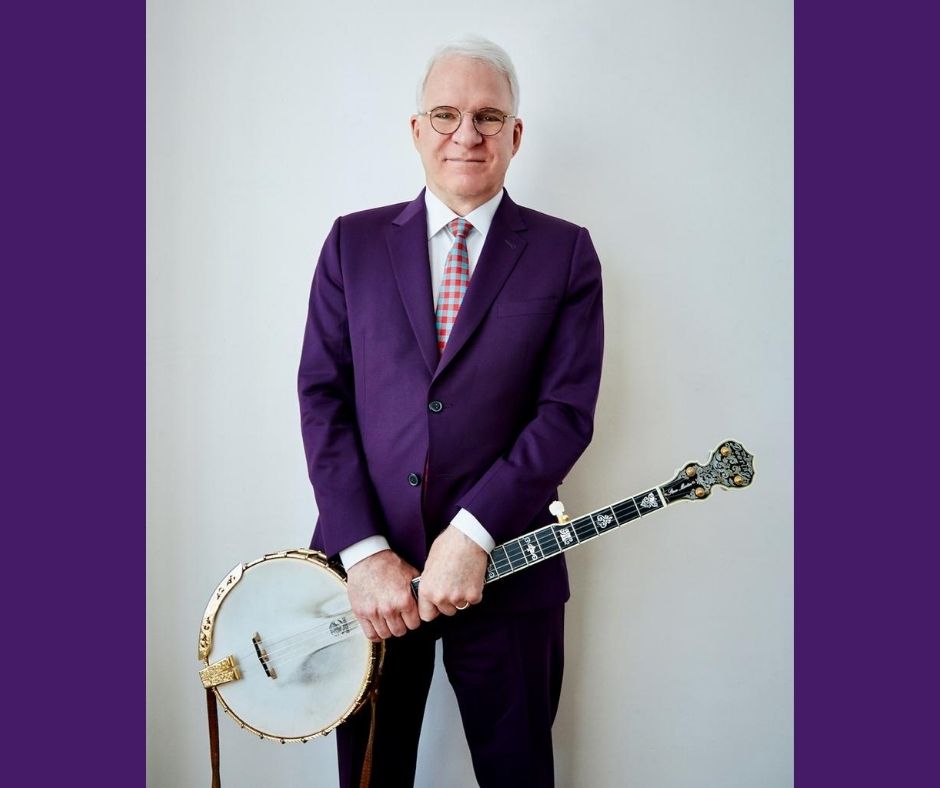 Steve Martin (photo by Danny Clinch)
Two banjo players have joined the ranks of those honored with the prestigious Steve Martin Banjo Prize, now in its 12th year.
Actor and musician Martin and the board of the banjo prize named Bill Evans and Enda Scahill as the 2022 recipients Thursday. Each will receive an award of $25,000.
Evans is considered a master of the 5-string banjo, playing both traditional and progressive bluegrass and known both for performing and teaching. An expert in 19th century and early 20th century banjo styles, Evans released a DVD/CD this year titled The Banjo in America, tracing the evolution of the instrument's uses from the 1780s to the present. He's the author of the best-selling Banjo for Dummies and many other instructional books for banjo.
Scahill is one of Ireland's most celebrated tenor banjo players, a four-time winner of the All-Ireland Championship. He's a founding member of the band We Banjo 3 and hosts the Inside the Banjoverse podcast. Scahill is the author of The Irish Banjo Tutor Vol. I and II.
"We are proud to honor all of the multitudes of banjo styles," Martin said in a press release announcing the winners. "So many great artists, so little time."
Martin will introduce the winners during a livestream tonight at 7 p.m. ET on Deering Banjo Company's Deering Live channel. The broadcast, which will include interviews and performances, can also be seen on the Facebook pages of award partners FreshGrass Foundation (publisher of No Depression), No Depression, Folk Alley, and Compass Records Group, and via the International Bluegrass Music Association's YouTube channel.
Nearly a decade after the inaugural Steve Martin Banjo Prize was awarded in 2010, Martin and the prize's board partnered with the FreshGrass Foundation, The Steve Martin Charitable Foundation, and Compass Records Group to administrate the award in 2019. The prize expanded from honoring bluegrass and old-time players to all styles of 5- and 4-string banjo.
Last year's prize went to bluegrass player Alan Munde and Don Vappie, who performs and composes in a jazz style informed by his work preserving Creole culture (ND story).
Previous winners have included, in 2020, Jake Blount, Catherine "BB" Bowness, Matthew Davis, Gerry O'Connor, and Buddy Wachter; Victor Furtado (2019); Kristin Scott Benson (2018); Scott Vestal (2017); Rhiannon Giddens (2016); Danny Barnes (2015); Eddie Adcock (2014); Jens Kruger (2013); Mark Johnson (2012); Sammy Shelor (2011); and Noam Pikelny (2010).
Along with Martin, each year's prize winners are selected by a board that this year includes Alison Brown, Béla Fleck, Tony Trischka, Pete Wernick, Jamie Deering, Dom Flemons, and several past honorees.
---