SPOTLIGHT: Minimalism, the Music Industry, and More Thoughts from Dead Horses  
Posted On August 19, 2022
---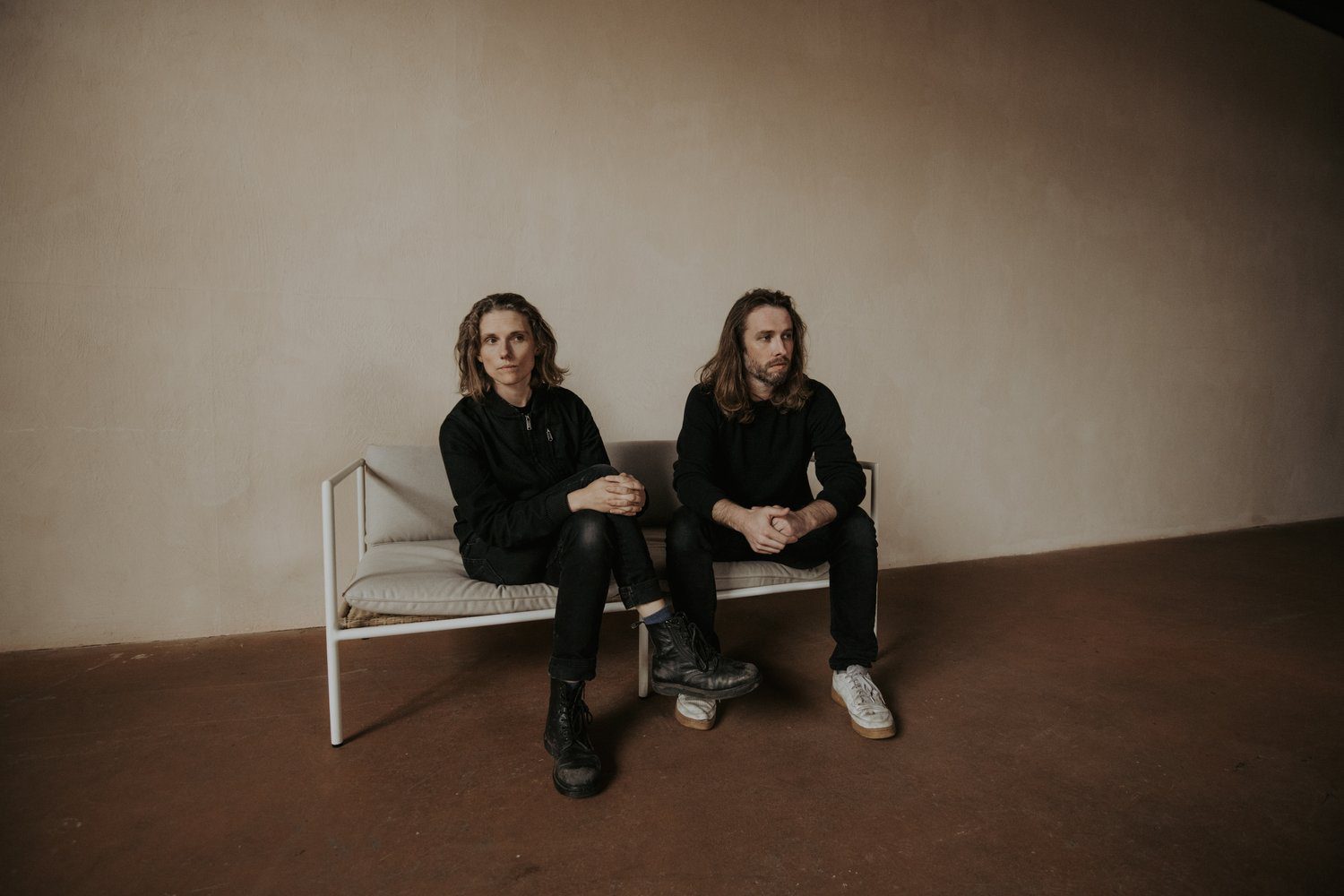 Dead Horses' Sarah Vos and Dan Wolff (photo by Michelle Bennett)
EDITOR'S NOTE: Dead Horses are No Depression's Spotlight band for August. Learn more about their new album, Brady Street, in our interview. Below, we asked core duo Sarah Vos (guitars, vocals, and songwriting) and Dan Wolff (bass) to write an essay shedding light on their personal side, and they each submitted their thoughts.
SARAH VOS
I am delighted that No Depression asked us to write an essay on whatever topic we wish. Dan and I decided to each write our own, and I decided to write about what's been most on my mind (that isn't wildly personal, anyway): the music industry.
The break from touring that we had during the shutdown offered us both a lot of perspective. Up until then, we were operating on a "growth at all costs" principle, and it had taken its toll. It's a common theme in a society that values profit over all. Sure, we had played some amazing stages (Red Rocks) with some amazing bands (Trampled by Turtles, Watchhouse, Elephant Revival — heck, The Who) but we were both worn out.
In preparation for touring more heavily with our new album, I've wondered a lot about this. Was it really all of the touring that exhausted us so much? It felt strange to think that would be the case, because as soon as the shows started back up, I felt a lot of relief at the idea — and inspiration from the shows and festivals I had missed. I felt a connection to music lovers again, and that weird feeling you get when you're driving across the country and you look at the horizon and notice that you're in a different region than you were before.
Touring a lot can be difficult. Perhaps just as difficult to maintain is dealing with the music industry itself. While I feel passionately about leading people to connect — and I feel we get to do that at concerts — entertaining does not come naturally to me. In fact, sometimes it seems to contradict what I love about artistry to begin with.
I'm not talking about folks in the industry. We have an amazing booking agent, business manager, and publicist, etc. It's because of the music industry that I've met some of the most fascinating and wonderful people in my life. I'm talking about the industry itself. Because sometimes in the music industry, competition seems more important than building one another up. Sometimes profit seems more important than creativity. Selling tickets to the concert becomes more important than … the concert.
Maybe it's a side effect of turning art into business — perhaps a necessary "evil." I've always struggled with strong principles getting in the way of what I think I should do. I know that most of us don't need any more reasons to be cynical, and I truly don't mean to inspire cynicism by what I'm writing. Like I said before, it's just something I've been thinking about a lot.
I imagine that I would find this sort of conflict in any life path I choose. I'm reminded of when I broke my ribs during the pandemic. I slipped on the ice carrying two guitars and a cocktail. I was in the waiting room at the ER for six or seven hours, in pain with two broken ribs and a partially collapsed lung. I lost my cool, infuriated by the principle of the thing, and since no one had come to check on me in hours, I stormed into the hallway and dramatically cried to the nearest nurse I saw that, "This is supposed to be a place of healing, but it's not. It's a place of suffering." Oh my, it truly makes me laugh to think about this. (I feel bad but the nurse who I complained to also ran my bed into a wall later while transporting me.) What I'm getting at is that the same sort of conflict exists for healthcare workers. You get into that work because you want to help people, but you have to deal with the industry side of things, which can feel pretty contradictory to your intentions in the first place.
So maybe it's a lesson we all have to learn to deal with. Maybe it's punishment for being so principle-driven. At any rate, playing music is something I love and feel privileged to be doing for a living. I love seeing the country and living through some downright wild experiences. Perhaps the lesson is really that both things can be true. The industry does have its downsides, and I can still love being a musician. I'll let you know down the road.
DAN WOLFF
I've considered myself somewhat of a minimalist for a good decade now. But recently, after looking at my belongings and questioning whether these things held any real value in my life, I realized I wasn't.
I recall my mom remarking in my early 20s that I was a minimalist. I researched the topic and liked what it was all about. Shedding the excess in life and focusing on what things bring real value to me sounded like an incredible idea. I liked the idea of owning quality items that could also help me accomplish my goals. Especially within music. But as a lot of musicians know, whether professional or hobbyist, it's easy to get that itch to buy and collect instruments and other gear, filling up closets and desks with gear that we will use "someday." I've personally grown a collection of instruments and recording gear that I do use frequently, but I too, have excess. I hate the thought of regretting selling that guitar, or that boutique Total Sonic Annihilation effect pedal that I never even use, so there they sit. I am pretty well organized with my stuff so maybe this is how I justify keeping those two Russian Big Muff fuzz pedals collecting dust.
I want to strip down and rid the excess because I actually believe I am less productive with "more." I started this exercise two weeks ago with papers, kitchen supplies, pint glasses, coffee mugs, old birthday cards, newspaper clippings, and old notes from deceased relatives. It was weird! Diving back in and feeling re-inspired by The Minimalists Podcast had me really focused on clearing out the clutter that has been in some of my drawers for so long. The simple act of snapping a picture of anything sentimental really gave me the freedom to get rid of just about anything, including the things I've been holding onto for 10+ years for reasons entirely unknown to me. It felt like I had been burying the past, so I could later dig it back up and feel nostalgic or something. Why would I want that? I don't!
I don't mind looking back on my life and thinking of how I'm different now, for better or for worse, but a physical item just doesn't feel necessary for me to do that anymore. I think I've been heading this way for a while, I just finally got the nerve to start decluttering. I want less stuff. I work and think better in clear environments. I feel over stimulated with too many things going on. I get distracted easily.
I've thought about how being a touring musician and trying to live a minimalist lifestyle could work. In fact, it has to work this way to some degree because you can't bring a lot of stuff with you on the road, at least the way I do it. Trust me, I've made the universal mistake of packing clothes that I didn't even end up wearing, many times. I've corrected this pretty well by now though. Two pairs of pants, two show-shirts, plenty of underwear and socks to get me to laundry day. Keep it simple and relatively light, because also, my instrument is a little on the larger size. Did I mention I play the upright bass? This choice in instrument naturally made me pare down my rig, which includes an amp, two speaker cabinets, pedals, preamps, and cables. All which can be toted between a venue stage and the van in a single trip.
Minimalism and tour life has also got me thinking about something else. Something that is rather new in our world and something that may just be the biggest problem/distraction that I've ever faced. Social media. It's damn near impossible to not be glued to your phone while you're driving 22 hours from Milwaukee to Albuquerque. Of course, I acknowledge that there's access to a lot of quality content. There's lots to be heard and read from some very remarkable people out there sharing their knowledge and experiences so we can hopefully learn a thing or two, and perhaps better understand our own lives.
But on the other hand, and at the risk of this sounding like a rant, the barrage of the less-than-desired type content that was seemingly funny or cute at one point now looks controlled and contrived and it's all littered with ads that, again, are trying to sell me more shit. It's addictive! I find myself scrolling mindlessly when I could be more productive on those long drives. I've got to set some boundaries before I end up looking back and wondering why I spent so many hours watching @ChonkyCatVids.
Being able to travel out here in this enormous country really sheds a lot of light on how people live and consume. It's fascinating to see how much or how little two different people have in terms of their belongings. By no means am I saying that owning a lot of things is bad. The goal of living a minimalist lifestyle is not to point fingers and ridicule others for having more things. It's more personal than that. It's about changing the way you live your life to live more intentionally and in alignment with your values. I'm making efforts to find what feels good to me in my life. Which right now, looks like owning less. I'm still keeping those two Russian Big Muff fuzz pedals, though.
---