SPOTLIGHT: Joshua Hedley on Home and Heart in Robert's Western World
---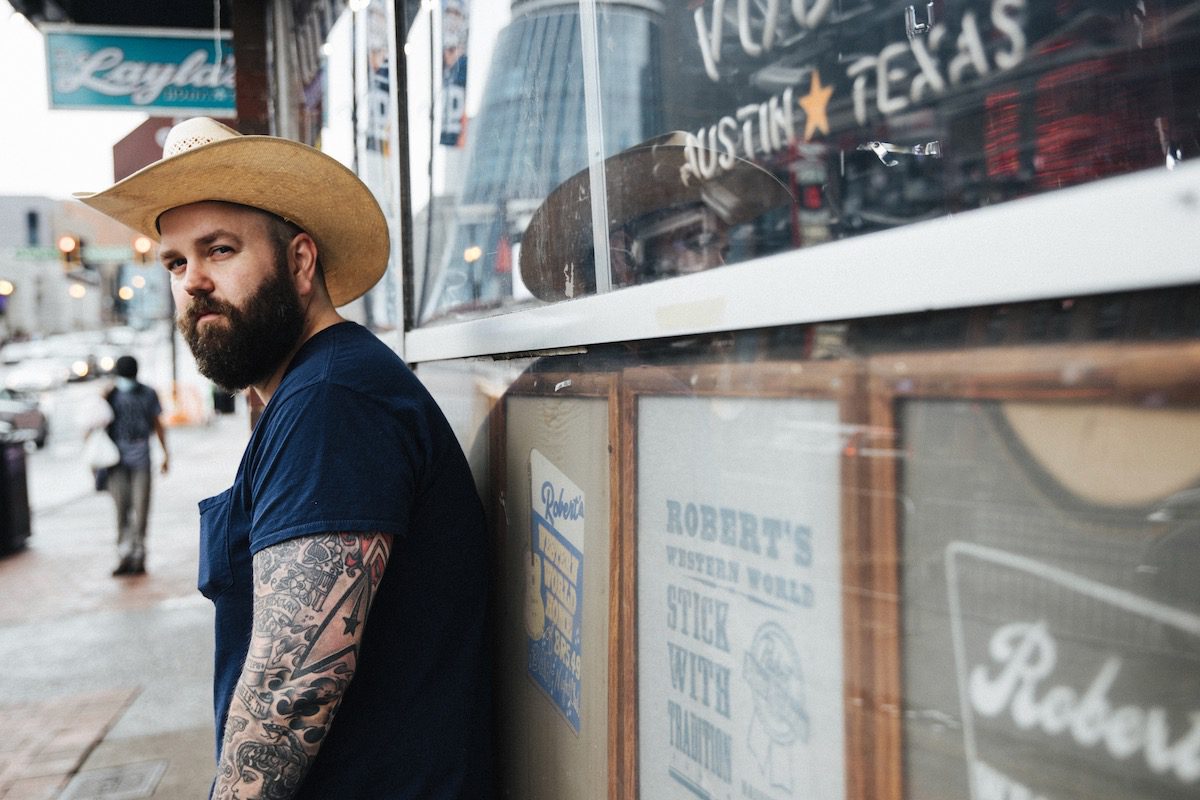 Photo by Joshua Black Wilkins
EDITOR'S NOTE: Joshua Hedley is No Depression's Spotlight artist for April 2022. Read more about Hedley and his new album, Neon Blue (out April 22), here, and look for more from him all month long.
Located at 416 Broadway, in the heart of Music City, nestled within the hustle and bustle of four-story bro country-themed megabar monstrosities, lies the last true honky-tonk. A place where the beer flows like wine and the fried bologna flows like, I don't know, some kind of flowing liquid meat. An oasis of country music where steel guitars and fiddles are mandatory and you're hard pressed to hear a song recorded after 1981. The greatest place on earth: Robert's Western World.
The building itself has always been a country music stronghold. Once housing the famed Sho-Bud Steel Guitar company, where the finest pedal steel guitars were both manufactured and sold, you could find a host of music legends perusing the wares searching for the perfect instrument. It's where Eric Clapton bought the guitars he would use to build "Blackie," his famous '50s Strat, and where Willie purchased a Martin N-20 gut string for $750 sight unseen. Willie still plays that guitar today, I think he named it after a famous horse or something.
After spending a number of years as a liquor store when the Lower Broadway district of Nashville was little more than a haven for pawn shops, peep shows, and shady characters, the building was purchased by former Tootsie's proprietor and amateur boxing coach Robert Moore and converted into a Western clothing store with a boxing gym on the second floor. Shortly after that, a stage was added and Robert's Rhinestone Western Wear began its transformation into Robert's Western World.
And that's what it is today — the last holdout — the fortress of traditional country music. It's also my second home. I feel more comfortable on that stage than I do anywhere else. I can't imagine a life where I'm not playing at Robert's. It's been part of my DNA for the last 17 years.
I first started playing there in 2005 when a friend of mine invited me to sit in on his fiddle with a band called The Travis Mann Band. After that, Travis started calling me to come play with them, and before I knew it, I was a full-fledged member of the band, playing several shows a week at Robert's. I was hooked. Everything about it spoke to me on a cellular level. The music, the food, the booze (especially the booze), the staff — everything. I couldn't get enough of the place. If they'd let me, I'd have set up a cot upstairs and lived there. But unfortunately for me that cot was already being utilized by a guy named Brent Cunningham.
My life was shaped by that place. Every road gig I've ever played came from there, almost every woman I've ever dated I met there; I can say without a doubt that I owe everything I have to Robert's. Some of my favorite memories are associated with that place. Going to see bands like Phil Hummer & The White Falcons, Brazilbilly, The Don Kelley Band, Scott Icenogle & A-11, Monty Good & The Honky Tonk heroes; I could go on and on. I would often get there when they opened and smoke cigarettes and drink Jack and Cokes until well after they closed. And I did that for years, until they banned smoking, then it was just the Jack Daniels.
A lot of things have changed in Nashville. The housing market is inching its way closer to "through the roof" every day, historic bars and venues are closing at a rapid pace, bachelorettes have taken over, and the country music being made on Music Row is completely unrecognizable from the sound that built this city. But Robert's will never change. They may have recarpeted the stage and replaced some old, broken-down barstools, but the core of it — the vibe — remains the same as it did when it first opened its doors as a venue in 1992.
You won't find any televisions, distorted guitar riffs (unless you count the solo on Marty Robbins' "Don't Worry"), or even draft beer. What you see is what you get. Canned PBR, authentic country music, and the best fried bologna this side of your grandma's cast iron. It is a honky-tonk in its truest form, and it's the last one left.
"Traditional country music placed Nashville, Tennessee, on the world's musical stage. The sounds of classic, top-shelf country music will remain forevermore if I can in any way help it. There's nothing like it … three chords and the truth felt deep within the heart … it's who we are," says current Robert's proprietor and Brazilbilly frontman Jesse Lee Jones, and he couldn't be more right. And for that reason, Robert's Western World is the only place where you'll find locals braving the Bird-scootering bachelorettes and pedal tavern bros to get their regular honky-tonk fix.
"In spite of the fact that the rest of Broadway is concerned with playing the most popular music to appease the tourists, whether it be pop country, classic rock, or any other mainstream party music, Robert's continues to promote the traditional country music that resonates within my soul," says local boot scooter and Robert's stalwart Dave Martin, "music about whiskey and broken hearts, and how one always leads to the other."
There's a comfort in knowing that no matter how much this city grows and evolves, there's still a place where you can find old Nashville; the real Nashville. When you walk through the doors of Robert's Western World you still feel as though you might be greeted by Sarge, beloved pet macaw of famed steel guitarist, Sho-Bud cofounder, and former building proprietor Shot Jackson. But you're more likely to be greeted by Peter Paul, longtime door security and former Robert Moore boxing pupil, barking you into the door with his thick Bostonian accent.
Once you're inside, I can guarantee that, much like me, you'll never want to leave. It truly is honky-tonk heaven, and you can rest assured it will stay that way. When I wrote "Mr. Jukebox," I wrote, "if you need me I'll be here," and "here" is Robert's Western World. And as long as I'm breathing on this earth, I'll be there … whether you need me or not.
---