BONUS TRACKS: Tanya Tucker's Return on the Silver Screen
Posted On November 4, 2022
---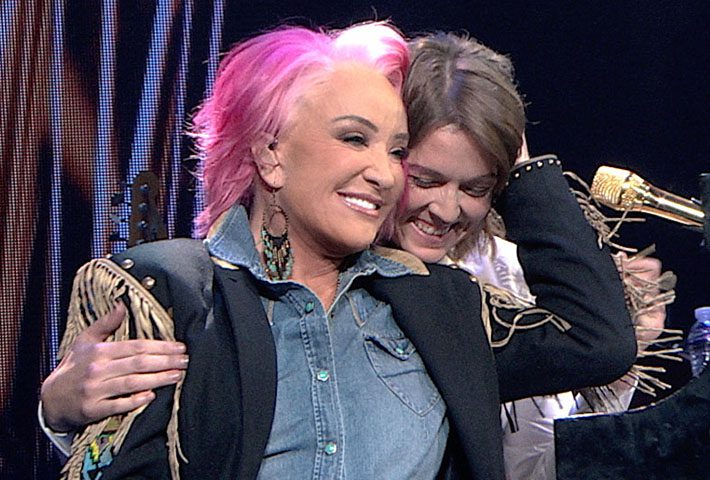 A still from "The Return of Tanya Tucker" documentary, via Sony Pictures Classics
Open today in theaters nationwide, The Return of Tanya Tucker is a documentary following Tucker as she partnered with Brandi Carlile to get back to songwriting, recording, and the stage after many thought the country legend's career was more or less over. The result of their work together was 2019's Grammy-winning While I'm Living, Tucker's first album of original songs in 17 years. The film's end credits feature a new single from Tucker, co-written with Carlile, titled "Ready As I'll Never Be." Listen to the song here and read more about the film in this review from The Washington Post. And stay tuned for more from Tucker and Carlile soon, according to hints Tucker made from the stage at the FreshGrass Festival back in September. Here's the official trailer for The Return of Tanya Tucker:
Dolly Parton dropped some enticing nuggets of news in a Q&A with Pollstar, including that she really is working on a rock album (after joking about it when she was nominated for the Rock & Roll Hall of Fame in 2022) and that she doesn't plan to tour anymore. Perform, yes, for certain events or very short runs, but no more schedules that keep her away from home for weeks at a time. "I've done that my whole life, and it takes so much time and energy," she said. "I like to stay a little closer to home with my husband."
The music business can be pretty inscrutable to fans. Heck, artists themselves often struggle with some aspects of the industry, like licensing, mechanical rights, contracts, and other matters that seem like they'd require an MBA to fully understand. NPR's Planet Money podcast got curious about how the music biz works when they were approached by a musician whose band had recorded a song called (and about) "Inflation" in the 1970s and wondered if the economy-focused show might want to revive it. They did, but they didn't know how. So they licensed the song and launched their own record label, and are taking listeners along as they navigate the business side of music, including making merch, planning a tour, and getting the song into the spotlight. Read more about the series and start listening — and learning! — here.
Our friends at Country Queer are celebrating three years of spotlighting LGBTQ+ country and Americana artists with a GoFundMe campaign to raise money to keep that work going. "We've done it all on a shoestring," explains CQ founder and publisher Dale Geist, "but that shoestring is about to run out." You can check out the Country Queer website, which has to date featured more than 500 artists, here, and learn more about the fundraising campaign here.
Continuing a delightful string of roots musicians publishing books, Valerie June this week released her first children's book, Somebody to Love: The Story of Valerie June's Sweet Little Baby Banjolele, published by Third Man Books. The book, illustrated by Marcela Avelar, is based on the story of how June wrote the song "Somebody to Love" from her 2013 Pushin' Against a Stone album. Learn more about the book here.
If you've been wondering what all the buzz around Billy Strings is about, you've got an easy way in the next couple weeks to get caught up. The bluegrass sensation announced yesterday that he's streaming his next 10 shows for free via nugs.net. Billed as the Billy Strings Fall Free for All, the shows will beam in from Michigan, New York, Philadelphia, and Virginia before wrapping up with a two-night stint in Washington, DC, on Nov. 18 and 19. Learn more and get access at nugs.net.
WHAT WE'RE LISTENING TO
Here's a sampling of the songs, albums, bands, and sounds No Depression staffers have been into this week:
Elizabeth Cook – "Everybody Wants to Rule the World" (Tears for Fears cover), from 3Sirens Presents: With Love Part 2, coming in December
Rachel Baiman with Anthony da Costa – "Election Night"
Buffalo Nichols – "Meet Me in the Bottom"
The Brothers Comatose and AJ Lee – "Harvest Moon" (Neil Young cover)
Joshua Hedley – "River in the Rain" (Roger Miller cover)
Golden Shoals – "Ain't No New Orleans"
Caitlin Rose featuring Courtney Marie Andrews – "Getting It Right," from her new album, Cazimi, coming Nov. 18
Ocie Elliott – "Like a River"
Schaefer Llana – "It's Gonna Take Some Time"
Caroline Rose – "Love/Lover/Friend"
Rubén Blades y Roberto Delgado y Orquesta – Salswing!
Jeff Rosenstock and Laura Stevenson – Younger Still
King Tuff – "Smalltown Stardust"
Camp Cope – "Sing Your Heart Out"
H.C. McEntire – "Dovetail," from her new album, Every Acre, coming in January
---