Rhiannon Giddens-Led Silkroad Ensemble Announces New Music, Tour
---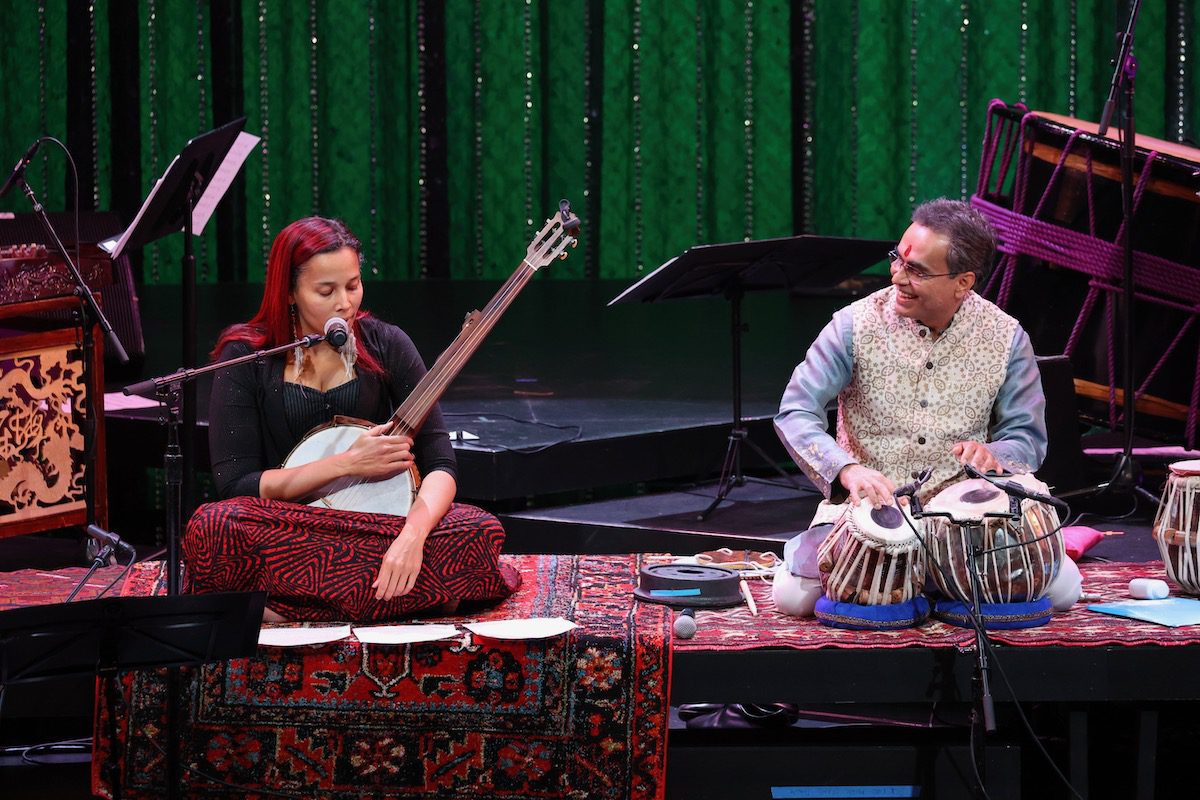 Rhiannon Giddens and Sandeep Das perform at the "Phoenix Rising" premiere at American Repertory Theater in November 2021. (Photo by Rich Woods / Noir Prism)
Back in October, the FreshGrass Foundation (No Depression's nonprofit publisher) announced an impressive collaboration with Silkroad — the multifaceted organization aimed at musical and cultural collaboration founded by cellist Yo-Yo Ma. Today, Silkroad's main programming initiative, the Silkroad Ensemble, has premiered new music as a result of that partnership and announced eight new tour dates featuring Artistic Director Rhiannon Giddens.
The new work, titled Phoenix Rising, features the Grammy award-winning banjoist and singer-songwriter Giddens along with 13 musicians of the ever-flexible Silkroad Ensemble. Together, they aim to bridge the past and the unnerving present with music highly influenced by their collective experience during the pandemic. As Joseph Gramley, a percussionist who has performed with the Silkroad Ensemble since 2000, explained for the September 2021 premiere at Harvard University's American Repertory Theater, "Phoenix Rising takes a cross-section of Silkroad's award-winning compositions and arrangements and re-imagines them for today."
Some of those new arrangements are of older works by Giddens, Colin Jacobsen, Edward Pérez, and Mazz Swift. But Phoenix Rising will also feature new commissions by Silkroad artists Sandeep Das, Maeve Gilchrist, and Kaoru Watanabe.
Although Giddens had performed with the Silkroad Ensemble numerous times before her appointment as artistic director in 2020 (the first woman in that role), these upcoming dates will be their first complete national tour together. The full schedule can be found below.
The FreshGrass Foundation — which also publishes Folk Alley, produces the FreshGrass festivals in North Adams, Massachusetts, and Bentonville, Arkansas, co-awards the Steve Martin Banjo Prize, and more — is collaborating with Silkroad through financial assistance, physical recording space, and other artistic resources in order to help bring this and other new music to fruition.
Phoenix Rising: Silkroad Ensemble with Rhiannon Giddens Tour Dates
July 16 – Katonah, NY – Caramoor Center for Music and the Arts
July 19 – Hanover, NH – Hopkins Center for the Arts
July 22 – Newport, RI – Newport Folk Festival  (sold out)
July 23 – Newark, NJ – New Jersey Performing Arts Center
July 24 – Vienna, VA – Wolf Trap
July 27 – Webster, MA – Music Worcester at Indian Ranch
July 28 – Lenox, MA – Tanglewood  (sold out)
July 30 – Skaneateles, NY – The Skaneateles Festival
---