The FreshGrass Foundation Partners with Rhiannon Giddens-led Silkroad for New Music
Posted On October 19, 2021
---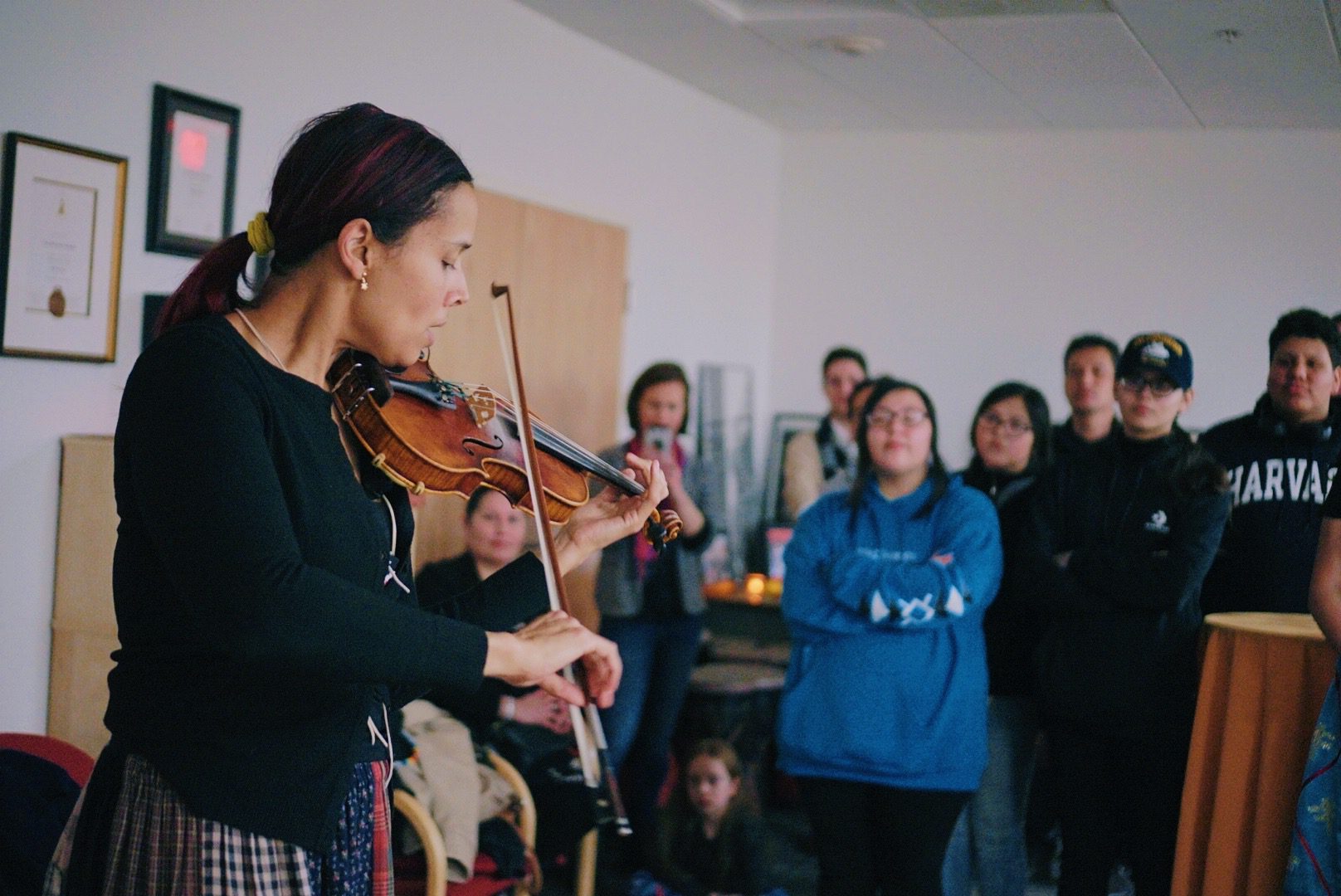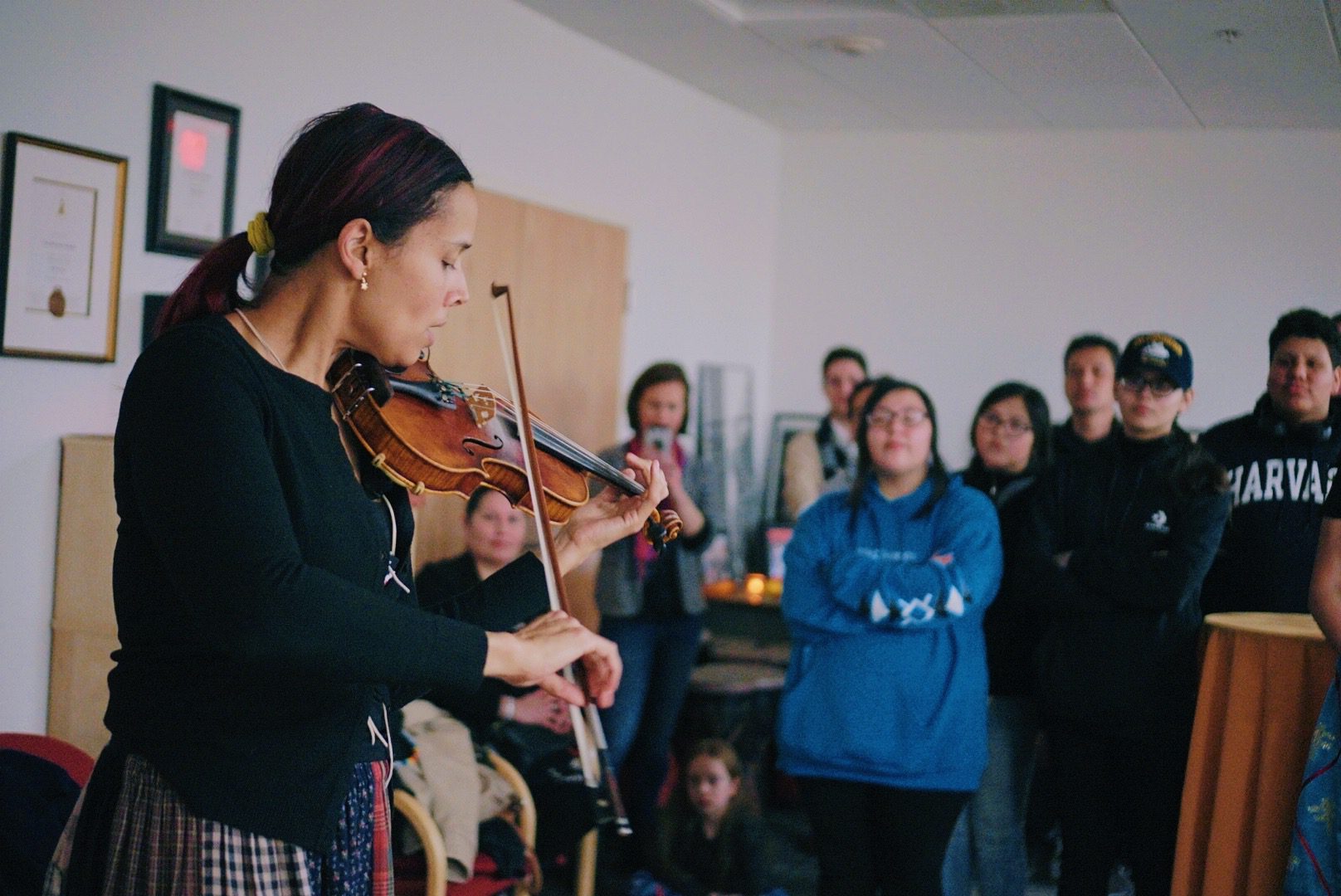 Rhiannon Giddens, shown at a February 2020 event, currently serves as the Silkroad Ensemble's artistic director. (Photo by Maryann Tahrook)
The FreshGrass Foundation (No Depression's nonprofit publisher) and Silkroad announced a new collaboration today, in which the two organizations will partner to create a complete program of new music titled The American Railroad.
Founded by 18-time Grammy award-winning cellist Yo-Yo Ma in 1998, Silkroad is a multi-faceted arts organization dedicated to social impact and change. According to the foundation's website, Ma "recognized the historical Silk Road as a model for cultural collaboration — for the exchange of ideas, tradition, and innovation across borders. In a groundbreaking experiment, he brought together musicians from the lands of the Silk Road to co-create a new artistic idiom: a musical language founded in difference, a metaphor for the benefits of a more connected world."
Its most prominent arm is the Silkroad Ensemble, a malleable chamber group dedicated to preserving cultural traditions through musical collaboration. In its 21-year existence, the Silkroad Ensemble has performed in configurations ranging from intimate duos to 18-piece formations, recorded eight studio albums, and performed in the most revered concert halls around the world.
Since July 2020, MacArthur Genius Grant winner, singer, songwriter, and banjoist Rhiannon Giddens has led the Silkroad Ensemble as its artistic director. "We are thrilled to welcome The FreshGrass Foundation on this journey to understand our country's history and celebrate the diversity that has created American identity," Giddens said in a release. "This partnership will allow us to grow the scope and impact of The American Railroad in significant ways. We're grateful for this much-needed support."
The FreshGrass Foundation — which also publishes Folk Alley, produces the FreshGrass festivals in North Adams, Massachusetts, and Bentonville, Arkansas, co-awards the Steve Martin Banjo Prize, and more — has agreed to give  financial assistance, physical recording space, and other artistic resources to help usher The American Railroad into existence.
Though limited information about the musicality and scope of The American Railroad has been announced at this point, the project will comprise multiple multimedia-based performances, educational aspects, and musical commissions. And like Ma's original inspiration from Asia's Silk Road — the ancient trade path for silk that connected China to Europe — The American Railroad will highlight stories and sounds of North America's first transcontinental railroad, which was constructed in the 1860s and connected people and products from the Atlantic to the Pacific in previously unprecedented ways. According to the release, "The American Railroad will illuminate the impact of African American, Chinese, Irish, and Native American communities on the creation of the Transcontinental Railroad."
Additionally, FreshGrass Foundation Founder and No Depression Publisher Chris Wadsworth confirmed that the music will be performed at both FreshGrass festivals in the future.
More information will be available here at No Depression, as well as at freshgrassfoundation.org and silkroad.org.
---