ND ARTIST OF THE DECADE: Dave Cobb on Jason Isbell's Music, Real Life, and Shoe Game
Posted On December 30, 2019
---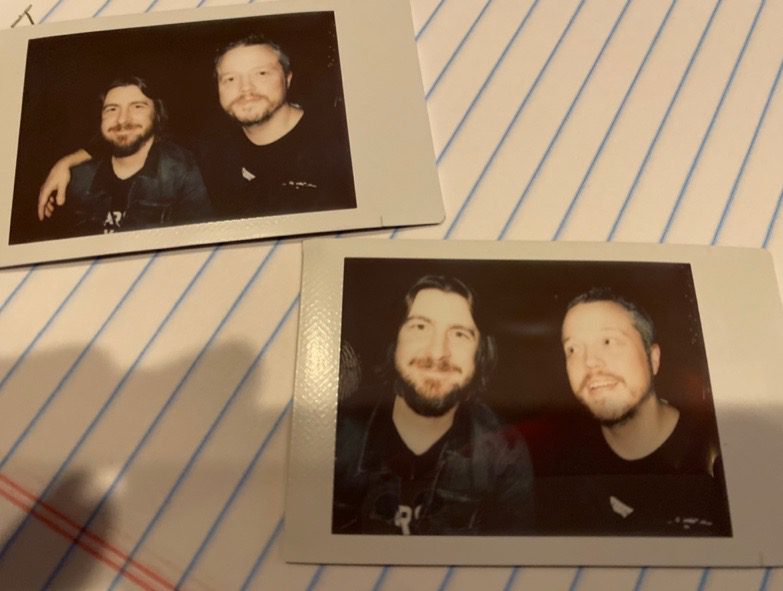 Dave Cobb and Jason Isbell (images in photo by Amanda Shires)
EDITOR'S NOTE: As the 2010s draw to a close, we at No Depression wanted to honor the artists who have had the biggest impact on roots music over the past decade. Jason Isbell joins Brandi Carlile, Chris Thile, and Rhiannon Giddens as our Artists of the Decade, and we look forward to hearing much more from each of them in the 2020s.
What makes Jason Isbell Jason Isbell is his ability to create songs that feel like they come from inside our own lives, our own hearts.
Sure, he's a brilliant guitarist — a grade-A gearhead but also a passionate player and collector. And he's simply one of the best things about Twitter, with his witty observations and refusal to tolerate bullshit from haters of any kind. But what really reaches us, what has made him roots music's undisputed and beloved king for most of this decade, is his songs.
"Cover Me Up" — now popular at weddings, for better or worse — is as pure a declaration of real love as there is in modern country music. "If We Were Vampires" brings mortality into the equation in a way that's impossible to shake off. And "Elephant" … well, I mean, my GOD, "Elephant."
But before all of those, "Outfit" was what grabbed the ear of Dave Cobb, Isbell's go-to producer starting with 2013's landmark Southeastern.
Cobb, originally from Savannah, Georgia, was living in California when "Outfit" came out on Drive-by Truckers' 2003 album, Decoration Day. A band he was working with in Los Angeles put on the album, and it hit home in more ways than one.
"That song 'Outfit' was playing, and I heard it and it stopped me in my tracks and I got super homesick," Cobb recalls. "It was the weirdest thing. Just the lyrics reminded me of growing up in the Southeast, and I immediately identified with them."
A few years later, Cobb had moved to Nashville and started talking to Isbell, through his manager, about making a record. They teamed up for Southeastern, and the rest is sacred roots music history. Since then, Cobb says, they've been "super tight."
"He has the ability in a lyric to make you homesick, and I don't know very many people who have that ability, to really kind of capture me," Cobb says. "He had this power with a pen that very few people on Earth have. That's why I was really drawn to him. I identified with what he was saying even if I didn't live the story."
When Cobb first met him, Isbell's story was just entering a much healthier chapter. Southeastern's songs reflect Isbell's newfound sobriety at the time — he entered rehab the year before its release — and just days after recording for Southeastern wrapped, Isbell married fellow singer-songwriter Amanda Shires.
"Jason's really interesting because not a whole lot shakes him," says Cobb. "When we were doing Southeastern, he was getting married and he'd just come out of treatment shortly before that, and he was just so calm. And I didn't understand it. Because there are so many moving parts to getting married — getting customized suits and plates and forks and whatever else goes on with wedding planning — and he was just so calm. And making an album at the same time. Nothing stressed the guy out. And I remember asking him, 'How do you remain so calm?' And he was like, 'Well, there was a moment in my life when I tried to control everything, and it almost killed me, and now I just realize that some things are out of my control, which is fine.'"
As a person, Twitter Jason Isbell is pretty darn close to Real Jason Isbell, Cobb says.
"All day, he's got metaphors and jokes for everything — he's definitely the person he is on Twitter," Cobb shares. "I think whatever energy he gave in his younger life toward being on the road and living the lifestyle, he's giving that to his family now. He's an amazing dad, he's such a great dad. He's always with his daughter."
He's also passionate about guitars — especially the '59 Les Paul "Red Eye" once owned by Lynyrd Skynyrd's Ed King that he obtained this year. "He's a lyrical genius, but I think he's a guitar genius, as well," Cobb says of his friend. "If he's not talking about kids, we're talking about guitars, so he really lives for it, and probably knows every screw on every guitar ever made at this point."
Maybe not quite on the same level as family and guitars, but seemingly pretty high up there, Isbell is also big on shoes, Cobb reports with a laugh.
"He probably knows more about shoes than anybody I know. People should pay attention to his shoe game, because it's pretty strong," he says, adding this bit of advice: "When you meet him make sure you wear good shoes, because he's probably out-shoeing you."
Shoes, guitar screws, just the right turn of phrase to capture a world of meaning — Isbell is a master of details. And in that mindset he works and works on a song until it's just right, Cobb says. And that, he thinks, may be the key to Isbell's wide and lasting appeal.
"He works so hard on his craft. I don't think he just goes in there and spits out a song. I think he really hones it. When it reaches the public he's exorcised every demon and worked out every i and e in the whole thing, and really, he's a master craftsman, and he really cares. He probably cares more about every lyric than any listener would, you know? I think that's why everybody likes him, because he has the ability to really dig deep and also at the same time refine and refine and refine and make it the best song he can possibly make. And I think people appreciate the work it takes to make a Jason Isbell song."
After making three albums with Isbell — Southeastern, Something More Than Free, and The Nashville Sound — Cobb has had a front-row seat to Isbell's rise over the past decade and can fully appreciate the impact he's had: "I think if he'd brought 'Elephant,' into the world alone he would have secured his place, but he's done more than that."
Undeniably, Isbell has had an incredible decade. On top of getting sober, getting married, and becoming The World's Best Dad, he's created songs and albums that already feel like alt-country classics. And it feels like he's just getting started. Cobb predicts more of the same from Isbell in the years to come — but, of course, from Isbell, "the same" means continuing to chart his own course and make songs that can stab right into the heart and bring anyone home from a million miles away.
"You just never know what he's going to pull out," Cobb says. "He's got so much ammunition up his sleeve and a lot of life lived and stories to tell. I think we'll be hearing more of those."
---
To comment on this or any No Depression story, drop us a line at letters@nodepression.com.
---