Madison Cunningham's Relentless Evolution
Posted On September 9, 2022
---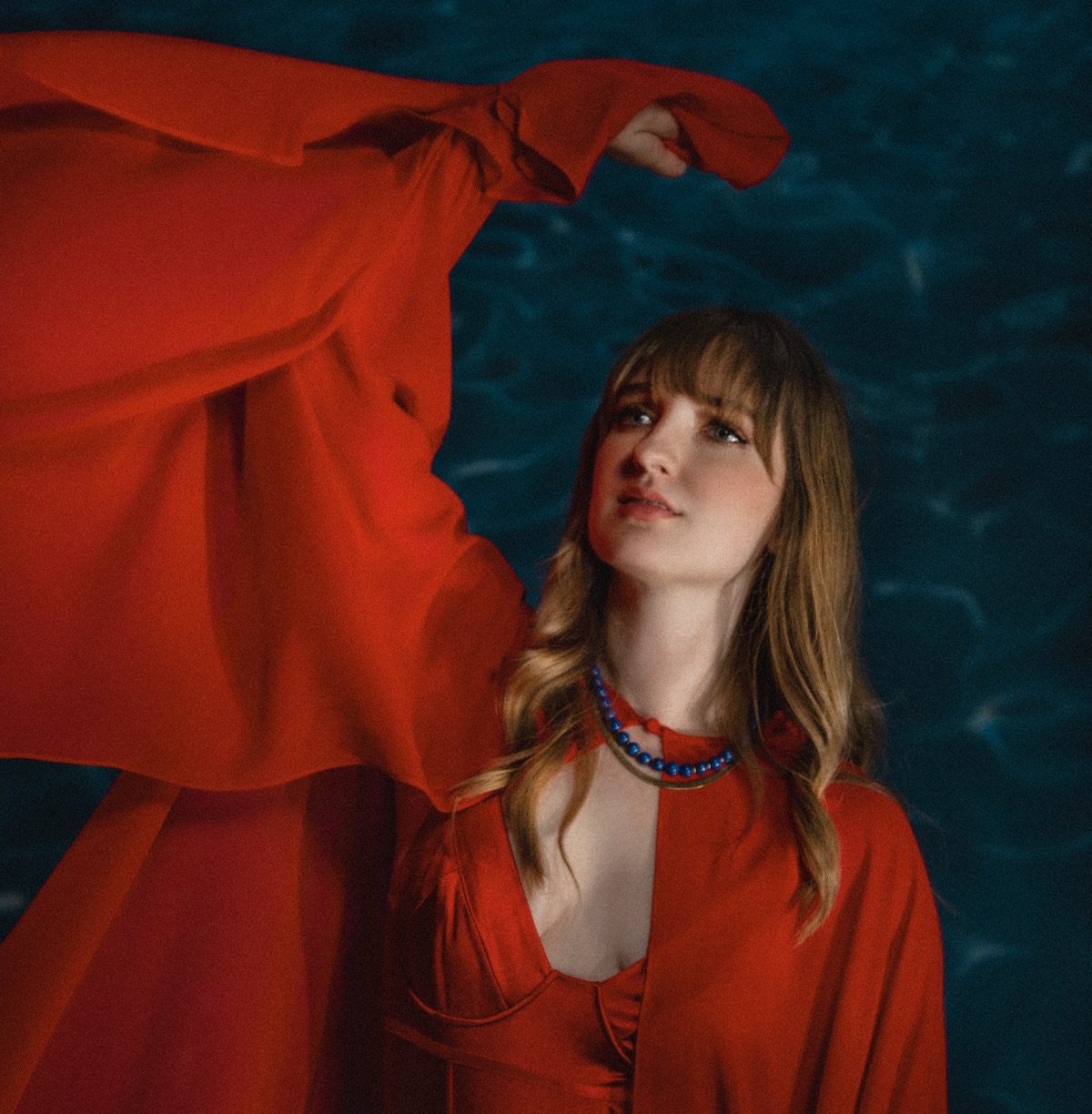 Photo by Claire Marie Vogel
Madison Cunningham is an artist who aims high.
The 25-year-old singer-songwriter already has two Grammy nominations and a showering of critical praise for her deft, jazz-inflected singing and guitar work as well as her preternaturally sophisticated lyricism, but her career thus far is really a story of constant, relentless artistic evolution and revision.
Cunningham, a California native, started playing guitar and singing as a young girl and by 12 was performing in the church where her father served as director of worship ministry. Her earliest songwriting efforts were in the praise music vein, but once she began discovering her musical giants in Bob Dylan and Joni Mitchell, as well as in alt-rock iconoclasts like Radiohead, Jeff Buckley, and Fiona Apple, she eschewed the religious-centered songcraft and began forging her own lyrical and artistic vision.
"I'm thankful for the fact I didn't come to the music that means the most to me until I was mature enough to hear it," she says now of her early music-making. "I didn't have these towering figures as a 10-year-old trying to play guitar. I was given this moment, this stretch of time where I could just express myself, no matter how bad it was — because it was. Then when someone like Joni came into my life, it was like I could see that what she does couldn't be emulated, I can only take inspiration from it."
A Musical Shift
Cunningham's early EPs, mostly made in close collaboration with multi-instrumentalist and session player Tyler Chester, with whom she collaborated on an early praise record, 2014's Authenticity, began in earnest folkie mode, often evocatively mirroring the melodic complexity and vocal left turns of Mitchell. But her own abundant talent was easily apparent, as was her restless spirit.
The approach quickly won the young singer-songwriter a record deal and a management team, who then placed Cunningham alongside mandolinist and musical savant Chris Thile as a duet partner on the acclaimed Live From Here radio show that grew out of A Prairie Home Companion.
"It happened just a few weeks after I turned 21" she recalls. "I had just signed with my management company, and the first thing they do is fly me out to St. Paul to be Chris' duet partner. I was scared shitless, I felt so out of my league! I knew I had to roll up my sleeves and just be the best that I could be and take advantage of the opportunity."
As green as she was, Cunningham sounds right at home next to Thile in the series, and the two would take on original songs by both songwriters as well as covers ranging from Willie Nelson to Yo La Tengo.
But as much as she fit right in with the acoustic realm of the mandolinist, Cunningham was still a developing artist. Her songs were getting louder and more groove-based as she found herself developing an eclectic and energetic new musical vocabulary on electric guitar, pushing her way into a more freewheeling space defined by staccato riffs, thorny rhythms, and unexpected melodies and chord progressions.
Cunningham says the shift was first informed by the songs she was writing, but she gradually began to feel more of an identity on the instrument, even going so far as to use it exclusively on her 2019 major-label debut, Who Are You Now (ND review).
"It was a natural thing at first and then it became a conscious [choice]," she explains. "Once you kind of stumble onto something, it becomes like, 'How do I fully incorporate this thing?' And now it's a part of the tapestry of what I do now, how I write and think about my music."
That album garnered Cunningham her first Grammy nomination, in the Americana category, and she would get another, in the folk category, for the acoustic EP Wednesday, a collection of covers based on her weekly video series launched during the pandemic. But Revealer, her follow-up LP out today, feels like her first fully realized artistic statement.
Taking Risks
Building upon the electric guitar-based songwriting and inventive arrangements of Who Are You Now, Revealer revels in the studio, where Cunningham tries out new sounds with a kind of Radiohead adventurous in some cases and Beatles-esque invention in others. Working with seasoned producers like Mike Elizondo (Fiona Apple, Regina Spektor) and Tucker Martine (Neko Case, Sufjan Stevens) in addition to Chester, Cunningham says she gave herself permission to do multiple versions of songs and not be afraid of starting over if something didn't sound as good as she could make it.
"The thing that I put on myself to do was to do something riskier, because if you don't step outside of your comfort zone as soon as you can, you immediately box yourself in," she explains. "I wanted to set this precedent that, sure, this is who I am and what my sound is, but I believe that it can continue to expand and that it's going to change throughout the course of my career."
Aside from the relatively straightforward ballad "Life According to Raechel," Cunningham says each song was built track by track, taking full advantage of the studio to carefully engineer certain sounds and musical moments. You can hear it in stray bits of percussion, whirling strings, and subtle vocal effects on the opener "All I've Ever Known" and in the perverse electric riffs of "Your Hate Could Power a Train," which Cunningham created by plugging a ukulele into a pickup and then digitally altering the octave.
"We got so specific about certain crescendos, certain types of sounds, and I realized that I really love that process of nerding out over the details," she says of the process.
For all of the sonic upgrades in the studio, it's clear that Cunningham's songwriting has matured as well. Always a careful writer, she now seems comfortable writing both more personally and with more humor, creating layers of introspection and withering one-liners with increasing aplomb. In the circus-like drone of "In From Japan," the songwriter showcases both impulses; it's a song poetically loaded with self-doubt that also drops lines like "it comes and goes, cosmic revelation and plateaus / trying to be the next original in a tribute band."
"I was reading a lot of [Kurt] Vonnegut during that time," she offers by way of explanation. "When you become so self-critical and you take that time to roll up your sleeves and do that work, you have to view everything through a little bit of an ironic lens. If you don't laugh at yourself, then it just becomes self-destructive."
Amid numbers like this, "Life According to Raechel" stands out. A gorgeous, plaintive ballad chronicling visits she never made to her beloved late grandmother, it's a song with an aching sincerity, showcasing every nuance in the singer's voice and phrasing. It's a simple, stately composition, but it also feels very much of this record, as if only someone of Cunningham's melodic gifts and lyrical perspective could possibly have written it.
There's a great deal of anticipation around Revealer, in part because of the steady acclaim she's garnered as both a singer-songwriter and guitarist, but also thanks to the increased awareness of her music thanks to the Wednesday video series and her recent appearance on NPR's Tiny Desk Concert series. But it also still very much feels like this is still the opening salvo of a long career, one that will have many twists and turns worth following.
In that sense, Cunningham's direct invocation of Joni Mitchell and Bob Dylan as influences is perhaps most telling, as her artistic vision so clearly emphasizes the long view.
"[Those artists] are so wholly themselves — no matter what jacket they put on or guitar they hold, whether they go electric or acoustic, they're going to be themselves," she explains. "And that's what I look up to. They went through all of these iterations of what their music and sound could be, but there's no mistaking who they were and what they were about and what they brought to the musical table."
Madison Cunningham's Revealer is out Sept. 9 on Verve Forecast.
---