JOURNAL EXCERPT: Black Opry and Belonging
Posted On January 11, 2022
---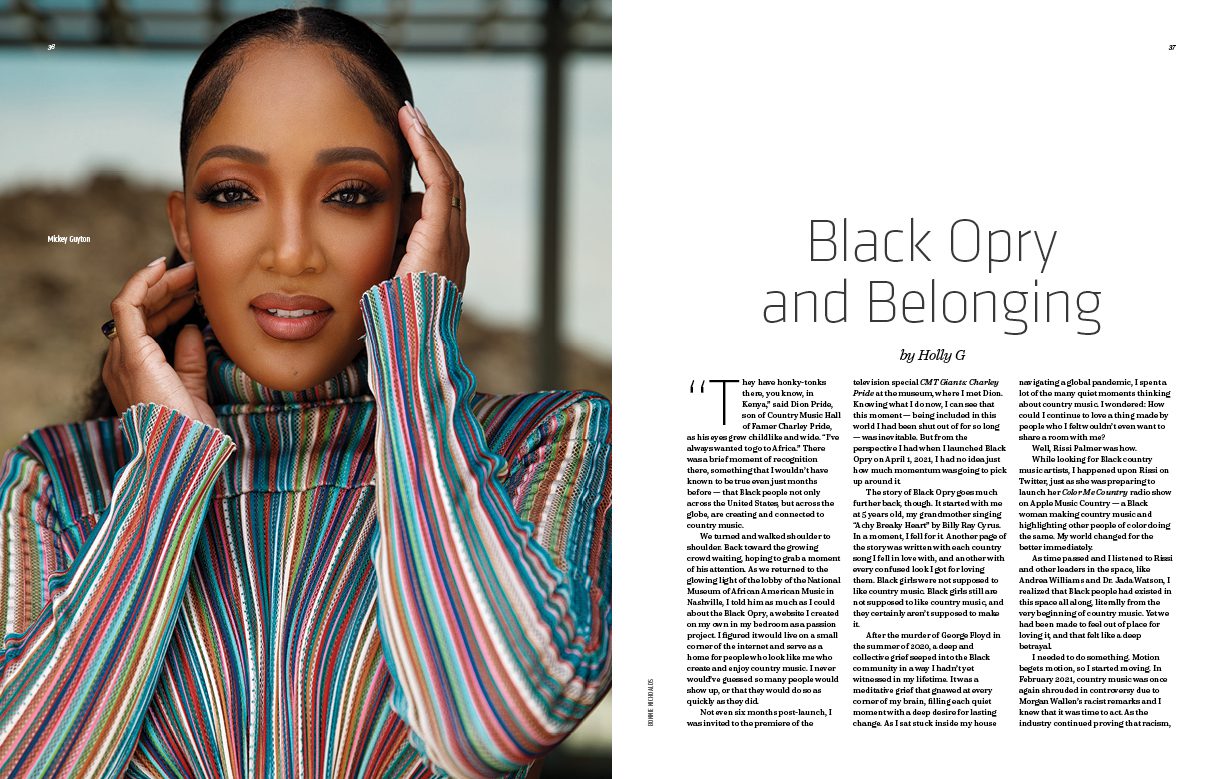 EDITOR'S NOTE: Black Opry founder Holly G wrote this essay about building community in the face of country music's systemic racism for our Winter 2021 "Good News" issue, and we're sharing it online in the wake of Morgan Wallen's surprise appearance at the Grand Ole Opry on Jan. 8, 2022. You can read the whole essay — and much more — in that issue, here. And please consider supporting No Depression with a subscription for more roots music journalism, in print and online, all year long.
"They have honky-tonks there, you know, in Kenya," said Dion Pride, son of Country Music Hall of Famer Charley Pride, as his eyes grew childlike and wide. "I've always wanted to go to Africa." There was a brief moment of recognition there, something that I wouldn't have known to be true even just months before — that Black people not only across the United States, but across the globe, are creating and connected to country music.
We turned and walked shoulder to shoulder. Back toward the growing crowd waiting, hoping to grab a moment of his attention. As we returned to the glowing light of the lobby of the National Museum of African American Music in Nashville, I told him as much as I could about the Black Opry, a website I created on my own in my bedroom as a passion project. I figured it would live on a small corner of the internet and serve as a home for people who look like me who create and enjoy country music. I never would've guessed so many people would show up, or that they would do so as quickly as they did.
Not even six months post-launch, I was invited to the premiere of the television special CMT Giants: Charley Pride at the museum, where I met Dion. Knowing what I do now, I can see that this moment — being included in this world I had been shut out of for so long — was inevitable. But from the perspective I had when I launched Black Opry on April 1, 2021, I had no idea just how much momentum was going to pick up around it.
The story of Black Opry goes much further back, though. It started with me at 5 years old, my grandmother singing "Achy Breaky Heart" by Billy Ray Cyrus. In a moment, I fell for it. Another page of the story was written with each country song I fell in love with, and another with every confused look I got for loving them. Black girls were not supposed to like country music. Black girls still are not supposed to like country music, and they certainly aren't supposed to make it.
After the murder of George Floyd in the summer of 2020, a deep and collective grief seeped into the Black community in a way I hadn't yet witnessed in my lifetime. It was a meditative grief that gnawed at every corner of my brain, filling each quiet moment with a deep desire for lasting change. As I sat stuck inside my house navigating a global pandemic, I spent a lot of the many quiet moments thinking about country music. I wondered: How could I continue to love a thing made by people who I felt wouldn't even want to share a room with me?
Well, Rissi Palmer was how.
While looking for Black country music artists, I happened upon Rissi on Twitter, just as she was preparing to launch her Color Me Country radio show on Apple Music Country — a Black woman making country music and highlighting other people of color doing the same. My world changed for the better immediately.
As time passed and I listened to Rissi and other leaders in the space, like Andrea Williams and Dr. Jada Watson, I realized that Black people had existed in this space all along, literally from the very beginning of country music. Yet we had been made to feel out of place for loving it, and that felt like a deep betrayal.
I needed to do something. Motion begets motion, so I started moving. In February 2021, country music was once again shrouded in controversy due to Morgan Wallen's racist remarks and I knew that it was time to act. As the industry continued proving that racism, homophobia, and misogyny flourished in all of its spaces, I knew we needed a space of our own. A safe space. And so Black Opry was born.
Black Opry is community. Black Opry is home. It's a sense of hope for people who've long been doing the work to organize this community — people like Lilli Lewis. It gives us a space to celebrate the success of artists who have been fighting for a space in the country music machine, like Mickey Guyton, and it serves as a launchpad for new artists trying to figure out where and how they can fit in, like Jett Holden.
History is being made by people that look like us — like the release of Allison Russell's Outside Child — and we now have a safe place to celebrate them and their art. For fans like myself who defy the stereotype of what a country music fan should be, and for artists like Lizzie No who defy the odds and ignore the prescription of what to make of a country artist, Black Opry is a place where, finally, we belong.
In mere months, Black Opry has transcended beyond just a website, becoming a community of people who, at best, didn't know we needed each other, and, at worst, didn't even know each other existed. We have come together online en masse and when the pandemic breaks, we look forward to translating our community to in-person spaces.
There are no other online spaces specifically for Black artists and fans in country and adjacent genres. Nobody thought we mattered enough to create one. But we do. We did. We always have. Now we are realizing that there is such force in our numbers and our spirits that we deserve a place in existing institutions as well. And we are going after it. With future plans for performances across the country, our own Black Opry Festival (which had to pivot to a virtual event due to rising COVID-19 numbers), and growing our online space into a more comprehensive news source focusing on the artists we support, the future of Black Opry knows no bounds. And though we do have set goals, our future is fluid because our priority is to listen to the needs of Black artists, fans, and behind-the-scenes workers in these spaces and provide whatever they need.
As I sat on the edge of the stage in the dimly lit theater following the CMT Giants premiere, all of us in attendance beamed in the afterglow of a moment heavy with significance. Singer-songwriter Frankie Staton took the stage and told us, "I worked with the Black Country Music Association. We did shows, we did all that. I know the history. I learned the history of country music, of Black people in country music."
Staton began the group in 1997, launched the Black Country Music Showcase at Nashville's famed Bluebird Cafe, and helped grow the community to more than 80 members. Now, I stand in her footsteps and follow the path that she forged. I hope that I will be the last person to ever have to work as hard as I do to make Black voices heard in country music. On stage, in the audience, behind the cameras, in the board rooms. We belong. We. Belong.
Learn more about Black Opry's upcoming revues here. 
---