Sisterhood on the Long Road: Rissi Palmer and Miko Marks in Conversation
---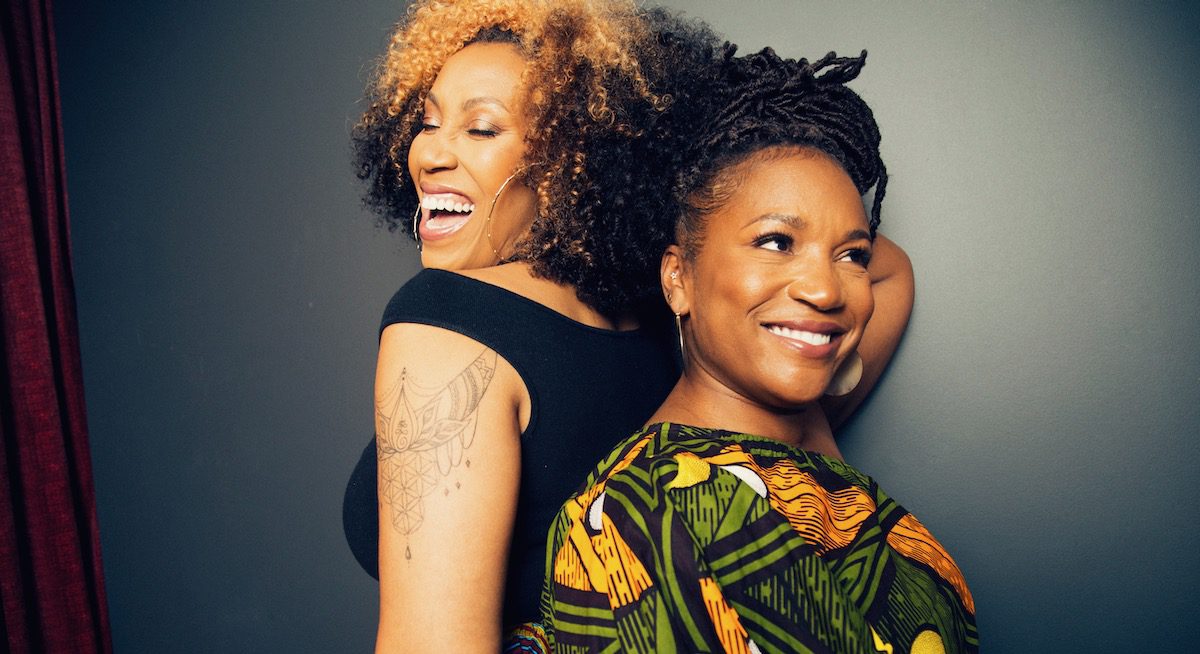 Rissi Palmer, left, and Miko Marks (photo by Cedrick Jones)
Over the past few years there has been an ongoing conversation about the lack of diversity in country music and what, if anything, should be done about it. Most of what the industry has seen has been simply that: a conversation. But two women in particular have put this conversation into action with both their advocacy and their talent. Rissi Palmer and Miko Marks, who released their first country music albums in 2007 and 2005, respectively, have helped lead the charge toward a more inclusive landscape in the genre through both their words and their music.
Palmer has made notable strides in the music industry as a special correspondent for CMT's Hot 20 Countdown and also as host of her own Apple Music Country radio show, Color Me Country, which highlights artists of color. She plans on returning to her solo career this year and hopes to have a new record out in the fall. Marks, for her part, returned to the country scene after 14 years with two albums released in quick succession — 2021's Our Country and 2022's Feel Like Going Home, (ND review). Marks is also included in the latest American Currents exhibit at Nashville's Country Music Hall of Fame and Museum.
After defying the odds by initially breaking into the industry around the same time, the pair did something even more unexpected: They became friends. Over the years, their friendship has grown into a deep admiration for one another, a sisterhood they both needed.
Palmer and Marks took the stage together for the first time on a stop of the Black Opry Revue a touring collective of Black musicians working in country, Americana and roots music — last summer. And this spring, they will take their sisterhood on the road, embarking on a nine-date acoustic co-headlining tour that kicks off May 3 in Washington, DC. No Depression sat down with the pair to get a closer look into the friendship that led them to this moment.
Holly G: What are you doing to prepare for the tour?
Rissi Palmer: We've already had our initial conversation about the songs, like the duets that we're going to be doing. I'm gonna be learning all of Miko's music. I know most of it anyway, just from listening to it, but learning each other's music so we can sing backgrounds for each other.
Miko Marks: What I'm doing to prepare for the tour is just trying to meet Rissi at her level. I've been rehearsing my own stuff. I've been rehearsing the songs that we decided we will do together. And then I'm going to rehearse her stuff. I just feel like it's going to be a family reunion. It's going to just be beautiful, natural, organic, all the things that she and I are.
HG: What is different about touring with somebody that you know so well?
MM: For me, this tour is going to be like going out with my sister. It's not like walking out to a band that you've never played with. It's going to be so much more natural and easy because that's who we are together. That's the piece of it that is exciting to me. It's something I've never done.
RP: It almost doesn't feel like work. I feel really blessed to be able to do it with a friend. The Black Opry show that we played together, that kind of cemented to me what this could be if the two of us went out on the road together.
MM: It was so dope, us on stage together. One audience member sent me a message that said, "I will come see a Rissi and Miko show any day." So for that person to say that, I was like, "Okay, this is something good."
RP: The kids in the back of the church that get in trouble for talking during service? That's me and Miko. Just two kids cutting up! So I was just like, "Sixty minutes of this would be really fun." It was a no-brainer after that.
HG: What message do you think that this tour will send to that larger community that looks up to you both?
RP: That two of us don't repel. Meaning that, two of us in a room together, we're similar in a lot of ways, and we're different in a lot of ways. And we can coexist. A lot of what we were taught coming up is that there can only be one. There can actually be many. There's enough sun for everyone. I also hope that through ticket sales and demand and attendance that people see that audiences want to go to these types of shows. You would be surprised how hard it was to book a lot of this stuff. I don't think a lot of people think that people want to see us, to see this. So I'm hoping to dispel that. I hope it's easier the next go 'round. And I hope that it's easier for everybody else after that.
MM: To reiterate what you said, I'm hoping that people get the message that it doesn't have to be just one. I want the person who thinks that they're the one to see that, too. I want the kids coming up to see that we can be happy. Sisterhood is what I want the message to be. There's a place for everybody because we're all so different. That's the message of unity that I want to see put forward, I want people to see that you don't have to be in competition with anybody.
HG: When was the first time that you became aware of each other?
MM: I saw her CD in the record store. All these curls, just beautiful. I was scared. I didn't really talk about that back then but I had to really talk to myself. I was like, "You get on that train of support and show that you see her, show that you are proud of her." I changed my whole thinking and I think that was a turning point for me as far as growing as an artist. That's when I made the decision of not seeing anybody as a threat. I want friends and I want unity.
RP: I saw her first because her record Freeway Bound came out a couple years before Rissi Palmer did, and I remember being very threatened by you. Same thing. The thought among anybody that was trying to do this — every Black female country artist that I met, or any record industry person that I met — was whoever does it first it's going to be big. It'd be like Charley Pride, that kind of thing. I remember going into the Tower Records on Broadway in Nashville. I was 19 and I was standing there thinking, "She's stunning." Miko is naturally, disarmingly beautiful. She had on her cowboy hat and she had her curls. Aesthetically, we're very similar. We're both Boho hippie mamas. A flowy dress doesn't stand a chance with us. Then I bought the CD and I heard her and I was just like, "She's effortlessly good."
MM: I bought yours too and was hating on "Country Girl" because it was such a banger.
RP: I didn't know that you knew anything about me until the first time that I played the Grand Ole Opry. Miko was the only other artist that has ever reached out to me on her own. She sent me flowers and wrote me a note. It seems like such a simple thing, but it really wasn't. For my little 26-year-old self, it was life-changing because it was just like, "She's cheering for you. None of your peers have called you. None of your peers have said anything." I was touring with all kinds of people, playing with all kinds of people. Nobody said anything to me the first time I played the Grand Ole Opry except Miko, and I will never forget that.
MM: I wanted you to know that I was proud of you. I didn't know where it was gonna go, if you would throw them in trash. All I knew was I wanted to celebrate you on your day. I wanted that to be a part of my history. I wanted that to be a part of yours.
HG: What is something that the other one has done, other than those flowers, that has made you cry happy tears?
RP: Miko made me cry at The Long Road Festival [in Leicestershire, UK]. Miko got on stage, kicked off her shoes a la Patti LaBelle, and proceeded to blow everybody away. There were at least two or three thousand people standing in front of the stage and she had everyone silent. Nobody moved. And at one point, she started crying and there wasn't a dry eye. Because you're captivating — you are! You are authentic, you are sincere. To see her up there and to see people having that reaction, knowing her story and knowing everything that she's been through to get to this point, I was like, "This is why this is important. This is why I did this."
MM: Rissi said all of that about me shutting it down and whatnot. Why did she go up there with the Holy Ghost spirit in her soul? I had never seen her do that. She was kicking, she was dancing. She was just all in. She shocked me, honestly. You brought your A game. Bring that on the tour, girl!
First, I was trying to come back into music and then, Rissi started her radio show and she was like, "I want you to be my first guest." That made me cry. It's such a legendary show. Color Me Country is going down in history. So for me to be the first guest on that show — waterworks. Then the fact that she took me to London. That level of trust and love and care about my craft and helping me move forward and upward. That was huge.
She doesn't know this one, but we were walking at The Long Road Festival and they had these posters and Rissi is on the poster as a guest. She goes up there with her money to pay for this poster that she's on. And I'm like, "Don't you pay for that poster! Do not buy that!" She shouldn't have to buy this poster, but Rissi bought the poster. When we were walking back, I was still complaining. She took the poster, hit me on the head and was like, "Shut up, take this poster." And it kind of knocked some sense into me. Because what she was doing was giving. She didn't have to buy the poster, but she was contributing to the festival. And that's the part that I didn't see at first. But once she hit me on the head, it all became clear. She's wanting to support something that was supporting her. That made me cry a little bit because that's just love. So thank you for the hit. It brought me back to sense.
HG: This seems like a perfect time to ask this question: What's one thing the other does that makes you mad?
MM: She was so stressed out from doing the whole Long Road Festival — you could see it in her eyes. It made me mad because I was like, "You did this shit! You brought this all together now we are here. Bask in the glow of what you have done." Everything was magical. It made me mad because she wasn't getting to celebrate herself and this moment. She took folks overseas and we all had a moment in our lives that we will never forget. So just next time try to just enjoy yourself a little more.
RP: It's something that you do and it bothers me and I want you to change it.
MM: I think I know where you're going — self-deprecating.
RP: I don't like it. You are self-deprecating and absolutely should not be. I don't know a stage that Miko has been on in the last few years that she hasn't completely made the person who goes before her and after her rethink why they're in the music business. People throw the word soul singer around a lot, and usually it means genre, but you are a true soul singer in the sense that it's coming from your heart. I just think that because of how hard the journey has been, that some of that has seeped in, and made you think that you're not as good as you are, but you are really good. You just have an effect on people.
MM: I want to stop that too, because I know that about me. But I have this relationship with God to where I don't take no credit for what he's given me as a gift. It's a straight-up gift. I want to make sure I stay humble. I probably overdo the self-deprecation thing, but it's all about me not taking credit. It was a gift. I didn't do anything for it, you know?
HG: What is one thing that the other has done that you use as a guide for your own career?
MM: Rissi is really professional. She's top notch. She's got [Color Me Country], you know, she's leveled up in this way that I admire personally. I need to be a little more serious and a little less loose. I'm gonna constantly be chasing that. I want to learn some of those qualities.
RP: The thing that I admire about Miko and that I aspire to is her abandon when she performs. You can tell she's not thinking about anything, about how she looks or what's going on. She completely abandons herself to the song.
MM: That's easy, girl, just go to when you was a little girl in church. I don't know how else to perform. That's just how I was taught to give it, give your soul. So I'll be looking like a mess and I don't care because at the end of the day, I left it on stage.
Holly G is the founder of the Black Opry.
---