International Bluegrass Music Association Announces 2021 Award Nominees
---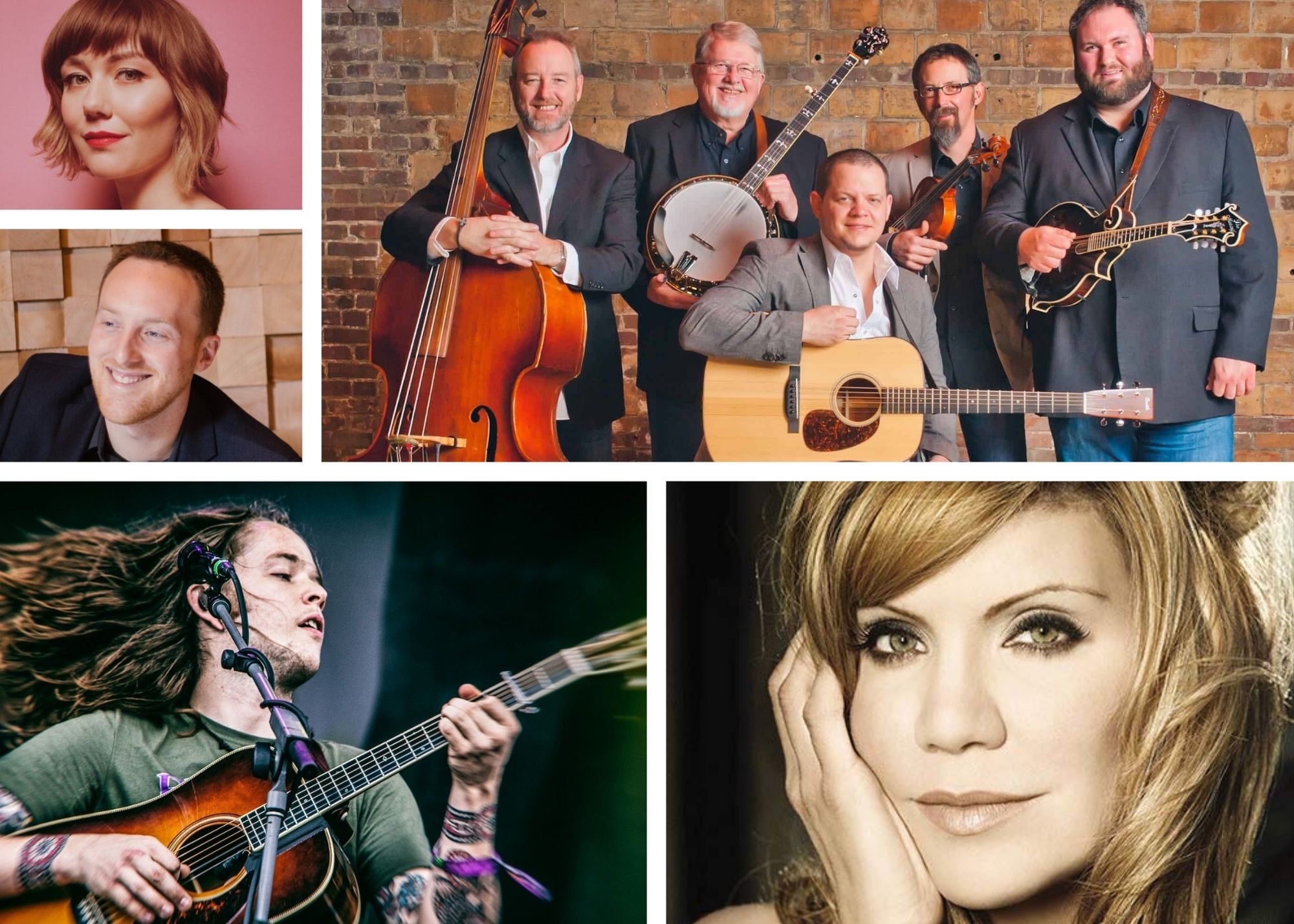 Clockwise from top left: Molly Tuttle, Balsam Range, Alison Krauss, Billy Strings, and Justin Moses
The 32nd annual International Bluegrass Music Association (IBMA) awards nominees were announced in a livestream Tuesday morning from Nashville's Station Inn.
The nominees largely hewed to a list of usual suspects, with a lot of overlap with last year's lists in several categories. But women once again were well represented among the nominees, and several younger players were nominated for their contributions to the genre as well.
Perhaps the most surprising news from the nomination ceremony was the announcement of Alison Krauss as a 2021 inductee to the Bluegrass Hall of Fame — the surprise being that she hasn't already been in there for years. With her first Grammy win (among her 27 total, a record for a woman bested only this year by none other than Beyoncé) coming in 1991 and more than a dozen from the IBMA in that same span, it feels long overdue.
The other inductees for the bluegrass hall are Lynn Morris and The Stoneman Family. Receiving a Distinguished Achievement Award from the IBMA this year will be musician and former IBMA director Nancy Cardwell Webster, broadcaster Lee Michael Demsey, Czech luthier and musician Jaroslav Prucha, musician Cliff Waldron, and Boston Bluegrass Union's Stan Zdonik.
Below is a partial list of the nominees for the IBMA Bluegrass Music Awards, which will be awarded in a ceremony Sept. 30 during the association's World of Bluegrass event in Raleigh, North Carolina, and broadcast on SiriusXM's Bluegrass Junction channel and via Facebook Live.
ENTERTAINER OF THE YEAR 
Balsam Range
Billy Strings
Doyle Lawson & Quicksilver
The Del McCoury Band
The Po' Ramblin' Boys
VOCAL GROUP OF THE YEAR 
Darin & Brooke Aldridge
Balsam Range
Blue Highway
Doyle Lawson & Quicksilver
Sister Sadie
INSTRUMENTAL GROUP OF THE YEAR 
Appalachian Road Show
Billy Strings
Michael Cleveland & Flamekeeper
The Infamous Stringdusters
The Travelin' McCourys
NEW ARTIST OF THE YEAR
Appalachian Road Show
Carolina Blue
Gina Furtado Project
High Fidelity
Merle Monroe
SONG OF THE YEAR 
"Banjo Player's Blues," High Fidelity (songwriter: Charlie Monroe)
"Hitchhiking to California" Alan Bibey & Grasstowne (songwriters: Wes Golding, Alan Bibey, and Jerry Salley)
"Just Load the Wagon," Junior Sisk (songwriter: J.R. Satterwhite)
"Leaving on Her Mind," Doyle Lawson & Quicksilver (songwriter: Jack Clement)
"Richest Man," Balsam Range (songwriters: Jim Beavers, Jimmy Yeary, and Connie Harrington)
ALBUM OF THE YEAR
Bluegrass 2020, Scott Vestal, Patrick McAvinue, Cody Kilby, Dominick Leslie, Curtis Vestal
Distance and Time, Becky Buller
Fall Like Rain, Justin Moses
Industrial Strength Bluegrass: Southwestern Ohio's Musical Legacy, various artists
Load the Wagon, Junior Sisk
Still Here, Steve Gulley & Tim Stafford
MALE VOCALIST OF THE YEAR 
Ronnie Bowman
Del McCoury
Danny Paisley
Junior Sisk
Larry Sparks
FEMALE VOCALIST OF THE YEAR
Brooke Aldridge
Dale Ann Bradley
Sierra Hull
Molly Tuttle
Rhonda Vincent
BANJO PLAYER OF THE YEAR 
Gena Britt
Gina Furtado
Rob McCoury
Kristin Scott Benson
Scott Vestal
BASS PLAYER OF THE YEAR 
Mike Bub
Todd Phillips
Missy Raines
Mark Schatz
Marshall Wilborn
FIDDLE PLAYER OF THE YEAR 
Jason Carter
Michael Cleveland
Stuart Duncan
Bronwyn Keith-Hynes
Deanie Richardson
RESOPHONIC GUITAR PLAYER OF THE YEAR
Jerry Douglas
Andy Hall
Rob Ickes
Phil Leadbetter
Justin Moses
GUITAR PLAYER OF THE YEAR
Trey Hensley
Billy Strings
Bryan Sutton
Molly Tuttle
Jake Workman
MANDOLIN PLAYER OF THE YEAR 
Jesse Brock
Sam Bush
Sierra Hull
Ronnie McCoury
Tristan Scroggins
The eligibility period for the 2021 awards was April 1, 2020, through March 31, 2021.
---