Molly Tuttle, Billy Strings Among IBMA Award Nominees for Best in Bluegrass in 2023
---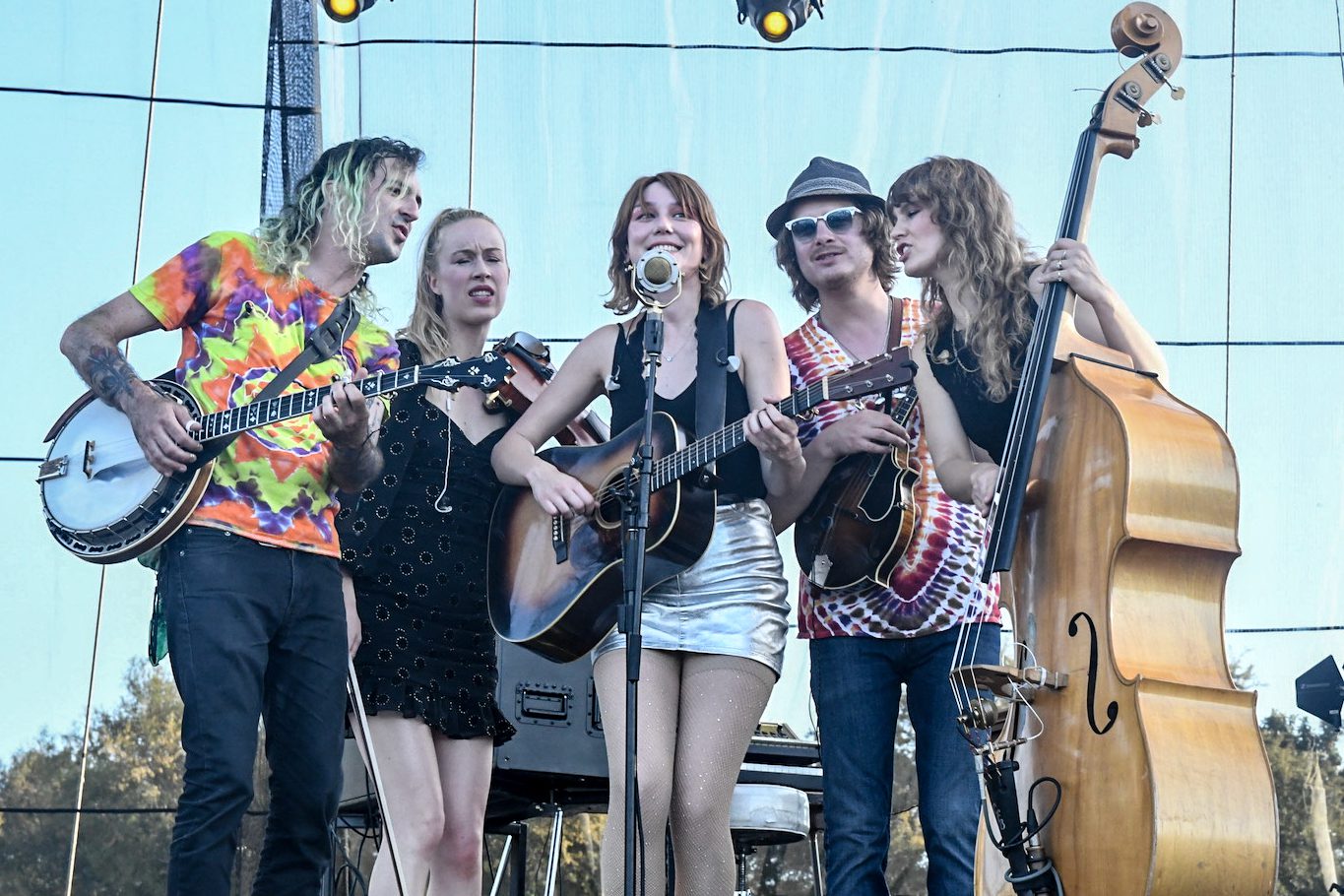 Molly Tuttle & Golden Highway at Moon Crush 2022 (Photo by Boom Baker)
The International Bluegrass Music Association announced the nominees for its 2023 awards today in a live broadcast from SiriusXM studios in Nashville.
Molly Tuttle & Golden Highway leads the nominations with seven, and Billy Strings makes a strong showing with five nominations. Both are nominated in the Entertainer of the Year and Album of the Year categories.
Along with the annual awards nominations, the IBMA announced the latest round of folks to be inducted into the Bluegrass Hall of Fame. The class of 2023 is mandolin master and newgrass pioneer Sam Bush, multi-genre mandolinist and father of the fusion known as "Dawg music" David "Dawg" Grisman, and Wilma Lee Cooper, a traditional country music singer, guitarist, and banjo player who with her husband Stoney Cooper was an Opry mainstay in the mid-20th century. She was dubbed "the first lady of bluegrass" by the Smithsonian.
Receiving the IBMA's Distinguished Achievement Award for 2023 are Terry Baucom, The Bluegrass Situation, Tom Ewing, Carl Goldstein, and Genoa, Italy-based band Red Wine.
The awards will be given in a ceremony on Sept. 28, during the IBMA's World of Bluegrass conference and festival in Raleigh, North Carolina.
Here are the nominees:
Entertainer of the Year
Appalachian Road Show
Billy Strings
Del McCoury Band
Molly Tuttle & Golden Highway
The Po' Ramblin' Boys
Album of the Year
Molly Tuttle & Golden Highway – Crooked Tree
Michael Cleveland – Lovin' of the Game
Jason Carter – Lowdown Hoedown
Billy Strings – Me and Dad
Sam Bush – Radio John: The Songs of John Hartford
Song of the Year
Appalachian Road Show – "Blue Ridge Mountain Baby" (songwriters Barry Abernathy and Jim VanCleve)
Molly Tuttle & Golden Highway – "Crooked Tree" (songwriters Molly Tuttle and Melody Walker)
Sister Sadie – "Diane" (songwriters Jeffrey Nash Bhasker, Samuel Tyler Johnson, and Cameron Marvel Ochs)
Lonesome River Band – "Heyday" (songwriters Barry Huchens and Will Huchens)
Rick Faris – "Power of Love" (Johnny Colla, Huey Lewis, and Christopher Hayes)
New Artist of the Year
Authentic Unlimited
East Nash Grass
Henhouse Prowlers
The Tennessee Bluegrass Band
Tray Wellington
Female Vocalist of the Year
Brooke Aldridge
Dale Ann Bradley
Jaelee Roberts
Molly Tuttle
Rhonda Vincent
Male Vocalist of the Year
Greg Blake
Del McCoury
Danny Paisley
Larry Sparks
Dan Tyminski
Banjo Player of the Year
Kristin Scott Benson
Alison Brown
Béla Fleck
Ned Luberecki
Scott Vestal
Mandolin Player of the Year
Alan Bibey
Jesse Brock
Sam Bush
Sierra Hull
Ronnie McCoury
Bass Player of the Year
Mike Bub
Todd Phillips
Missy Raines
Mark Schatz
Vickie Vaughn
Fiddle Player of the Year
Jason Carter
Michael Cleveland
Stuart Duncan
Bronwyn Keith-Hynes
Deanie Richardson
Guitar Player of the Year
Chris Eldridge
Trey Hensley
Billy Strings
Bryan Sutton
Molly Tuttle
Resophonic Guitar Player of the Year
Jerry Douglas
Andy Hall
Rob Ickes
Matt Leadbetter
Justin Moses
Vocal Group of the Year
Authentic Unlimited
Balsam Range
Blue Highway
Del McCoury Band
Sister Sadie
Instrumental Group of the Year
Billy Strings
Michael Cleveland & Flamekeeper
The Infamous Stringdusters
Molly Tuttle & Golden Highway
The Travelin' McCourys
Collaborative Recording of the Year
"Alberta Bound" – Special Consensus with Ray Legere, John Reischman, Tisha Gagnon, Claire Lynch, and Pharis and Jason Romero
"Big Mon" – Andy Leftwich with Sierra Hull
"Foggy Morning Breaking" – Alison Brown with Steve Martin
"For Your Love" – Michael Cleveland with Billy Strings and Jeff White
"From My Mountain (Calling You)" – Peter Rowan with Molly Tuttle and Lindsay Lou
Instrumental Recording of the Year
"Contact" – Michael Cleveland with Cody Kilby, Barry Bales, and Béla Fleck
"Foggy Morning Breaking" – Alison Brown with Steve Martin
"Gold Rush" – Scott Vestal's Bluegrass 2022
"Kissimmee Kid" – Jason Carter
"Scorchin' the Gravy" – Frank Solivan & Dirty Kitchen
Gospel Recording of the Year
"The Glory Road" – Joe Mullins & The Radio Ramblers
"Jordan" – Darin & Brooke Aldridge with Ricky Skaggs, Mo Pitney, and Mark Fain
"The Scarlet Red Lines" – Larry Sparks
"Take a Little Time for Jesus" – Junior Sisk
"Tell Me the Story of Jesus" – Becky Buller with Vince Gill and Ricky Skaggs
---